ConocoPhillips Graduate Programs and Jobs
ConocoPhillips is the world's largest independent energy exploration and production company, based on proved reserves and production. As of December 31, 2017, we had operations and activities in 17 countries and employed almost 11,400 people worldwide.
ConocoPhillips currently has 0 opportunities.
Select the following options:
ConocoPhillips is the world's largest independent E&P company based on production and proved reserves. Headquartered in Houston, Texas, ConocoPhillips had operations and activities in 17 countries, $71 billion of total assets, and approximately 11,100 employees as of Sept. 30, 2018.
Our exciting portfolio of Australian assets includes the Australia Pacific LNG Facility in Gladstone, Queensland, the Bayu-Undan field in the Timor Sea, and the Darwin LNG Facility in the Northern Territory. We also have exploration and appraisal projects in northern Australia including the Greater Poseidon and Barossa.

Our People and Our Communities
Our operations are diverse. So too are the men and women of ConocoPhillips. Every day, our employees work in a truly integrated way build on our proven track record of performance and drive excellence in everything we do. They focus on fulfilling our core SPIRIT Values of Safety, People, Integrity, Responsibility, Innovation and Teamwork.
Across our Australian Business Units, we have a dedicated and diverse workforce who are based in Perth, Darwin, Brisbane, and Gladstone in Australia, and in Dili in Timor-Leste. 
Health, Safety & Environmental Excellence
Maintaining our relentless focus on safety is more than a priority at ConocoPhillips Australia. It's not just what we do. It's how we do it. We genuinely believe that our work is never so urgent or important, that we cannot take the time to do it safely and in an environmentally responsible manner.
Sustainable Development
For ConocoPhillips, sustainable development is about conducting our business to promote economic growth, healthy environments and vibrant communities now and into the future. Globally, ConocoPhillips has made nine commitments that address different aspects of the social, environmental and economic elements of sustainable development.
Our Commitments: Increase Availability of Cleaner Energy; Be Transparent and Accountable; Operate Safety; Benefit Communities; Minimise Environmental Footprint; Invest in Employees; Improve Energy and Material Efficiency; Work Ethically; Ensure Long-Term Viability.
Technology and Innovation
Technology and innovation play a pivotal role in our pursuit of profitable organic growth. Our focus on leveraging technologies has enabled us to develop efficient, economical and environmentally sound ways to find, produce and market liquids and natural gas.
Hear from our graduates
ConocoPhillips
---

Robert Davis
University of Queensland
Graduate Process Engineer
Who Am I?
I am a Graduate Process Engineer working with ConocoPhillips.  I joined the company in 2015 after graduating from the University of Queensland and completing the ConocoPhillips vacation work program the year before.  My journey started in the Brisbane office, working on the APLNG project as we finished construction and commissioning of the LNG plant.  After almost 18 months in Brisbane, I was able to move to Gladstone Island as a Site Process Engineer and provide more day-to-day support to Operations.  My current rotation is working from the Perth office, supporting our offshore Bayu-Undan facility as we prepare for a major shutdown.
My path so Far: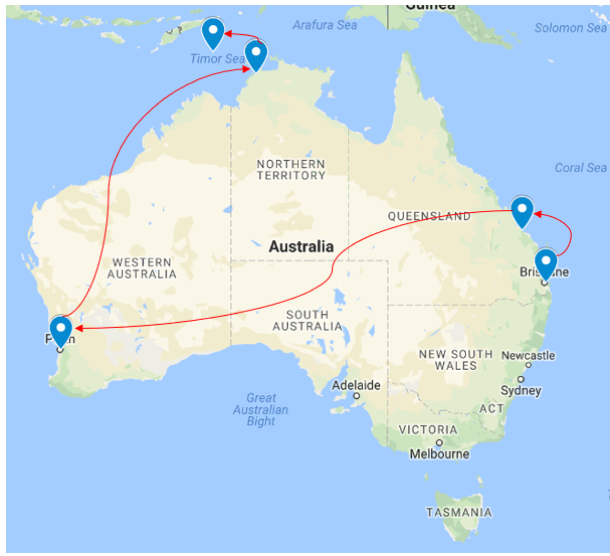 Did I always want to work in Oil & Gas? 
No.  I think that like a lot of engineering students, I went into the discipline because I liked maths and science and I liked problem solving.  I didn't have the best understanding of what type of work engineers could do and definitely didn't know a lot about the Oil & Gas industry.  But as I progressed through my degree and was exposed to more and more industries, the scale of the projects in Oil & Gas, its global nature, and the challenges associated with extracting hydrocarbons from the ground and converting them to something useful really appealed to me.  
What is the best part of my job?
It is truly dynamic in nature.  Looking back on three years with ConocoPhillips, I cannot believe the breadth of experiences I have had. 
Starting out working with the team that commissioned the LNG plant for the $25 billion APLNG project was an unreal experience.  Getting the opportunity to come straight out of university and regularly fly up to this massive project to inspect vessel internals, or assist the loading of catalyst into vessels that may not be opened up for many years, really added to my understanding of what goes into operating a plant. 
The transition to working as a site process engineer when we moved to Operations really kept me engaged.  It was such a high energy job, and each day brought unique issues to troubleshoot and work on different areas of the plant.  It was great to be able to take ownership of problems and plant systems, and have a short turnaround to see an impact from the work I was doing.
My current position in Perth, supporting the Bayu-Undan facility and preparing for its upcoming shutdown, has been a completely different experience again.  The exposure to a different process and the different environment of an offshore facility is a new challenge.
From a personal life perspective, all of these roles meant I was able to spend the first few years of my career travelling a lot.  The opportunity to experience so many parts of Australia and venture away from my home city of Brisbane has been wonderful.  When I was in University, I don't think I ever could have predicted I would be living in Perth and frequently flying to Darwin or Dili to take a helicopter to an offshore oil platform.  It just demonstrates the world of opportunities that are available, and who knows what the future will hold.
A day in the life of…
ConocoPhillips
---
A day In the Life of… Graduate Site Process Engineer at ConocoPhillips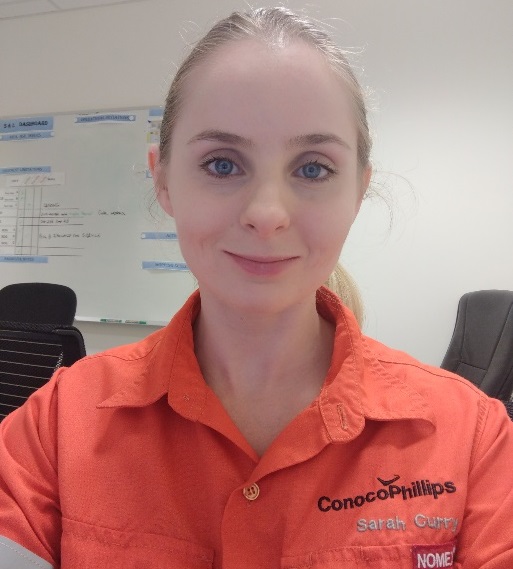 Sarah Curry graduated in 2014 from Curtin University with a degree in Chemical Engineering and is now a part of the Engineering team supporting the Australia Pacific LNG facility located on Curtis Island, Queensland.
Sarah's journey with ConocoPhillips started in 2013 as a SPIRIT scholarship recipient and vacation student. She spent time in both the Perth and Darwin offices as a part of the Process Engineering team supporting the Darwin LNG facility. Since joining the company as a Graduate Engineer in 2015 she has held three exciting positions across two business locations. She started in Brisbane supporting the Process Safety team just as the Australia Pacific LNG project was moving out of the construction and commissioning phases into the operations phase. She then moved into the role of Graduate Process Engineer where she was part of the Brisbane-based Process Engineering team providing technical support to the facility. For her final rotation in the Graduate program, she moved up to Gladstone into the role of Graduate Site-based Process Engineer and was based at the Australia Pacific LNG facility for 1.5 years. 
This is what a typical day looked like…
5:00AM: First alarm. Time to start considering getting out of bed…
5:10AM: Second alarm. Okay, time to get ready to start the day!
6:00AM: Drive to the ferry terminal to travel across to the Australia Pacific LNG facility located on Curtis Island. The terminal is about a 20-minute drive from the Gladstone town centre. You often catch some fantastic sunrises and glimpses of wildlife on the early morning commute. The 6:30AM ferry ride is around 15 minutes long, and it's not uncommon to see dolphins jumping around. The Australia Pacific LNG facility is located within the Great Barrier Reef World heritage area which is home to all sorts of brilliant marine wildlife.
6:45AM: Ferry docks at Curtis Island. I disembark and walk from the jetty to the Main Control and Administration Building. The Central Control Room (CCR) is located in this building, along with some key technical personnel to support our Operations. The Australia Pacific LNG Facility has been in Operation since the end of 2015, with its first LNG cargo shipped in January 2016 after nearly five years of development and construction. Australia Pacific LNG is the largest producer of natural gas sourced from coal seams in eastern Australia, supplying Australian customers with natural gas and customers in Asia with liquefied natural gas (LNG). Australia Pacific LNG is a major supplier to Queensland's domestic gas market, supplying many Gladstone industrial customers with gas.
7:00AM: Pre-start meeting with Operations and Maintenance. We discuss the activities planned for the day and clarify any support required by the team. I often leave this meeting with some actions around providing support to Operations personnel, whether it be around what flowrates to operate at or advice around how to operate while some pieces of equipment are taken offline for routine maintenance. Today I have been asked to provide some feedback around operating a bypass while the pressure indicator that controls it has some routine maintenance performed.
7:15AM: Review operations over the last 24 hours and catch up with the Panel Operators in the CCR to discuss. The best thing about being in a site-based role is developing a relationship with, and learning from, the Operations personnel. They have a very detailed knowledge of the facility and I always learn something when I talk to an Operator. It's also a great opportunity to swap perspectives on any observed issues to work through to a solution.
8:00AM: Report findings of previous 24 hours of operation back to key personnel in Brisbane. Continue with my workfronts around facility improvements and providing technical support.
9:00AM: Attend our daily Integrated Operations meeting. This meeting is held between site personnel and personnel based in our Brisbane office, and is a forum used to discuss important topics such a safety as well as any key activities on the horizon which will require technical support from Brisbane. The meeting is chaired by the Operations Superintendent who manages the Operations shift and day-to-day activities at site. This meeting is also an opportunity for people to share progress on any key workfronts being developed by the team, as well as any further requests for support.
9:30AM: Attend daily maintenance planning meeting. This meeting is facilitated by the Maintenance Planners and is attended by key personnel from the Operations, Maintenance and technical support teams. This meeting is used to review and discuss maintenance requests and ensure they are assigned the appropriate priority and planned in accordingly.
10:00AM: Get back to my workfronts. I have been asked to review the setpoints of some alarms on a piece of equipment and provide some feedback to our Instrumentation Team.
11:00AM: Lunch time!
11:30:AM: I make a start on developing a procedure to enable Operations to carry out a chemical wash on a piece of equipment. I finished marking up the Piping & Instrumentation Diagrams yesterday so now just need to detail the steps to perform the activity.
1:00PM: Team meeting with the rest of the Process Team in Brisbane. I report on the status of my workfronts and any issues I have come across. It's interesting to learn what the other people in the team have been working on and what they have found.
2:00PM: Attend the fortnightly shipping schedule meeting chaired by the Marine Department. We review the timing of our upcoming LNG cargoes and discuss any issues.
2:15PM: I chair our weekly gas nominations meeting. Key people from the Operations team and the Process team discuss anything in the next couple of weeks which may impact how much feed gas we are able to process through the facility. Australia Pacific LNG is a joint venture between ConocoPhillips, Origin Energy and Sinopec, with Origin Energy operating Australia Pacific LNG's gas fields, upstream production and pipeline system, while ConocoPhillips operates the downstream LNG export facility and the LNG export sales business. This means we work with our upstream partner by 'nominating' the amount of feed gas into the facility we are targeting each day. In the meeting we discuss and align on the nomination figures to send to Origin. I email out the figures following the meeting.
3:20PM: Pack up for the ferry home! I quickly review my to-do list and write some notes for things to follow up on tomorrow. Time to walk to jetty to board the 3:45 ferry back to the mainland.
4:00PM: I disembark the ferry and walk to my car. Time for the drive home.
5:30PM: After relaxing at home for a bit, I get changed and head off to soccer training. I play soccer with a local Gladstone club. We train two nights a week and have a game on the weekend. My club has two teams, one in the top division and the other in the lower division. It's been about 10 years since I last played soccer, but I picked it up again when I moved up to Gladstone. It's a fun way to meet new people and stay fit. And sometimes we win which sweetens the deal!
7:30PM: Training has wrapped up for the night and I'm on my way home. Phew!
8:30PM: Bed time. Looking forward to another day!
Our Graduate Program
ConocoPhillips
---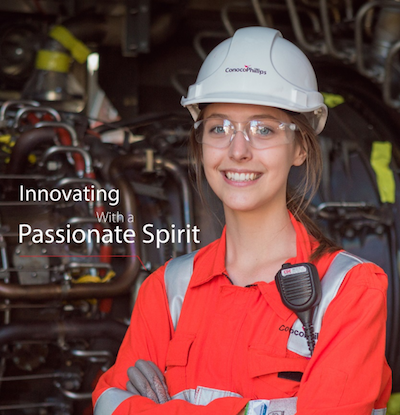 Fast-track your career with ConocoPhillips' Accelerate Graduate Program!
Our Accelerate program combines on-the-job work assignments, technical and non- technical training, mentoring and networking opportunities to accelerate the development of our early career professionals.
Graduates benefit from varied work assignments across our Australian business which help build industry knowledge and technical skills, and provide scope to fully capitalise on individual abilities.
Graduates participate in our global Engineering Academy, with access to the expertise of global specialists in their fields. Career coaches and technical mentors support the professional development of graduates with career planning assistance, increasing technical proficiency, and identifying development and networking opportunities.
Who we're looking for
We recruit motivated engineering graduates with up to 2 years' experience from the following disciplines: Chemical / Process Engineering; Electrical / Instrumentation Engineering; Mechanical Engineering and Mechatronics Engineering.
How to Apply
Applications for this years Accelerate Program will be open in February 2019.
Applicants will need to create a profile at our Careers website. To ensure you don't miss any graduate opportunities, we recommend you create a profile now and set up a Job Alert to be notified about Graduate Vacancies. You can also connect with us through our LinkedIn page.
Vacation Work Program
ConocoPhillips
---
Gain valuable experience working on real-life projects with ConocoPhillips' paid Vacation Work Program.
Our placements provide students in the final years of their university degree with up to 12 weeks' industry experience, commencing at the end of November and concluding by the following February.
Working under the supervision of experienced professionals at our Perth, Brisbane or Darwin offices, vacation students undertake meaningful projects and develop professional skills in a friendly, supportive environment. Placements are created to provide an insight into what you might expect from a career in energy, with most students also having the opportunity to visit one of our world-class LNG facilities.
Applications for our 2019/2020 Summer Vacation Work Program open in May/June and will be posted here and on our career's website.
To receive notification about next year's vacation work intake program, we recommend you Create a Profile and set up a Job Alert in your profile. You can also connect with us through our LinkedIn page.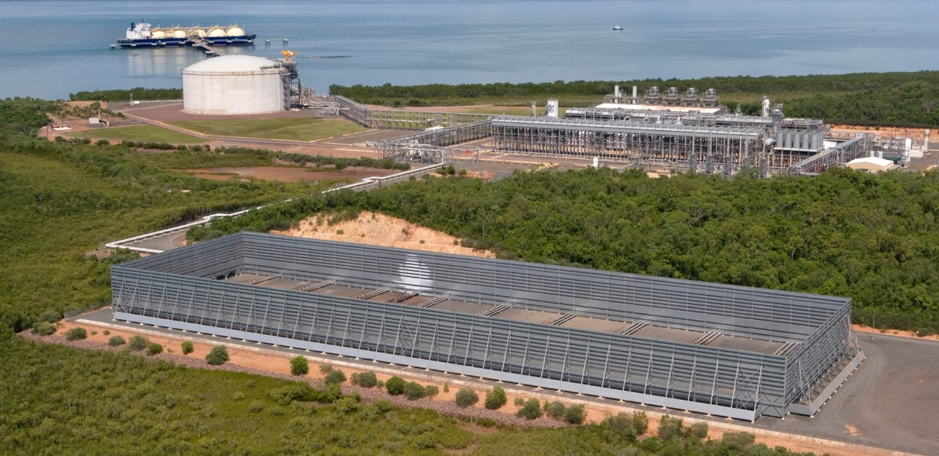 Photo: Darwin LNG Site. Perth based students will get an opportunity to visit our Darwin LNG facility.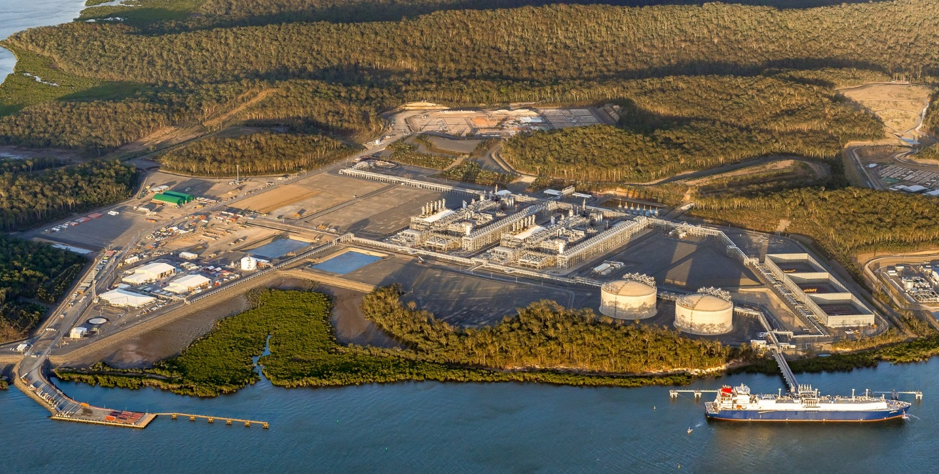 Photo: Curtis Island APLNG Site. Brisbane based students will get an opportunity to visit our Curtis Island LNG facility.
SPIRIT Scholarship Program
ConocoPhillips
---
ConocoPhillips SPIRIT Scholarships reward talented 2 nd  year engineering students with financial support for tuition plus the unique opportunity to visit one of our world- class Liquefied Natural Gas (LNG) facilities.  If you're considering a career in the oil and gas industry, site visits are a great way to experience LNG operations first hand and find out how exciting a career in this industry can be!
During the one-year scholarship period, Scholars receive an expenses-paid visit to one of our Australian LNG operational facilities, $5,000 in cash to assist with educational costs, and access to a career mentor.
SPIRIT Scholarships are offered at the participating Australian universities listed below.  Follow the links to the university Scholarships offices for information on Scholarship Terms and to submit applications.
Applications for 2019 Scholarships at these universities are now open. These opportunities will close in March 2019 so APPLY NOW.
Queries regarding these scholarships can be directed to the university Scholarships offices.
Our Company Values