Cor Cordis Graduate Programs & Internships
At Cor Cordis, you will unpack the many complex challenges companies are faced with when dealing with financial distress. From advisory to restructuring and turnaround and to forensics and insolvency, our dynamic work environment and the diversity of clients and industries we deal with, will provide you with the skills you need to help solve issues facing many companies
As a graduate, you will work in a diverse and dynamic work environment, dealing with and being exposed to a wide var…
View more Cor Cordis has no active opportunities at the moment.
See who's currently hiring with our Job Search!
Search for jobs
Cor Cordis provides the following opportunities for graduates:
Professional growth
We take our careers seriously. Planning and contributing to our people's professional journey and future is vital to our business success.
With our focus on teamwork, we ensure you gain experience across a wide range of industries and businesses and work alongside our experienced and talented people.
Learning & development 
At Cor Cordis, learning drives success. We expect our people to keep challenging themselves, grow new skills and simplify the complex. 
A buddy will ease your transition into the firm and, in addition to on-the-job learning you will have access to both
external and internal training.
Our graduates join a national Graduate Development Program and are supported through study fees and leave to pursue their CA ANZ or CPA.
Community & culture
Sociable, diverse and inclusive, our culture has been instrumental to our growth.
Our strong community partnership with the Starlight Foundation and our Wellness Program are some of the key initiatives we're proud of.
At Cor Cordis, you will unpack the many complex challenges companies are faced with when dealing with financial distress. From advisory to restructuring and turnaround and to forensics and insolvency, our dynamic work environment and the diversity of clients and industries we deal with, will provide you with the skills you need to help solve issues facing many companies
As a graduate, you will work in a diverse and dynamic work environment, dealing with and being exposed to a wide variety of engagements and activities. Some recent highlights include: 
working on a high-profile engagement (such as Kikki K or Ishka) or the bankruptcy of a high-profile individual
working as part of a team on site on a trading Administration - including overseeing trading activities, dealing with creditors and customers, and liaising with various other stakeholders
conducting investigations (including compiling evidence and reports to support litigation) and pursuing claims in matters of financial fraud, breach of fiduciary duties, insolvent trading or other breaches of legislation
dealing with a variety of stakeholders, including interested parties (regarding a sale of business/ assets), creditors, employees, debtors, lawyers and financial institutions
Cor Cordis recruits graduates in March each year to commence at the end of the same year or early the following year and join a national 12 month graduate development program. The program includes buddy support, on and off the job training and development including external training, and regular progress reviews.
We look for accounting graduates who are ready to take their first step in their career, and: 
are efficient and motivated 
demonstrate attention to detail combined with a common-sense approach to problem-solving
have strong written and verbal communication skills, enabling you to build relationships with external and internal stakeholders
are an Australian citizen or have permanent residency at the time of application
are a strong team player
Other graduate opportunities will be posted on our website and GradConnection during the year
Cor Cordis hosts a number of summer internships with interns recruited via the CA ANZ Achiever program. These internships provide an opportunity for students in their final year to get some experience in our industry and see if its an area for their future career.
Graduate applicants will be required to provide a cover letter, resume and a copy of their academic transcript.
Our graduate recruitment process may include video interviews, assessments and probity checks as well as selection interviews.
Daniel Girvin – Senior
6:00 am
My alarm goes off in the hopes of getting up early and going for a run around the Botanical Gardens. This idea is quickly nipped in the bud when I realise that it's cold and rainy – 30 more minutes of sleep sounded better anyway. I get on the train just after 7:30am and arrive at the office around 8:15am so that I can settle in.
8:30 am
I get myself a coffee and a piece of fruit from the kitchen – I am now ready to start the day. I begin by checking my emails and replying to any that I may have missed from the day prior. I received an important email during the night from one of the partners about a potential new job coming in. I complete all the necessary searches on the company so that I can prepare for the new appointment. 
9:30 am
There hasn't been much word on the new job, but since appointments can happen quite suddenly, I stay on my toes. I continue writing a report that I have been working on for the past week. As ASIC requires a copy within the next five days, this is on the top of my to-do list.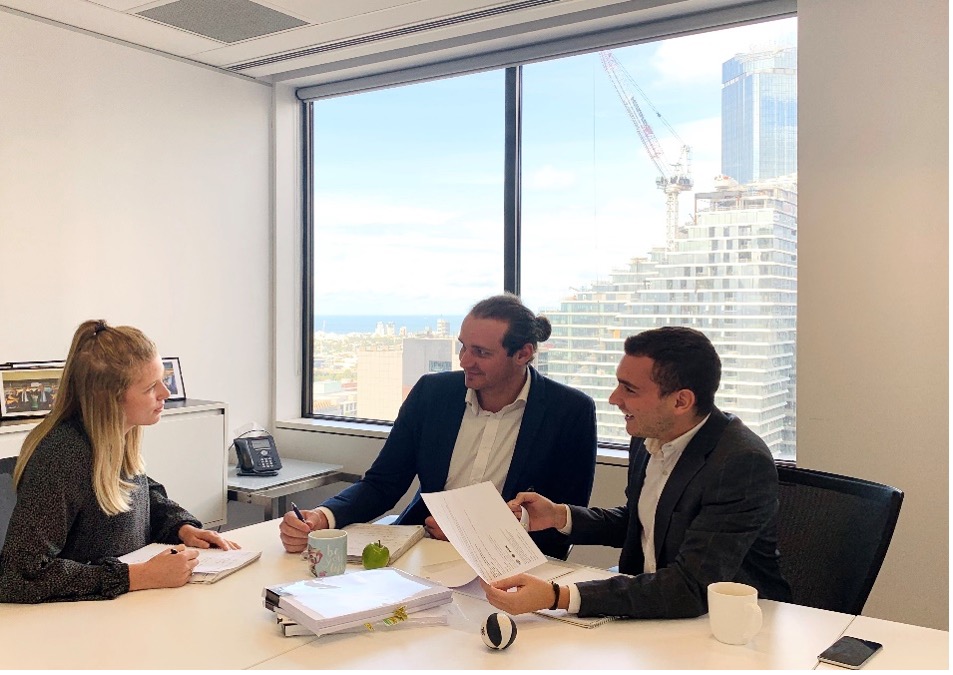 11:00 am
I stop by one of my colleagues' desks to chat about the recent CA exam and to organise when to meet up for a study session, but the conversation tails off to the NBA games taking place today. We decide that we will catch the last quarter of the Lakers game over lunch – organising a study session can wait till then. 
12 noon
We have our biweekly team meeting in 30 minutes. I prepare by going through all the current jobs that our team are working on at the moment and update the team's status report with current outstanding tasks. I review what I have completed over the last week and update what still needs to be completed in the immediate future. 
12:15 pm
The time has come: the new job has come in – looks like I won't be watching the basketball over lunch. It's time to get ready, so I grab a quick bite to eat as we need to get out on site as soon as possible. I grab my laptop, collect an assortment of stationery and load it into my compendium – I'm ready for action. The team meeting will have to wait until next week. 
1:00 pm
The appointment is for a large manufacturer. Their office is a 30-minute drive from the CBD. The first thing for us to do is to talk to the employees and to explain what is going to happen. I observe as one of our firm's directors inform the employees that the company will continue to trade for the time being. The employees were overwhelmed and confused, but all their questions are answered.  
3:00 pm
We have settled into the company's office. I have been put in charge of gathering all the employee information so we can continue to pay everyone's wages and entitlements as normal. I spend a bit of time sifting through some old manilla folders with all the employee information in them and load them all into a bag so I can scan them when I'm back in the office. 
5:00 pm
It's been a long day, and everyone begins to leave the site. A few of our more senior staff stay behind to make sure everything can run smoothly over the next few days. I have collected all the information I need and call myself an Uber. 
6:30 pm
Home at last! Time to think about going for a run to make up for this morning, I decide I'll just go for a longer run tomorrow morning. I've got a CA online exam next week, so I knock out an hours' worth of study so I can be as best prepared as possible. I finally cook some dinner and watch some Netflix, it's the perfect way to unwind after a long day. 
We have a number of perks and benefits including but not limited to:
Study Support - both financial (we pay for your enrolment!), study support and study leave.
Wellness Program – events and activities throughout the year to foster general wellbeing including webinars, flu vaccinations 
Social club activities in each office
Employee Assistance Programs for you and your immediate family
Complimentary fruit/coffee/snacks etc
Employee referral program
Diversity & Inclusion

At Cor Cordis we recognise that a diverse and inclusive workforce helps us to build strong connections within the firm and externally with our clients and the community and helps us collaborate and innovate and make better decisions for our firm and our clients.
Cor Cordis has a national Diversity & Inclusion group who lead and promote diversity and inclusion initiatives, including the National Women's forum which provides a program of events and activities designed to create confidence, connections, and collaboration for women across Cor Cordis.