Crown Equipment Graduate Programs & Internships
Crown Equipment is all about passionate people who want to inspire innovation. Crown is not just about Forklifts but providing ergonomic and sustainable products to our customers. Crown Equipment has no active opportunities at the moment.
See who's currently hiring with our Job Search!
Search for jobs
Defining the future of material handling.
Crown Equipment is a leader in the evolution of the material handling industry, earning more than 100 global design awards and launching new technologies that increase uptime and lower total cost of ownership.
Who We Are
Since its entry into the material handling equipment industry in 1960, Crown has earned a reputation as a leading innovator in world-class forklift and material handling equipment.
Crown designs and manufactures up to 85 percent of its lift truck components, including key parts like motors, drive units, and electronic modules. When it says Crown on the outside, it's a Crown on the inside.
Crown in Australia
Crown Equipment Pty Ltd was established in Australia in 1966. Since then we have developed an outstanding reputation as a leading provider of material handling equipment throughout the Asia Pacific region, encompassing Australia, New Zealand, and Asia.
Crown is dedicated to maintaining our valued reputation as a leader in the material handling industry. We are also highly focused on expanding our extensive network throughout the Asia Pacific region, to better reach, supply and support our customers.
Crown is headquartered in Sydney, with more than 40 branches and dealers currently operating throughout the region
What We Do
From our smallest hand pallet truck to our highest lifting turret truck, Crown designs, manufactures, distributes, services and supports material handling products that provide customers with superior value.
Our broad global branch and dealer network provides a wide variety of quality material handling equipment, storage solutions and support services.
Where We Are
Crown has an extensive global production, sales and service network to meet customer needs anytime, anywhere. Our strategic locations worldwide offer reliable, flexible and responsive support including sales, service, regional training centres and much more.
19 Manufacturing Facilities   |   500+ Retail Locations   |   84 Countries
Product Development
Design that revolutionises the way people work. When it comes to forklifts, it's all about the experience. With a focus on the operator, Crown's human-centred designs are created to improve productivity, comfort and safety. Crown' focus is on:
Innovation in Action   |   Infusing Technology   |   Ergonomics   |   Safety in Focus
Smart. Clean. Green.
As a global leader in material handling, Crown has the responsibility and the opportunity to make a difference. We believe this difference starts with our sustainable promise, processes and products.

Our Philosophy
Crown's sustainable promise to our employees, customers, communities and the environment began decades ago. Sustainability is integrated into our day-to-day business processes, corporate culture and global business strategy.
From product design to packaging, Crown reduces its environmental footprint and lead times through increased energy efficiency, lean business processes, reduced resource consumption and elimination of waste.
Product Design and Manufacturing
Through every step of our product development, we consider the impact of our design on people, our processes and the environment. Our design engineers continually seek new ways to design lift trucks with fewer components that have more end-of-life options while reducing energy consumption and improving safety. 
Products designed for long life benefit our customers and the environment by offering:
Increased uptime and performance efficiency
Fewer repairs and replacement parts
Less waste
Lower emissions
Crown's robust line of business for both used and refurbished forklifts expands the impact of our sustainable design and manufacturing efforts. In addition, through Crown's vertical integration approach, we are able to manage our warehouse footprint – only manufacturing what is needed – while quickly satisfying customer needs and managing our inventory at the branch level.
Facilities
Crown's commitment to our environment is a comprehensive, long-term approach that is both sensible and sustainable. Over the years, Crown has redeveloped more than one-half million square metres of brownfield space. This reuse of land and buildings helps to revitalise communities and preserve green space. We also make continuous efforts to improve lighting and air quality, reduce waste and energy consumption, and increase recycling and reuse throughout all of our facilities.
Just a few examples of our commitment to facility sustainability include:

Crown ecologic
Founded on the principles of minimising waste, managing energy and maximising lifespan, Crown ecologic represents the synthesis of our sustainability efforts, including:
Industry-leading forklift energy efficiency.
Innovative production and lift truck remanufacturing practices.
Materials recycling and recovery methods.
Preservation of land and natural resources.
https://news.crown.com/blog/2020/crown-recognized-for-sustainability-and-green-initiatives-by-sdce/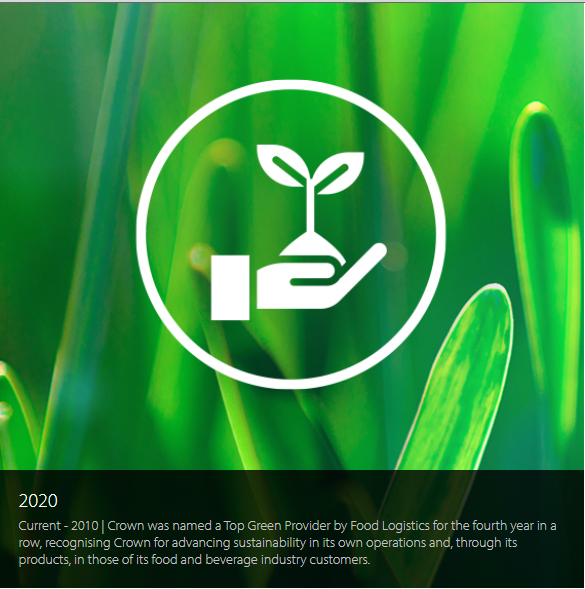 An Industry Leader in Innovation
Customers and industry experts agree — Crown has a reputation for award-winning product design, advanced engineering and technology and commitment to sustainability.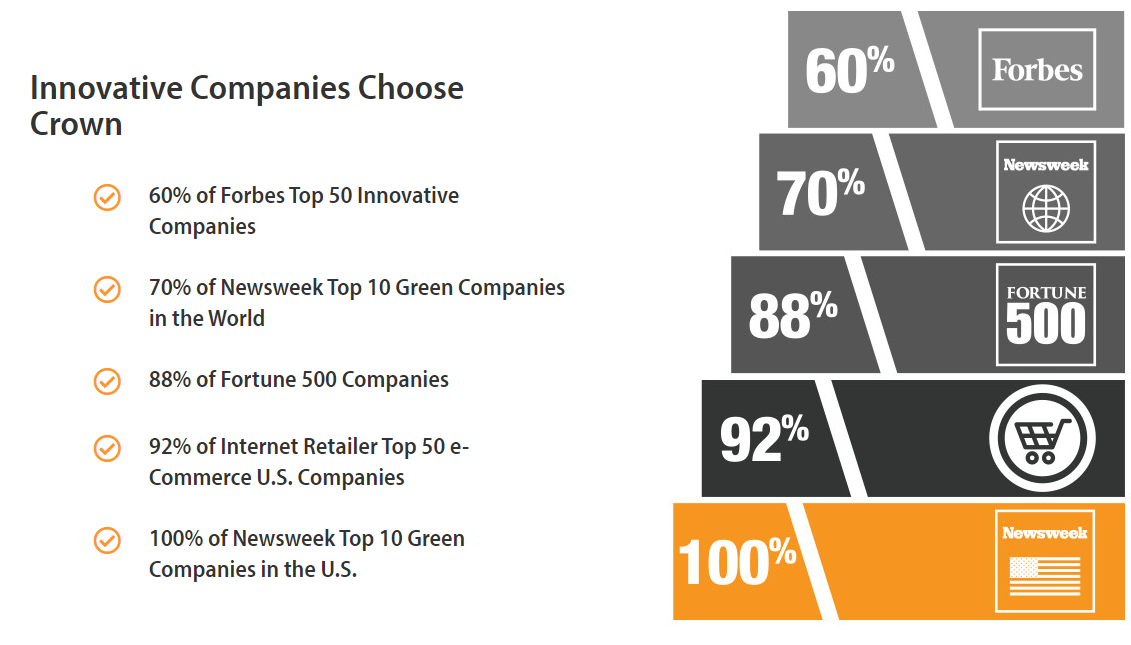 Customer Results
Crown strives to be our customers' best business decision. Reliable. Honest. Responsive. These are just a few words that customers have shared regarding their experience with Crown.
Industry Recognition
Crown has earned numerous awards recognising our ability to produce innovative products that enhance safety, increase productivity and extend product lifespan.
Sustainability
Crown's ongoing commitment to environmental sustainability is evident throughout numerous aspects of its operations and has been recognised with more than 18 sustainability awards from organisations such as the National Pollution Prevention Roundtable, the Ohio EPA, the United States EPA and multiple industry publications.