Department of the Prime Minister and Cabinet Graduate Programs
We are the Department of the Prime Minister and Cabinet, or PM&C for short. Our role is to provide fresh thinking and sound advice to government.
Department of the Prime Minister and Cabinet currently has 0 opportunities.
Select the following options:
Past Department of the Prime Minister and Cabinet Graduate Hiring Statistics
If you're interested in working at Department of the Prime Minister and Cabinet, understanding when they have opened up applications for their graduate programs, graduate jobs and internships is helpful knowledge to have so you know when you might need to apply. Use the below information to see when Department of the Prime Minister and Cabinet hires graduates, but more importantly what graduate degree's and other student attributes they target for their jobs.
---
Work rights
Australian Citizen (100%),
Past Department of the Prime Minister and Cabinet Graduate Programs
Check out some of Department of the Prime Minister and Cabinet's past jobs they have posted on GradConnection over the last 12 months. Understanding the details about what a graduate employer is looking for well before applications have opened can sometimes be the edge you need to secure your first graduate program.
---
Arts and Humanities
and 4 others
Hires applicants with degrees in
Data Science and Analytics
PM&C 2023 Graduate Program
Arts and Humanities
and 4 others
Hires applicants with degrees in
Data Science and Analytics
PM&C 2023 Graduate Program
About Us
Department of the Prime Minister and Cabinet
---
Our focus is to find new ways to improve the lives of all Australians.
The conditions under which Government operate are constantly changing in response to a variety of national and global challenges. No day is the same.
It's our responsibility to stay informed on these issues. This lets us provide considered advice to the Prime Minister, the Cabinet, Portfolio Ministers and Assistant Ministers.
PM&C plays three key roles to help ensure the Australian Government functions at its best.
We coordinate government-wide policy and ensure its implementation.
We work with the Australian Public Service Commission to create a productive public sector.
We consult across government, private enterprise, the not-for-profit sector and the community.
Graduate Program
Department of the Prime Minister and Cabinet
---
PM&C is a modern, collaborative and responsive organisation that drives excellence across the Australian Public Service (APS). We are at the heart of government, delivering quality outcomes for the Australian public. We offer a broad range of opportunities for you to sink your teeth into, and the privilege of collaborating with line agencies to achieve government objectives on a daily basis. This means your experience isn't narrowed to any one section of government, allowing you to leave no stone unturned in your journey.
Our Program | Department of the Prime Minister and Cabinet (pmc.gov.au)
As a Graduate at PM&C, you will have the opportunity to rotate through our areas of focus:
Domestic Policy
Government
International Policy
National Security
Office for Women
Regulation
Public Data
Application Process
Department of the Prime Minister and Cabinet
---
Key dates
March to April: You will have a 4 to 5 week period to submit your application, resume and academic transcript into our recruitment system
May: First round of assessments. This usually includes online cognitive and behavioural testing, and a one-way video interview. You will have 4 weeks to complete the assessment in any order and location that suits you.
July: Assessment Centre. Ideally we bring you all to Canberra, however recently we have been holding virtual assessment centres. This process includes a written assessment, speed interview and group activity.
August: Offers. First round offers for the graduate program are made in early to mid-August. If you have been found suitable and placed in the merit pool, you may also be offered a place in the graduate program or an APS 3 role within the department.
December to January: Relocation. For those moving to Canberra to take up the role in the program, we will support you in the process from start to finish.
February: Program commencement.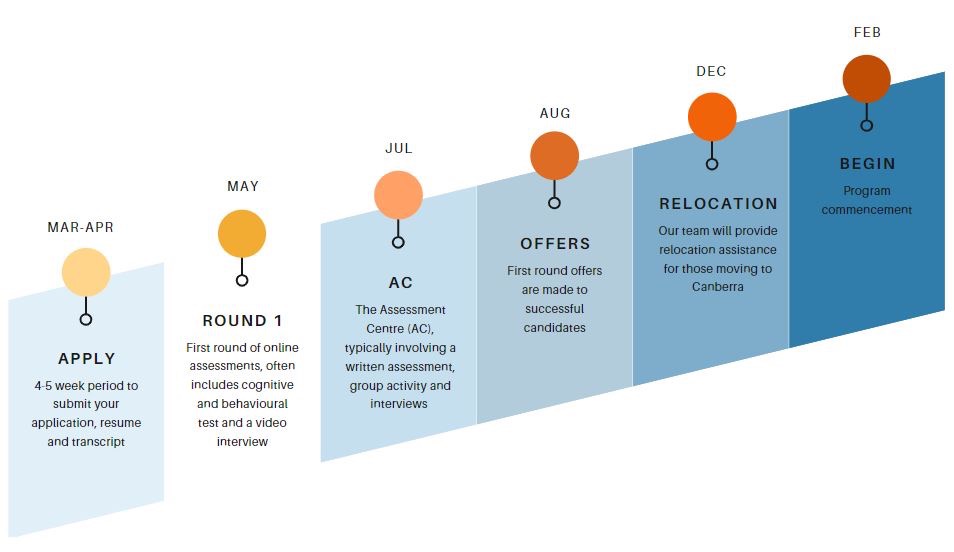 Employee Profiles
Department of the Prime Minister and Cabinet
---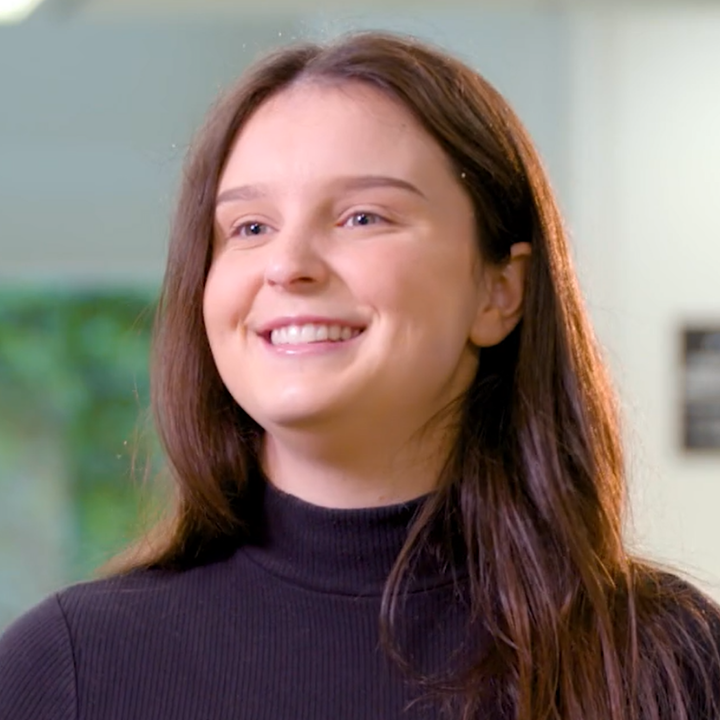 Elise Connor – Bachelor of Nursing – 2021 PM&C Graduate 
As a university student, it is quite an ordeal thinking about where you want to end up in your professional career. Some degrees are far more streamlined, whereas others have flexibility with what career path you take. If you are confused or unsure about where you might want to end up, this is my advice to you.
I studied a Bachelor of Nursing from the University of Queensland. I loved this degree as I got a wide range of clinical experience while dipping my toes into public health policy. Now I know you may be sitting there thinking 'How did she go from a Nursing degree to public policy at PM&C?' - That is a great question, let me tell you.
PM&C is an incredible place to work. Studied maritime science? Fantastic. Studied economics and law? Also fantastic. PM&C is trying to find the most versatile graduates, graduates that can provide new insight to policy due to their unique experiences. They want to know if you can transfer the skills learnt from your degree into practical work. I have used most, if not all, of my soft skills from my Nursing degree. Critical thinking, compassion, diligence, these are all skills I have applied to my roles within the Department. Basically, if you don't think your degree is relevant – it is.
It is okay to be unsure with what you want to do. It is okay to study nursing, or law or even journalism and think 'Heck I'm really unsure if this is exactly what I want to do'. There are so many paths you can choose, and PM&C truly provides for all backgrounds. I have been able to work on the COVID-19 vaccine rollout, national security policy and in HR. I am still unsure where I will finally land in the Department, but that's the beauty of it – I am free to choose and I know that my skills will be transferrable and recognised wherever I go. 
PM&C is looking to hire you for who you are. If you can write, well that certainly will help, but there is nothing that PM&C expects from you prior to joining the graduate program. And there will be so much that you can bring to the Department – it's a win win for all. Don't try sell yourself for something you're not. The best thing you can be is you, and sing it to your assessors. 
This is your sign you've been waiting for. I am screaming at you telling you to apply even if you think you don't fit the 'criteria', because I can guarantee the criteria that you think PM&C is looking for is so not it. If you are diligent, hardworking, are willing to give something new ago, then PM&C is for you. 
---
Katie Wylie – Bachelor of Criminology and Criminal Justice - 2021 PM&C Graduate  
My experience as someone who wasn't very aware of politics and Government in General
When I first started applying for graduate programs in Canberra, I was concerned that I wouldn't know enough about Government or politics to either get the role, or to be able to perform well in it. I had never paid much attention to local or federal Government, and coming from a background in social sciences, I didn't have the same exposure that my Political Science or International Relations friends did. 
As I started to apply for jobs, I made sure to figure out what areas I was interested in and had a genuine passion for. I paid attention to the areas of focus and recent work that different Departments had completed to narrow down where I would apply, and found that this research also helped during the application process (especially when completing writing tasks). 
When I started at Prime Minister and Cabinet (PM&C), I realised that people in the Department had a wide range of knowledge regarding Government processes and politics in general. I found it reassuring that not everyone was an expert, and you are still able to complete high quality work and participate in work conversations without feeling left behind. 
As we went through the year, both the Entry Level Programs team and the rotations that I went through were really invested in my learning and development. As a Grad, you're given a lot of opportunities to attend training sessions, and this really fast-tracks your learning. I've started to listen, read and watch more content related to Government and now that I'm dealing with these topics on a daily basis, it's easier to understand and be invested in what's going on.
While there is an advantage to people who have completed relevant degrees or who keep up to date with Government, this job is about so much more than what you know about Government or politics. It's the skills and experience you have from past jobs and completing a university degree, it's the passion you have for the areas that you care about, and it's becoming immersed in work or conversations and realising you have a genuine curiosity to learn more.
I'm really glad that I did apply to these programs – I've used elements of my degree and past work experience to succeed within the program, and I've gotten some amazing experiences already (contributing to a speech the PM gave, working on the COVID-19 Health Response, and writing briefs for the Secretary). I would highly recommend anyone from any degree and with any amount of previous work experience to apply – your value add to the Department isn't what you know, but what you can do. 
---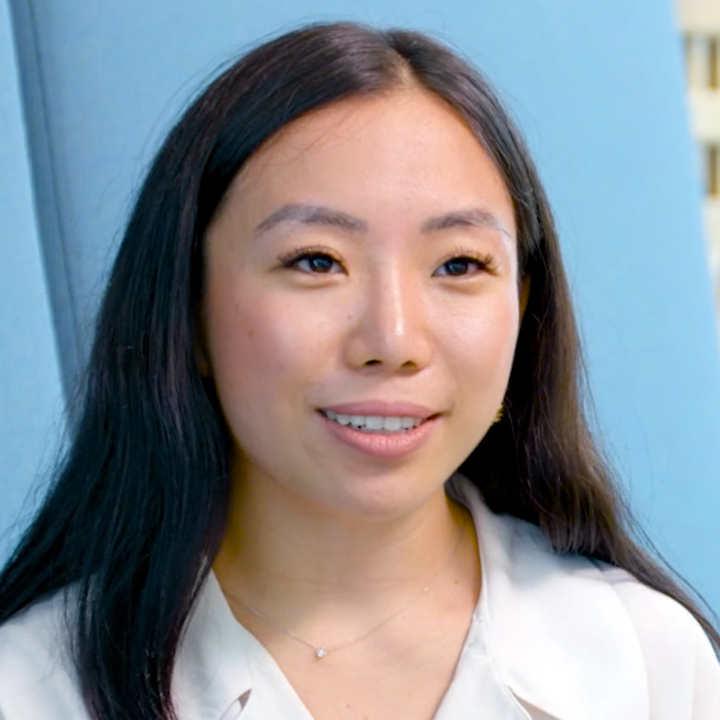 Juhi Jin – Bachelor of Social Work and Law – 2021 PM&C Graduate 
Hello! My name is Juhi, and I am a 2021 graduate at PM&C. I studied a combined Social Work and Law degree in Sydney, and worked for one year as a social worker and paralegal prior to joining PM&C. 
Moving to Canberra was never part of the plan. Subconsciously I believed working at PM&C was not the path for me or a real option within my grasp. I would love to share how this year has joyfully challenged this belief, alongside other preconceptions of full-time work. 
1. You don't need to be a specialist.
Growing up as a child of immigrant parents, I believed I had two career options: lawyer or doctor. I dutifully pursued the former and from the first year of university felt immense pressure to figure out what I'd specialise in. This stemmed from the belief that my twenties were a time to narrow down and develop mastery, requiring careful and deliberate steps towards a career. Not becoming a lawyer is one of the best things that has ever happened to me. 
Policy is really fun. I feared it'd be tedious and dry, rearranging numbered paragraphs in long documents. Instead, I have found policy to be fast-paced, varied and all about responding to societal needs. I get the best of both worlds from my degrees – the people focus of social work and the critical problem-solving of law. I have also learned there is a word for people with short attention spans who are interested in lots of topics – generalist. 
2. You don't need to be a political whiz. 
A large reason why PM&C felt so foreign was that I didn't identify with the image of a public servant in my head. Someone confident and articulate, who is always on top of politics and reads The Economist for fun. 
My parents own a restaurant and didn't go to university. I didn't grow up discussing politics around the dinner table. They wouldn't be able to identify the Prime Minister.
This year has taught me that you don't need to be any type of person to work at PM&C. You don't need to be a debating champion. You don't need to have studied politics, economics or law. The things that make you feel different are what empower you to analyse policy from a different angle.
3. You do need to be curious and open-minded.
The undoubtable highlight of my graduate year has been the people. Everybody I've met at this department are as supportive as they are intelligent and hard-working. I have laughed every day at work. 
However, my colleagues are all so different. Not much unites them in background, studies or life experiences. Even my graduate cohort is comprised of unique individuals with degrees ranging from nursing to software engineering. Reflecting on the qualities they share, they are curious, committed and kind. 
…
Although this does not mean much coming from a stranger on the internet, I wish you good luck on your journey. I know how daunting this process is. This year has taught me that life is not linear and it's ok if things don't go to plan. Holding onto rigid expectations may close doors before they've even opened. Whether you end up at PM&C or not, everything will be ok.
---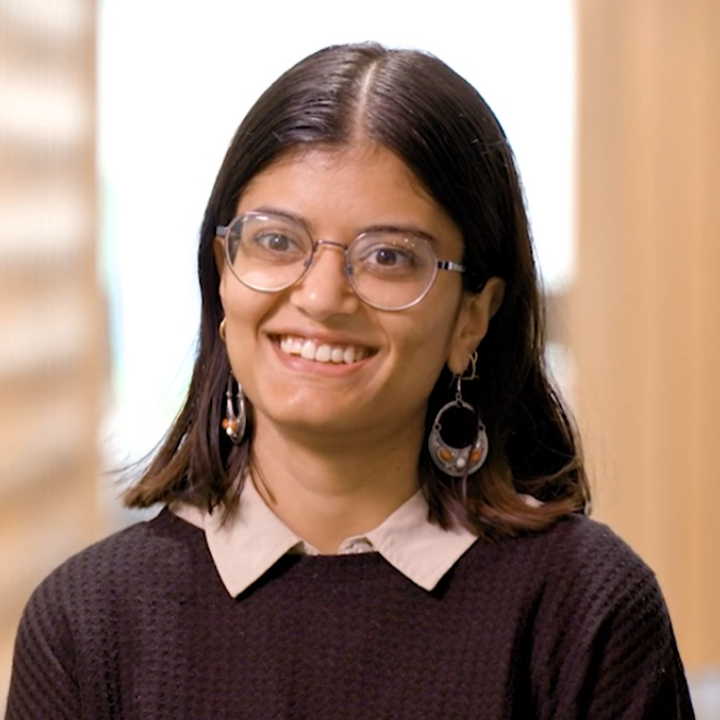 Jharna Chamlagai, Bachelor of Laws and a Bachelor of Environment and Sustainability – 2021 PM&C Graduate 
The transition from University to full time work can be exciting but daunting because of all the unknowns – Will I fit in? Will I deal well with routine? Will I have time for my hobbies? At PMC the answers to these have been yes! Here's why: 
Flexible work hours! 
Just as the name suggests, flexible work hours are flexible! This means you can work with your team to adjust your schedule to suit your needs. There was no need to cancel my 3pm Wednesday book club or that 2pm medical appointment I'd been trying to get for months - because I could make up those hours. For example, I'm more productive in the morning so I would just start work earlier. I've learnt that the key to this is communication – as long as you agree with your manager and team to make sure the work gets done – you can take full advantage of a schedule that works for you!
Networks! 
PMC has six diversity employee networks – the Ability Network, the Culturally and Linguistically Diverse Network, Mara Network, Pride Network, Women's Network and Wellbeing Network. The networks not only provide support and comradery but show that diversity is an essential part of the workplace. Attending network events such as Pride Network's Bisexual Awareness Day Panel or the CALD Network's Eid event has allowed me to get to know my colleagues better and encouraged me to also bring my whole self to work as I know it will be embraced. 
The Learning never strops (that's a good thing!)
The Grad program at PMC has lots of scheduled training to help you get into the flow of working in the public service and understand the different divisions within the department. Beyond that, mangers and colleagues are generous with sharing their own knowledge and encouraging you to attend seminars, panels, talks or whatever it is to help you gain a deep and well-rounded understanding of the skills and information that could help you do your job better. Being encouraged to keep learning and questioning makes working at PMC exciting and dynamic and never boring!
---
Simon Ricketts, Bachelor of Economics and IT - 2021 PM&C Graduate
---
Rakulan Arulmurugan, Bachelor of Commerce and Economics – 2021 PM&C Graduate
Perks & Benefits
Department of the Prime Minister and Cabinet
---
As a PM&C graduate, you will have the opportunity to undertake foundational professional development. Though our development opportunities are ever evolving, our program includes fundamental skills such as policy writing, social intelligence, economics for non-economists and problem-solving.
The 70:20:10 Approach
Our approach to learning and development is based on the 70:20:10 model, where you will learn 70% on the job through experience, experimenting and reflection; 20% from your peers and working with others; and 10% as formal learning and development.
At PM&C we believe that the journey is more important than the destination. Our program empowers graduates to discover, learn and grow through diverse opportunities.
The opportunity to work at PM&C will allow you to keep all of your options open, rotating through our areas of focus to explore your potential career path while having the comfort of knowing you have job security. 
PM&C gives you incredible insight into how the public service works and how decision-making works at the highest level. And as a graduate, you are working on meaningful work from day one, with the unparalleled opportunity to do that across a range of policy areas as you rotate around the department.
Unlike other government graduate programs, the PM&C program allows you to choose your own rotations, leaving your next adventure up to you.  The program will support you to connect and network with different business area, however ultimately the responsibility is yours.
The below timeline demonstrates an example of a graduate journey, and is dependent on individual performance: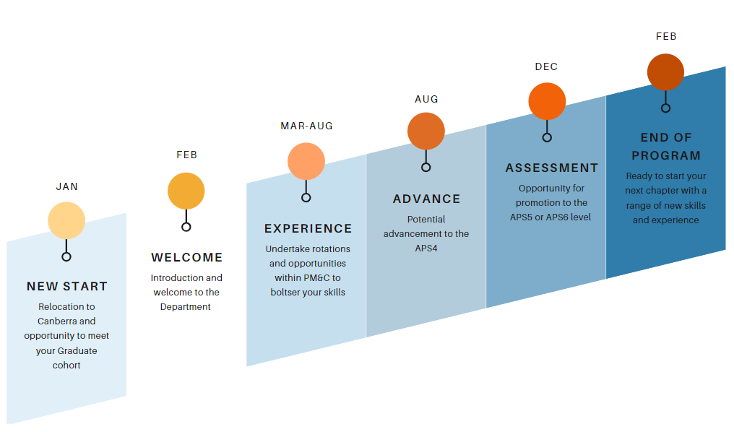 What we offer
PM&C is a flexible, diverse and inclusive workplace with attractive remuneration packages, including generous employer superannuation contributions. Our graduates start as full-time, permanent employees at the APS3 level. After 6 months, you may be eligible to advance to the APS4 level. On successful completion of the program, you will be assessed for advancement to the APS5 or APS6 level.

Relocation assistance
We know that starting a new job, let alone starting in a new city, can be daunting, challenging and exciting. We'll take care of the logistics, so you can focus on the rest. We offer relocation assistance to successful candidates to ensure a seamless introduction to living in Canberra. This includes (if applicable) relocation assistance for dependants and, in some cases, your pets.
Flexibility
We all know the benefits of working flexibly (productivity, wellbeing, employee engagement, retention, eco-friendly, sustainability to name a few) so even before COVID, PM&C has always been a flexible workplace, supporting a healthy work-life balance and adopting an 'outcomes focused' mindset.
Our 'Working Your Way' (WYW) environment and hybrid model means we have never had fixed desks, with activity based working encouraging collaboration, networking and the exchange of knowledge and skills, improving productivity and mood.
We have a mix of sitting desks, standing nooks, collaborative and quiet spaces and plenty of virtual environments that promote agility and flexibility. Designated lockers allow you keep work resources (snacks) safe and accessible for your office days, while laptops and headsets making working from home easy.
You will spend the first two weeks in the office with your supervisor, and from there everyone will be on an individual plan of office days vs home days. These plans may be formal or informal but always include the wider team and what gets the best outcome for everyone.
A Day in the Life
Department of the Prime Minister and Cabinet
---
JESSICA LAMB – Day in the Life
8am – I'm not a morning person, so the best thing about living close to work is getting to have a sleep in. Especially as the days start getting colder. I've learn there's an unspoken rule in Canberra that you can't turn your heater on before ANZAC Day, but with these cold mornings, I'm getting close to breaking this rule. I eventually brave the cold, and arrive at the office just before 9am.
9am – My current rotation is at the National Office for Child Safety (NOCS). A relatively new branch at PM&C, created in response to the Royal Commission into Institutional Responses to Child Sexual Abuse. I spend the first hour going through my emails and reading up on the news. It's important to stay on top of what's happening, especially anything relating to child safety. Our branch then meets for a "stand up" where we all go through our priorities of the day.
10am – NOCS's current project is working on the National Strategy to Prevent Child Sexual Abuse, a key recommendation of the Royal Commission. It's surreal to be working on something that is going to be having such a positive impact on people. A while back, we had sent general summaries of the Strategy to a range of non-government organisations and individuals. My job is to read through the responses, where organisations and individuals have written back with ideas for the Strategy, and collate them all. I'll be meeting with my supervisor later this week to go through and identify any common suggestions or key ideas that we think should be incorporated into the strategy. NOCS have really made an effort to consult externally for the Strategy, and it's great to see them listening to people who have firsthand experience and knowledge of what the main issues out there are.
12.30pm – Some of us from the branch walk over to the Barton Grocer for some lunch. It's always so busy, but a great place to go for a healthy lunch. Our branch is having a Wellbeing Afternoon Tea, so I pick up a few goodies for that.
1pm – Back to reading submissions
4.30pm – Our branch finishes the day with a Wellbeing Afternoon Tea. It can be draining working on such heavy topics all day, so the head of our branch always likes to make sure we balance it with wellbeing activities.
5pm – Finished for the day, so I head home on the bus.
6.30pm – Way back at the start of the year, I joined a social netball team. I didn't know any of the people on my team before this year, but the great thing about being a grad in Canberra is that so many people move here not knowing many people and are keen to meet new people. We've got a game tonight, and we're playing against another team of grads, so the pressure is on.
7.30pm – It was a close game, but we ended up losing by a point. Despite the loss, and my competitive streak, there are no hard feelings so some of us from the two teams go out for dinner at a nearby pub, The Duxton Hotel.
9.30pm – I get back to the apartment, cleaning up a little bit. I have a quick FaceTime with my family back in Perth, and then head to bed (promising myself I won't stay up too late on my phone!).