DuluxGroup Graduate Programs & Internships
DuluxGroup is a manufacturer and marketer of products that protect, maintain and enhance the spaces and places in which we live and work.
DuluxGroup currently has 0 opportunities.
Select the following options:
Imagine a better place …
DuluxGroup's origins date back to 1918, with its original heritage in decorative paint for Australian and New Zealand homes.
Today, DuluxGroup is a leading marketer and manufacturer of premium branded products that protect, maintain and enhance the spaces and places in which we live and work. It is home to some of Australia and New Zealand's most recognised and trusted brands, including Dulux, Selleys, Yates, B&D, and Cabot's, to name a few.
DuluxGroup's premium brand positions are supported by a strong track record of innovation and new product development. With a focus on delivering first-to-market with new products, industry leading service, comprehensive distribution, we actively continue to find smarter, market leading solutions for our end consumers and our retail and professional trade customers.
DuluxGroup's people have developed expertise, experience and skills across a diverse range of professional disciplines. We span geographies, cultural backgrounds and life experiences. We are united by a shared set of Values and Behaviours that guide the way we meet our strategic objectives and, ultimately, deliver our core purpose. Driven by these values we actively seek new talent that can help deliver our core purpose – to imagine a better place.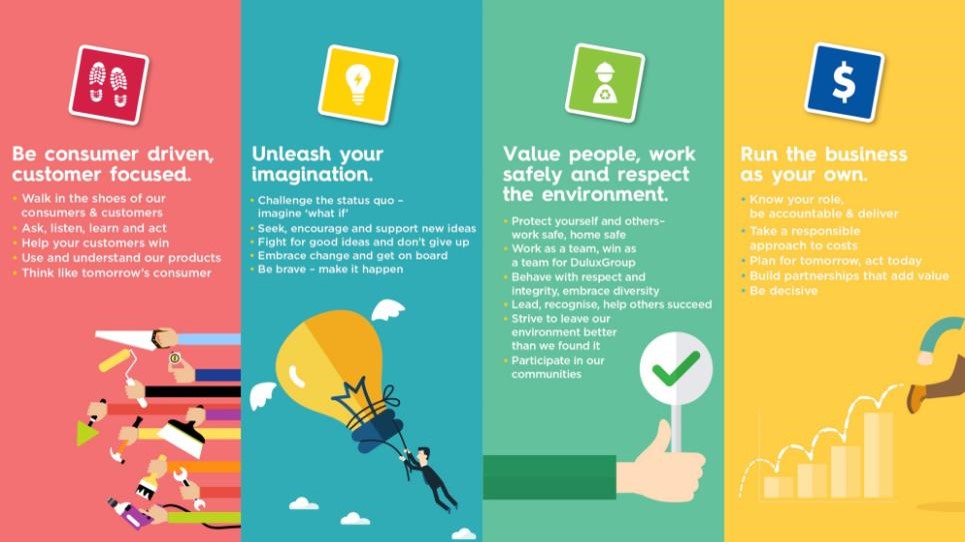 Our Graduate Development Program offers recent university graduates work in real jobs with real responsibilities, exposing them to many opportunities within its three years.
Graduates join us to work in a variety of roles, including graduate chemists, marketing product managers, site managers and business analysts. They often move between business units such as Selleys, Yates, Dulux NZ and Dulux Paints Australia. They could be working at our new state-of-the-art paint factory at Merrifield, in the Innovation Centre labs devising new formulas for products, or on our iconic marketing campaigns. Our graduates are in high demand by managers across the company as they have academic and real, on the job experience.
The Graduate Development Program delivers much more than technical skills and knowledge; we are developing our graduates to be leaders of the future. During the three-year development program, they develop skills and experience in finance, project management, presentation techniques, effective communication and undertake a variety of business simulations. Our graduates do field work, spend time in various parts of the business and develop a holistic view of DuluxGroup. Our Executive team and other senior leaders actively sponsor and mentor graduates providing invaluable networking opportunities.
Business & Commerce
Finance roles
Sales roles

e.g. sales, account management

I.T

e.g. project coordinator, software tester, technical support

HR

e.g. HR Graduate, Organisational Development, Recruitment
Engineering roles
Engineering

e.g. site manager, maintenance manager

Supply Chain

e.g. demand manager, production supervisor
Marketing
Product management
Customer marketing
Innovation/ Research and Development
Chemist

e.g. product development and research, examine quality issues, test paints
What do our Graduates say?
The opportunity to be part of the Graduate Program at DuluxGroup has been one I would highly recommend to any new graduate. The structure of the program enables the flexibility to learn on the job, whilst providing fantastic workshops that develop professional skills necessary across all functions. The program offers graduate's exposure to a variety of senior leaders throughout the organisation who offer ongoing assistance and help equip graduates with the necessary skills to succeed in their career. Personally, one of the biggest advantages of the program is the constant collaboration with fellow graduates that it allows, providing a strong support network and cross-functional relationships within the workplace that will last beyond the program. It truly is a great experience to be part of such a supportive program and undoubtedly one that will help forge a career within a successful organisation.
Jessica
Feast Watson Brand Manager
The DuluxGroup Graduate program has provided me a space to learn, be challenged and do so with a cohort of like people. With a structure supporting each of the graduates in their real role, intensive workshops and activities see us together twice a year across the period. The emphasis placed on growing skills and building relationships in the program is supported across the organisation and especially by our senior executive members. This ensures that the development of tools and skills in relation to your business discipline is strong, as well as gaining an understanding of how they apply to your colleagues in cross-functional areas. The opportunity to be part of this program has been one that will compare to no other early in my career and definitely one that will be important for my continual learning far beyond the program.
Sophia Tzitzivakos
HR People Services Team Leader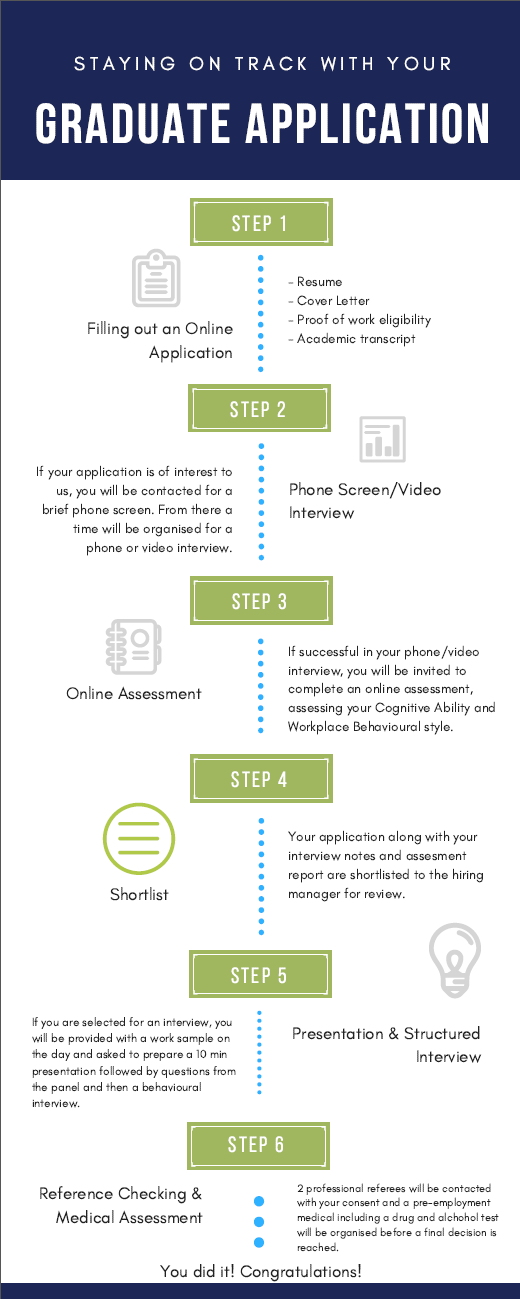 We accept interns through university programs, providing various opportunities for real experiences within a variety of roles.
Our Interns
During my time at Dulux I was able to experience many things, meet different people and took advantage of the opportunities given to me. Through those opportunities I was able to build my skillset and expand my knowledge in many areas. I was given real responsibilities and professional guidance that helped direct me in the right direction. I learnt something new every day and was provided with valuable chances to make a positive contribution to the company's internship program. In turn, I have gained an insight into what a real position is like.
Vanessa Ty
Intern
Throughout my internship experience, I was exposed to a wide range of tasks and activities, all of which provided me with a degree of practical knowledge unobtainable in a classroom environment. As a result of the program, I was able to enhance my ability to interact with colleagues within a corporate environment, as well as my understanding of the processes relevant to my own discipline (HR). Overall, I am very pleased that I was granted the opportunity to undertake an internship at Dulux and am thankful that my supervisors were so welcoming and helpful.
Peter Manousos
Intern
Imagine working …
Where the decisions are made here
Imagine a better place to be a Graduate