Gadens is a pre-eminent, independent Australian law firm with over 80 partners and 630 staff across our offices nationally.  We are repeatedly recognised as a leading legal service provider in the Chambers Asia Pacific and The Legal 500 Asia Pacific legal directories.
Gadens currently has 0 opportunities.
Select the following options:
Past Gadens Graduate Hiring Statistics
If you're interested in working at Gadens, understanding when they have opened up applications for their graduate programs, graduate jobs and internships is helpful knowledge to have so you know when you might need to apply. Use the below information to see when Gadens hires graduates, but more importantly what graduate degree's and other student attributes they target for their jobs.
---
Work rights
Australian Citizen (100%),

Australian Permanent Resident (100%),

New Zealand Citizen (100%),
Past Gadens Graduate Programs
Check out some of Gadens's past jobs they have posted on GradConnection over the last 12 months. Understanding the details about what a graduate employer is looking for well before applications have opened can sometimes be the edge you need to secure your first graduate program.
---
A 12 month graduate program open to candidates who are PLT qualified and will ideally be admitted before commencement (or admission to follow within the first three months of the program).
POSITION START DATE
Mar 2022 (approx)
A 12 month graduate program open to candidates who are PLT qualified and will ideally be admitted before commencement (or admission to follow within the first three months of the program).
POSITION START DATE
Mar 2022 (approx)
A 12 month graduate program open to candidates who are PLT qualified and will ideally be admitted before commencement (or admission to follow within the first three months of the program).
POSITION START DATE
Mar 2022 (approx)
Gadens is a leading, independent top 10 Australian law firm, with 80 partners and over 630 staff across our offices nationally. Our core values are our foundation and reflect our essence and character – they define how we interact with one another and our clients.
We work collaboratively with clients to help them achieve their objectives – providing an outstanding client experience for every client. This is underpinned by our intense focus on understanding our clients, their needs and expectations and building meaningful, long-term relationships – many of which span decades.
We have a strong reputation and are well regarded for our specialist, market-leading practices in advisory, transactional and disputes work. We work with clients across an extensive number of industry specialisations. Our significant breadth and depth of expertise encompasses banking and finance, corporate advisory and tax, dispute resolution, employment advisory, government, intellectual property and technology, private clients, property and construction, planning and environment, and recovery and insolvency.
At Gadens many of our partners and special counsel are recognised as leaders in their areas of law.  You will often be working directly with these same partners and special counsel on matters without always the levels of lawyers in between.  Through our people, you will develop both your technical and business skills throughout your rotations. Our unique program, being PLT qualified, allows you to hit the ground running and join client meetings and spend time doing work on high level matters and real clients from day one. 
As a leading law firm no day is the same, with interesting work, high calibre clients and the best teams in town. Apply for the [email protected] program today to grow your career with us.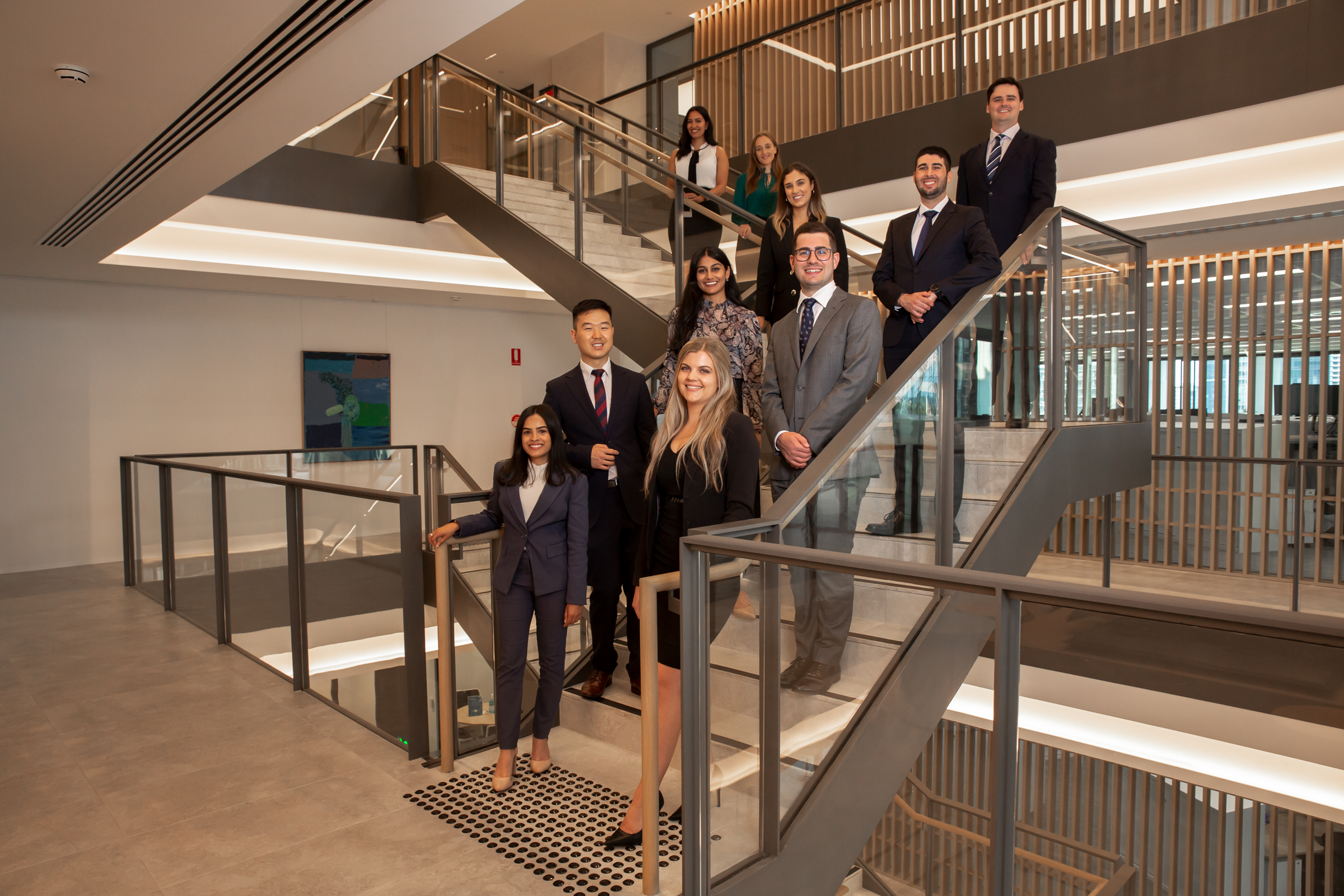 [email protected] is the program through which we attract and retain talent within the firm. Once on our program, you will immediately receive challenging and varied work with a high level of responsibility. 
[email protected] is based on two, six month rotations through different practice areas. Practice areas in the rotations include: 
Property, Construction & Planning 
Corporate Advisory & Tax (including Intellectual Property & Technology, and Employment Advisory) 
Banking & Finance (including Corporate & Institutional, Commercial & Residential, and Recovery & Insolvency) 
Disputes 
Private Clients (including Family & Relationship Law).
Spending time in different practice areas means you have the opportunity to make an informed decision about your chosen area of specialisation. It also ensures you develop a broad set of skills, which you can carry with you throughout your career. 
Training and development
Throughout the program we will invest in you and provide comprehensive support to ensure each rotation is a success. You will team-up with a dedicated mentor who will work closely with you to develop your technical skills, allocate work and provide ongoing feedback. 
You will attend multiple seminars each month led by partners and senior members of staff so that you are continually learning and developing. These sessions focus on business skills and technical development, and ensure that you are given the support you need to excel in a commercially driven environment. 
[email protected] is open to candidates who are PLT-qualified and will be admitted before commencing with us in March 2022 (or within the first 3 months of commencing the program).
Application Process
Gadens
---
[email protected] is open to candidates who are PLT-qualified and will be admitted before commencing with us in March 2022 (or within the first 3 months of commencing the program). 
Step 1: Online application
Our application process is online through our website: www.gadens.com/[email protected]. On our website you will find details of what information to upload as part of the application process. 
Step 2: Interviews
You will meet with partners or senior lawyers and a member of Human Resources. Our interviews are relaxed so we can get to know the real you and you feel comfortable to ask questions about life at Gadens.  
Step 3: Show us your skills and get to know us better
After your second round interview you can show us your skills and join other applicants for a short workshop.  Following, you are able to relax at an event where you can speak with more people from Gadens and learn their story and why we love our firm.
Our top tips
Our top tips are: to answer your mobile phone professionally (you never know who is calling!); to be yourself; and don't over-rehearse your answers at interview.  This is an exciting time for you as you transition to working as graduate lawyers, so enjoy the process.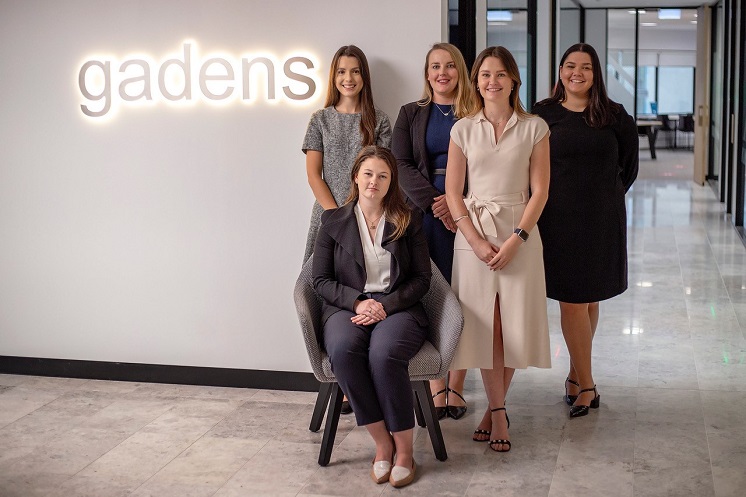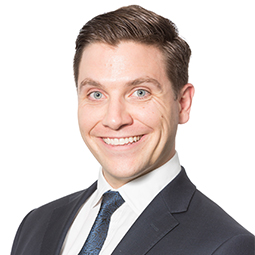 My graduate story: Tim Buckley, Lawyer (Disputes)
Rotations: Disputes and Property, Construction & Planning 
Tell us a little about yourself prior to joining Gadens.
I was an Associate to a Judge in the District Court of NSW, prior to which I worked for her Honour Justice Bergin SC on the Public Inquiry under the Charitable Fundraising Act 1991. During university, I worked at NSW Crown Solicitor's Office, Herbert Smith Freehills, and 12 Wentworth Selborne Chambers. I graduated from UNSW and Sydney University and was involved in a number of extracurricular activities including editing, tutoring, and competitions.
Describe a typical day for you at Gadens? 
Gadens' disputes team acts for a number of corporate, government and individual clients in litigious or contentious matters. A typical day involves conferences with clients, counsel and witnesses, attending Court, or preparing documents for court, including affidavits and exhibits. 
What attracted you to the [email protected] program? 
I was attracted to joining the [email protected] program in 2019 because it was an excellent opportunity to work for a leading law firm with brilliant Partners and gain early-career exposure to industry-leading matters and clients. I was also attracted to the culture that supports its lawyers' continued personal and professional development through the structure of the [email protected] program and beyond. 
What has been the highlight since beginning at Gadens?  
The culture and people – having a team of kind, talented and hard-working colleagues makes tailoring solutions to complex and unique disputes an enjoyable and rewarding experience.
Was working in a law firm what you expected? 
Working at Gadens exceeded my expectations. I've enjoyed the calibre of Gadens' litigious work, in particular the interesting and varied high-profile commercial disputes and regulatory matters, as well as the opportunity to gain early exposure to Partners with stellar reputations in the profession.
What piece of work are you most proud of from your graduate year?
Appearing for the first time as a solicitor at Court – those moments of achieving individual and professional goals are special. 
What piece of advice would you give to the next round of graduate recruits?
Be eager to learn and grow from every experience in your professional life.
At Gadens you will be able to have relaxed interactions with your colleagues and have an opportunity to get involved in social activities and other health and wellbeing initiatives. Our practice groups each have different social activities which range from informal drinks, monthly bake-offs, annual Olympics competitions and the like.  Hot cross buns at Easter are a must, the footy tipping competition is a firm favourite and our annual End of Financial Year party is themed with prizes for best dressed.  There is always something happening around the office and some friendly competition too.  
Active participation is encouraged in our health and wellbeing activities which promote better fitness for both the body and mind.  It also promotes team building across the firm and strengthens the sense of community and culture amongst our people.  There is something for everyone, whether it be team sports, yoga, fitness programs, sleep or nutrition seminars.  Our futsal team is one of the best in the league and our netball team are just as hard to beat! 
We provide a collaborative and welcoming team environment where you can achieve the best in your personal and professional development. Gadens also offers: 
flexible work practices and work life balance 
performance based bonuses for fee earners
up to 26 weeks paid parental leave for primary carers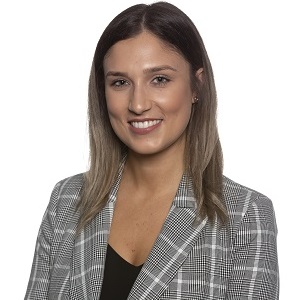 A Day in the Life of a Gadens Graduate
Montana Pirruccio
Lawyer at Gadens
About me
I am a lawyer, daughter, sister and loving mother to my Himalayan cat, Latte.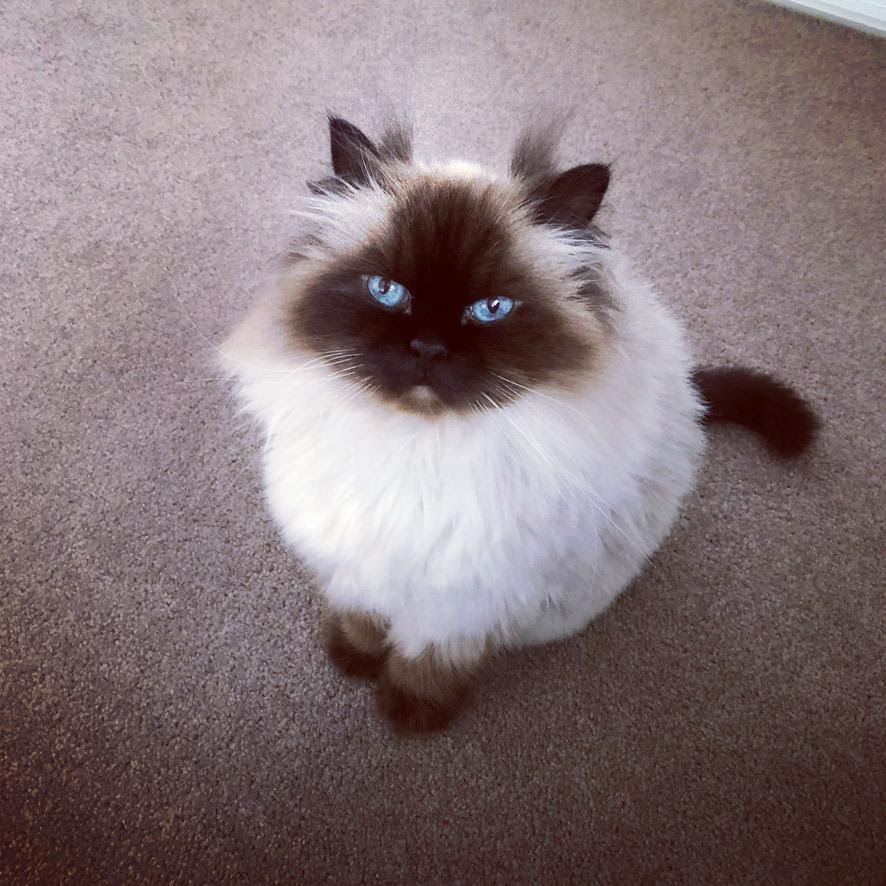 (Adorable, I know!)
After overcoming the challenges of COVID-19 and a year of uncertainty, I finally began my career and journey as a part of the [email protected] Program in March 2021.
As part of the [email protected] program, we have two six-month rotations in different practice groups.  My first rotation is in Tax, which sits within the Corporate and Advisory group.  I know you are probably thinking WHY tax, but hopefully a brief summary of a typical day in my life will provide some insight into the diverse and rewarding work my team does.
6.30 AM
Wake Up
I try to wake up at the same time every weekday, and give myself an hour to get dressed, make myself presentable and arrive at the train station with minutes to spare (this usually goes to plan…).
On the train, I listen to music and read any overnight emails or news headlines.
8.45 AM
Arrive at Work
I would like to say that the morning is the busiest part of my day, but usually the workflow is consistent.  It is therefore important that I go over the "to do" list I created for myself the evening before.
9.00 AM
New Matter
I have a scheduled call with one of the Partners in my team to discuss a new client whom we are acting for on a pro bono basis.
Within the first few minutes of the call, the client contacts my supervising Partner and is invited to join.  I introduce myself to the client and am instructed that they have sought a review in the Administrative Appeals Tribunal of an unfavourable private binding ruling issued by the Australian Taxation Office in relation to their service dog.
The client was overwhelmingly thankful for our assistance and willingness to help. 
After the call, I write up a summary of the matter and the scope of work required.
9.30 AM
Research
The next item on my agenda is to find out what stage in the Administrative Appeals Tribunal proceedings our client is up to. This requires me to make direct contact with the officer in charge at the Australian Taxation Office. 
10.00 AM
Ongoing Matters
I now need to follow up any outstanding tasks with the ongoing matters I am assisting with. 
As part of the tax team, I am incredibly lucky to work closely with a Senior Associate who deals with deceased estates and estate planning.
After attending a client meeting with the Senior Associate to witness an Enduring Power of Attorney and Appointment of Medical Treatment Decision Maker, I now need to arrange a video conference with one of the attorneys based in Germany. 
11.00 AM
Coffee Time
It's time for a coffee run with some of the juniors in the team! This is an essential part of the day and provides that extra energy boost before my next client meeting.
11.30 AM
Client Meeting
I now have to meet an executor to sign the necessary documents for an application to the Supreme Court of Victoria for a Grant of Probate. As part of the meeting, I will be required to clearly explain the steps involved in this process and answer any queries the executor may have. This is the most rewardable part of my role as a lawyer – helping people in need and being a shoulder to lean on through tough and challenging times. 
The amount of autonomy I have received in the short period of time I have been working with the team is also incredible.  It is a fun and steep learning curve to be running your own files as a junior and being in direct contact with clients.
1.00 PM
Tax Training
Today I have training with the tax team. One of the Partners and Associates in the team is presenting on trusts and tax avoidance, with a particular emphasis on the operation of section 100A of the Income Tax Assessment Act 1936 (Cth).
This is a practical and effective way of updating the team with any updates in our practice area on a regular basis.
2.00 PM
Memorandum of Advice
I now need to prepare a Memorandum of Advice on the potential tax consequences of varying a discretionary trust deed. This requires me to thoroughly review the trust deed, identify the beneficiaries and power to amend under the trust, and set out any capital gains tax or stamp duty liability that may apply. 
Every trust deed is drafted differently, and every client has a varied level of understanding. It is therefore crucial to cater any advice to the specific needs of the client, with an ultimate goal of providing succinct, clear and practical advice the client can rely on.
4.00 PM
Urgent Matter
I get a last-minute matter from one of the Partners whereby the required documents for the appointment of a director and issuance of a share in a corporate trustee must be drafted and sent to the client immediately. This takes precedence, and I spend the next hour drafting the required documents and explaining next steps to the client.
5.00 PM
Administration
As my busy day comes to an end (almost), I attend to administration tasks. I check in with our Legal Assistant and ensure that she is not waiting on anything from me to send out or check over.
5.30 PM
To Do List
It is time for me to prepare my infamous "to do" list. I write down each outstanding task I need to follow up the next day in order of priority.
This keeps me on track and is also a good way to keep updated with the multiple files I am running.
6.00 PM
Travel to Bachata Lessons
Dance is a massive part of my life and the only form of exercise I cannot say no to. I head straight from the office to my Bachata lesson which starts at 7.00pm.
7.00 PM
Bachata Lessons
Bachata lessons allow my mind to switch off for an hour and just have fun! Ensuring I have the time to wind down after work is incredibly important and a fun way to end my day.
Diversity & Inclusion

Gadens
---
At Gadens we engage with all our people to create an environment that promotes individuality and diversity, while instilling pride in the firm and our collective values. We are committed to equality in the workplace, and promote an environment that respects and values people's differences – whether they be race, gender, sexual orientation, age, religion and / or disability.
Our flexible working policy empowers all Gadens team members to co-design a work week that enables them to work the way they work best. This fosters an improved work-life balance and has a meaningful flow-on impact on their homes and communities.
LGBTIQ+

Gadens
---
Our LGBTQIA+ colleagues at Gadens are very important to us. There are opportunities to get involved throughout the year with internal events, publications and mentoring opportunities.
Disability Support

Gadens
---
Gadens is committed to fostering inclusion of people with disabilities, and we have been working to build partnerships with providers who will support our current and future employees with disabilities to have successful and fulfilling careers with Gadens.
We have recently partnered with JobSupport, a specialist service placing people with an intellectual disability into employment. JobSupport's mission is to place, train and maintain people with an intellectual disability into quality jobs that meet both their employment needs and the needs of the employer. Each position is specially designed by an employer in consultation with JobSupport, to ensure that each placement works well for both the employer and new employee.
Gender Equality

Gadens
---
At Gadens, we aim to create a work environment that encourages and promotes diversity and equality, while instilling pride in the firm and our values.  Recruitment and advancement within the firm is based solely on merit.  
As published in our most recent report to Australian Legal Sector Alliance (AusLSA), we are immensely proud of our gender equality statistics, with over 33% of our Partnership being female. Furthermore, we have a robust paid parental leave scheme, which has enabled 85% of our workforce to return to Gadens after parental leave.
Gadens Gender Profile, 2020:
33% female partners
60% female legal staff
74% female non-legal staff
Examples of our commitment to gender equality include:
Signatories to Pay Equity Ambassadors under the Australian Government Workplace Gender Equality Agency's (WGEA) Pay Equity Ambassador Program.
Awarded WGEA Employer of Choice for Gender Equality.
Delivery of unconscious bias training to all employees
Law Council of Australia Equitable Briefing Policy signatories.