Holcim Graduate Programs and Jobs
Holcim is a leading global supplier of aggregates, cement, ready-mix concrete and concrete products. Our products build homes, schools, hospitals, roads and railways, supporting our vision to provide foundations for society's future. Our business operates in over 300 locations across Australia and New Zealand.
Holcim currently has 0 opportunities.
Select the following options:
In Australia and New Zealand, Holcim has been delivering construction materials for more than 100 years. Originally serving the industry under the well-known Readymix and Humes brands, Holcim now continues to supply products including aggregate and sand, concrete, concrete pipe and products.
Holcim operates right across the Australian continent supplying concrete from a network of more than 200 concrete plants, 900 mixer trucks and mobile and on site facilities. Our 88 quarry operations provide consistent, quality products for a diverse range of customers and applications. Our contracting business services serve major mining and infrastructure projects. Within New Zealand we operate 2 cement terminals at Auckland and Timaru.
Globally we are known as LafargeHolcim. Created through the merger of Holcim and Lafarge in 2015 – two companies with a rich history, pride and culture – LafargeHolcim is the leading company in the building materials industry. LafargeHolcim has more than 115,000 employees and operates in 90 countries around the globe. We have a unique business portfolio and serve customers ranging from individual homebuilders to the largest and most complex projects. We offer the widest range of value-adding products, innovative services, and comprehensive building solutions. In Australia, Holcim still trades under its own name but is part of the global merger.
The Holcim Graduate Program
Holcim
---
Our two-year rotational program blends professional development with technical training and individualised learning options. Over the two years, each graduate completes three challenging rotations. Each rotation is eight months in duration. In addition to this, the program involves:
Comprehensive training on-the-job for every rotation
Broad exposure to two or more business units across Australia
Leadership training to prepare you for future management roles
Business-specific development objectives
Personalised development options tailored to your career goals
Mentoring program, feedback and coaching
The rotations we offer are as diverse as the people who are doing them. Rotations may be different for each graduate depending on their areas of interest and expertise. Rotational assignments can include:
Business improvement
Aggregates operations: including crushed rock, sand and gravel
Ready-mix concrete operations: including standard, high performance, decorative or special applications concrete
Concrete products production and operations: steel reinforced concrete pipes, culverts and engineered precast concrete
Transport and logistics
Projects and quality
Engineering and project management
Technical
Sales and operational planning
Meet Annie Mak.
Annie started the graduate program early 2016 and has so far completed rotations in the Major Projects division and in Aggregates.
"It's really satisfying to know that we get to work on real life projects and make a real contribution to your team. I've been involved in a lot of major projects - the Pacific Highway upgrade, the WestConnex project and overseeing the Boambee Quarry stormwater management upgrade The graduate program has allowed me to move closer toward my goal to become a project manager."
Meet Clare Taylor.
Clare started the graduate program early 2016, and has completed rotations in concrete production and in the pre-cast concrete products and pipes division.
"I chose the Holcim Graduate Program because I wanted to be a part of a multi-national company. I wanted to be part of a program that provided continual educational and professional development. The most valuable part of the Holcim Graduate Program for me is being able to apply the knowledge that I've gained at university in a real world application."
Meet Ben Appleby.
Ben completed his two-year graduate program in late 2016 and now works full-time in Oaklands Junction, Victoria, as a quarry supervisor.
"Joining an industry-leading company with a range of business units (aggregates, concrete and precast concrete products) has exposed me to a vast range of operations and challenges to overcome. The opportunity to move throughout the business and gain as much exposure as possible is a fantastic drawcard of Holcim's Graduate Program. Both the on-the-job and structured training has been excellent and has given me the base to move forward with my career."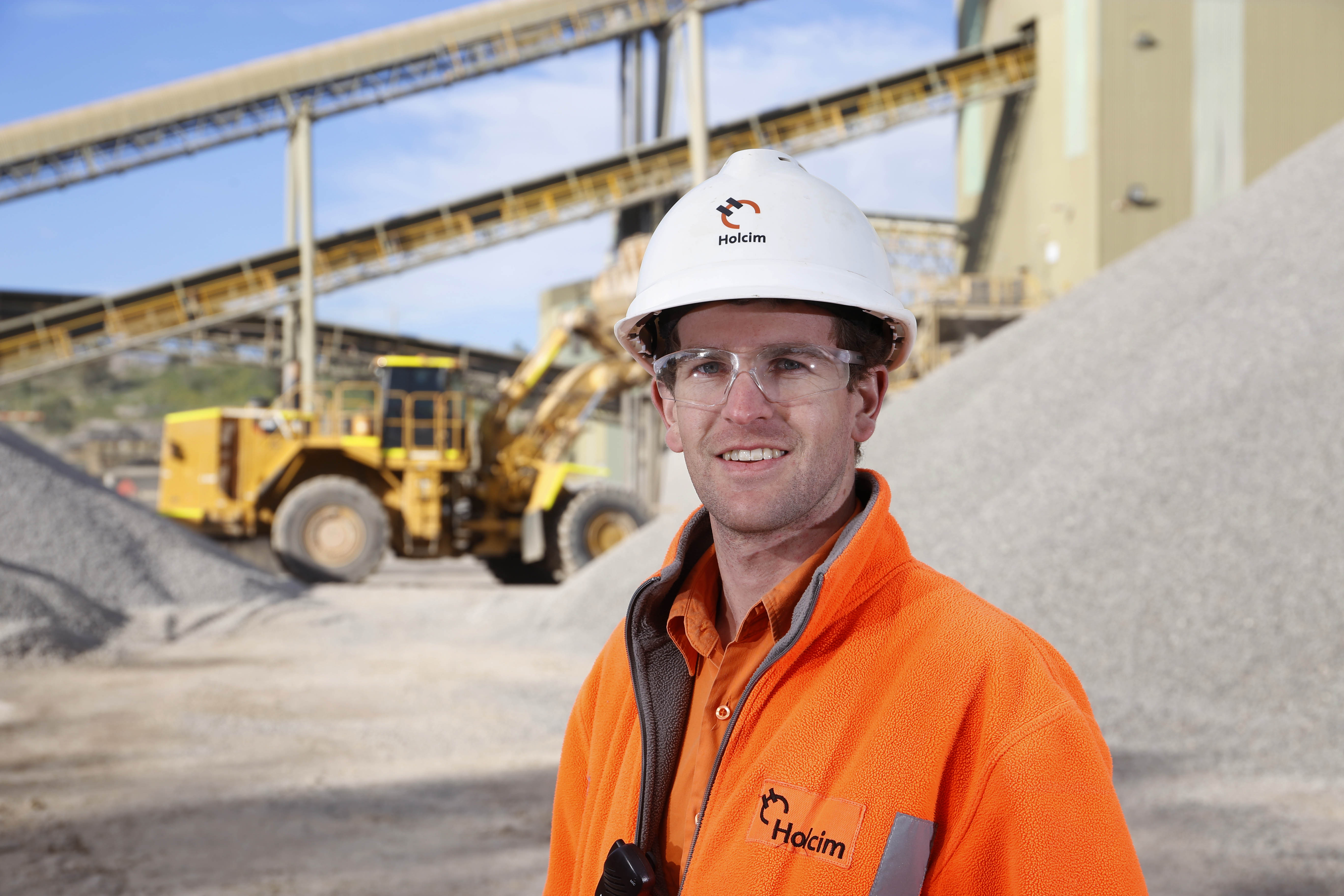 Our passion for Safety
Holcim
---
Passion is at the base of the safety culture at Holcim Australia. It provides the platform to achieve our shared goal of "zeroHarm to People" and "zeroHarm to the Environment". 
Ultimately the zeroHarm goal is a commitment by everyone in our organisation and is driven by everyone from the CEO down.
Everyone must understand and acknowledge the importance of safety on the job as well as integrating safety into our daily lives and everything we do – both as individuals and an organisation.
zeroHarm is supported by four fundamental principles:
Passion
Accountability
Behaviour
Communication and consultation
Let's get down to it; what will you get out of a career with Holcim? Here are our top five reasons to join Holcim:
We give you real responsibilities

We believe that the best development opportunity you can have is actually working in an operational role, with real work and real challenges. You will have a dedicated manager who can work with you to develop your career plan.

We give you career flexibility

Because of its structure, the graduate program gives you the opportunity to work across locations and business divisions. This means you can explore what you really want and where you really want to go.

We focus on names, not numbers

Having a smaller graduate intake means that we can focus on each graduate's development to suit both the business and individual requirements.

We develop and support you

We will work with you to define and offer development opportunities specific to your career goals.
Our Graduate Program includes multiple rotations that to give you different perspectives of our business.
Feel part of the larger community through our graduate networking opportunities.
To help you with your orientation to Holcim, our graduates are paired with a buddy at commencement and a mentor once you've settled into you role.

We have great rewards and benefits

Competitive salaries and regular salary reviews.
Additional superannuation contributions.
Financial support for relocations
Leave loading
Various deals and discounts negotiated by our Procurement team.