IPAR Graduate Programs and Jobs
At IPAR our people help people. We assist people recover from injury and illness to return to wellbeing and work. A positive outcome for just one client makes a difference not just to the individual, but also to their family, the broader community and industry. So, when we service more than 12,000 people a year this adds up to a lot of difference and a meaningful career.
IPAR currently has 0 opportunities.
Select the following options:
At IPAR our people help people.
We assist people recover from injury and illness to return to wellbeing and work.
A positive outcome for just one client makes a difference not just to the individual, but also to their family, the broader community and industry.
So, when we service more than 12,000 people a year this adds up to a lot of difference and a meaningful career.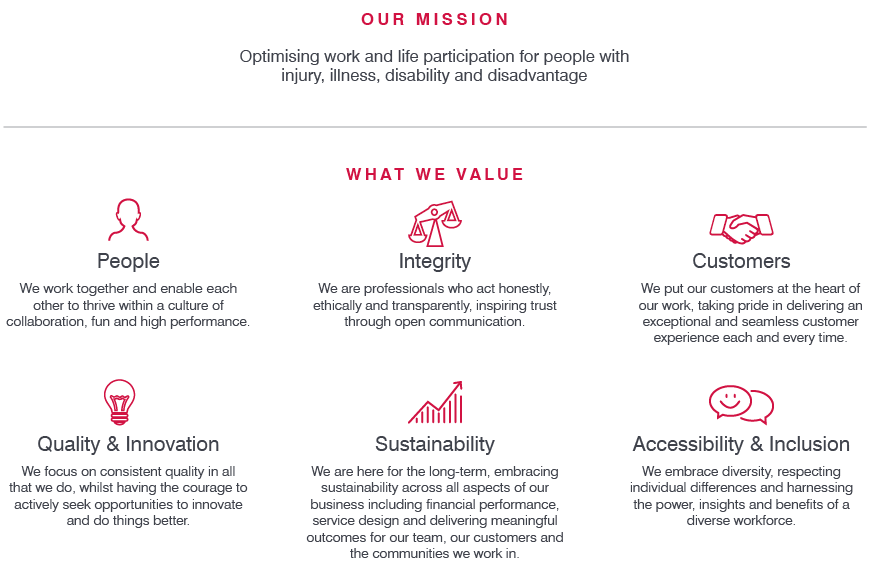 A rewarding, flexible career. Australia wide.
Our graduate roles provide an unrivalled opportunity to apply your hard-earned qualifications in a rewarding and flexible way.
We've got various full time and part time roles across our 40 locations Australia wide. We also offer ongoing learning, professional development and future career progression.
Because while our team members are caring for people, we're caring for them!
What is workplace rehabilitation?
IPAR
---
Working in workplace rehabilitation (sometimes also called occupational rehabilitation) allows you to apply your allied health qualification in a case management role.
We don't treat our clients. Rather we support them by managing their case as the central point of contact between themselves, their employers, insurers and their treaters.
In any one day, our consultants are out on the road, meeting clients and employers, undertaking assessments and empowering people to recover from injury or illness. You aren't confined to a hospital ward or have to clock on or off each day.
You get to set your own day, so you can achieve the best client focused outcomes and meet your KPI's in the most appropriate way for you.
Watch the following video from the Australian Rehabilitation Providers Association (ARPA) to learn more about workplace rehabilitation and read our "Day in the Life" examples to find out what can happen on any given day in a consulting role with us. 
The Roles
Workplace Rehabilitation Consultant
This role is performed by Occupational Therapists, Physiotherapists and Exercise Physiologists.
These consultants assist injured / ill individuals return to work with their pre-injury employer. The role includes identification of suitable return to work duties via a worksite assessment, ensuring these are medically appropriate via liaison with treaters, and progressing the individuals' return to work through regular reviews, communication and collaboration with key stakeholders. Consultants may also undertake ergonomic and activity of daily living assessments, and functional capacity evaluations. 
Vocational Rehabilitation Consultant
This role is performed by Rehabilitation Counsellors, Registered Psychologists and Provisional Psychologists
This role aims to return an injured / ill individual to work with a new employer. This is achieved through the identification of suitable employment options, and the delivery of tailored programs that assist individuals to develop independent job seeking skills via coaching and skills training. It may also involve supporting individuals to identify, apply, prepare and attend job interviews, and to successfully secure employment that is medically suitable and sustainable. 
When you join IPAR as a graduate you benefit from:
A strong support network:
A flying start with an extensive induction planned over 3-6 months
On-the- job buddy support
Someone helping you to learn the ropes
Mentoring from senior subject and industry experts
Ongoing professional development opportunities to keep your skills sharp with both internal and external educational opportunities
A flexible work environment and opportunities:
Career opportunities: unlimited possibilities to progress your career, whether it's moving to a different service division, an internal transfer to any one of our locations across Australia, wider opportunities that exist in our parent company the Work Health Group, or putting your hand up for regular promotion opportunities.
Volunteering opportunities (including two days of paid volunteer leave per year) so that you have the chance to give back to the local community
Autonomy in your role so that you can plan your day your way, while the support of your manager is there whenever it's needed
Recognition and rewards:
Competitive salary plus generous incentive packages
Rewards for great work (we love nothing more than acknowledging the great work of our grads. Expect a 'pat on the back', a post on our intranet, award nominations and rewards)
Star Finder reward program – be rewarded for referring people you know to jobs at IPAR
Star Award annual celebration for outstanding performance across 10 categories
A caring culture: 
Health and wellness program (with your team you can choice the program that suits you, whether that's gym or training memberships, entrance to sporting events, yoga or massage, even learning to cook!)
Social fun atmosphere
Parental leave
Registration supervision for Psychologists
Hear from other graduates
IPAR
---
Tom Kelly
Melbourne
Tom Kelly found his way into Occupational Therapy based on a recommendation.
"It was actually my mum, a registered nurse, who recommended it because of the variety. And I did enjoy the course, although there were practical parts – like shower assessments – that I didn't like! You don't hear about occupational rehab at Uni. But it certainly appealed to me as it was a much faster pace than what I'd experienced on placement in the hospital ward."
He applied for, and accepted, a consultant position in the Melbourne office in November 2009.
"It was a really supportive team which made the transition easy. I also had a bunch of classmates join at the same time, including three very close friends, so the social side of things was really good."
After a spell in team leadership, the travel bug hit in 2013 and Tom moved to the UK. It was in September 2014 that Tom returned, settling into a senior consultant role.
"IPAR had changed from a medium sized provider to the biggest. There were more service streams, like Life Insurance and TAC for people injured in transport accidents. There were bigger customers and more offices. Technology had improved and an intranet was launched. All the extra support helped with the admin part of the job and it became easier to be productive and meet targets."
Given the increase in size and services, more career pathways opened up and in July 2017 Tom moved into the role of Technical Manager.
"I'm now working 75% on consulting and 25% focused on projects to always improve our results. I still have the freedom and variety that I enjoy. I get to be on the road, seeing different workplaces, meeting a diverse range of people. I structure my day the way I need to and can even pick my daughter up from childcare when needed."
Rebecca Smith
Sydney
Rebecca Smith was always going to work in healthcare, but didn't know exactly which area to choose.
"I was about to enrol in Radiography when someone said do OT, you'll love the variety. They were right – as soon as I started it I really enjoyed it."
After she had completed her Bachelor of OT at Sydney University, Rebecca's first interview was with IPAR, for a role that she was offered and happily accepted.
"I was so keen to get started. There was loads to learn, and it was great that the team was really supportive and helpful. I loved the variety of the job. Every day was different and there was always something interesting to do." After a year, Rebecca wanted to try working in a clinical role to put her treating skills to work. So, she accepted a role at a small hospital. While she enjoyed it, after one year she began to miss IPAR.
"After a year of clocking on and off I felt that I had learnt all I could. Having stayed in touch with friends at the Sydney office, I knew the team had tripled in size. There was now a team leader at the office whose job is to support the team."
"I think the clinical experience helped. I've come back with more experience and I'm more productive. I look at my job like a lifestyle and I set up the work and my days the way I want. I honestly never have Monday-itis."
Sarah Burt
Bendigo
After completing her Bachelor of OT at Deakin in Geelong, Sarah Burt was starting to wonder what she was going to do with her degree. She enjoyed the course work but wasn't keen on the clinical placements. She found her calling when a university friend told her about a job IPAR and she started at the Bendigo office in January 2013.
"Bendigo was a small but supportive team who really helped me settle in. I also got to regularly chat to peers and experts in Melbourne."
In 2014, Sarah took some extended leave to travel for three months before returning to taking up the same position. Fast forward to May 2015, Sarah was ready for a more senior position and was drawn to a team leadership role.
As well as career progression, the social aspect of IPAR has always been a real positive for Sarah. Even when she commenced maternity leave in 2016, she enjoyed keeping in touch, attending social and health and wellness events and taking her bub to the team lunches.
"It was when I was on maternity leave that I was contacted about a team leadership role at Bendigo. I did the interview and was successful, so in August 2016 I was back as Team Leader and just in time for the IPARTY annual celebration too, what great timing!"
The recruitment process
IPAR
---
Applying for IPAR is easy, simply:
Browse the job opportunities we post on Gradconnect. (We post frequently, so if there is nothing when you first look, you can join our talent pool by clicking here 
Apply by filling in our application form and upload your résumé. (We'll send you a confirmation email of your application)
A member of our Talent Acquisition Team reviews your application against the selection criteria
If your application is suitable we'll contact you for a phone discussion. If you're not suitable first-time round – don't stress – we'll enter you in to our talent pool for potential future vacancies
If you are contacted for a phone discussion and pass with flying colours, you'll be put forward for a face-to- face interview (your time to shine) with the hiring manager(s).
We'll then complete reference checks with your referees
Once two successful reference checks are completed, you'll receive a verbal offer vie phone and provided with a letter of offer and contract via email.
Sign the contract. Celebrate. Start your IPAR journey.
Search
Find the start to your career here