IXOM Graduate Programs & Internships
At Ixom, we strive to solve our customers' challenges each and every day.
If you are up for a challenge and want to work for the market leader in water treatment and chemical distribution, apply to our Ixperience Graduate Program.
With more than 1000 employees globally, Ixom supplies general chemicals across a diverse range of markets in Australia and New Z…
View more IXOM has no active opportunities at the moment.
See who's currently hiring with our Job Search!
Search for jobs
At Ixom, we strive to solve our customers' challenges each and every day.
If you are up for a challenge and want to work for the market leader in water treatment and chemical distribution, apply to our Ixperience Graduate Program.
With more than 1000 employees globally, Ixom supplies general chemicals across a diverse range of markets in Australia and New Zealand, with a growing presence in North America and Asia.
These markets include agriculture, building and construction, food and beverage, pharmaceutical and personal care, plastics, pulp and paper and water treatment industries.
Whether it is the vital chemicals for the fresh water you drink, the clean pool water you swim in, the products you use to clean your house, the ingredients for your food or personal care items, Ixom is a part of your every day.
Our Locations
Ixom is a global company, with our graduates based throughout Australia and New Zealand. 
Ixom has a proud history and a bright future. Our dedicated workforce has driven our past success and continue to solve our customers' challenges so that their businesses grow and succeed.
That is why we are looking for graduates to join us as part of our Ixperience Graduate Program - are you up for the challenge?
What we can offer you
A permanent position on completion of your three-year graduate program
A structured program with rotations throughout the business in Australia and New Zealand - allowing you to develop your skills and experience across a variety of areas
A nominated graduate buddy in your first year for peer-to-peer support
A senior leader as a mentor for support, career guidance and advice
Development workshops with a focus on building networks and key capabilities
A graduate peer community
Involvement in community projects
Competitive salary and benefits package
Click here to see our Graduate Program Map.
Who are we looking for?
You are an ambitious individual who strives for growth and continual improvement. Your commercial mindset is an asset and you are keen to make an impact. By nature, you are curious and collaborative and want to make a difference.
Applicants must have a degree in any of the following:
Chemical Engineering
Mechanical Engineering
Electrical Engineering
Science
Pharmaceutical Science
There are few steps in our application and selection process to becoming an Ixom Graduate.
For more information and helpful tips on our process, see our useful Selection Guide.
Step 1: Online Application
Step 2: Online Assessments
Step 3: Video Interview
Step 4: Interview
Step 5: Offer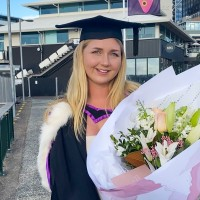 Graduate Program Experience – Geena
I have been part of the Ixom grad program for almost 5 months and I've spent this time in the NZ water team as a graduate technical account manager. This has been a really cool opportunity to see behind the scenes, and play a part in, how Ixom contributes to industrial, potable, and waste- water treatment. A decent chunk of my role is dedicated to industrial water treatment. This involves regularly testing and advising on the chemical levels of boiler and cooling tower waters at customer sites and our own Ixom sites. I've also had the chance to assist with trials at wastewater and water treatment plants. The role also has me helping out with invoicing, ordering, and ad-hoc things which has given me some good exposure to the job of an account manager.
The variation within the role is what I enjoy the most. The change of scenery and type of work between customer sites and treatment plants; the lock-up where I test samples; and the office keeps things really interesting. Wherever I am there is always something new to experience and learn.
I'm really excited for the rotations and continual development of the grad program, but the thing I've most enjoyed about the program so far is the network that you get to be a part of. While I'm the only grad based in Auckland, I've been able to connect with the other NZ grads so I have people to grab a coffee with whenever I'm in town. 
My advice for future grads: take a genuine interest in what you're doing. This goes hand-in-hand with 'ask questions'; but unless you're also invested in the answers, it's really hard to learn things. Also, don't think you need to leave behind the learning methods you know work for you – if you're wanting to remember something; take the time afterwards to jot down some notes, create visuals, or do whatever it is you need.
---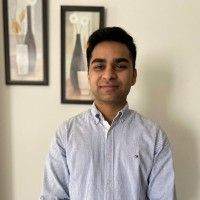 Graduate Program Experience – Advait
I work at Australian Botanical Products (ABP), an Ixom acquired business, as a Graduate Development Chemist. I am in my first year of the graduate program having joined Ixom in January 2022. I graduated from Monash University in 2021 with a double degree in Chemical Engineering and Pharmaceutical Science. 
My role is based in the new product development team at ABP, where I help prepare formulations of essential oil blends to develop a particular odour profile. The blends we formulate are dependent on the customer's odour requirements, the application in which the blends will be used and a price point. The application can range from blends for diffusers to candles to cosmetic products. In addition to development, I also help with stability trials of finished products. 
What I enjoy the most about this role is the technical skills I am building through each brief I help with. Each brief presents a challenge that requires creative thinking such that the customer remains satisfied and the business is positively impacted. Whilst I am only part of a small team, there is no shortage of supportive and capable people that I can lean on when facing a challenge. 
A key strength of the graduate program is that it is structured. Although I am in my first year, the rotation in roles is an aspect of the program that most excites me. Having spoken to graduates in later years, they have enjoyed using the rotations to learn more about Ixom and where it can take their careers. 
Advice I would give future grads is that it is okay not to know all the answers. Your colleagues and managers have decades worth of experience, so use them to build your knowledge while you learn your craft.
---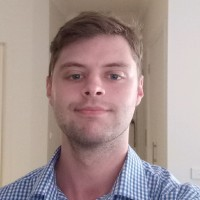 Graduate Program Experience – Jake
I joined the IXOM Graduate program at the start of 2022. In the year prior I completed my Honours degree in Chemistry. My current role within Ixom is as a technical account manager in food and beverage process cleaning technologies. This involves providing customers with chemicals which they will use to clean their factory equipment (both externally and internally). I also offer guidance on what chemicals to use in certain applications. A main part of my role is doing routine visits to food factories, measuring their chemical concentrations and helping with any other chemical issues.
The other main part of my role is validating factory CIP (cleaning in place). CIP is the in-line cleaning of factory equipment. Validating washes involves monitoring the concentration, temperature, flow rates and turbidity of the outgoing solution. By validating customers' washes I can help them ensure they are cleaning their equipment properly, and potentially save them water or chemical usage. I do this using a machine called the "Wizard", as well as through the site's CIP consoles.
Samples taken throughout a wash: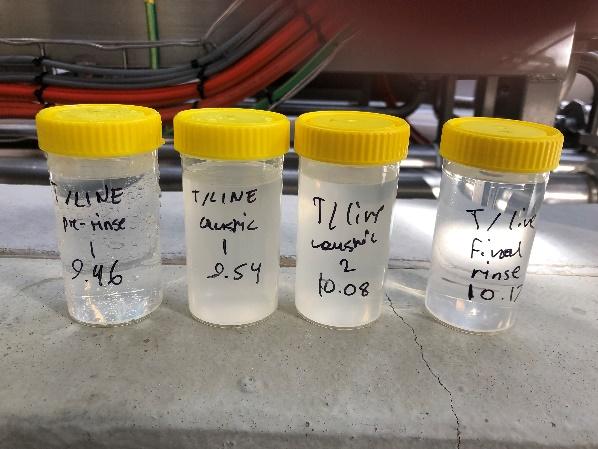 What I enjoy most about my current role is that I get to travel around Victoria, visiting new places which I've never been to like Warrnambool and Albury. I also enjoy the variety of work that I do within my role. 
The graduate program itself is great because there is a lot of support from both the graduate team and the other graduates. 
Advice I would give to future graduates would be to not stress if it takes you a while to get the hang of things, as some roles have a lot of different parts to them that can take time to master. 
---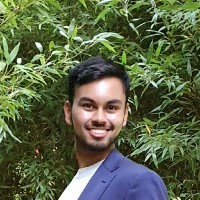 Graduate Maintenance Engineer – Nimish Pradhan
Like a lot of prospective engineers, problem solving and finding ways to make things more efficient and safer is what I wanted from an engineering job, and here at IXOM that's exactly what I'm doing. I came to IXOM in 2022 after studying Chemical Engineering and Pharmaceutical Sciences at RMIT and my first role as a Graduate Engineer is within the Maintenance team at IXOM Laverton.
My role comes with a lot of variety, with no two days being the same. One day I might be working out how to modify sections of the plant to eliminate safety hazards, the next day I might be part of inspecting our assets to make sure they are fit for use. Working under a mechanical engineer and alongside tradesmen has given me amazing learning opportunities to go well beyond the scope of a pure chemical engineer and to be able to understand problems not just from charts, but from going out in the field and seeing the situation firsthand. 
The best part of the graduate program is all the support I have from my managers and everyone else on site who are always happy to answer the hundreds of questions that I ask and are always keen to help me learn and grow as an engineer. 
My advice: Don't be afraid to ask to be included in anything going on that sounds interesting. The best way to learn is to be involved in a wide variety of works and projects!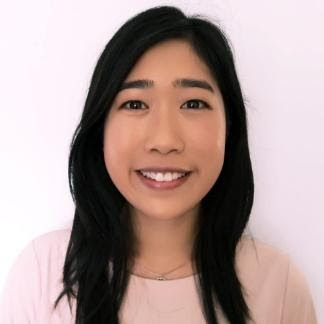 A Day in the Life of a Graduate Engineer 
Sally Yang
5:00am
I am gently awoken by the soothing song For You by Angus and Julia Stone. If I choose to press snooze, I get jolted up 10 minutes later by another alarm; a very loud bird call from a scene in the movie The Croods. I sit up on my bed, have my morning glass of water, then start getting ready for the day ahead.
6:00am 
I pack my uniform, lunch and most importantly – snacks, then head out the door to start walking to work. Depending on the time of year, I get to catch the sunrise in the middle of Heffron Park.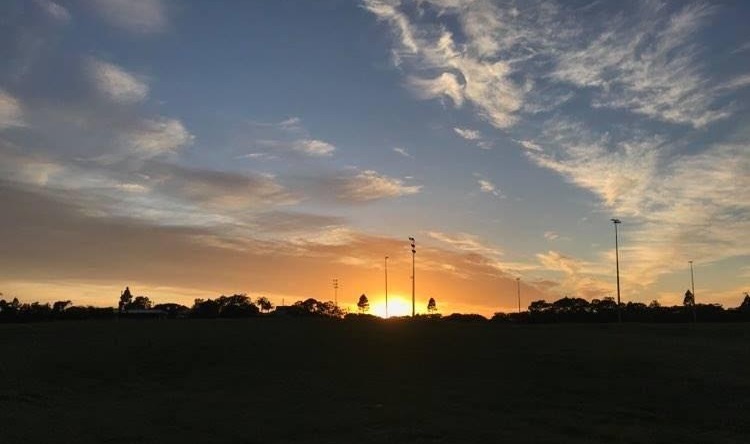 6:45am 
I will have reached work by this time, changed into my uniform, put my lunch in the fridge and settled down with a cup of tea, ready to go through emails and plan out my day.
7:00am
I usually start my days closer to 8am, but today my manager and I are heading out to the Kings Park site to discuss installation of an air extraction system with some contractors.
8:30am
We arrive at Kings Park, greet the Koi fish in the pond in the front garden, then head in to discuss with the Site Manager and contractors about mechanical and electrical installation, access points, air flows, timeline and all things in between.
11:00am
Back at the Botany site, I revise my Scope Definition document to reflect discussions regarding the air extraction system with the contractors in preparation for tomorrow's Kick-Off Meeting with all stakeholders of the project. 
12:00pm
Lunch time! Today I have chicken with sweet potato mash and a quick beans, beetroot and corn tossed salad. The other graduates and I sit around the lunch table for a good midday catch up about our weekends, some site issues and how amazing bubble tea is. 
12:30pm
Back to work. Roughly between 12pm to 1pm is when everyone is having lunch and there's a bit of chatter in the office, so for the next half hour I like to work on something a bit lighter, such as preparing my Bi-Monthly Review spreadsheet, replying to emails, or general organisation of my files.
1:00pm
Our 4 electrolysers here on site are central to the manufacturing process and are a big part of my responsibilities. Frequent voltage analysis is important to ensure efficient and safe operation of the plant. I run the electrolyser spreadsheet and complete the analysis. I also have an action due soon to review our Trip and Alarm procedures, so I jump onto that as well. 
3:00pm
I have my mentor meeting scheduled now. My mentor is in the Finance department at Ixom's Melbourne Head Office. I've never met her in person (I haven't met a lot of people I've worked with at Ixom due to COVID), but Microsoft Teams makes it so easy to connect with co-workers in other offices and sites. We chat about everything from workload to skill development to our weekends.
4:00pm
I pack up, change out of my work boots into runners and start my walk back home. When I get back, I immediately change and head out for a run to the beach (if I don't head back out straight away, my mind will quickly find reasons to take a nap instead). I don't always have the time or energy for it, but I love a good post-work run to clear my head. 
6:00pm
I thank my past self for doing all the grocery shopping over the weekend because by this time I'm starving. I get started on a recipe that I put together when I was living away from home for an internship back in my final year of uni – chicken pesto pasta! I don't know how to cook pasta for one, so I end up with 5 or so serves for the next few days. I also make a quick apple turnover in the air fryer for dessert.
8:00pm
By this time, I will have had dinner, cleaned up, brushed my teeth (to prevent me eating even more), and settled down with a good book or Netflix. I'm currently watching The Good Doctor. Sometimes I jump on a call with family or friends back in Melbourne during this time as well. 
10:00pm 
I fill up my glass with water for the morning and tuck into bed, ready to tackle the next day ahead. 
Diversity & Inclusion

Ixom recognises that a diverse and inclusive culture is an important contributor to the success of our business, our reputation, and in how we embrace our values - The Ixom EDGE.
Ixom is committed to creating a safe and inclusive environment where our graduates can apply their individual skills, experiences and perspectives. Diversity of thought and ideas can help us achieve greater innovation, creativity and business performance.
As a global company, Ixom seeks to attract, develop and retain a diverse team of people with the right skills and capability that reflects the countries and communities in which we operate. Ixom ensures that all of our employees are treated with respect and are supported to succeed.
Ixom has a strong Corporate Social Responsibility (CSR) approach to the communities in which we operate.  We proudly support local initiatives and sponsorships in the many communities we operate in globally.
Some of our current involvements include:
We are the proud sponsor of the WIOA Water Taste Competition
We have announced the Ixom International Science Olympiad Scholarship, which will remove financial barriers by supporting a
student to attend the International Science Olympiads, the Olympic Games for science students.
We are the principle sponsor of Life Saving Victoria's Watch Around Water program.
We are a proud supporter of The Remote Aboriginal Swimming Pools Project which is run by the Western Australia Royal Surf Life Saving Association.
We are delighted to be supporting local STEM education with its sponsorship of the STELR programme in New Zealand.
Find out more about our community involvements here.