Leidos is a large scale systems integration company weaving together information technology, engineering and science to deliver unique and practical solutions to our customers' most complex challenges. We are Australia's largest commercial supplier of intelligence services to the Australian Government, so not only is it interesting work, but we also help to safeguard our country.
Leidos currently has 0 opportunities.
Select the following options:
Past Leidos Graduate Hiring Statistics
If you're interested in working at Leidos, understanding when they have opened up applications for their graduate programs, graduate jobs and internships is helpful knowledge to have so you know when you might need to apply. Use the below information to see when Leidos hires graduates, but more importantly what graduate degree's and other student attributes they target for their jobs.
---
Disciplines
Computer Science (100%),

Cyber Security (100%),

Data Science and Analytics (100%),

Engineering Software (100%),

Information Systems (100%),
Locations
Adelaide (100%),

Brisbane (100%),

Canberra (100%),

Darwin (100%),

Hobart (100%),
Work rights
Australian Citizen (100%),

Australian Permanent Resident (100%),

New Zealand Citizen (100%),
Past Leidos Graduate Programs
Check out some of Leidos's past jobs they have posted on GradConnection over the last 12 months. Understanding the details about what a graduate employer is looking for well before applications have opened can sometimes be the edge you need to secure your first graduate program.
---
We are pleased to announce we will be attending the Monash Virtual Career Fair on 4th March , an entirely online interactive careers fair accessible to all students and recent grads.
Leidos is a large scale systems integration company weaving together information technology, engineering and science to deliver unique and practical solutions to our customers' most complex challenges.
We are Australia's largest commercial supplier of intelligence services to the Australian Government, so not only is it interesting work, but we also help to safeguard our country. In Australia we have over 1,000 employees based mainly in Melbourne and Canberra and we are supported by a global network of over 32,000 employees.
Change and innovation are central to the way we work and we're growing fast, building a business that is focused and fit for the future. Leidos Australia is made up of three lines of business – IT Projects & Intelligence, Defence Mission Systems, and IT Services - working on customer programs alongside enabling functions such as HR, IT, Finance, Operations, Business Development and Communications.
We won't get far using existing ideas, though. We have created an inclusive culture that supports exceptional thinking and are looking for incisive minds like yours to help us weave together information technology, engineering and science skills in to practical solutions. We've built our business on the ability to Redefine Possible, and the same applies to your career.
Join us and you'll be one of over 1,000 fellow Australians trusted and empowered to contribute their best. It's a dynamic and constantly evolving environment, so if you love variety and always rise to a challenge, you should fit right in.
We proudly embrace diversity and support our people at every stage of their Leidos journey in terms of inclusion, accessibility and flexibility.
So, if you are looking to stretch your potential, build an exceptional career and make a difference, we think you'll find Leidos Australia is the only place to be.
The Recruitment Process
Leidos
---
We see this as a chance to find out as much as we can about each other.
June – Early July 2019 - Online Application
The process starts with an online application form where we will ask you to answer some questions about yourself and to attach a copy of your academic transcript.
Mid-Late July 2019 - Telephone Interview
If you're successful through the online application stage, you'll receive a telephone call from us to have a chat – this is an opportunity for you to tell us more about yourself whilst answering a few questions - this provides us with more information so we can get to know you better.
Early August 2019 - Face to Face Interview
The next step is then meeting face to face with a line manager and a representative from Human Resources for a behavioural based interview. If you are successful, we will then conduct background checks.
Late August 2019 - Offer of Employment
From here, we will making offers of employment to commence with us in January 2020.
August 2019 – January 2020 - Keeping in Touch
We appreciate that there's a long time to wait before starting. So we make it our business to stay in touch with regular updates and provides opportunities if you have any queries. And as your first day gets closer, we'll ensure you have all the support and resources you need to hit the ground running.
A day in the life of…
Leidos
---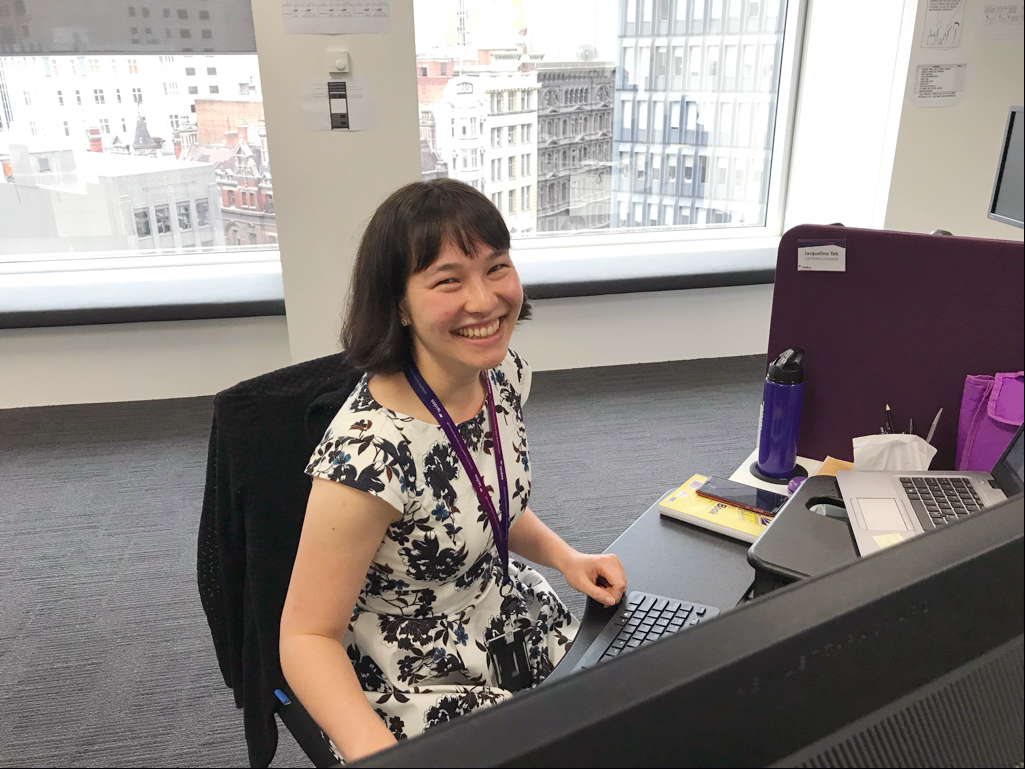 Jacqueline – Graduate Software Engineer
Bachelor Information Technology (I.T. Security)
6.00 AM
I'm awake… just. Don't bother talking to me, I won't give you a coherent response. I eat breakfast and drink tea. Tea is good. I spend too long savouring my tea and end up having to rush through brushing my teeth and getting dressed to get out of the house on time.
7.00 AM
I drive to the station. Because it's so early, I can usually find parking pretty easily. I get on my train which is 3 mins late, find the last seat in the carriage, grab my phone and earbuds out of my bag and settle in for the journey to work with some head-banging tunes to get me pumped for the day. I'm looking forward to the day ahead.
8.00 AM
My train is now 10 mins late. I choose to take the stairs rather than the escalators to get out of the station because I like to pretend I'm fit. It's a brisk walk from the station to the office.
8.10 AM
I walk into my office suite and greet the two guys on my team who beat me in. We like to make use of Leidos' flexible hours and have more home time in the afternoon. The rest of the floor is very quiet as most people don't get in until a bit later. I unpack my stuff and log into my computers. I check my email and see the weekly update from the Chief Executive with updates on the organisation as a whole. This is a good way to find out what's happening in different parts of the business.
8:30 AM
My team is currently working on a Research and Development project and we use scrum software development methodology. Today's the last day of our 2 week sprint and I need to finish off the story that I've been working on before 11 AM so I can get the new functionality into the release…
9.30 AM
I'm happy that my code has built successfully, my unit tests have passed, I have a running instance of my new feature in our Dev environment and I've documented how to use the new feature. I need to get my story and code reviewed before I can mark it as "Done". I ask one of my team members to review it for me. I give him a demo of the new feature and explain how it works. He reads through my code and picks up on a couple of things that I could have done better. I go back and fix the minor issues, then he re-reviews my code and approves it. My changes then get merged and my story is marked as "Done". 
10.30 AM
The Leidos office in Melbourne holds a morning tea every fortnight, and today's the day. I get to the kitchen just as the food arrives so I can be sure I won't miss out on a mini chicken curry pie.
11.00 AM
It's sprint review time! This meeting only happens at the end of the sprint. My team gathers in a meeting room and we each talk through our moods during the sprint, what we think went well, what we think could be improved next sprint and people we'd like to thank.
11.30 AM
My team demos the stories that we've worked on over the sprint to each other. Some sprints, our client will come along to see the progress we've made, but this week it's just an internal demo.
12.00 PM
Lunch time! Half of my team go out and buy food, the other half bring stuff from home. I'm in the "bring stuff from home" category because I'm trying to save a deposit for a house. I head to the kitchen to toast my sandwich and then bring it back and eat it by the window while browsing the housing market on my phone and chatting to my colleagues.
12.30 PM
We merge the code in our Dev environment to our Prod environment and check that all tests are passed. We deploy to Prod and ensure that everything still works as expected. We fix any issues that come up.
1.00 PM
It's sprint planning time. This always feels like the longest part of the sprint, so I make sure I've made myself a nice cup of tea to get me through it. My team gathers in a corner and we sit down and go through each new story in our backlog queue. We vote on the number of points we think each story is worth based on how difficult we think they will be to complete. The higher the points, the more difficult the story. If there's a large discrepancy between our rankings, then the people who voted for the highest and lowest number explain why they thought it was difficult or easy respectively. After hearing their explanations, we then vote again until we reach an agreement. Once all of the stories have points, stories are added to our next sprint based on how many points we think we can achieve over the next two weeks.
3.30 PM
Sprint planning is finished and as I don't have any story currently assigned to me, I can pick the next one from the top of the backlog queue to work on. It turns out that the next story is to configure and install a new software that I've never worked with before, so I spend a bit of time doing some background reading to try and figure out how it works before I start attempting to write configuration and installation scripts.
4.00 PM
Yoyo time! It's been a long day and we have a few Leidos branded yoyos in the office left over from the careers fairs. My team takes a quick break to show off our yoyo-ing skills.
4.10 PM
Back to work. I think I've got enough of an idea to get started on my story, so I start writing some configuration and installation scripts.
4.45 PM
Home time! It was a good day. I pack up my stuff and log out of my computers. I leave the office and walk up to the station to catch a train home.
6.00 PM
I arrive home, eat dinner, walk my dog, have a shower, catch up on some TV and relax.
10.00 PM
Bedtime! I've achieved quite a bit today, so now it's time for a well-earned rest.
What our Graduates say
Leidos
---
Vijay – Graduate Systems Administrator
Tell us about your role
I am currently working within COE (Common Operating Environment), which is a part of CP (Centralised Processing). This is a major project with the Australian Department of Defence and COE manages 56 different domains (environments).
The COE Operations Team that assists other users within defence with their ICT needs such as user account management, remote access, printer access, domain support and various other ICT related things. We also have to assess each ticket that comes through for quality checks to ensure they provide all the required information for easy actioning of the job.
What do you like most about your role?
One of the things that I like most about my role is the interaction with the clients. This can be both challenging and rewarding just the same. Our interaction with the Department of Defence also gives me a sense of pride that our work is contributing towards our national security, no matter how small it may seem from our end.
What did you study?
Bachelor of Environments, Civil Engineering Systems and Master of Engineering, Civil with Business
Words of advice for the recruitment process
Honesty is of utmost importance. This will make the process much easier for the interviewers and yourself, making sure that you find the place that works best for you.
---
David – Graduate Software Engineer
Tell us about your role
My role as a software engineer is to design, create, and maintain software solutions for our clients so they can do their job more effectively. During my time at Leidos, since joining as a graduate, I have spent the majority of my time writing code and designing software architectures, which I love. I have also been involved in setting up some of our development infrastructure and managing our dedicated servers, ensuring that we have the necessary tools to do our job.
Aside from knowledge of software design and programming languages, general problem solving skills and attention to detail are absolutely essential in my role. The ability to learn and adapt quickly are also very important due to the rapid change in technology.
I work in a small team of five people, which creates a relaxed and helpful environment where we are able learn from one another and easily discuss any issues. This is reflective of the organisation as a whole, although, as the projects that Leidos is involved in are quite varied, there is little interaction between project teams except at organisational events.
What do you like most about your role?
Leidos is a large company and therefore has a wide range of different projects and customers, each at a differing stage and involving differing technologies. This means there is always something new and interesting going on, which is exciting to be a part of and provides constant challenges due to the ever changing technologies that we get to use.
One of my favourite things about being a software engineer is getting to design the software architecture and solving problems for the first time. I also enjoy learning new program languages and dealing with technologies that I have never used before. I know that this is the right job for me because I still want to write software in my free time, even after a tough work week.
What did you study?
Bachelor of Science (Computer Science) (Honours)
Words of advice for the recruitment process
My advice for anyone looking to join Leidos would be to make sure you are aware of the security clearance requirements and also that it is more important to focus on general skills rather than becoming and expert at a single language or technology. For anyone still studying my advice would be to get involved in as many aspects of university life as possible (clubs, weekend trips, studying abroad, etc). Also forge good relationships with your lecturers and course coordinators as it will open up more opportunities and lead to discussions and general advice.
Our commitment to producing practical solutions doesn't stop with our customers. Here in Australia we are proud to partner with Bravery Trust which provides financial support to veterans, current and former members of the Australian Defence Force and their families.
We are also collaborating with the Australian War Memorial in Canberra to create a series of augmented reality experiences bringing to life the stories of Australians at war by creating a never-before-seen perspective of key objects from across our country's military history.
In 2018 Leidos was a proud partner and official supporter of the Invictus Games.