Lion is a leading beverages company in Australasia, with fast-growing operations in the United States and United Kingdom. Our vision is for our brands to bring joy to every adult occasion. We produce, market, sell and distribute alcoholic and non-alcoholic adult beverages worldwide.
Lion currently has 0 opportunities.
Select the following options:
Past Lion Graduate Hiring Statistics
If you're interested in working at Lion, understanding when they have opened up applications for their graduate programs, graduate jobs and internships is helpful knowledge to have so you know when you might need to apply. Use the below information to see when Lion hires graduates, but more importantly what graduate degree's and other student attributes they target for their jobs.
---
Work rights
Australian Citizen (100%),

Australian Permanent Resident (100%),

New Zealand Citizen (100%),
Past Lion Graduate Programs
Check out some of Lion's past jobs they have posted on GradConnection over the last 12 months. Understanding the details about what a graduate employer is looking for well before applications have opened can sometimes be the edge you need to secure your first graduate program.
---
Accounting
and 3 others
Hires applicants with degrees in
Fast Moving Consumer Goods
Launch your career with our Finance & Enterprise Services Graduate Program, gaining valuable learning and development opportunities in the dynamic world of FMCG.
Accounting
and 3 others
Hires applicants with degrees in
Fast Moving Consumer Goods
Launch your career with our IT Graduate Program, gaining valuable learning and development opportunities in the dynamic world of FMCG.
Lion is a global beverage company with a portfolio that includes many market-leading brands in beer, wine, spirits, seltzer & non-alcoholic drinks. We employ approximately 4,000 diverse and talented individuals across the globe who are passionate about their craft and working towards a shared purpose: to champion sociability and help people to live well.
Our diverse portfolio is produced across sites in Australia, New Zealand, the United States and the United Kingdom, where we're driving long term sustainable growth and market leadership to generate value for our customers and consumers.
At Lion, our core purpose is to champion sociability and help people to live well. Whether it's a beachside barbie, fun times with family, café catch-ups or a beverage at the pub, our drinks are right at the centre of life's sociable moments. Enjoyed responsibly, our drinks bring people together.
"As a graduate, I was looking for a company that would give me the support I needed to grow and develop as I transitioned into my first full time role. Already, in my short time, I have found that Lion offers the perfect environment for graduates at the beginning their career.  
Working at Lion you will no doubt hear about being a force for good. This is not only reflected in the decisions at a company level but is integral to the culture that exists within the workplace. From my very first day one thing that stood was how supportive and approachable everyone was and how willing they were make sure I had everything I needed to feel welcomed and succeed.  
Lion is a company that really values the health and wellbeing of their staff through proudly promoting a flexible working culture. Here, traditional ways of working are challenged, and employees are encouraged to work in ways that suits their needs. This includes the opportunity to work from home or to adjust working hours when balancing other commitments. Additionally, throughout lockdown, leaders showed a real desire to support staff by offering ways to keep energy levels high, assist with home schooling as well as passionate ways to stay connected as a team." Ryan Phillips – current graduate
Our purpose and culture
Our core purpose at Lion is to 'enrich our world every day by championing sociability and helping people to live well'. To achieve this our culture is one based on achievement, growth and sociability. It takes courage to make things happen. To do this, we're empowered to act fast and make the right decision. Making it happen isn't possible on our own. It takes all of us working together to introduce new ideas and perspectives to impact our customer in meaningful ways.
Our Grad Experience:
---
Scott Reading – Commercial Analyst
I started in the Graduate Program with Lion in 2017 in the Sydney Head Office. Throughout the course of the program I had the opportunity to work in various different teams and functions across the business. My time in each team has provided me with different perspectives of a business as a whole and has enabled me to think more critically and holistically. In the 4.5 years I've been at Lion I have worked in Commercial Sales, Internal Risk, Group Planning and Insights, Commercial IT and my current role as Commercial Analyst for Malt Shovel.
The best part of the program was the willingness from everyone around me to support and help develop myself. Everyone at Lion approaches their work with a collaborative attitude and look to win together. A core reason I enjoyed the program so much and why I enjoy working at Lion is for the people and the culture. The rotations in the business have provided me with an extended network across all aspects of the business.
The structure of the graduate program is especially helpful for young professionals beginning their career as it enables you to experience different roles and responsibilities across the board so that you can find what you enjoy and what makes you passionate. The skills and experience you will gain from a graduate program are invaluable for developing a strong foundation for your career.
Matt Hayter – Senior Commercial Analyst
Coming out of university I was very keen to further my career in Accounting/Finance but I didn't exactly know what area of Finance I wanted to delve into further. The Lion Graduate Program was an awesome steppingstone to build a deeper understanding of the various roles within the Finance function and how roles within my career path add value to Lion. Due to having the opportunity to rotate teams, the grad program connects you with a wide and diverse array of people to learn and business partner with, in a company that cares about you're wellbeing and personal growth. These connections are invaluable and have held me in good stead for future roles. Coming out of the Graduate program I had a far greater understanding of the Lion business holistically and the areas of the business in which I wanted to further progress my career. Since leaving the grad program I have held multiple roles across the National and Independent Commercial customer teams, as well as the Projects team
Ryan Phillips – current graduate in Risk & Audit
In my role as a graduate within the Lion Risk and Audit function I have been privileged enough to gain exposure to many different areas of the business through the various projects that I have been involved in. This has given me a great insight into how the wider business operates where I have engaged with many different people across Finance, IT, Sales, Marketing as well as Lion New Zealand amongst other areas. Through these projects I assist in reviewing key processes, identifying any potential risks and offer ways that will help improve the business. Here, I get to learn new things every day, grow my skillset and see the impact of what I do. This has been an exciting and rewarding experience, where my team have ensured that I have had the confidence to be successful in the role. 
For me, a typical work day working from home would generally look like this:
7:00AM Wake Up, go for a run and prepare for the day.
9:00AM Start work by checking emails, connecting with my team, and organizing my work for the day. 
10:00AM Meet with a stakeholder to conduct fieldwork for a review that I am working on. This could be someone from Sales, People & Culture, or anyone from across the business. 
12:00PM Break for lunch. I try not to book any meetings over this period. 
1:00PM Head back to my desk and do some work I am currently involved with for our parent company Kirin. 
3:00PM Meet with my leader for discussion about a current project I am working on.
4:00PM If it's a Friday connect in with my team over Microsoft Teams with a beer in hand. 
Olivia Pound – BPE Analyst
I started the Lion finance graduate program in 2016 where I completed 3 rotations over a 2 year period in Supply Chain Commercial, Group Finance & the Audit & Assurance team. These rotations covered the 3 core finance areas in the business and the range of experience quickly helped me identify the type of work I enjoyed which was really helpful to guide my next career choice. The grad program helped me develop a range of technical skills but it's the soft skills such as presenting, teamwork and communicating effectively that I believe were the most valuable takeaways as I has a strong network of leaders and peers mentoring me throughout the 2 year period. I also had some really fun experiences along the way such as a day in trade with a sales rep, setting up for state of origin with a local customer and visiting our Tooheys & Little Creatures breweries. 
Since the grad program I've had 3 other roles as a strategy analyst, Coles commercial analyst and BPE analyst and today I'm an automation project lead in the business process excellence team. This demonstrates the vast array of role opportunities that await you after the grad program as well as how well regarded the finance team is at Lion as there is always a new opportunity around the corner. Having been at Lion for 5 years I'm now in a role where I'm leading automation projects, liaising frequently with stakeholders and upskilling the business' capability on process excellence and what automation is – and I'm loving it!
A quick 'a day in the life':
Every day will be different! As our business becomes more tech & data driven a lot of the traditional repeatable tasks are automated which means the finance function has more time to business partner, complete continuous improvements and dig deep into the data using some of the great tools we have such as power BI.
Set up for the day: 
Log in, grab a coffee & get on top of emails
Throughout the day:
9am Project WIP discussing project status, Kanban completed items & escalating issues / blockers
Complete daily deliverables & update project Kanban
Work with our automation engineer and SME team to design the most optimal process automation
Meetings with stakeholders regarding deliverables, sign off, working through process changes
Working with IT to meet security requirements
Facilitating process mapping workshops
Providing continuous improvement recommendations for inefficient processes
Providing capability on process excellence or automation at Lion
To complete the day:
Update project Kanban ready for tomorrows WIP, revisit any unanswered emails and log off!
---
Creating a place where everyone can be the best they can be
With around 4,000 people across 30+ sites, people come to Lion with very different backgrounds and experiences and it's important to us that everyone has the opportunity to be the best they can be, really make a difference and have a great time doing it. Our Inclusion & Diversity strategy focuses on:  Inclusive culture; Gender Equity; Cultural Diversity & Age diversity.
At Lion, we believe in equality and have achieved the 2017-2018 and 2018-2019 Workplace Gender Equality Agency 'Employer of Choice for Gender Equality' Citation. We've taken the important step of implementing a 50:50 gender balance target by 2026 across all of Lion. In 2016 we closed the gender pay gap across our business in terms of like for like roles and continue to work actively to keep it closed. We've launched our Women at Lion Leadership Program, mainstreamed flexible work across the business, and introduced Unconscious Bias training.
Lion CEO Stuart Irvine shares more on how we're addressing gender equality.
We became a signatory to the Australian Marriage Equality campaign in 2015, have received the Rainbow Tick certification in New Zealand, and are members of Pride in Diversity Australia as an LGBTI Inclusive Employer. Our brands have been visible supporters of the rainbow community through Hahn beer at the Sydney Gay & Lesbian Mardi Gras, and Little Creatures as sponsors of the Australian LGBTI awards.
Our people are actively involved in recognising and celebrating events in the community year-round including: International Women's Day, Wear It Purple Day, Harmony Day, Equal Pay Day, Maori Language Week and more.
All of this is part of our drive to build an inclusive, diverse and fair place to work.
Flexibility and wellbeing
We're proud of our diverse workforce, acknowledging our people for the unique individuals they are. When it comes to flexibility, we understand that one size doesn't fit all. Our flexible working program, LionFlex enables us to work in ways that support our lifestyle to help us balance our career with the other important things in life. With four different types of flexibility, we're confident we can work together in a way that suits you.
At Lion we really value graduates and interns and have recognised that a one size fits all program wasn't the right approach for Lion or our graduates! So we have created multiple graduate programs to suit our business and your needs. We partner with universities across Australia and New Zealand to bring these to life. 
The Lion Future Leaders Program is a graduate program with rotations through your chosen function – Finance & Enterprise Services or IT. This 2 year program is designed to support the personal and professional development of the next generation of leaders at Lion, helping you grow your capabilities and leadership skills to set you up for success. You will get insight into key business units and the exciting world of FMCG, supported by a specialised development plan and a network of mentors, buddies and leaders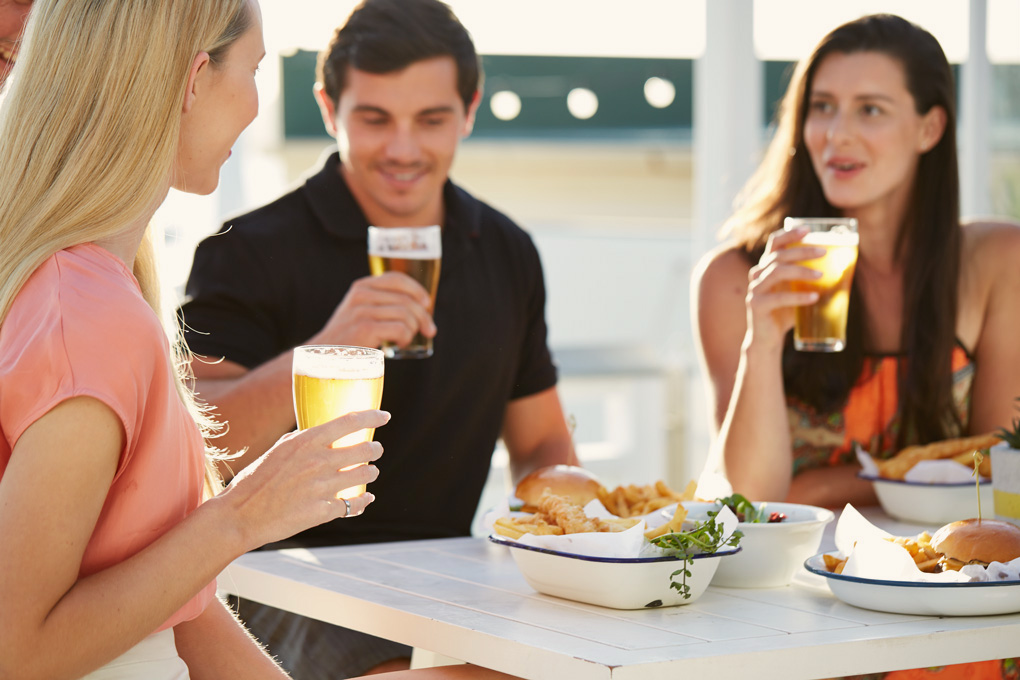 Our Sustainability Approach
Lion
---
Community
Lion was built from the ground up on the strength of cherished local brands
At Lion, we believe in doing the right thing for the long term, and that includes giving back to our communities, either as a company, as a brand, or as individuals, across Australia and New Zealand.
To show our commitment to this we have committed publicly to continuing to positively impact young people through our Lion-funded Community Investment Program, and also to increase the number of volunteering hours contributed by our people. To help us do that we have various programs and initiatives, which we have now brought together under one umbrella brand of LionHearts, to make it easier to understand
At Lion, we are committed to inclusion, diversity and doing the right thing for the long term. We are about championing sociability and living well for all Australians. Lion's commitment to inclusion and reconciliation is at the heart of our first RAP – the first step on our reconciliation journey. The best way to drive change, social justice and equality is for the whole community to get onboard – and we want to be part of this.
Environment
Our environmental approach is governed by the simple mantra of 'reduce, reuse and recycle'. As a large manufacturer and purchaser of agricultural goods, our priorities are reducing our water and energy use and waste. We set clear public targets in our 2019 Environmental Report and hold ourselves accountable to continual improvement. Some key achievements include: 
We're proud to be a leader in water management, bringing world-class standards into our breweries and in many cases exceeding them.
One of our end goals in waste and packaging is now in sight: making 100% of our consumer packaging recyclable by 2025.
In 2020 our Australian operations became the country's first certified large-scale carbon neutral brewer, and as part of our Energy Optimisation Program, we aim to brew all of our beers using 100% renewable electricity by 2025. In New Zealand, we are seeking "carbonzero" certification with Toitu. And in the US, New Belgium has committed to eliminating carbon emissions by 2030, and as far back as 1999 was the first American brewery to source its electricity completely from wind power. Our US wineries are all powered by sustainable energy sources.
Responsibility
Our products are a valued part of the social life of millions of people across the globe, and as such we have an important role to play in supporting healthy choices around drinking. Through our growing portfolio of lower alcohol and non-alcoholic beverages and consumer education programs, we aim to encourage responsible consumption of alcohol, giving people more information and more choices and helping to facilitate the various needs and drinking occasions of our consumers. 
Tackling alcohol misuse requires a whole-of-community effort to drive a positive social environment and drinking culture. We will continue to play a market-leading role in innovation across the lower alcohol category, and continue to invest in non-alcoholic alternatives to ensure we provide options to suit the evolving social environment.