Applications for our 2021 Graduate Program close on Sunday, 16 August. Be sure to submit your application on time so you don't miss out.
Optus currently has 0 opportunities.
Select the following options:
Past Optus Graduate Hiring Statistics
If you're interested in working at Optus, understanding when they have opened up applications for their graduate programs, graduate jobs and internships is helpful knowledge to have so you know when you might need to apply. Use the below information to see when Optus hires graduates, but more importantly what graduate degree's and other student attributes they target for their jobs.
---
Disciplines
Accounting (20%),

Actuary (20%),

Administration (67%),

Arts and Humanities (27%),

Banking and Finance (20%),
Work rights
Australian Citizen (100%),

Australian Permanent Resident (100%),

New Zealand Citizen (100%),
As one of the largest telecommunications companies in Australia, Optus provides mobile, telephony, internet, satellite, entertainment and business network services to more than 10 million customers each day.
Our mobile network reaches 98.5 per cent of the Australian population and we are committed to constantly delivering new technologies that will connect more Australians to their friends, families and businesses. We offer a range of pre- and post-paid mobile plans allowing customers to choose a plan that best suits their data and price needs for themselves and their families.
Optus is more than just a telco, providing exclusive premium entertainment and sport content across a range of platforms. Whether at you're at home or on-the-go, you can catch up on the latest TV shows and movies, get closer to the games and players you love with Optus Sport or be the first with tunes on your favourite streaming service and score backstage access to artists with Optus Music.
As we move into the next generation, Optus will continue to invest in our people, our communities, our networks and a sustainable future to help create and better more connected future for Australia.
We aren't just a Telco anymore; we are a company of innovation, we have moved to the forefront of technology and entertainment. We are a part of the digital disruption, changing the way we deliver media services and content to you; continuing to create experiences that move you.
We love to work with people who provide ideas that differentiate, disrupt and deliver amazing services for our customers.
Optus believes in the strength of a vibrant, diverse and inclusive workforce where backgrounds, perspectives and life experiences of our people help us innovate and create strong connections with our customers.
Our head office, Optus Centre Sydney set on seven hectares of beautifully landscaped grounds in Macquarie Park. This is where all the action happens - and where we've been working to deliver outstanding customer experience since 2007. Optus Centre Sydney can accommodate more than 6,500 people and welcomes over 500 visitors every day. That makes us one of the largest corporate campuses in Australia.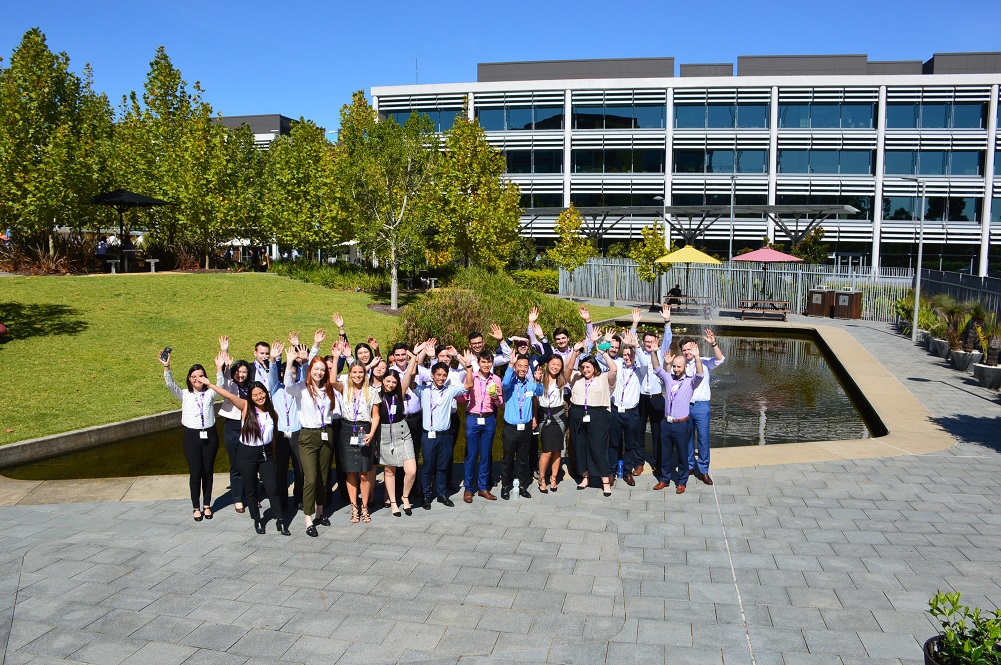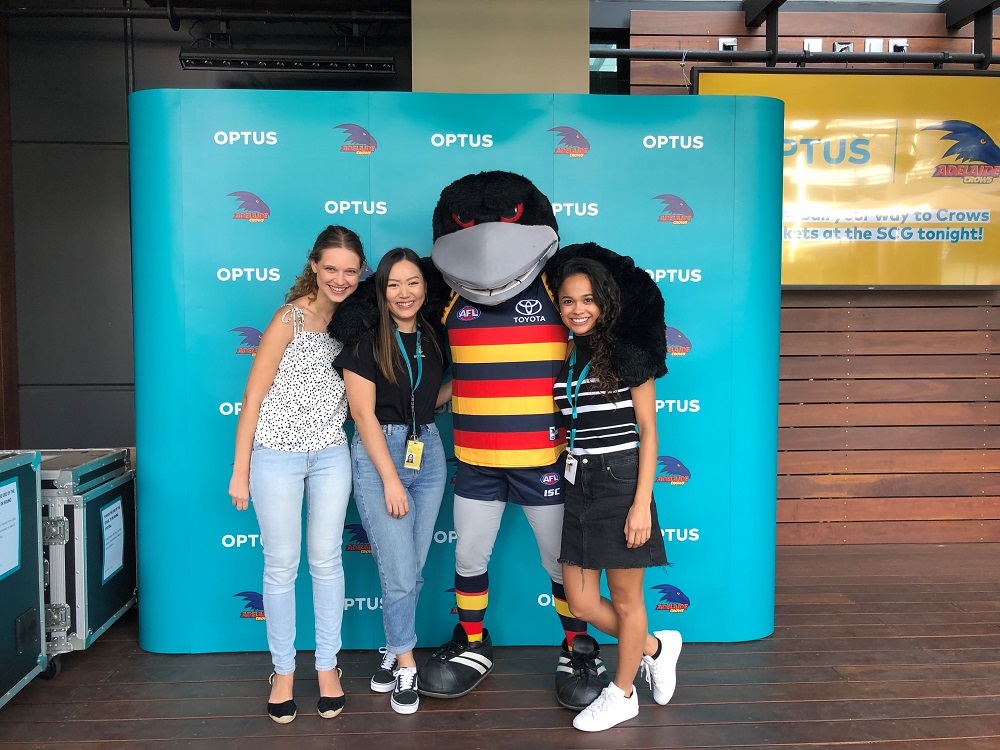 Our Graduate Program
Optus
---
It's an exciting time to be at Optus. By expanding into new technology and relentlessly improving every day, more career pathways and development opportunities have been created across a broader range of business streams for graduates.

Our two-year Graduate program offers career development opportunities and we actively encourage further growth within our organisation as you complete the program. It's a fun, rewarding experience that will accelerate your personal and professional development, providing you a platform to fulfill your goals. We want to challenge you and ensure you contribute from day one and make an impact to our business.
Within your business area you'll complete a rotational program. Rotations help you to learn about different parts of your business area, build more connections, further develop skills, and decide where you can take your career next. You will complete 3 rotations of 8 months each.
At the end of your graduate program, you'll be supported to transition into a role which best suits your capabilities and interests.

Our accelerated program provides new university graduates with an in-depth knowledge of Optus, the Singtel Group and the broader industry. The options are endless from (but not limited to) Marketing, Finance, Networks and Data Analytics, Sales and IT.
FAQ
How long is the program?
This is a two-year accelerated growth and development program.
What month does the program start?
April.
What degrees types are Optus looking for?
We offer a range of graduate opportunities for a wide variety of degree disciplines, including, but not limited to: Business, Commerce, Finance, Accounting, Network Engineering, Marketing, Arts, IT, Computer Science, Design, Human Resource Management, Psychology, Engineering, Mathematics, Statistics and Science.
Who is eligible to apply for the Optus Graduate Program?
Visa requirements
You must have Australian/New Zealand citizenship or Australian permanent residency at the time that you submit your application.
Minimum credit average
To be considered you'll need a minimum of 65% grade point average.
Graduate applications
To be eligible, you must be in the final year of a university undergraduate or postgraduate degree or have completed your university studies in the last 2 years.
Postgraduate applications
We accept applications from undergraduate or postgraduate students.
What locations are you recruiting for?
Currently, we are only recruiting for graduate roles in Sydney.
What does the application process involve?
Begin by submitting your application through our careers page. Successful applicants will then be asked to complete an online psychometric test to learn about the way you think. The next stage involves a video interview, which you can do from the comfort of your own home. The final stage is an in-person group interview, also known as our Assessment Centre, which includes group activities and one-one-one interviews with hiring managers.
What is the starting salary for graduates?
Our starting salary is competitive with the graduate market. We will discuss details of remuneration and our bonus structure throughout the recruitment process. We also offer rewards and benefits that do not make up the cash component of your salary, but still offer cost savings to you.
Can I travel overseas with Optus?
While we do have offices around the globe, our graduates are based in Australia. However, in some cases our graduates will have the opportunity to work overseas.
Here from one of our Graduate alumni:
Optus is serious about its social and environmental responsibility and giving our people the opportunity to help make a positive difference in the community. Since Optus began, we have contributed over $79 million through funding, time and resources to various community partnerships and programs. Our people have volunteered over 130,000 hours in company time and we provide matched workplace giving, skilled and unskilled volunteering including the unique opportunity to volunteer overseas. We have a huge range of opportunities for our employees from volunteering in Australia and overseas to matched giving, fundraising and mentoring.
Learn more about our community initiatives here.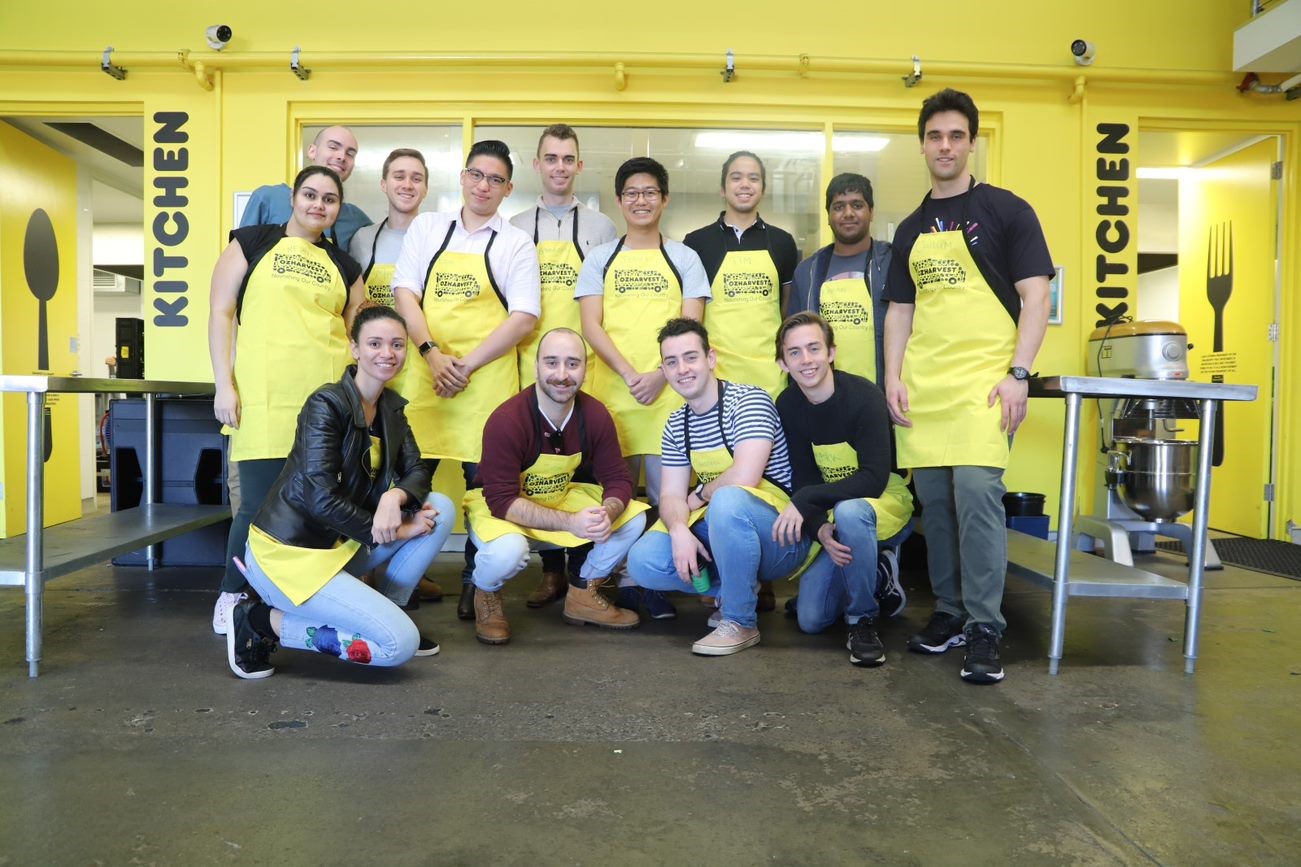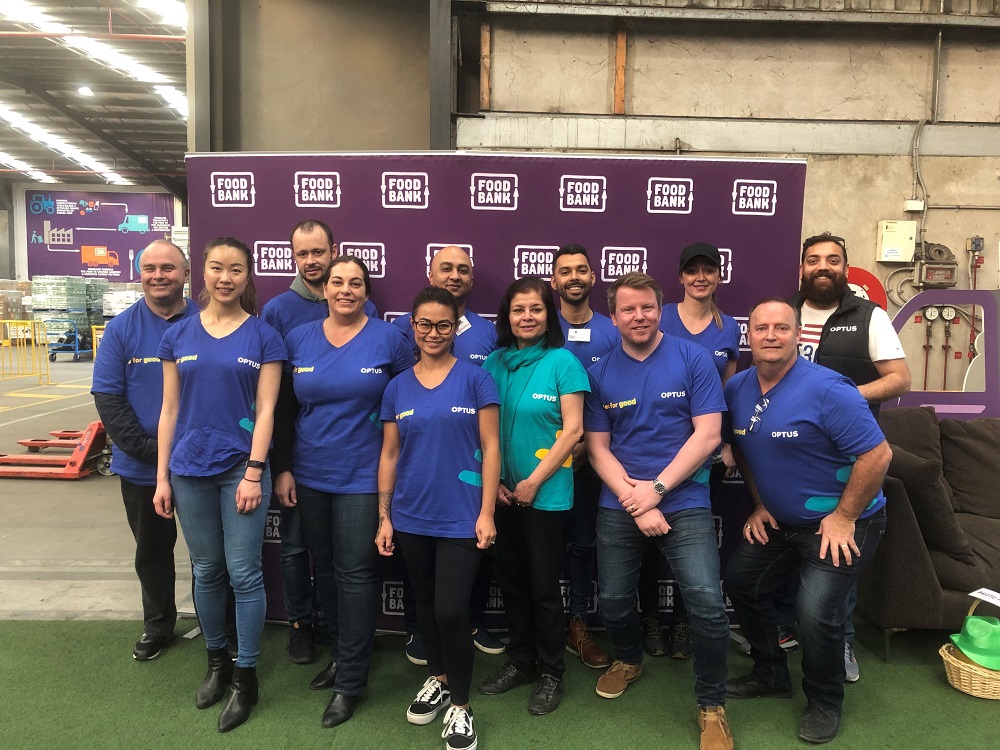 Diversity & Inclusion

Optus
---
We believe in the inherent strength of a vibrant, diverse and inclusive workforce. Our varied backgrounds, perspectives and life experiences help us forge strong connections with our customers, innovate, and make better decisions for our business.
To achieve game-changing customer experiences, we know the importance of creating an inclusive culture where our people can 'be themselves at work'. This brings diversity of thought and innovative ideas, ultimately leading to 'yes' moments for our customers.
To achieve our business goals we have four focus areas:
Gender diversity
Our goal is to create gender balance by increasing our female representation in leadership and key technical roles. We continue to foster a culture where LGBTIQ+ employees are confident expressing themselves.
Multigenerational workplace
Building a truly inclusive workplace where people at different life and careers stages feel valued and supported.
Cultural Diversity
Understanding and harnessing our varied cultural contributions and increasing our Indigenous workforce.
Differing Abilities
We are focused on creating a workplace that is welcoming, inclusive and accessible for everyone; a disability confident employer.