Salesforce Graduate Programs & Internships
Salesforce is a customer relationship management solution that brings customers and companies together. It's one integrated CRM platform that gives all your departments — including marketing, sales, commerce, and service — a single, shared view of every customer.
Business and Commerce
and 2 others
Hires applicants with degrees in
Collaborating with the Sales Development team to build further customer and industry intelligence
Business and Commerce
and 2 others
Hires applicants with degrees in
Lead generation/prospecting - Conducting research, modifying and identifying net-new prospective customers
Past Salesforce Graduate Hiring Statistics
If you're interested in working at Salesforce, understanding when they have opened up applications for their graduate programs, graduate jobs and internships is helpful knowledge to have so you know when you might need to apply. Use the below information to see when Salesforce hires graduates, but more importantly what graduate degree's and other student attributes they target for their jobs.
---
Job types
Graduate Jobs (53%),

Internships (47%),
Disciplines
Administration (5%),

Arts and Humanities (16%),

Business and Commerce (89%),

Computer Science (11%),

Consulting (74%),
Work rights
Australian Citizen (100%),

Australian Permanent Resident (100%),

New Zealand Citizen (95%),
About Us
What is Salesforce?
Salesforce is a customer relationship management solution that brings customers and companies together. It's one integrated CRM platform that gives all your departments — including marketing, sales, commerce, and service — a single, shared view of every customer.
Over 150,000 companies, both big and small, are growing their business with Salesforce.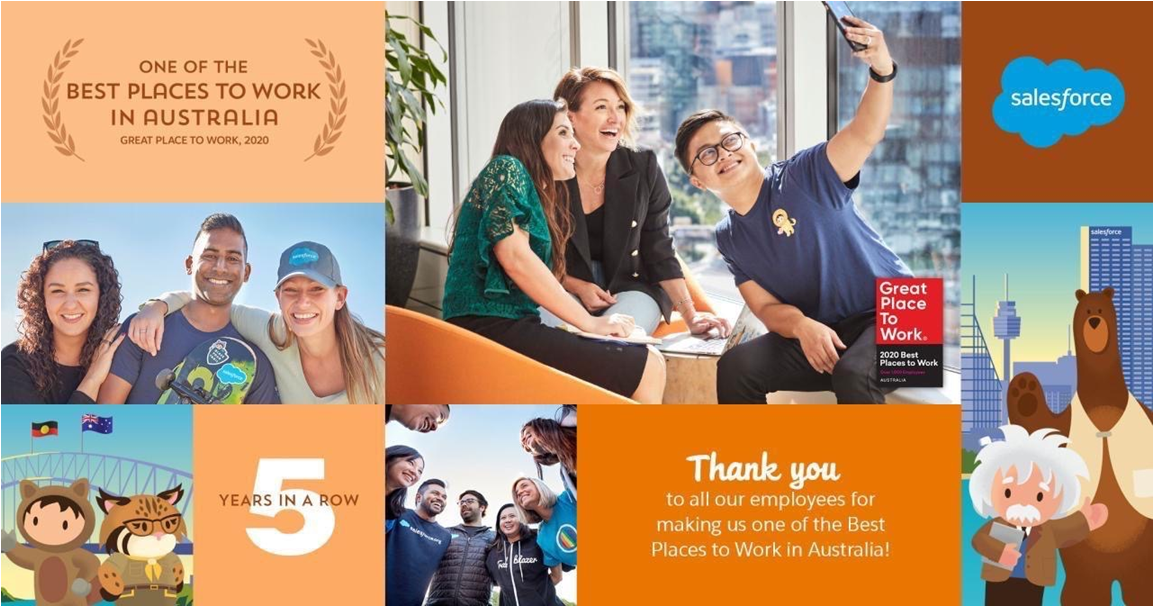 What does Salesforce stand for?
Our core values help make Salesforce a platform for change.
Ever since we started operating out of a small San Francisco apartment in 1999, we've believed that doing well as a company means doing good in the world. That's why we've committed our time, equity, and products to improving education, equality, and the environment for everyone.
What do we do for people?
Our technology helps people create better jobs, lives, companies, and communities.
When you buy Salesforce, you're not just buying a CRM platform; you're joining an inclusive community of over 10 million innovators, disruptors, and community shapers we call Trailblazers. With free online learning from Trailhead, they're learning the skills to improve their companies and careers.

Our Story
We believe everyone can be a Trailblazer, and we're building the technology to make it happen.
The Fourth Industrial Revolution is changing the way people work, using robotics, AI, the Internet of Things, and more. By making these innovations easier and more accessible, we're helping create a future with greater opportunity and equality for all.
Together, we're creating a future of new opportunities.
Trailblazers don't fear change, we embrace it. We harness new technologies to entirely transform our companies, our careers, and, hopefully, our world.
Welcome to our Ohana.
In Hawaiian culture, "Ohana" means family; it's the tie that binds people together. Our Ohana is built on four core values that inspire us to work together every day toward improving the world.
Trust
We communicate openly with our customers, and do what it takes to keep their data secure.
Customer Success
Our customers' success is critical to our growth and we're committed to succeeding together.
Innovation
We pursue ideas that could change our company, our country — and maybe even the world.
Equality
We respect and value employees from every background, and we thrive as a result.
A history of helping companies grow.
Founded in 1999, Salesforce pioneered the revolutionary idea of replacing traditional desktop CRM software with CRM in the cloud, making it accessible anytime from anywhere. Today, our innovative cloud platform is the world's #1 CRM solution.
Join our Ohana and be your best.
Find incredible opportunities to grow your career at one of the fastest growing Top 10 enterprise software companies, while helping our Ohana (or family) improve the state of the world at the same time.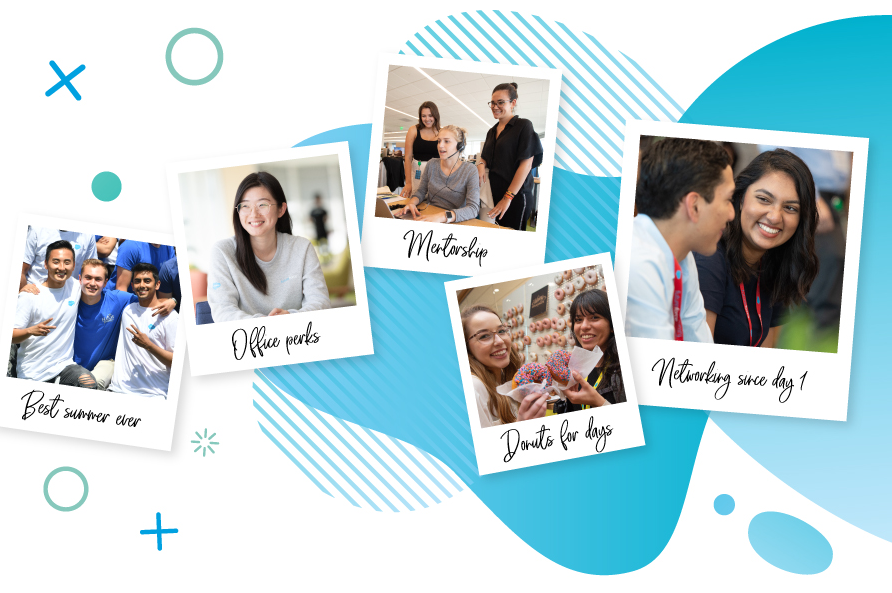 Do meaningful work. From day one our interns and grads work on real projects that go into production, giving them the opportunity to significantly impact the future of the company.
Gain exposure to senior leaders. In addition to being paired 1-1 with a mentor (aka trail guide), and support from their manager, our interns and grads also have unprecedented access to our Salesforce Leadership team.
Continue learning new Salesforce skills. With Trailhead, the fun way to learn Salesforce, interns and grads can explore new Salesforce Skills through guided learning paths.
Get paid to give back. Interns and new grads receive 7 days (56 hours) of paid Volunteer Time Off (VTO) to devote to causes they believe in.
Build a network while having fun. Interns and new grads have endless opportunities to mix and mingle, with social calendars full of networking nights, sporting events, city tours, and more.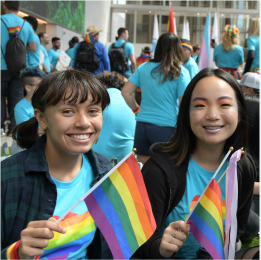 We believe in Equality For All.
We are building a more inclusive Salesforce with our Equality Groups and their allies. These employee-led and employee-organized groups center around common life experiences or backgrounds, and their allies. The mission is to make Equality a reality both inside Salesforce and the communities in which we live and work.


Futureforce University Recruiting
Salesforce
---
At Salesforce, we're dedicated to attracting, retaining, and cultivating the next generation of talent. Our interns and new graduates work on real projects that affect how our business runs, giving them the opportunity to make a tangible impact on the future of our company. With offices all over the world, our recruits have the chance to collaborate and connect with fellow employees on a global scale.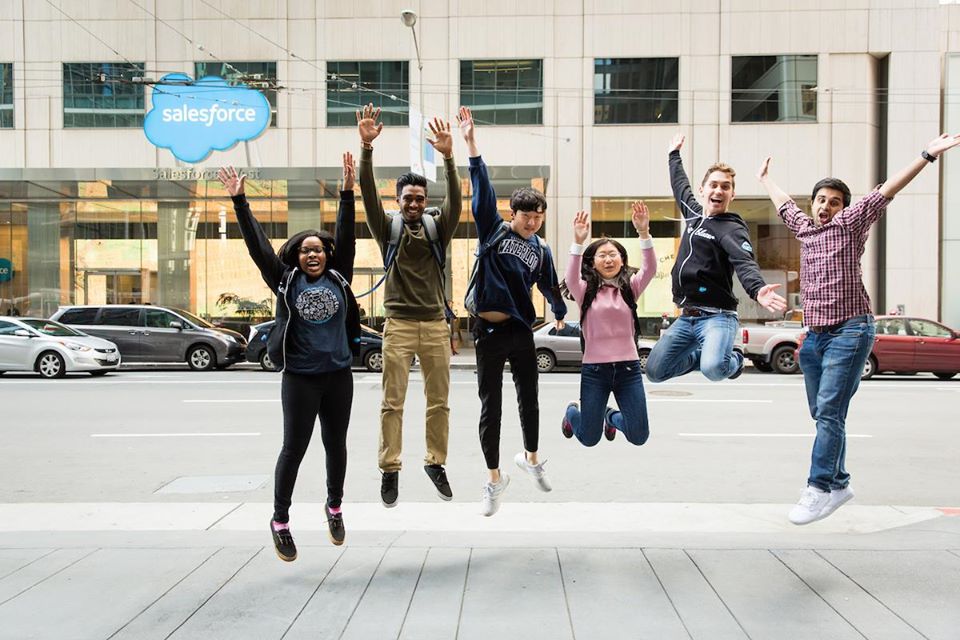 Explore our open roles
Interns: https://salesforce.wd1.myworkdayjobs.com/Futureforce_Internships
New Grads: https://salesforce.wd1.myworkdayjobs.com/Futureforce_NewGradRoles
Research: https://salesforce.wd1.myworkdayjobs.com/Salesforce_Research
Our teams and programs
We hire interns and grads across the globe for all of our different business segments. Explore the opportunities available for you in each below.
Take a look at all of our programs

Connect with our team
Where in the world can you find us? Spoiler alert — everywhere!
See the Futureforce brochure at https://online.flippingbook.com/view/462463/
Application Process
Salesforce
---
Navigating your interview.
Looking to forge your path to Salesforce as an intern or new grad? Our university recruiting team has put together this handy guide to help keep you on course during the interview process.
1. Do your homework.
2. Preparation is key:
Get a good night's sleep so you'll be refreshed and alert for your interview.
Got a phone interview? Make sure you're in a quiet area with internet, your resume, and the job description in front of you. Be ready to take notes (headphones can come in handy).
Coming onsite? Bring copies of your resume and something to take notes on. Make sure to look up the address beforehand and aim to arrive 10-15 minutes early to allow yourself some wiggle room.
Plan to dress business casual. Think slacks and a button-down, not a t-shirt and flip-flops.
3. Talk yourself up:
Speak up. Your strengths, experiences, goals, and values are important to us, and help us understand what makes you an outstanding candidate.
Let us know why you're here. What about the company and the role excites you most?
Be ready to relate your skills back to the requirements in the job description and provide specific examples when talking about your past experiences to show that you have the qualifications necessary to thrive in the position.
4. Ask questions:
Interviewing is a two-way street, and we want you to learn more about us just as much as we want to learn more about you.
Research your interviewer's background. This will not only provide more context around your questions, it may also uncover common ground worth mentioning.
Ask questions about the specific role and team that you are interviewing for. What is an average day like? Who will I be working with most often?
5. Be authentic:
We want to meet the real you, so don't just tell interviewers what you think they want to hear, rather emphasize what makes you unique.

Blaze your trail with Salesforce today.
Learn how Salesforce helps students discover career options, and get hands-on experience with Trailhead.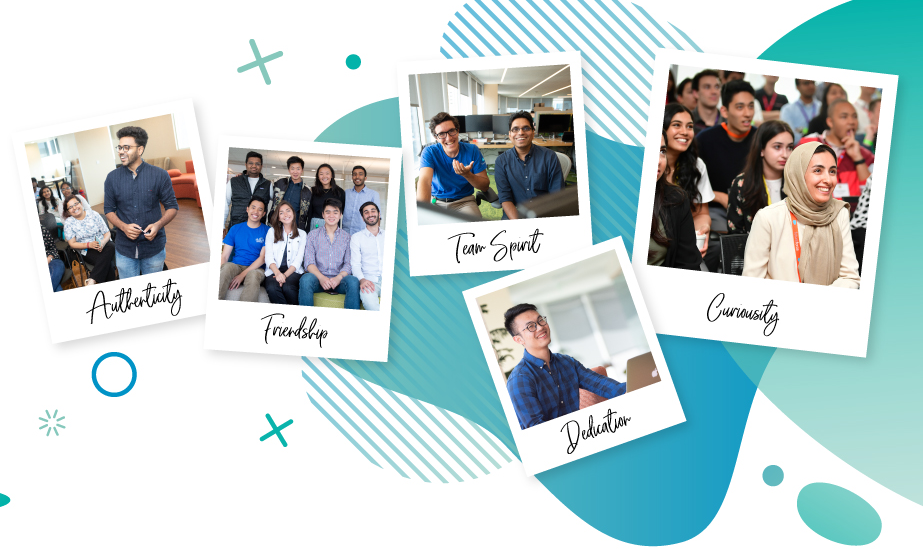 Employee Profiles
Salesforce
---
In their own words.
"The people are what attracted me to it, in terms of both Salesforce and the various security teams. We shared our passion and nerdiness for security, and there was so much I could learn from them."
SIDDHARTH CHOWDHURY, THREAT INTELLIGENCE RESEARCHER
"I was able to hone my analytical skills and gained valuable experience presenting data and product strategy insights to senior PMs. Everyone I worked with was excited about my work and eager to help or give constructive feedback. I also really enjoyed the vibe and culture of the place. Whether it was attending inclusion events organized by Ohana groups, or cleaning up trash on Ocean beach with my fellow interns during our Volunteer time off, I was impressed by Salesforce's commitment to its values of equality and giving back."
TALHA AFTAB, PRODUCT DATA INTELLIGENCE MBA SUMMER 2018 INTERN
"I walked into this internship thinking that I had incredible sales skills for my age. Yet, I quickly realized how there are so many other sales processes, and tricks that work for some scenarios better than others. Overall, I learned a lot at Salesforce. I have developed skills that have not had much attention before, and I have taken away ideas and sales tips that I will take with me throughout all of my future endeavors."
ALLISON HARRISON, SALES INTERN
"Salesforce is not just a company it's a company with a soul. When I come to work every day, it's not just about the work but the world around us as well. I am fascinated by the philanthropic reach ,as well as the innovation rate that we have at Salesforce."
SHERIN MEHAK, SUCCESS AGENT
"These past 6 months I've been able to gain technical skills and knowledge which I didn't have much of coming from a non-technical background. Also, I was able to develop my soft skills and take them to another level that I could have never imagined"
MARKEMIA PETERSON, SOLUTION ENGINEER SCOUT
"These past 6 months I've been able to gain technical skills and knowledge which I didn't have much of coming from a non-technical background. Also, I was able to develop my soft skills and take them to another level that I could have never imagined"
MARKEMIA PETERSON, SOLUTION ENGINEER SCOUT
Futureforce experience - As told by our Futureforce new grads
Where Are They Now?
Salesforce
---
Social Responsibility
Salesforce
---
The environment is a key stakeholder.
At Salesforce, we consider the environment to be a key stakeholder and we are committed to harnessing our culture of innovation to improve the state of the world. We leverage the power of our people and our products to reduce the impact that we and our customers have on the planet. Salesforce achieved net-zero greenhouse gas emissions globally and delivers customers a carbon neutral cloud.
Vision
We're committed to a sustainable future for all
We believe that the business of business is to improve the state of the world, and we work to make sure Salesforce is a platform for change through serving the interests of all our stakeholders — employees, customers, partners, communities and the environment. We're working to play a meaningful role in creating a sustainable, low-carbon future by:
Working toward 100 percent renewable energy for our global operations
Continuing to deliver our customers a carbon neutral cloud and operate as a net-zero greenhouse gas emissions company
Pursuing green building certification and other innovative green office initiatives
Leveraging our people, technology and resources to help environmental causes around the world
When it comes to protecting our planet and combatting climate change, we know that companies have a key role to play. We aspire to never settle for the status quo. At every turn, we look to innovate, taking bold action and paving the way for others to join us. Together we can create a more sustainable future.
Clean Cloud
Delivering an environmentally- friendly customer success platform
Salesforce's multi-tenant cloud computing model has a much smaller environmental footprint than traditional IT hardware and software. By sharing computing resources among a large number of customers, we achieve enormous economies of scale, especially when it comes to carbon and energy consumption. We deliver our customers a completely carbon neutral cloud by offsetting the emissions (Scope 1, 2, and 3) we cannot reduce through multi-tenancy and other operational sustainability initiatives. These offsets cover everything from manufacturing servers, to data center operations, to the impact of our customers using Salesforce on their personal devices.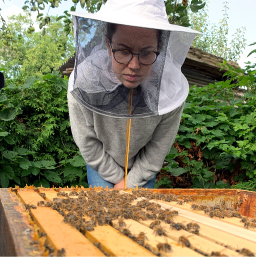 In addition to focusing on operational excellence, we believe the cloud should be powered by clean sources of energy. We're also working to achieve 100% renewable energy for our global operations.
Operations
Integrating sustainability into everything that we do
Sustainability is an ongoing journey. We're constantly working to better integrate sustainability into all that we do. Through our global commitments and environmental policy, we've set high levels of environmental standards for our business.
People
Leveraging our employees to create a greener world.
LGBTIQ+

Salesforce
---