Telstra Health Graduate Programs & Internships
Telstra Health improves lives through digitally-enabled care for our community.
Over more than 7 years, Telstra Health has grown to become Australia's largest eHealth company and is a wholly-owned subsidiary of Telstra Corporation Pty Ltd. We are a trusted partner of major health and aged care providers across Australia and the UK. Our solutions help support a broad range of public and private providers across sectors including: healthcare, aged and disability care including hospita…
View more Telstra Health has no active opportunities at the moment.
See who's currently hiring with our Job Search!
Search for jobs
Telstra Health improves lives through digitally-enabled care for our community.
Over more than 7 years, Telstra Health has grown to become Australia's largest eHealth company and is a wholly-owned subsidiary of Telstra Corporation Pty Ltd. We are a trusted partner of major health and aged care providers across Australia and the UK. Our solutions help support a broad range of public and private providers across sectors including: healthcare, aged and disability care including hospitals, Government, Aboriginal Medical Services, pharmacy, primary and community health, and population health and prevention. Telstra Health employs more than 1,200 people across 17 locations in Australia, UK, Canada and our international footprint is expanding!
We have a unique footprint of digital health software solutions, including Electronic Medical Records and clinical and administrative software for the hospital, primary care, pharmacy, and aged and disability care sectors. We assist in delivering platforms that connect clinical information across multiple providers to improve patient care, and we help provide innovative solutions in health data analytics and new ways to help deliver care through telehealth and consumer solutions. We work with and support a number of large organisation and institutions, including the Australian Government Department of Health, My Health Record, Tasmanian Government and Healthscope, among many others.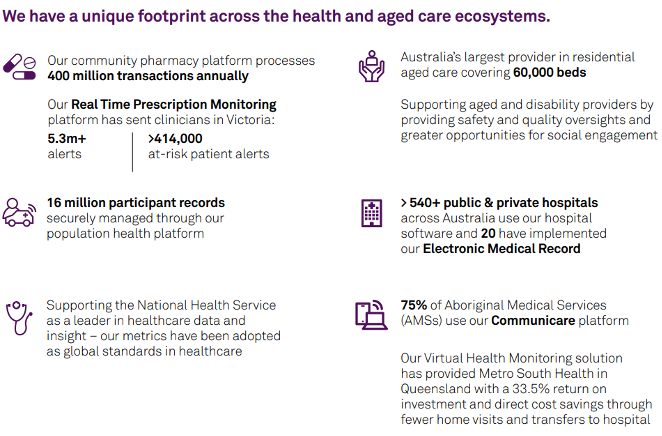 At Telstra Health, we are using this experience and our expertise in digital health to help improve lives through connected healthcare. We are uniquely positioned to achieve our vision: To realise a connected and improved digital health experience for all.
Click on the link below to find out more:
https://www.telstrahealth.com/content/dam/telstrahealth/careers/Connected%20Health%20Landscape%20animation_TH%20logo.mp4
Our values and behavioural standards are our shared beliefs about what we stand for and how we operate. They shape our decisions, actions and culture, guiding us on how to work together.
Our values:
We are changemakers
We are better together
We care
We make it simple

Our behavioural standards:
People first
Reach out and help
Courage to be open
We recognise the value of having diverse employees who represent unique perspectives and experiences and we're passionate about creating an environment that's inclusive and supportive, where everyone can truly be themselves. We know that diversity and inclusion fosters greater innovation and better customer connection, and helps us attract, engage and retain talented people. We are committed to gender equity, First Nations peoples and long-term reconciliation, and your wellbeing and development.

At Telstra Health, we are focused on nurturing talent and developing our future leaders. Our graduate program is centred on this, and we're on the lookout for the next generation of passionate and enthusiastic graduates willing to challenge their thinking, apply their skills, and develop their careers in a fast-paced technological environment to improve lives through digitally enabled care for our community.
As a graduate in Telstra Health, you will be provided with the unique opportunity to learn and develop your skills in a supportive and collaborative environment surrounded by world-leading technology and experts in digital solutions.
To support your career growth, we ensure professional, senior supervision is always available for all employees, regardless of your role or location, in addition to providing a range of employee engagement initiatives to be involved in outside of your day-to-day role. As a graduate at Telstra Health, working with us will give you the opportunity to impact lives in a variety of ways.
We believe all Australians deserve access to high quality healthcare. Telstra Health operates across seven key sectors. These include:
Hospitals and Connected Health
Primary and Community Health
Aged and Disability
Virtual Care Solutions
Pharmacy
Population Health Solutions
Innovation and Analytics
As a Telstra Health graduate, you will have the opportunity to impact lives through digitally-enabled care by directly working to:
Help providers deliver safer, high quality patient care and manage medications safely and securely 
Enabling solutions that integrate clinical information across health systems to enable safer, well-informed and more personalized patient care
Help providers care for an ageing population and the disability sector to deliver optimal care
Support healthcare organisations to make better and faster decisions through our capabilities in data and analytics 
Most importantly – improve efficiency

The Telstra Health Graduate Program is a 14 month program with opportunities available through 2 intakes - June 2022 and February 2023. Positions are available across our Melbourne, Sydney and Brisbane locations. We will provide you with continuous learning and development opportunities through our structured development program, designed to support you throughout your journey at Telstra Health.
What will Telstra Health graduates do?
Our graduate program will provide you with opportunities and support to apply your knowledge and expertise. As Telstra evolves, so will you. Here, you will work on great things that matter. It's challenging, varied and rewarding – it is work you will be proud of. Our digital health software solutions means that we enable the lives of our people, teams and the communities we serve on a daily basis. As a Telstra Health graduate, you will be able to collaborate with the best people in their field and have the knowledge that your ideas will always be welcome. Plus, you'll get the tools and flexibility to help you thrive, your way.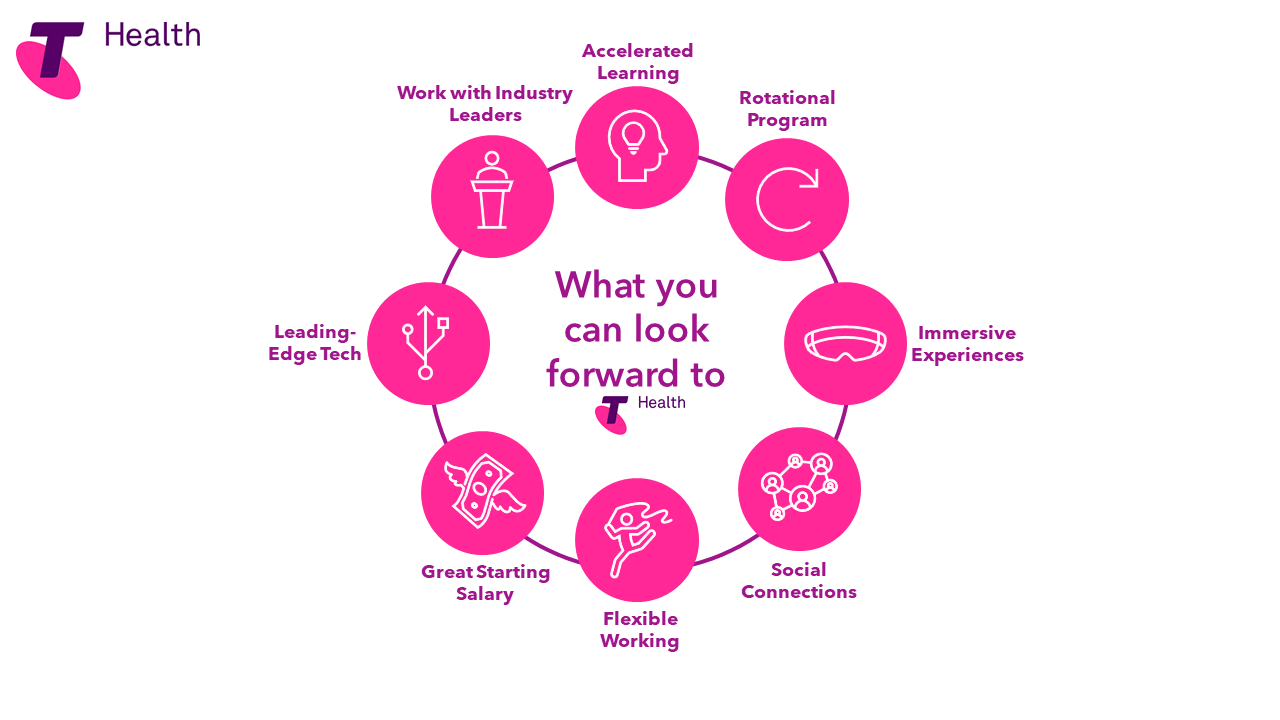 Your Development Journey
Our structured development program is designed to support you throughout your journey at Telstra Health, through immersive learning experiences and working with industry leaders to guide you to becoming a future leader. Our development program will see you meeting with your fellow graduates to participate in tailored learning and development workshops, aimed at growing and developing your skillset as you transition into the workplace. We will support you to be at your best and set you up for success in your career at Telstra Health.
So that you know what you can expect when applying, we've outlined the steps of our graduate recruitment process below, along with some helpful hints for each stage.
Completing an online application form
The application form is the first stage of your journey with Telstra Health and helps us build our knowledge around your educational and work background, experiences and skills. We want to understand how you would fit right in at Telstra Health and why you have taken an interest in our graduate program. Make sure to check that you are eligible for the program and tell us what motivated you to apply for our program.
Online assessments
The second stage of our recruitment process is a range of online assessments. These help us to capture information that allows us to understand your preferred ways of working, and how we can best support you when working at Telstra Health.
Video interview
The video interview is a short one-way online interview where you will record timed responses to a range of interview questions for us to review. This allows us to get a better understanding of you as an individual and your communication style. There will also be various competencies that we'd like to see throughout your interview, that we believe will make for a successful graduate at Telstra Health.
Assessment Centre and Interview
The Assessment Centre is an opportunity for us to meet and interact with you directly! There is an exciting range of activities for you to participate in during the session, but what is most important is that you will have the chance to learn more about Telstra Health as a company, and see who you could be working with in the near future. This is a great opportunity and we encourage you to ask us questions about the graduate program and our business and show us why you would be a great fit at Telstra Health.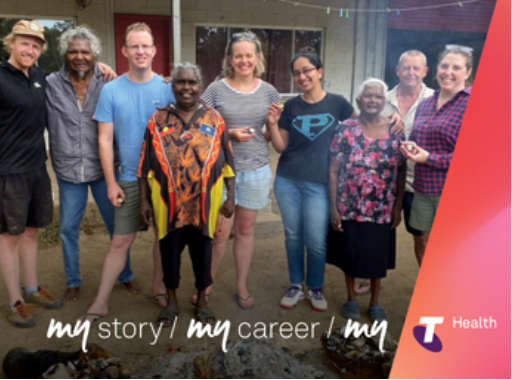 William Grant, Senior Product Manager, Virtual Care Solutions
"I was one of the few that was fortunate enough to be selected as part of Telstra Health's first Indigenous Cultural Immersion program in 2019. After arriving in Cairns, QLD, we set out and travelled across a dirt road for the majority of the trip, crossing the many crocodile inhabited creek crossings through the World Heritage Daintree Forest. The primary objective of the trip was to 'immerse' ourselves with the locals, and we did this by staying on the homelands of the Bintha-Warra people near Hope Vale and the Jajikal homelands near Wujal Wujal. We spent some time visiting the various health services too, including the health centres in Hope Vale and Wujal and the local hospital in Cooktown. The difference between staying in these remote locations generally and actually staying on a remote Indigenous homeland is that it give you an understanding of what Traditional Indigenous Country and lands mean to Aboriginal and Torres Strait Islander communities – it's a spiritual and cultural experience like nothing else."
---
Lucy Platz, Strategy Analyst, Strategy Business Development and Advistory Services
"Since joining Telstra Health, my role has evolved from working as an Associate across the Strategy and Human Resources teams, to becoming a Strategy Analyst, with multiple opportunities available to enable my professional and personal development. Being in the early stages of my career, I've been greatly supported by various role models and leaders across our organisation. Most notably, I've taken part in two pilot programs throughout 2021; one centred on peer mentoring, where I was partnered with a Senior Solution Delivery Manager, and the other on group coaching, in which my group has been guided by an Executive Leadership Team member to collaborate on identified business opportunities or challenges. Both programs have been incredibly inspiring, as I've met new people with diverse backgrounds and experiences, who have significantly enriched my learnings."
Together, we'll build connections for life.
We have a unique presence across the spectrum of health and aged care, including as the major software provider in residential aged care, in pharmacy, and supporting healthcare services right around Australia.
Our Benefits and Perks
Receive a 25% discount on the following Telstra services:
Up to 2 fixed full service (home phone) services on the staff member's account, which are for your personal household use (not to be used for business purposes or friends and family)
1 x home broadband plan
1 x Telstra TV device
1 x Foxtel from Telstra service
1 x Foxtel Now
1 x Netflix
1 x Kayo Sports
1 x Xbox all access service
Up to 7 post-paid mobile plans
Download our brochure here to find out about more perks and benefits as a Telstra Health team member.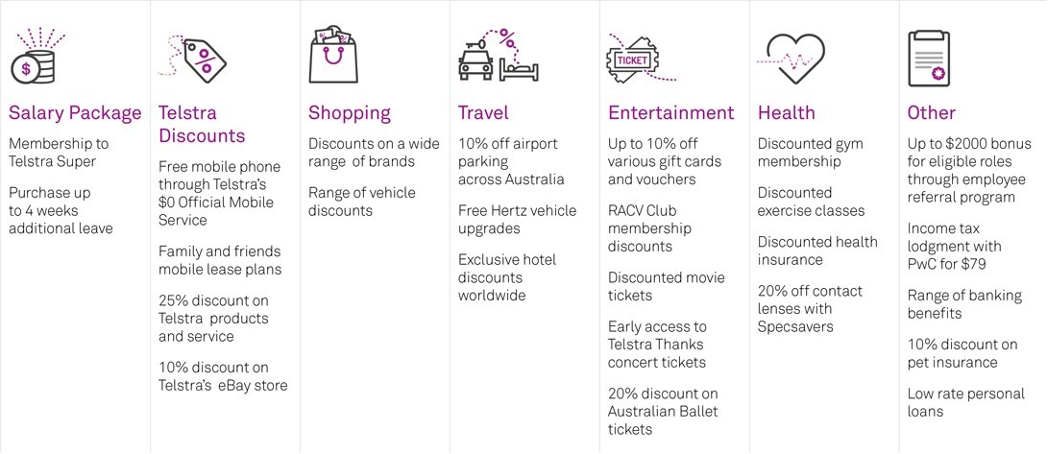 Your Wellbeing and Development
We're committed to providing our employees with a working environment that promotes andfosters positive health and wellbeing, supporting the mental health and resilience of our workforce.
We offer support and resources through services such as Thrive - our mental health and resilience program, along with other support and resources through our EAP provider, Benestar.
We promote our culture from within. Throughout the calendar year, activities and initiatives are organised to highlight the importance of wellbeing, marked by days of significance, such as R U OK? Day and World Mental Health Day.
Telstra Health provides you with flexible working arrangements to suit your needs. We know you have a life outside of work, so our Flexible Work Policy helps our people work in a way that suits them, whether the reason be for family, capacity to work, mental health or any other personal reasons.
You can make use of different leave options available, including our:
Parental Leave Policy of 16 weeks paid leave
Personal and Compassionate Leave
Volunteer Leave
Cultural and Ceremonial Leave
Study and Exam leave
Career breaks and purchase additional leave
From 2020-2021, we introduced both Pandemic Leave and a Wellbeing Day due to the impacts of the pandemic to further support our people during this difficult, and ongoing, period.
We also provide you with free access to LinkedIn Learning for both your professional and personal development. If you're in a technical role, you will have free access to O'Reilly Learning, an exclusive technology learning platform.