The Data School Graduate Programs
Demand for data analysts and scientists has never been higher.
The Data School is creating the next generation of great data analysts and data scientists.
If you are passionate about data, we have the best way to get you into your new data career.
Past The Data School Graduate Hiring Statistics
If you're interested in working at The Data School, understanding when they have opened up applications for their graduate programs, graduate jobs and internships is helpful knowledge to have so you know when you might need to apply. Use the below information to see when The Data School hires graduates, but more importantly what graduate degree's and other student attributes they target for their jobs.
---
Disciplines
Business and Commerce (55%),

Computer Science (100%),

Consulting (45%),

Data Science and Analytics (55%),

Engineering (55%),
Work rights
Australian Citizen (100%),

Australian Permanent Resident (100%),

New Zealand Citizen (100%),

Australian Working Visa (55%),
What is the Data School?
The Data School
---
Data is exploding
The demand for great data analysts and data scientists has never been higher than it is today. There simply aren't enough to fill the positions being advertised.
The Data School Australia is creating the next generation of first-class data analysts and data scientists.
If you are passionate about data, we have the best way to get you into your new data career.
How does it work?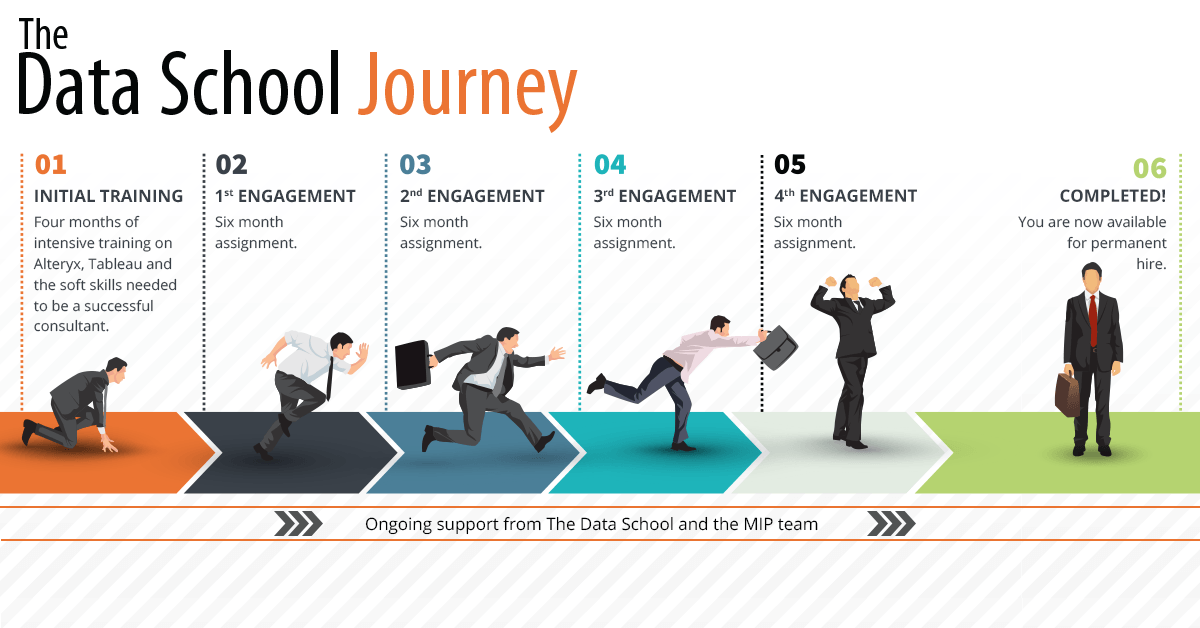 The successful applicants will be immersed into 4 months of intensive classroom training based on the market-leading technologies, Tableau and Alteryx.
In addition, you will be trained in all the soft skills needed to become a consultant from our team of experts.
The classroom training is followed by four 6-month client engagements with Australia's leading organisations to give you real-world experience to kick-start your new career.
Do I get paid to learn?
Yes. The Data School offers you a competitive salary while you study and gain valuable industry experience.
Key dates
The Data School takes new consultants three times each year per location.
In Sydney, the starting dates are in April, August and November.
In Melbourne, the starting dates are in February, June, October.
Details of the role
Four months of classroom training 
Four client engagements, each 6 months long
The result is a 28 month, fixed-term contract to start your new career as a data consultant 
$56,000 per annum that will increase in the second year 
When you finish the contract, the world is your oyster. You can stay on as a consultant and work on some fascinating projects or step out into the big wide world of data that has been opened up to you 
What we're looking for 
 Here at the Data School, we don't look at what's on your CV or your experience.
What we are looking for is:
Passion
we want you to want it, to have a true desire to learn and motivation to improve yourself and your skills every day
Data-driven minds
you love the idea of immersing yourself in data to drive meaningful insights and create jaw-dropping outcomes
Tech-Savvy
we don't need you to have experience, but working with tech comes naturally to you, and you enjoy it
Curiosity
questions are falling out of your mouth, you always want to know how and why
Resourcefulness
sometimes, the answers aren't always in front of you, you'll need ingenuity and resourcefulness to find answers to those questions you're asking
Fast learner
picking new things up every day whilst retaining previous knowledge will help you be successful in this role
Creativity 
the goal is delivering outcomes. You'll need creativity to deliver those outcomes in meaningful, digestible forms 
If that sounds like you, we'd love to hear from you!
Application Process
The Data School
---
We do things differently and we're proud of it.
So forget about the application process you might be used to.
Here's how the process works:
Join Tableau – Join the community and download Tableau Public by creating a new account.
Get inspired – Check out Tableau Public Gallery, there are brilliant examples for you to look at and research.
Find your data – Choose any data set you want! We mean it; from politics to sport, TV and popular culture. Tableau provide many data sets on their resources page.
Create your Viz – Now the fun begins! Once you have your data set, you can begin creating your winning viz!
Share it with us – Once your work is live on Tableau Public, send it to us!
The Interview – If you impress us with your passion, innovation and understanding of data, you will be invited to an interview with our Head Coach.
We are taking applications for places at all times. If you share the same inquisitive nature, have a passion for getting to the truth by way of data we'd love to hear from you!
Click here to review a more detailed description of the application process and to apply: https://www.thedataschool.com.au/apply/
Grow Your Career With Us
The Data School
---
Once your 28-month contract has been completed, you are likely to have the option of remaining employed at The Data School or work as consultants at MIP (MIP is the partner consulting organisation that provides the trainer and client backbone to The Data School).
Alternatively, you can hang out your shingle as an IT consultant or find a full-time job in one of the burgeoning number of blue-chip corporations that use Tableau and Alteryx.
In the era of Big Data, Data School alumni seem well-placed to enjoy well-paid and exciting careers.
Why Choose Us
The Data School
---
Get paid whilst you learn
Become a guru in Tableau, the market-leading data visualisation technology
Become a guru in Alteryx, the market-leading data analytics platform
It's not just data that's important – learn soft skills that are crucial for your success as a data consultant
Gain real-world experience by working with the leading organisations in Australia
Learn from the best data and analytics experts in Australia
Study in a creative workspace in central Sydney or Melbourne
Diversity at Company

The Data School
---
While the Data School doesn't appear to have an official diversity policy, its application process is merit-based. While skewing young, both staff and students appear to be from a range of educational, ethnic and national backgrounds. Unusually for IT education institutions and employers, women seem to be well represented at the Data School.