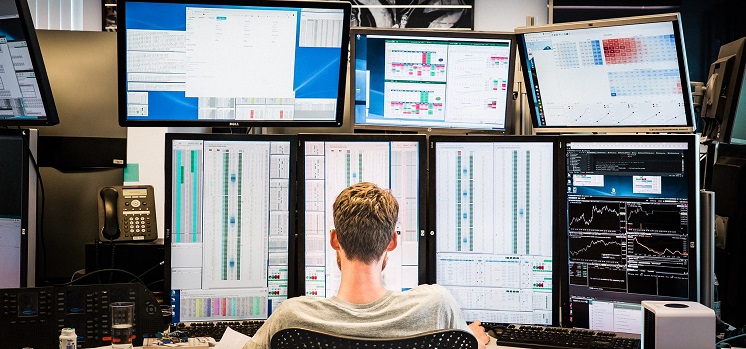 VivCourt Graduate Programs
VivCourt is a global trading business that measures its success in a radically different way. By ensuring your development and happiness, our profits grow, and in addition to paying you a personal bonus, you and the business can donate ever-increasing amounts to the social sector. In the last three years, we have generated close to $20,000,000 of charitable money.
VivCourt currently has 0 opportunities.
Select the following options:
Past VivCourt Graduate Hiring Statistics
If you're interested in working at VivCourt, understanding when they have opened up applications for their graduate programs, graduate jobs and internships is helpful knowledge to have so you know when you might need to apply. Use the below information to see when VivCourt hires graduates, but more importantly what graduate degree's and other student attributes they target for their jobs.
---
Disciplines
Actuary (9%),

Banking and Finance (9%),

Computer Science (28%),

Cyber Security (2%),

Data Science and Analytics (20%),
Locations
Sydney (96%),

Australia (2%),

Brisbane (2%),

Melbourne (2%),

Regional New South Wales (2%),
Work rights
Australian Citizen (100%),

Australian Permanent Resident (100%),

New Zealand Citizen (98%),
VivCourt is a global proprietary trading firm with a deep focus on technological innovation. We cover a variety of global markets, trading cash and derivative products ranging from Equities to Energy. Our Head Office edges on the Sydney CBD tucked away in the suburb of Paddington, with further local representation in Brisbane and Melbourne, and an office in Amsterdam. We are market makers and problem solvers, with business ranging from maintaining tight and liquid markets to researching and developing systematic quantitative trading strategies. 
VivCourt's key focus is our people placed within our community. We have thrown out the traditional shareholder model of other trading firms to ensure more of our profits can be put back into the VivCourt staff. Through our unique and generous social bonus scheme, we give our staff the opportunity to support the not-for-profit causes closest to their hearts.
Every company says its people are its most important asset and mostly that's just lip service. But with us, it really is true because we've kicked shareholders out of the model. They just don't exist as an interest group that we need to care about. Which in turn ensures profits don't go to line the pockets of emotionally removed investors, but go directly back into our people and to the community.
How good would you feel knowing that while you may have received a bonus as an employee, you were part of a business that provided a huge investment to the social sector!
VivCourt believes in purpose, in goals, in something tangible, something very real, something that not only makes us feel good but directly improves the very community that we live in.  If this resonates with you, we'd love to hear from you!
Who We Are
VivCourt is a dynamic, and quickly growing market maker and quantitative trader across Asia.
With an experienced and highly motivated team, you'll be providing assistance across a full suite of strategies, from quantitative, to ultra-low latency to market making.
You will be involved with a wide range of asset classes, cutting edge technology, and market leading coverage and connections spanning the entire globe.
In return, you will have access to our industry leading suite of employee benefits, generous compensation, and flexible work arrangements.
You will also have the opportunity to support the social causes you are most passionate about, both through our social bonus, and other not for profit programs. In the last three years, we have generated close to $20,000,000 of charitable money. 
Our Graduate Trader Intake
Every year, VivCourt begins its quest for talented and creative graduates with an eye for details. We will test your mental maths, pattern recognition, sequence, and communication skills to evaluate your strengths to help you utilise them, and your weaknesses to help you overcome them. 
Our Graduate Trader Training
VivCourt will provide you with a 10 week in-class learning with our senior staff to introduce you to the theory of pricing, trading, and managing the strategies we trade across all markets and products. Our graduates will have the opportunity to work with multiple teams and then join a trading team that best fits their interests and skill sets.   
Our Graduate Software Developer Intake
Our developers are the heart of VivCourt with their problem-solving skills, implementing our algorithms and providing our infrastructure for trading and research. To start the process of joining us, you will be given the choice between two program languages to complete two programming tasks. If successful, you will be interviewed by our seniors and founder and all going well, welcomed to VivCourt! 
Our Graduate Software Developer Training
Our developers will be taken through practices and architecture at VivCourt to help get them started. All our graduate developers will also be joining our traders for the in-class training. On acquiring the necessary background knowledge, they then will be coupled with mentors to help them navigate their tasks. The mentors believe in giving you more than enough guidance and time while allowing you to make mistakes and find subsequent solutions all as part of a healthy working environment. 
Both programs start in January 2022.
What We Offer:
Guaranteed bonuses after the first 6 months and again after the first 12 months. You will also be given an annual bonus calculated on both the company's performance and your own. 
In addition to a competitive compensation package, we also supply breakfast and lunch each day, and maintain a very flexible and casual work environment. Whether it be the yearly company trips, in house gym equipment, or ongoing professional development opportunities, VivCourt has something for everyone. 
Social bonuses which is one lot of $10,000 given twice a year for you to donate to your charity of choice. We insist on you calling the organisation yourself so you get the buzz of the VivCourt model directly! 
Mentors and buddies to support you; as we reject the concept of throwing you in the deep end and giving you unnecessary stress. 
Training in all skills you feel unsure with via external or internal sources. We wholeheartedly believe in supporting our employees growth whether that be for their technical skills, communication skills or facilitation and leadership skills. 
VivCourt operates to foster a supportive, sustainable, and successful environment for each of its employees. We believe that we will get the best work from people who come to work feeling their best, and as a result, we have a close-knit team built on trust and mutual support. Unlike other trading firms, this means we do not need a non-compete from you, just your desire to learn, develop and grow.