Wiley Edge Graduate Programs
Wiley Edge gives you the edge in your career.
Our graduate program has helped over 2,000 graduates get a foot in the door in technology, banking and business.
It starts with 3-12 weeks of paid training at our Academy. Then you'll join one of our clients for 12-24 months (we work with investment banks and other big companies in industries from healthcare to aviation to insurance). You're supported by us throughout, with pay rises every 6 months and an online learning plan to develop your skills.
Afterwards, the vast majority of graduates continue their career with the client.
Like real time problem solving in a 'live' or 'production' environment? Let us kick-start your tech career in Production Support - we'll help you learn how to keep applications and systems running smoothly by identifying problems and deploying solutions.
If you've always dreamt of an exciting career in Banking, Finance and Tech, now's the time to make it a reality with mthree! We recruit year round and have start dates throughout 2022.
Computer Science
and 1 other
Hires applicants with degrees in
You've worked hard, put the hours in at Uni, so now's the time to kick-start your tech career with mthree. We recruit year round and have start dates throughout 2022.
Past Wiley Edge Graduate Hiring Statistics
If you're interested in working at Wiley Edge, understanding when they have opened up applications for their graduate programs, graduate jobs and internships is helpful knowledge to have so you know when you might need to apply. Use the below information to see when Wiley Edge hires graduates, but more importantly what graduate degree's and other student attributes they target for their jobs.
---
Disciplines
Banking and Finance (60%),

Business and Commerce (13%),

Computer Science (87%),

Economics (7%),

Engineering (60%),
Locations
Sydney (63%),

Brisbane (60%),

Melbourne (53%),

Singapore (13%),

Hong Kong (13%),
Work rights
Australian Permanent Resident (73%),

Australian Citizen (73%),

New Zealand Citizen (73%),

Australian Working Visa (27%),

Australian Skilled Migration Visa (485) (27%),

Australian Bridging Visa (27%),

Australian Student Visa (27%),
What?  
We bridge the skills gap in technology and other high-demand disciplines by connecting education to the working world. Aligned to industry, our Academy curriculum adapts to meet ever-changing requirements. 
Our Alumni offering focuses on custom-trained emerging talent. Through the hire-train-deploy model, we place outstanding graduates into a client's team for 12 to 24 months, after which they can be converted to full-time employees at no extra cost. At the end of the program, ninety percent of Alumni stay on under our clients' permanent headcount.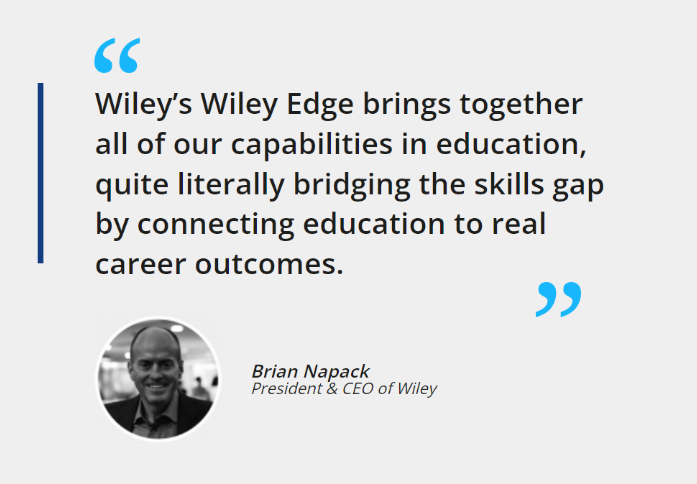 Part of Wiley
In 2020 Wiley Edge joined Wiley (NYSE: JWA). Wiley is a global leader in research and education, unlocking human potential by enabling discovery, powering education, and shaping workforces. For over 200 years, Wiley has fueled the world's knowledge ecosystem. Today, their high-impact content, platforms, and services help researchers, learners, institutions, and corporations achieve their goals in an ever-changing world.
Why? 
Why this matters to us
BELONGING WITHOUT CONFORMING 
Inclusion should embrace the diversity within a workforce, not absorb away the differences. We've felt the benefits of this at Wiley Edge HQ.  So we want to keep doing our bit to drive change, from sharing our own struggles and victories to doing away with dress codes. 
MAKING MERITOCRACY WORKABLE
"Equality of opportunity" is easy to talk about but hard to put into practice. We recognize that positive action is sometimes needed when a person's background might hold them back, despite their aptitudes. 
VALUE IN DIFFERENCE
By helping under-represented groups excel in jobs they might not have chosen unaided, organizations gain new thinking, new ideas, and new ways of solving problems.  
How? 
We hire graduates with the potential, passion, and practical degrees to succeed in your teams. 
We train them at Wiley Edge Academy. Aligned to industry, our curriculum adapts to meet ever-changing requirements.
We deploy them onsite with you for 12 to 24 months, supporting their skills development throughout.
After which they can be converted to full-time employees at no extra cost. At the end of the program, ninety percent of Alumni stay on under our clients' permanent headcount.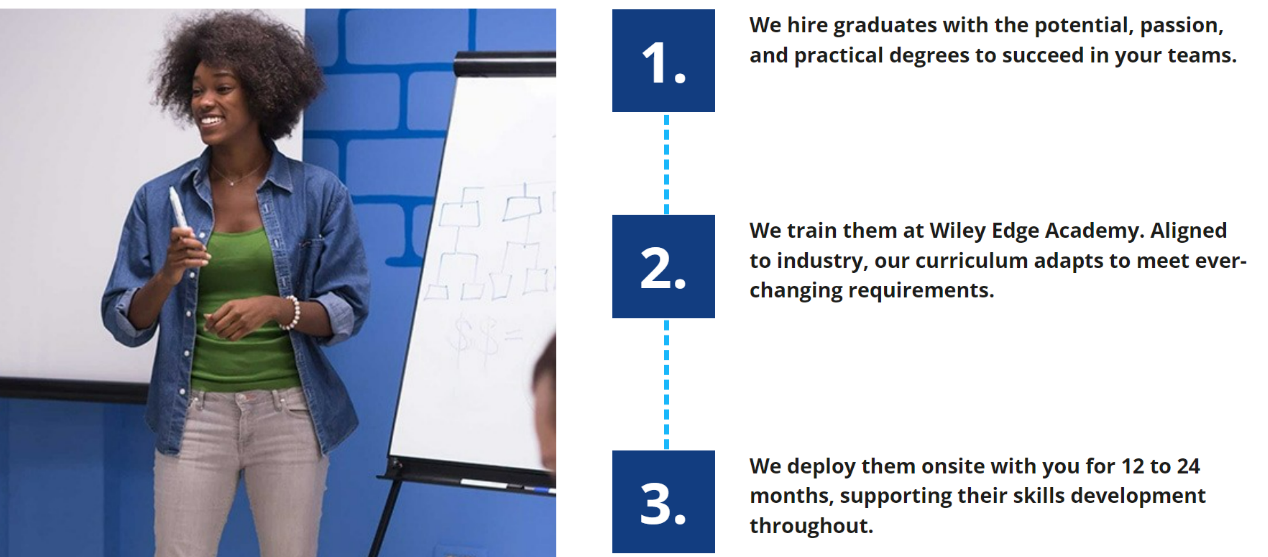 FLEXIBLE START DATES
We don't have a fixed intake once a year with an application deadline miles in advance. Instead, we bring on small classes of graduates regularly throughout the year - with a turnaround time of weeks, not months.
JUST ENOUGH HANDHOLDING
You're more than just a CV. We carefully consider your personality and your interests when you apply, and you'll be supported by our team of experts throughout your training and your placement.
A COMMUNITY OF FELLOW GRADS
You don't have to go it alone. You'll learn the ropes with others in the same boat - in small classes that are welcomed by the mthree world from day one. We also run events throughout the year to bring everyone together.
GOAL-ORIENTED TRAINING
Ready to move beyond academic theory? You'll get 4-8 weeks of unique remote training to set you up for success in your role. It's crafted and delivered by our specialists, who know your field inside-out. - We need
A PAY RISE EVERY 6 MONTHS
You'll get a guaranteed schedule of salary reviews to reflect how well you're doing. We're here behind the scenes to help you move towards your performance goals.
ONGOING TRAINING OPPORTUNITIES
While you're in your placement, we'll continue to assist you in identifying any skills gaps. We give you a personalized development plan and LinkedIn Learning license to help you get there.
FLEXIBLE BENEFITS
Be rewarded with our flexible, wellbeing-focused benefits package. Medical care, dental care, a pension, gym membership and more.
THE SUPPORT YOU NEED TO GET AHEAD
Our HR and engagement teams here at mthree are here to ensure you realize your potential via continued in-classroom training and performance reviews.
Graduate Program
Wiley Edge
---
At Wiley Edge, we look to pair talented graduates with leading global businesses and we're always on the lookout for ambitious people, like you, to join the Wiley Edge Alumni Graduate Program.
About the Graduate Program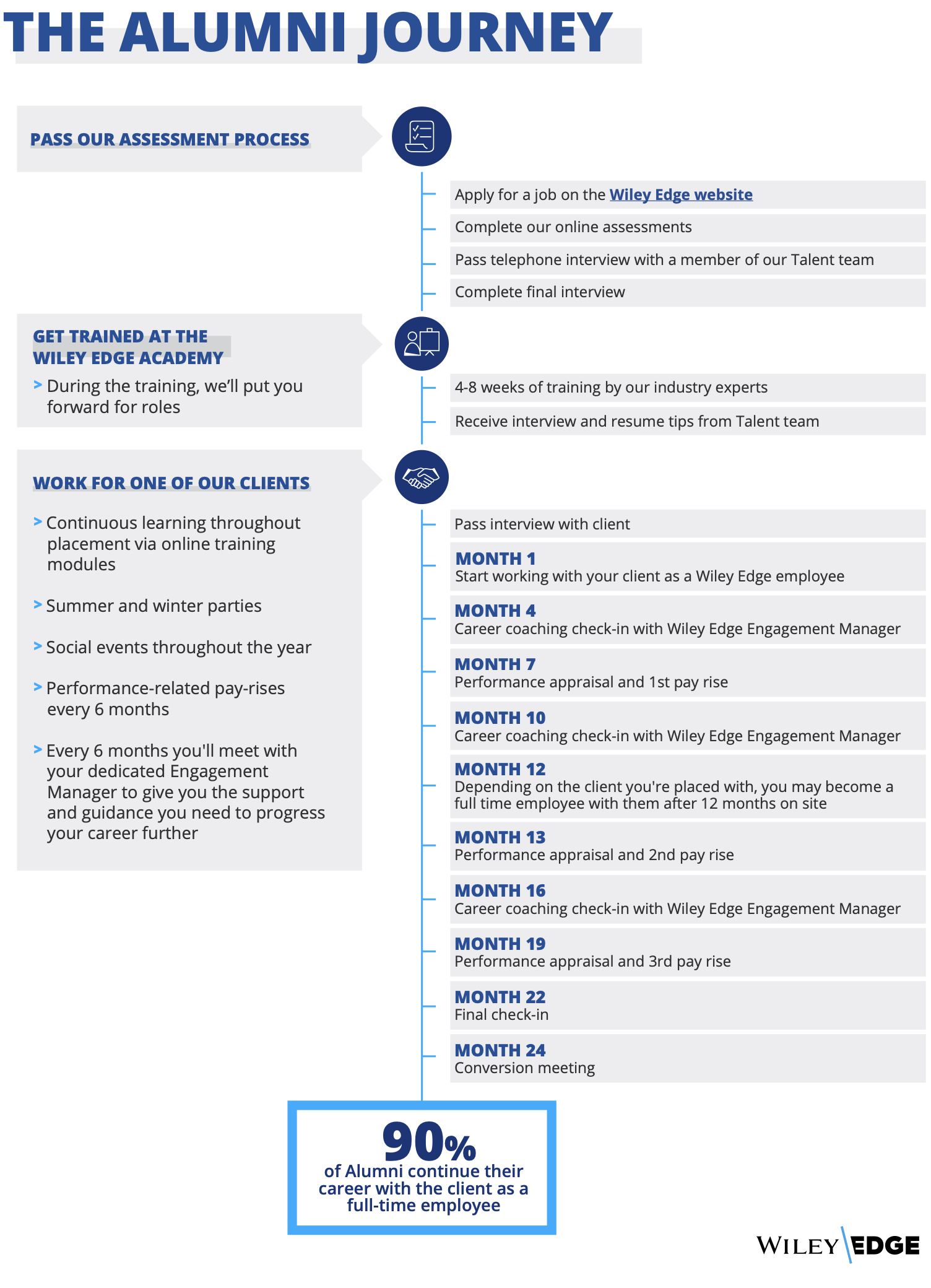 Who we are looking for
Learning and Development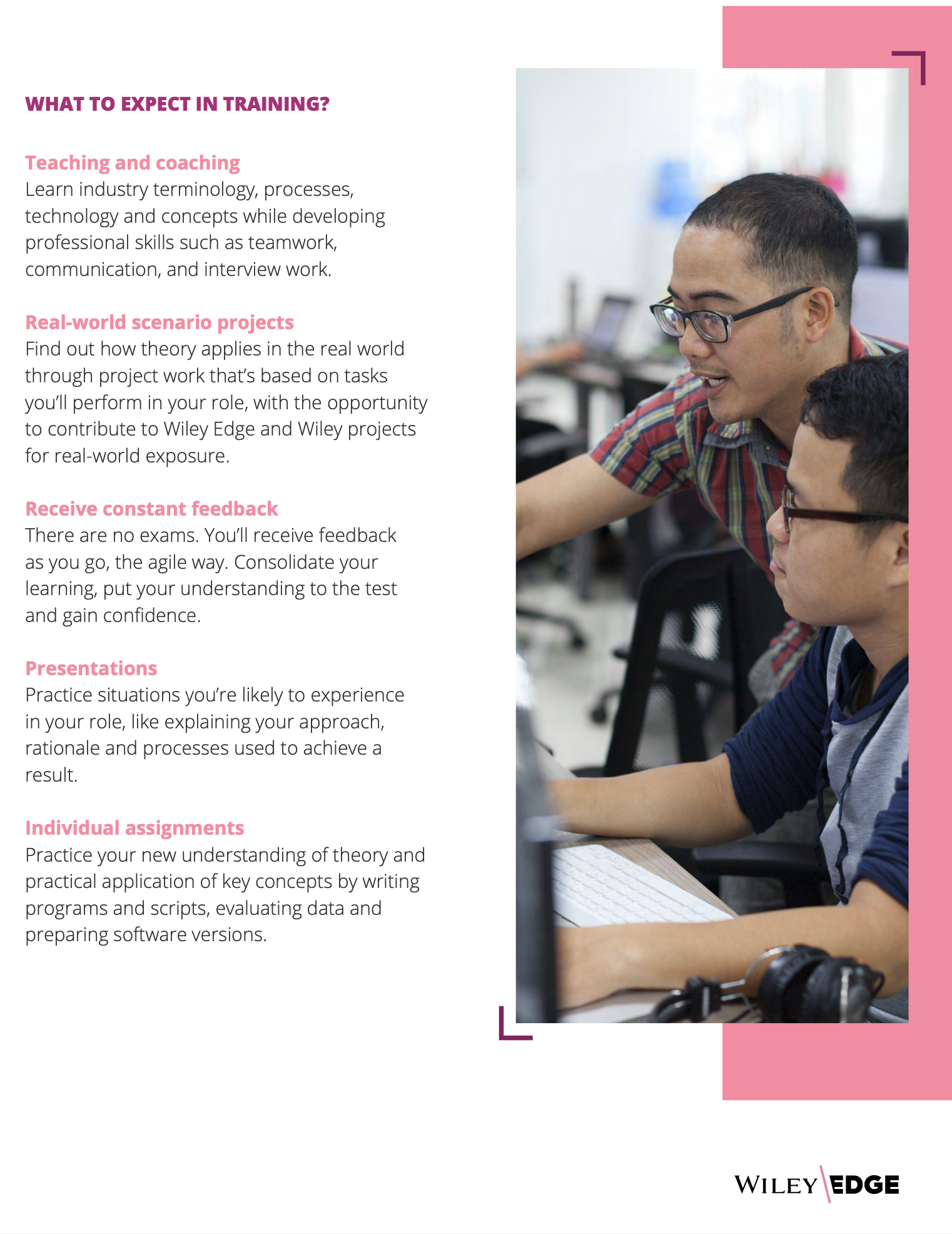 What happens beyond the Graduate Program

Employee Profile
Wiley Edge
---
You can check on your alumni experience and testimonies on our website.
Application Process
Wiley Edge
---
Apply to one of your opportunities thought our website. Use the link below to find opportunities or use the link provided in the job post for each opportunity. https://edgejobs.wiley.com/ 
Recruitment process after application:
Step 1: CodinGame Aptitude & Coding Test. You'll receive a link from our assessment platform, CodinGame. The link will give you access to our Aptitude test which contains 29 mathematics and problem-solving related questions – the assessment takes around 30-70 minutes to complete. The questions are a mix of algebra, pattern recognition and problem solving which requires a mix of logical deduction and abstract thinking. You'll receive a separate link from CodinGame. This link will give you access to our technical assessment which contains 2 coding questions. This should take around 45-60 minutes to complete.
Step 2: Recruiter interview. Once you have successfully completed the Aptitude test, we will schedule a 20–30-minute interview to discuss the opportunity with you alongside ensuring that this program and opportunity is the right fit for your skillset and future career aspirations. 
Step 3: Automated Interview. Following this, you'll receive an email containing a link from Shortlister, our video interviewing platform. This interview will contain 8 questions – as it is an automated interview, you will have time to think about your answers and then be asked to record them.
Step 4: Finally, we will be in touch to discuss the feedback from your application. If you have been successful you will secure a place in our Talent pool. This is for candidates who have successfully completed our recruitment process and allows you to be considered for up-and-coming training classes and live positions with our clients.
Our talent team will guide you through this process. 
Continuous support, development, and motivation for graduates
FAIR CONTRACTS FROM START TO FINISH
No 'locked in' catches. Alumni stay around because they want to, not because they have to. (We don't do training bonds).
We pay our Alumni during training. Candidates from diverse socioeconomic backgrounds can't always afford 4-8 weeks without income, and we don't want to exclude anyone on that basis.
Once onsite, the Alumni get performance-linked salary increases every 6 months.
We offer a flexible benefits package to promote their health and wellbeing.
LIFELONG LEARNING 
We design a self-paced learning track that's specific to each Alumni's role, with recommendations for developing further industry skills – as well as interpersonal skills, critical thinking and emotional intelligence. 
The Alumni access this through our world-class learning technology ecosystem.   
DEDICATED ENGAGEMENT TEAM 
We keep in touch with the Alumni throughout their placement to maintain progress.   
Along with their line manager, we conduct appraisals every 6 months, checking in afterwards to find out how they're doing following any feedback. 
We run socials, panel events and open-door Employee Resource Groups for the Alumni.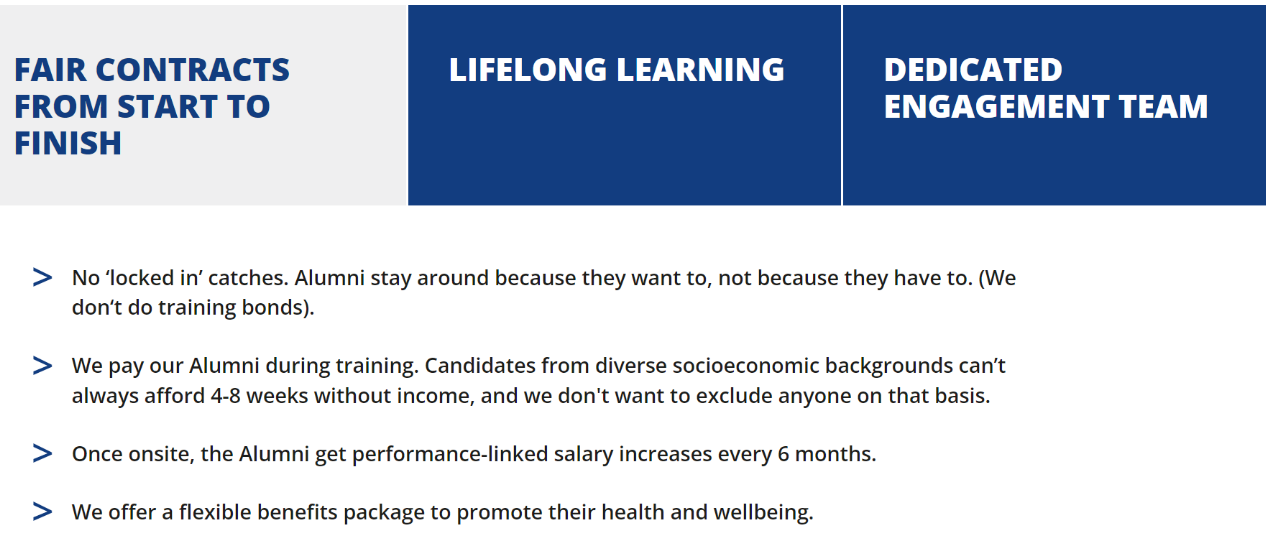 Why bridge your skills gap with Wiley Edge Alumni?
Theory vs. execution. Your business needs problem solvers, not just book smarts.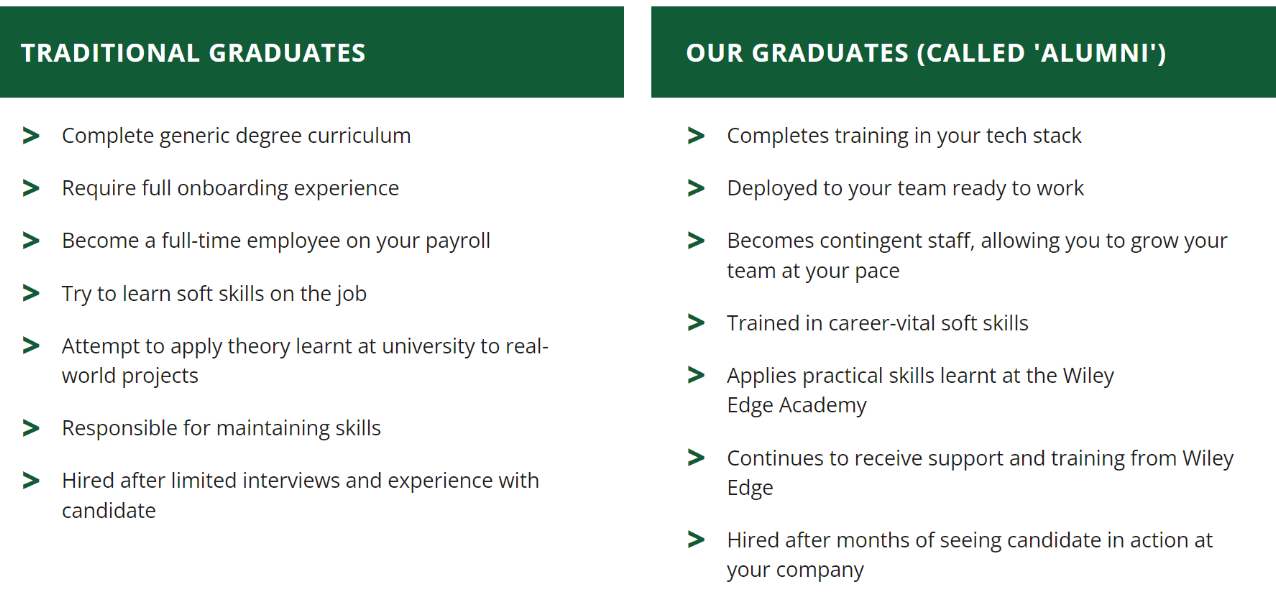 Diversity

Wiley Edge
---
Proudly building diversity

We look for graduates who want to learn, be challenged, and work for a great company – whatever their background. We're proud of our Alumni community, who contribute a range of talents and outlooks to the teams they join.

We always have diverse people in our talent pool. Or if you've got a particular strategy in mind, we can fully integrate those metrics into our entire hire train deploy lifecycle.