This year we saw a slightly different Top100 Awards Night in our annual recognition of Australia's top graduates and employers. A small in-person ceremony was accompanied by a livestream open for all to watch!
A huge congratulations to the student recipients of the Future Leaders Awards for your outstanding achievements, and for being recognised as one of Australia's top University students! We also extend a big thank you to all of our award sponsors and partners for making the Top100 Awards possible. 
Top100 Future Leaders Competition – 2022 Winners 
Ashurst Law Award 

Brandon Zheng, University of New South Wales 

BCom/LLB (Commerce and Law) 

bp Commercial Award 

Nicholas Boal, Monash University 

Bachelor of Chemical Engineering (Honours) and Commerce (Sustainability) 

EY Innovation Award

Jelinna Wang, University of New South Wales

Bachelor of Commerce (Co-Op)

Chartered Accountants Australia & New Zealand Accounting Award

Raramai Purazeni, University of Technology Sydney

Bachelor of Accounting

Coles Information Technology Award

Maria Jamal, University of Technology Sydney

Bachelor of Engineering (Honours) - Software Engineering 

Jacobs Engineering Consulting Award

Daniel Ho, University of Western Australia

Master of Professional Engineering (Civil)

Westpac Group Banking, Insurance and Financial Services Award

Adam Karayiannis, University of Wollongong

Bachelor of Commerce Global (Honours)

Quantium Data Science Award Quantium Award  

Margarita Psaras, University of New South Wales

Bachelor of Actuarial Studies (Co-Op) 

Clifford Chance Social Impact, Law Award Clifford Chance Award 

Esmond Ye, University of New South Wales

Bachelor of Commerce & Law

FINEOS Fintech Award FINEOS Award

Arnav Bharadwaj, University of New South Wales

Actuarial Studies/Commerce 

Goodman Fielder FMCG Award Goodman Fielder Award

Calum Ireland, RMIT University

Bachelor of Advanced Manufacturing and Mechatronics Engineering/ Bachelor of International Business

Transition Hub First in Family Award Transition Hub Award

Alyssa Taylor, University of Notre Dame

Bachelor of Law/Bachelor of Arts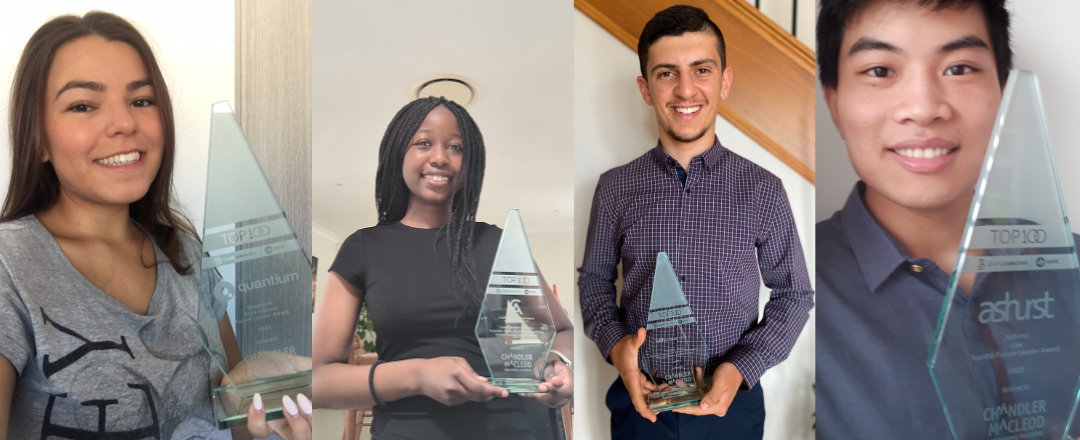 Our 2022 Top100 Future Leader Award winners sporting some nice looking glassware! 
(Pictured L-R: Margarita Psaras, Raramai Purazeni, Adam Karayiannis and Brandon Zheng)
See the full list of finalists as published in The Australian Financial Review here.  
Watch the full livestream of the Awards Night below: