We're seeing a big increase this year in the number of graduate programs available on GradConnection – that means more options for you, and an opportunity to be a little bit more selective about what YOU want from your grad program. We've got a couple of the common features of grad programs below – how do these rank for you? What's the most important thing you want to get from your experience?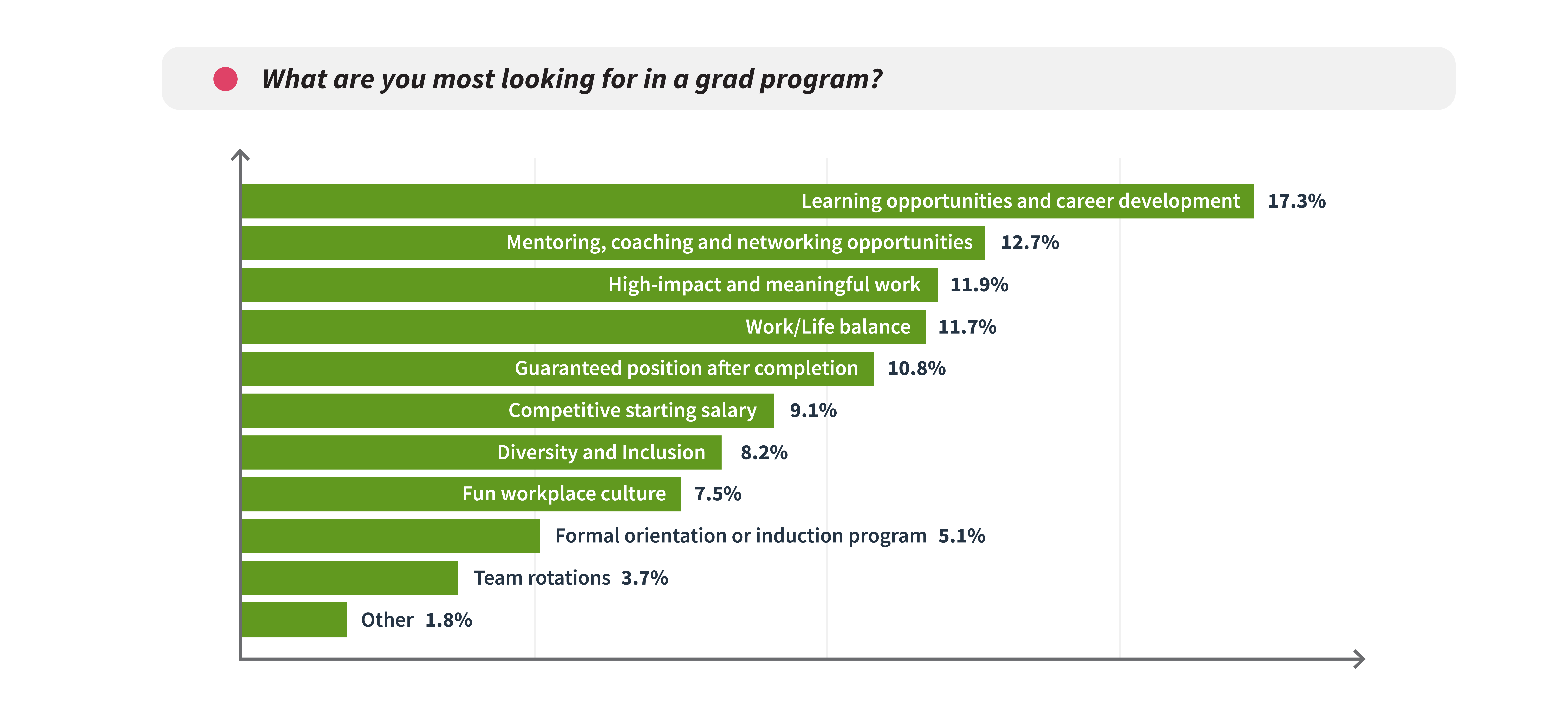 Source: GradConnection (2022)
Learning Opportunities and Career Development  
According to the 2022 AAGE Candidate Survey, candidates were most likely to join an employer for the opportunity for career progression (19%) and the quality of the training and development programs (16%). This aligns with our recent student survey as being the top priority for most students and graduates (17.3%) when looking for a grad program. Depending on the field and type of role you're in, this could include a range of things with common options being:  
Structured training programs 
Rotations in different teams/business areas  
Assistance with further study/accreditation e.g. Chartered Accountants 
Mentoring and Networking  
One of the best things about being in a grad program is the opportunity to be placed in a cohort with like-minded people where you can provide mutual support for one another as you all grow within the company. Be on the lookout for:  
Social and networking events dedicated for grads 
Buddy/mentoring system where you could be paired with a former grad or senior team member 
Accessibility to Senior Leaders in the company 
Meaningful Work 
A good thing to do prior to commencing your grad program search is to decide what type of work you actually want to be doing in your prospective role. Consider: 
What are the actual daily tasks you'll be completing in this program? 
Are there specific skills you want to learn that this program can you provide you with? 
Do you feel satisfied working for and representing this organisation and their values? 
How do graduates typically contribute to this company? 
See more on how to research which company you want to work for here.  
Career Progression and Post-Program Prospects 
Another important factor to look at is where grads are typically placed in the company after their program. 
What room for growth is there for graduates beyond entry-level positions? 
Does this align with or benefit your long-term career goals? 
Are there opportunities for you to fast-track your leadership potential as a grad? 
Company Culture 
No matter how good the role is, if the company culture isn't a good fit, you may find yourself looking elsewhere. Consider: 
Diversity & Inclusion policies and initiatives implemented 
Work/Life Balance guidelines 
Company size – see our pros and cons for big vs small companies
Management structures – do you prefer a vertical (top-down, clearly defined high to low-level leadership) or horizontal (minimal hierarchy amongst management and employees) managerial system?  
Salary & Benefits 
Make sure you know what the salary guidelines are for your industry (find out with our salary guide blog) and don't forget about the bonus perks and benefits! Sometimes it's the small things that make all the difference: 
Free gym or subscription memberships 
Flexible generous leave packages 
Healthcare benefits 
Free catering 
Decided on what you're looking for? See what opportunities are open for applications now.