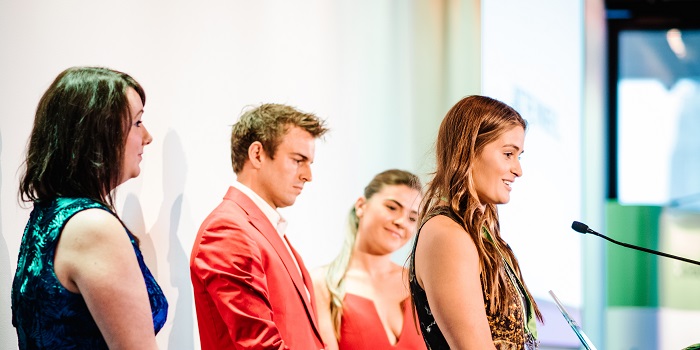 Visit Christina's GradConnection Profile
Earlier this year I decided to enter the GradConnection Top100 Competition (Westpac Accounting & Finance Category) as part of the Finance & Accounting division. At the time, I saw it as a great opportunity to not only reflect on what I had to offer as a graduate but also to further my recruitment skills. The application process simulated those of other graduate application and included resume submission, unofficial transcripts, psychometric testing and emotional intelligence testing.
I was thrilled when I received a call to say I had been selected as part of the Top 3 in my division and would be heading to Sydney for the final assessment centre and awards night.
Having not been previously involved in an assessment centre I was nervous to say the least. I was fortunate enough to meet Ashley Colman-Bock and Sally-Anne Young on my flight to Sydney to ease the nerves. Chatting with the girls on the way to the hotel made me realize just how strong this competition would be. If I took nothing but spending the day with students as driven and passionate as I away from the trip – it would be worth every minute.
The group activities in the assessment centre saw some great ideas flying around the room regarding our 'perfect' graduate program. My groups motto was 'Fast Track to Success' and involved similar concepts to most groups. Chatting to not only employers but also fellow candidate during the lunch break was an eye opener to what it was possible to achieve in our mere 20 or so years in this world. The sky was our limit and I feel confident about what the future holds knowing some of these people would be our future leaders.
Behavioral interviews are always intimidating, especially when you have to make a 3-minute pitch about what makes you Australia's most employable graduate. Whilst a lot of us struggled with the topic, is was a great exercise to reflect on what sets us apart from the next person and what experiences we have succumb in the past few years that may not be industry related but have taught us valuable skills.
A few hours later we were on the balcony of the Museum of Contemporary Art on the Rocks in Sydney, taking in the view of the Harbor Bridge and the Opera House. The Awards night was primarily for meeting prospective employers as well as announcing the winner of each division. I was fortunate to take out the Accounting and Finance division of the competition, which was a huge honor. To me, things like my university degree and my world championship medals are an indication of what I have achieved both academically and in my chosen sport. Winning this competition is an acknowledgement of what I have to offer to future employers going forward and something I am very proud of.
Since the awards night I have been lucky enough to accept a Graduate position in the Advisory section at EY. It is a fantastic opportunity and one that wouldn't have come along without GradConnection Top100 Competition. I am very fortunate to have been part of the whole experience and would encourage everyone to nominate for the years to come.