Evolution Mining Graduate Programs & Internships
Evolution Mining is a leading, globally relevant gold miner. Evolution Operates five wholly-owned mines in NSW, QLD, WA, and Ontario Canada. The focus of Evolution Mining is on operating its projects safely and efficiently and developing them to their full potential.
Evolution Mining currently has 0 opportunities.
Select the following options:
Past Evolution Mining Graduate Hiring Statistics
If you're interested in working at Evolution Mining, understanding when they have opened up applications for their graduate programs, graduate jobs and internships is helpful knowledge to have so you know when you might need to apply. Use the below information to see when Evolution Mining hires graduates, but more importantly what graduate degree's and other student attributes they target for their jobs.
---
Job types
Graduate Jobs (81%),

Internships (19%),
Disciplines
Accounting (2%),

Banking and Finance (7%),

Business and Commerce (14%),

Economics (2%),

Engineering (47%),
Locations
Regional Western Australia (70%),

Regional New South Wales (65%),

Regional Queensland (54%),

Sydney (51%),

Perth (14%),
Work rights
Australian Citizen (100%),

Australian Permanent Resident (100%),

New Zealand Citizen (77%),

Australian Working Visa (74%),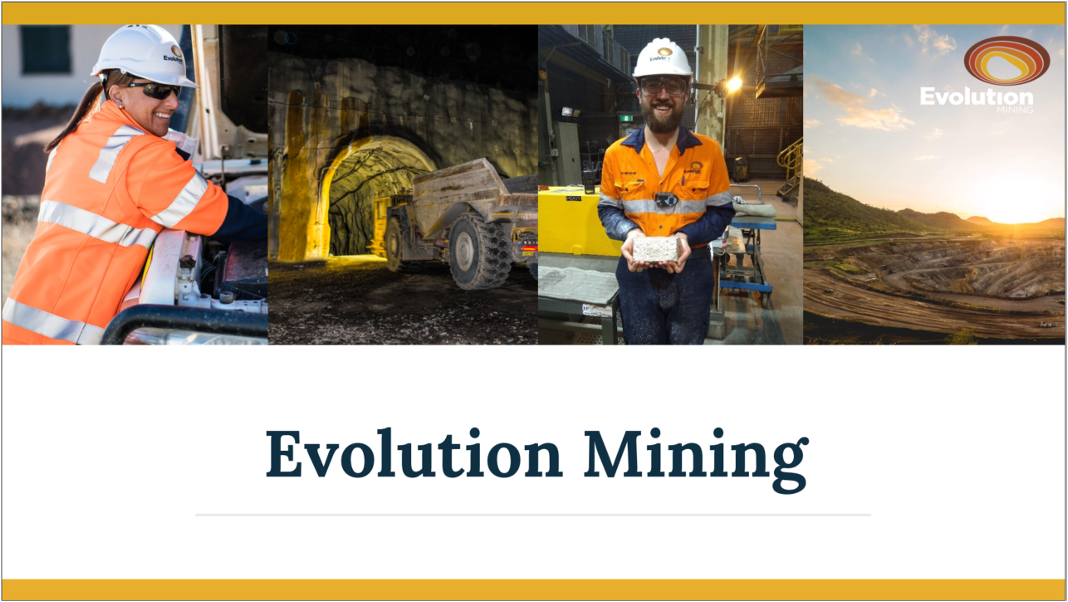 Evolution Mining is a leading, globally relevant gold miner. Evolution operates five wholly-owned mines – Cowal in New South Wales, Mungari in Western Australia, Mt Rawdon and Ernest Henry in Queensland, and Red Lake in Ontario, Canada. The focus of Evolution Mining is on operating its projects safely and efficiently and developing them to their full potential.
Our 2-year multiple award-winning Graduate Program has been running since 2013, and is designed to develop you by building your knowledge base and skills with real and practical work experience, and set you up for success in your career. There is currently representation in the business from all cohorts.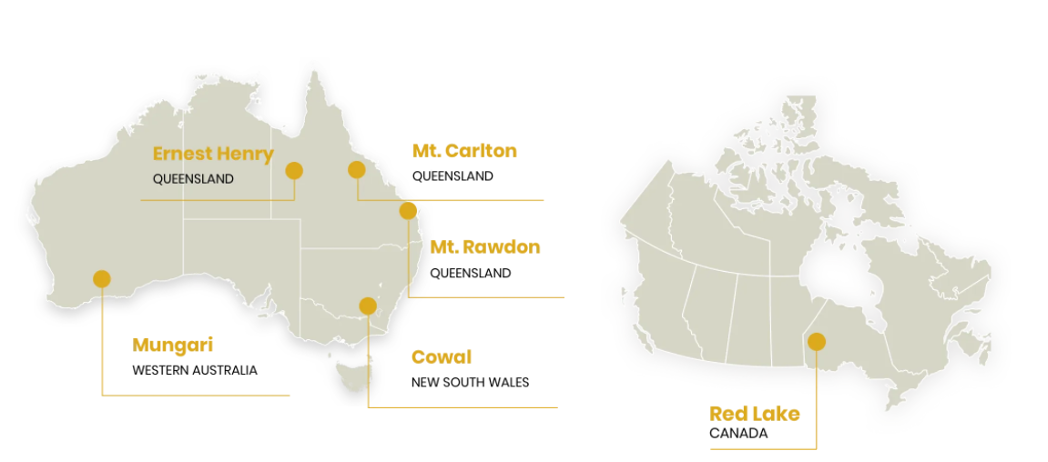 Our Vision
Inspired people creating a premier global gold company – a sustainable business that prospers through the cycle. We have grown into a globally relevant gold producer since inception in November 2011.
We have a clear and consistent strategy:

Our Values and Culture
Given our aspirations to have a high performing culture we want to ensure our ​people are clear about the types of behaviours that we want to see and hear at Evolution. Our values guide behaviours and decisions we make in the workplace every day. Through having clear and consistent values and associated behaviours it helps us to create a working environment in which we achieve great results and enjoy how we go about it.
When we live the values, they become part of the DNA of Evolution and in turn the Evolution Way.

Our Awards
Evolution has been announced as winner of the 2019 Miner of the Year Award awarded by Australian Gold Mining Journal (February 2020)
In the top 75 Graduate Employers in Australia (AAGE), 2019
NSW Mining Safety Excellence Award
Coming runner up in the Community Excellence Award (August 2017)
NSW Mining operation of the year awarded by NSW Minerals Councils (April 2017)
Craig Oliver Award presented at RIU Explorers Conference (February 2017)
2016 Miner of the year awarded by Australian Gold Mining Journal (February 2017)
2016 Dealer Award at Diggers and Dealers (August 2016)
Best Asia-Pacific Mining Deal at Mines and Money Hong Kong (April 2016)
Winner of 8th Annual international M&W awards (April 2016)
Mines and Money 2012 Deal of the Year – Creation of Evolution Mining.
In 2019, Evolution Mining was included in the Dow Jones Sustainability Index Australia (joining only one other gold company recognised in this category). In 2021, Evolution Mining received an improved rating of AA (on a scale of AAA-CCC) in the MSCI ESG Ratings assessment.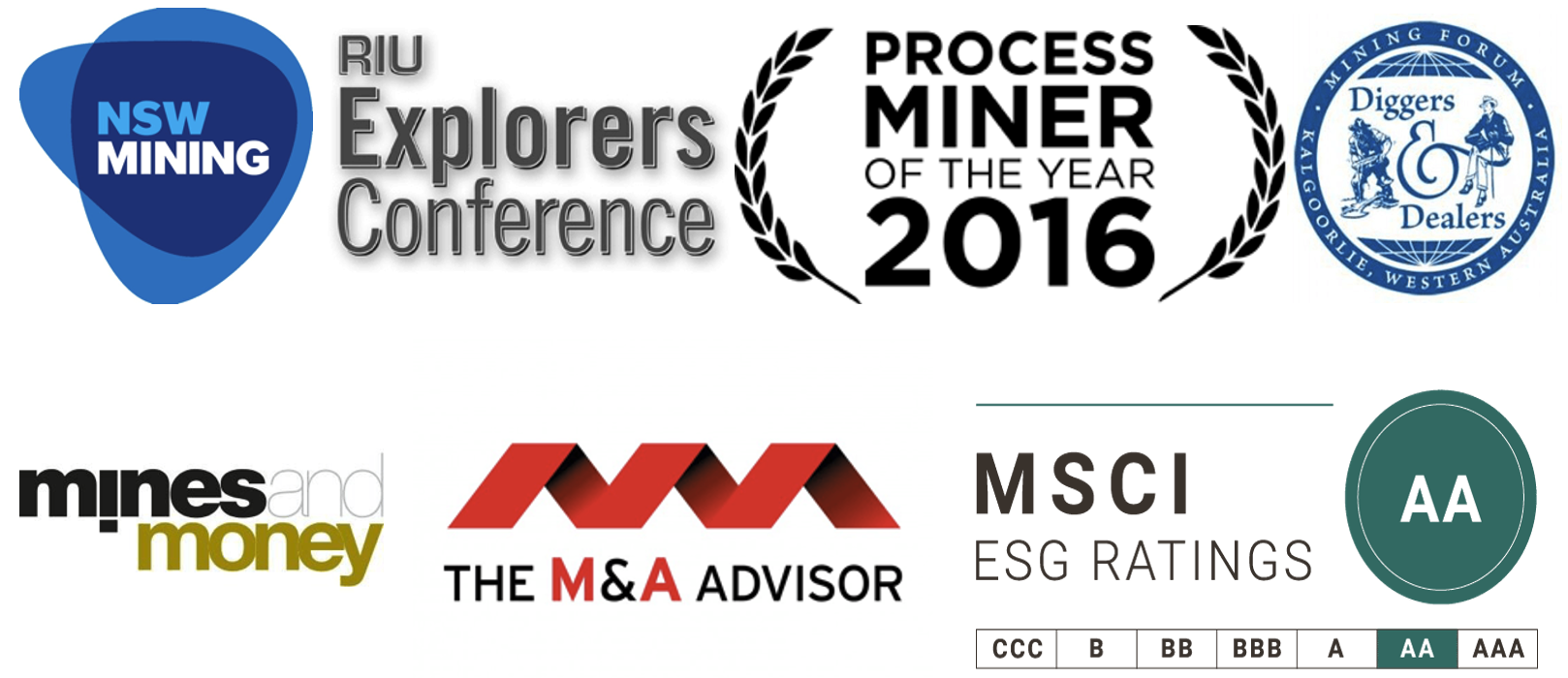 Why Join Us?
Evolution Mining
---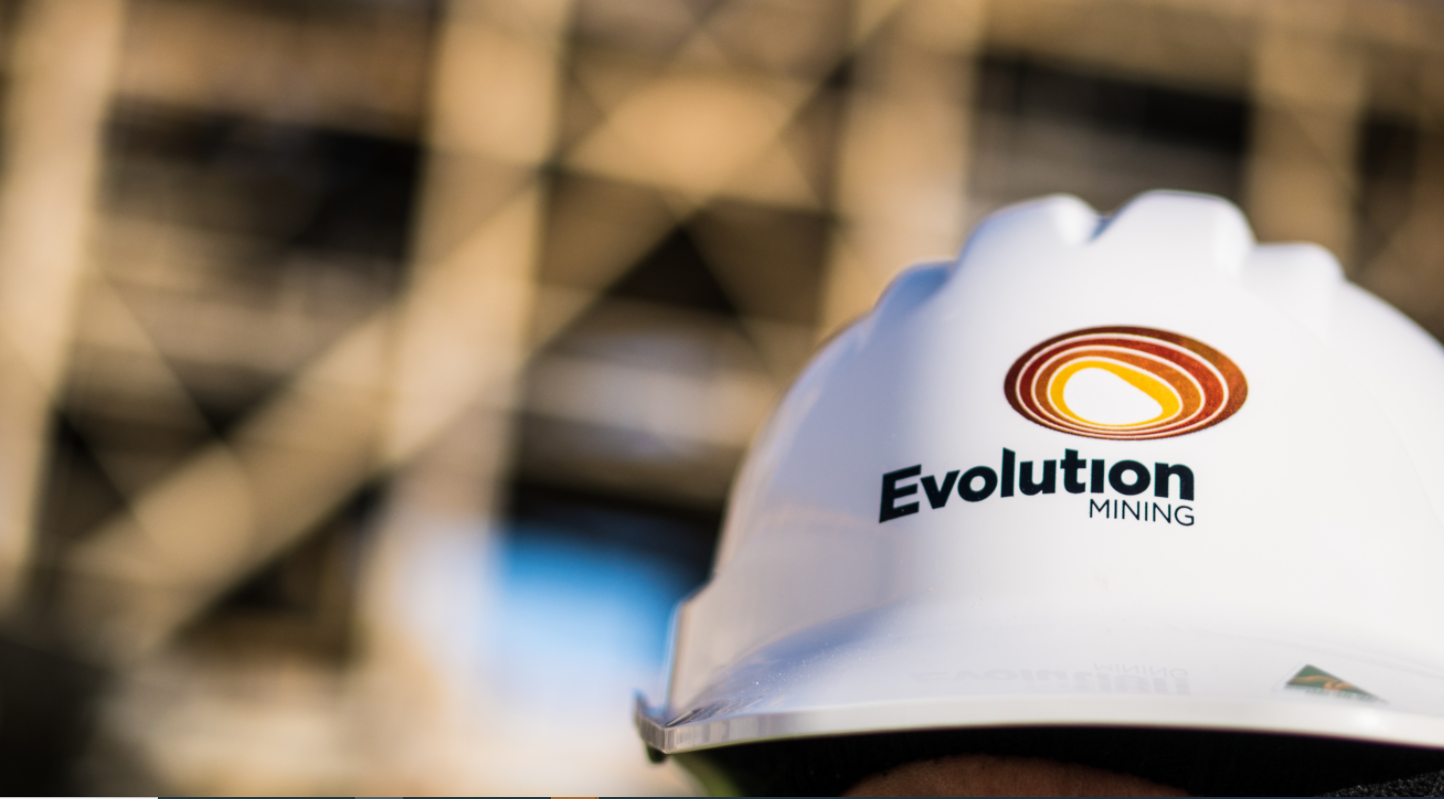 At Evolution, we want working here to be the highlight of people's careers! Whether you are with us for 3, 5 or 10 years. We want this to be the company you highlight as the best to work for.
Here's what our employees say about us (per our engagement survey):
83% of our employees said they would recommend Evolution as a great place to work.
98% said they were willing to put in the extra effort to get the job done.
Our culture is formed on team spirit and comradery. We always make the extra effort to achieve our goals but have not lost our ability to have fun along the way.
Employees comment on the importance we place on safety, the supportive and friendly feel and the positive environment that is created.
Our leadership style is described by our employees as accessible, down to earth, highly capable with a focus on what matters.
We often get the comment that at Evolution all roles are valued, you are not just a number, and the leadership really listens.
At Evolution you can expect a dynamic environment, passionate high-quality people, and an environment that encourages people to think and strive for improvement.
Our Safety Principles
We want our people to go home safely to their family and friends. We foster a safety culture where people do the right thing for themselves and those around them because they believe in it, rather than because there is a rule in place.
All injuries and incidents are preventable
No task is so important that it can't be done safely
Working safely is a condition of employment
Management takes accountability for safety performance
Everyone is accountable for their own safety and for those around them
Everyone is empowered to stop at risk behaviour and control unsafe conditions
Think before we act, every job, every day
Why Join as a Graduate?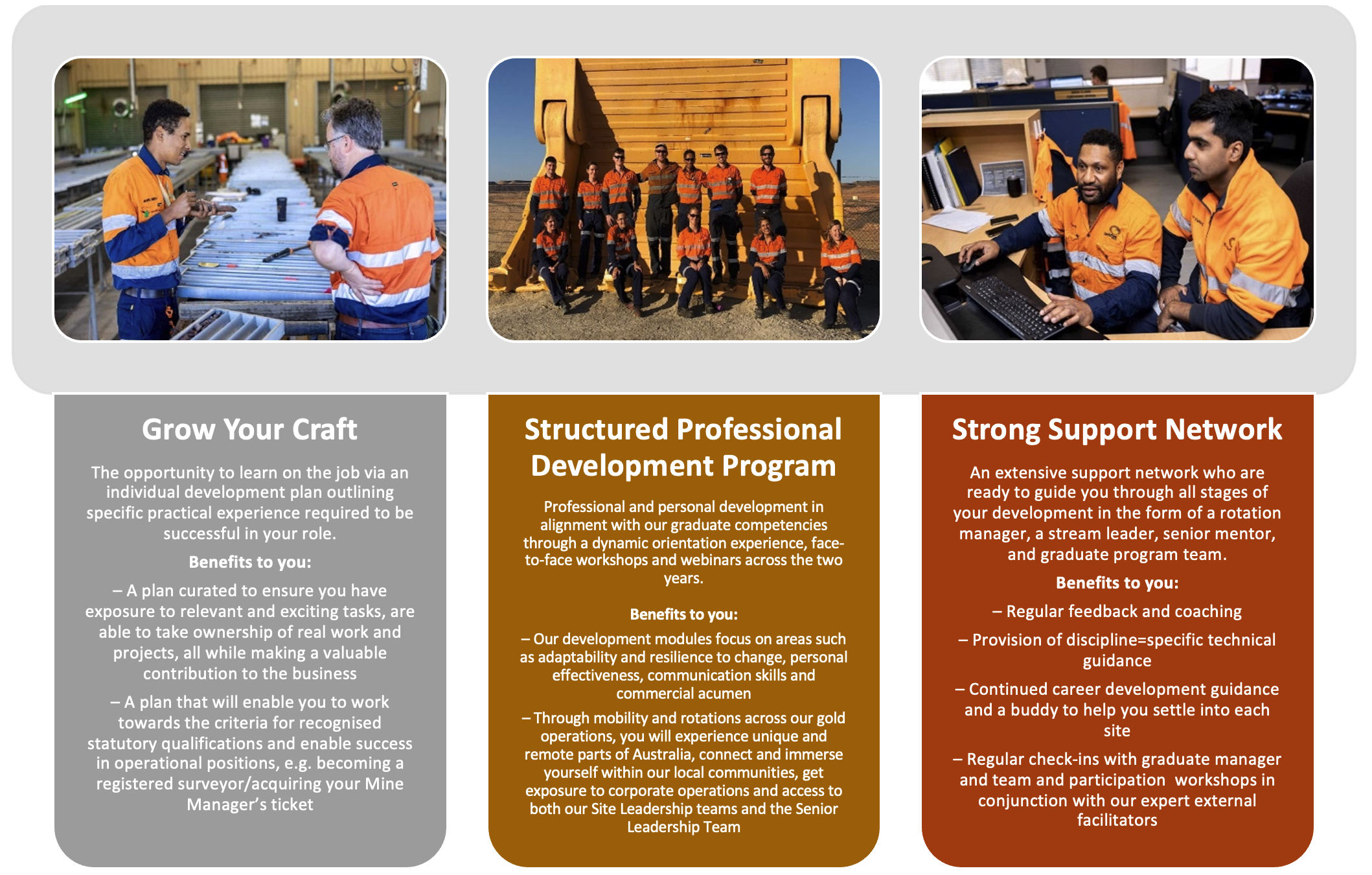 Graduate Program
Evolution Mining
---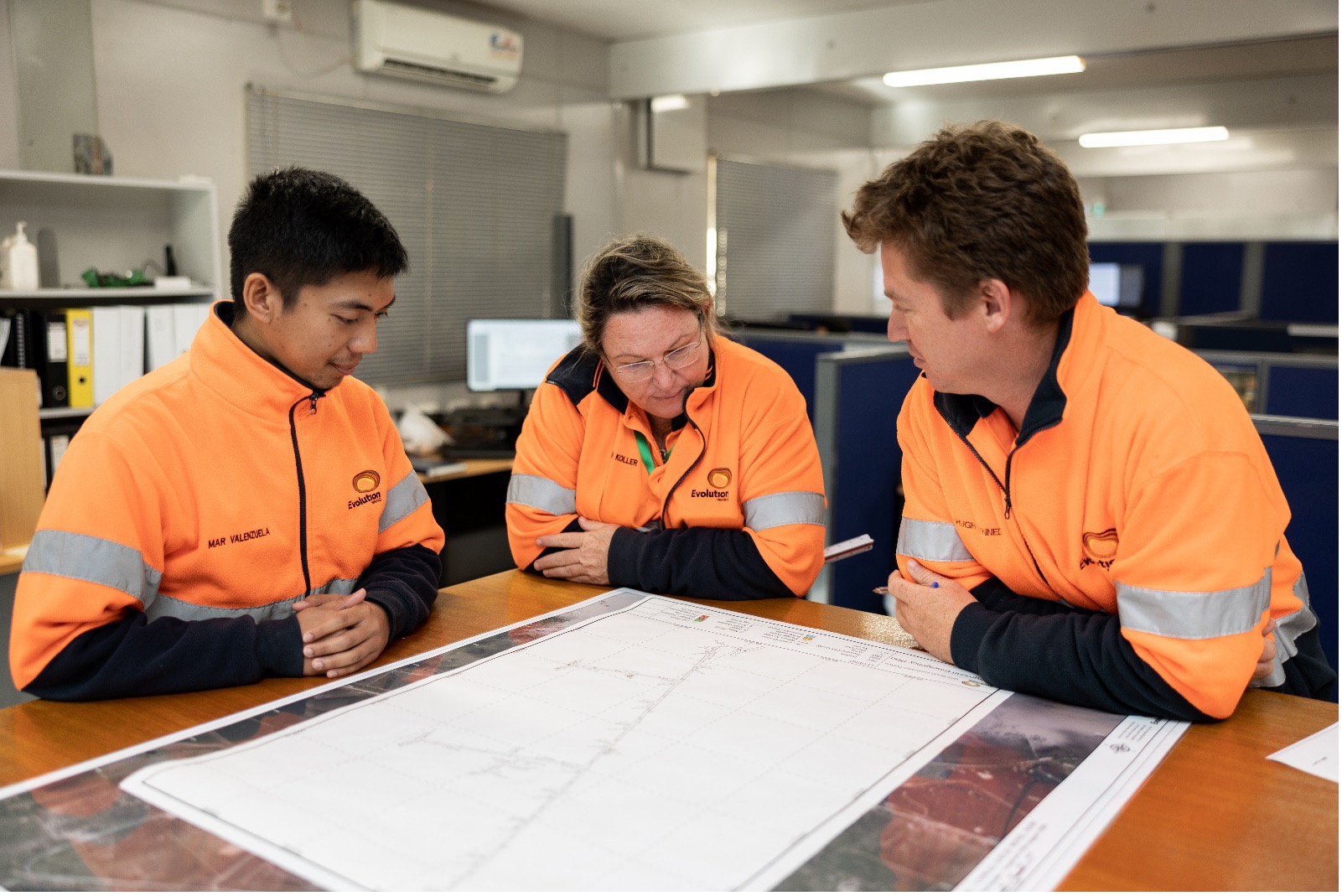 The graduate program is a key part of our strategy in ensuring we have the right people in the right roles with the right mix of skills and experience to achieve our goals within the organisation. Supported by a Stream Leader, a Senior Mentor and the dedicated Graduate Program Team, your structured individual development plan includes real work and projects, a corporate orientation, and regular face-to-face workshops.
Through on-the-job learning, feedback from the people you work with as well as four formal development workshops over the two years, you will develop the skills you need to be successful. Graduates are given exposure to a variety of mine sites and the corporate office to provide them with a whole of business perspective.
What does the program look like?
The program runs over two years, with a range of rotations which provides broad exposure across many aspects of our business, with the purpose of developing personal, technical and commercial skills. Following the successful completion of the role, graduates are guaranteed a permanent position at one of our Evolution sites.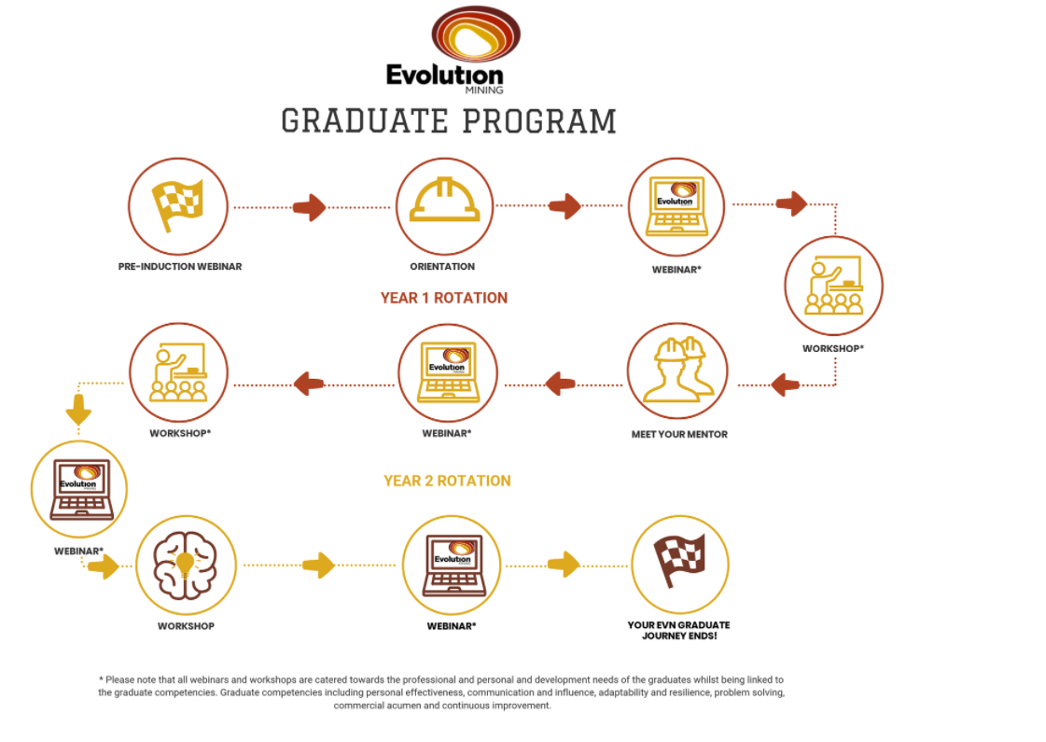 What are the benefits of the program?
Ownership of real work and projects
On the job learning for specific practical experience through an individual development plan
Operational and personal development training in safety, business skills, personal effectiveness and communication skills
Regular face-to-face development workshops
Exposure to and support by the Leadership Team
Rotation through and exposure to different sites and corporate office
Key initiative to pipelining up and coming talent into the business and developing future leaders at Evolution.
Past graduates have gone on to see success in various roles across Evolution, including Operations Business Analyst (reporting directly to the COO), Project Manager, IT Business Analyst and a range of key advisory positions.
Support Network for Graduates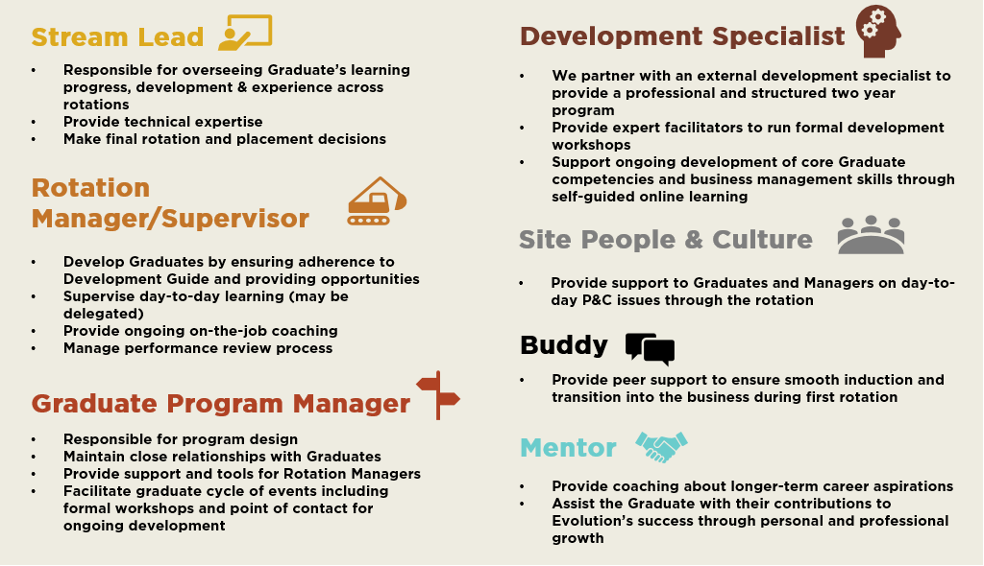 Graduate Program Streams
Mining Engineering
Metallurgy
Geotechnical Engineering
Geology
Environmental (sustainability, health & safety)
People & Culture
Finance
IT
Business Development
Graduate Competencies – Professional/Business Management Skills
Your program is designed to develop you in the following professional competencies.  There will be some things that come naturally to you and some that will be a stretch.  The two-year program is designed to support you in building your skills and knowledge in each of these competencies and setting you up for success.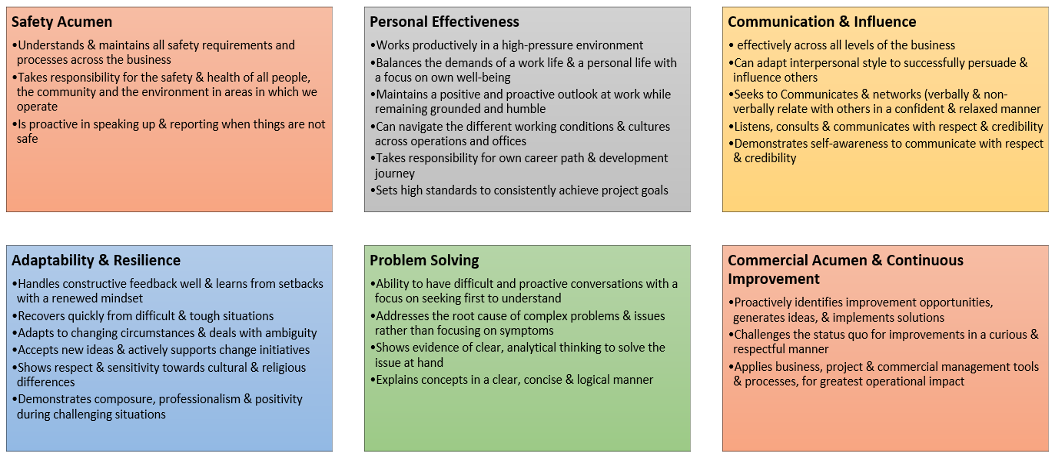 Other Opportunities
Evolution Mining
---

Evolution's Vacation Program
Designed to introduce undergraduate students to the realities, challenges, & opportunities of working on a mine site
Develops student's knowledge base, skills and experience in a real & practical way, & sets them up for future success by providing the opportunity to take ownership of real work & projects

Apprenticeships
An opportunity to undertake training (both practical & theoretical) leading to trade qualifications
EVN currently has apprentices across all operating sites, across areas including Commercial & Finance, Maintenance, Mining (Underground) & Processing
Evolution's Vacation Program
Evolution Mining
---
Evolution's Vacation Program is designed to introduce undergraduate students to the realities, challenges and opportunities of working on a mine site. It develops student's knowledge base, skills and experience in a real and practical way and sets them up for future success, by providing the opportunity to take ownership of real work and projects. The program is a good way for us to identify and retain up and coming talent as previous students have been directly appointed to our graduate program.
In 2019 we had a 25% conversion from Vacation students to the Graduate Program. 
In 2020 there is a 28% conversion from Vacation students onto the Graduate Program, based on a proposed intake of 14 roles.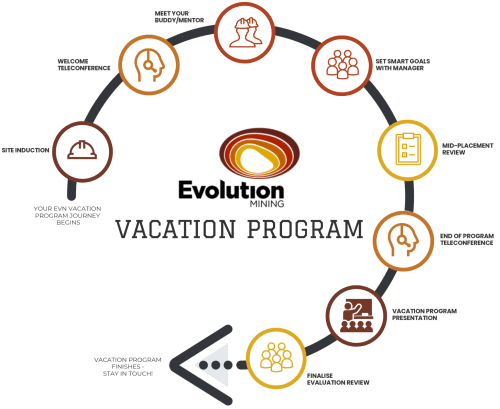 What are the benefits of the program for students?
Opportunity to learn on the job with an individual development plan
Potential enrolment into our 2-year Graduate Program
Onsite orientation and connections with other vacation students
An experienced manager to supervise day-to-day and provide one-one feedback and coaching
A technical leader, to oversee student development and to provide discipline specific guidance
Operational and personal development training especially in safety and business skills
Application Process
Evolution Mining
---
If you want to be part of an organisation that takes people seriously, is small enough that everyone knows who you are and big enough to have the opportunities for you to develop, then this is the place for you.
Applications open on late February 2022 and close March 2022.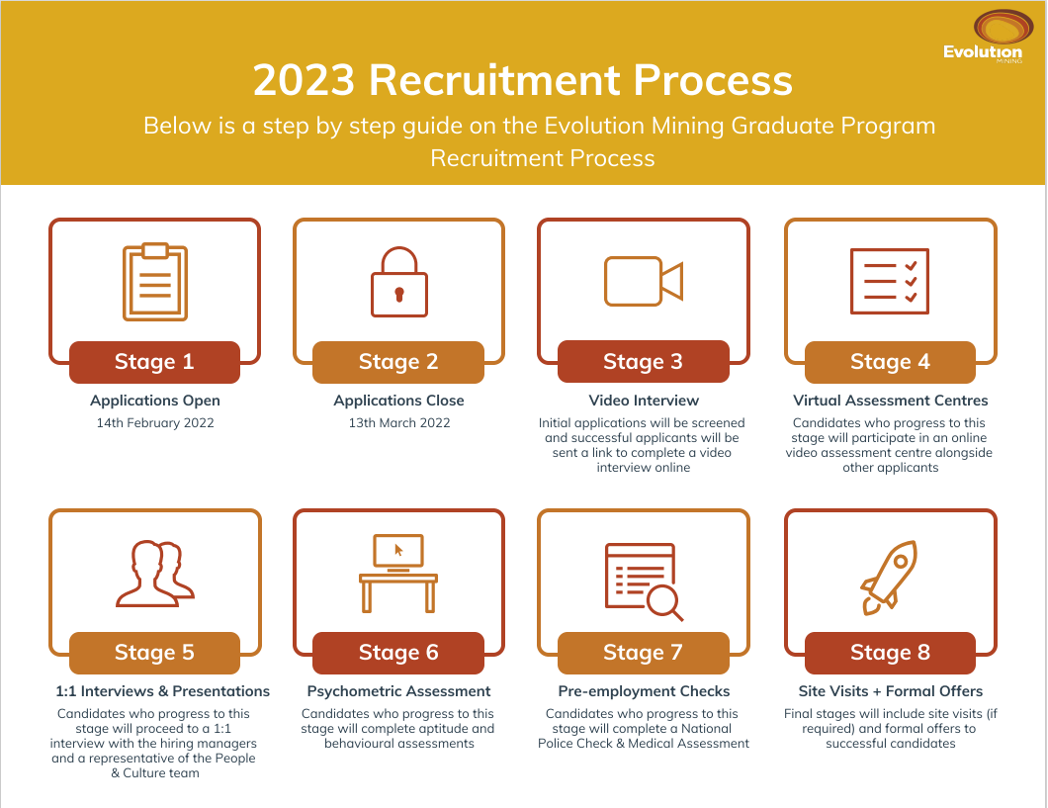 Employee Profiles
Evolution Mining
---
Meet Our Graduates


A Day in the Life
Evolution Mining
---
Hear from our Graduates
Perks & Benefits
Evolution Mining
---
We reward our people holistically through a combination of remuneration, recognition and benefits.
Evolution's rewards and benefits are structured to recognise and reward our people for their individual and collective contribution to our successes, for living our values in their actions and decisions, and for creating and enhancing value for our shareholders.
They are designed to support, motivate, and inspire our people whilst aiming to drive a high achievement culture.
On offer are a range of financial, employee development and healthy & wellbeing benefits and rewards. Including:
Salary packaging and novated leasing
Superannuation, life insurance and income
Banking benefits
Employee Assistance Program (EAP)
Discounted private medical insurance
Healthy business program
Microsoft office packaging
Flexible working
In addition, further financial support and benefits available to you as a Graduate at Evolution include the following:
Relocation assistance (air transport, vehicle transportation, shipment of personal effects)
Incidental allowance
X2 return flights per year for health and wellbeing focus
Quarterly development sessions with your graduate cohort
Annual graduate conference (Sydney)
Assistance with housing arrangements (support available will differ between sites)
Diversity & Inclusion

Evolution Mining
---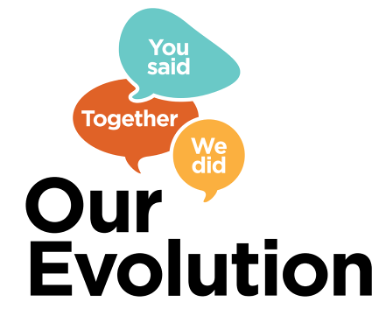 Evolution is passionate about creating a workplace that's inclusive and supportive; a place where everyone can truly be themselves. A diverse and inclusive company is a stronger, more successful company. Improved diversity yields many benefits, including positive impacts on organisational culture and reputation, employee attraction and retention, as well as enhanced stakeholder relationships and business outcomes.
We continue to support a flexible and inclusive working environment that assists employees to balance their responsibilities between work and home. We report annually on the gender mix within our workforce via our Workplace Gender Equality Public Report. 
Gender Mix Participation
Female representation in the workforce increased from 16.5% in FY20 to 20% in FY21. In addition, 44% of the Graduate Development Program hires in FY21 were females.
LGBTIQ+

Evolution Mining
---
FY21 Case Study: Rainbow Crosswalk Sign of acceptance for LGBTQ2S+ community at Red Lake
Purpose
Respect is a key value at Evolution. The Red Lake Operation demonstrated this value by showing support and celebrating their diverse and inclusive LGBTQ2S+ community during Pride Month in June 2021.
Outcome
Red Lake employees painted a rainbow crosswalk with permission of the Municipality of Red Lake, adding not just a pop of colour, but also a dash of hope and acceptance into the community. This community encompasses straight and cisgender allies supporting and advocating for LGBTQ2S+ community members, as well as those within the LGBTQ2S+ community who support each other.
Mayor Fred Mota commends Evolution, "We are very pleased to have this opportunity to partner with Evolution on this project. Red Lake is a community that is supportive of inclusion and diversity. This rainbow crosswalk will serve as a visual reminder of this sentiment for years to come."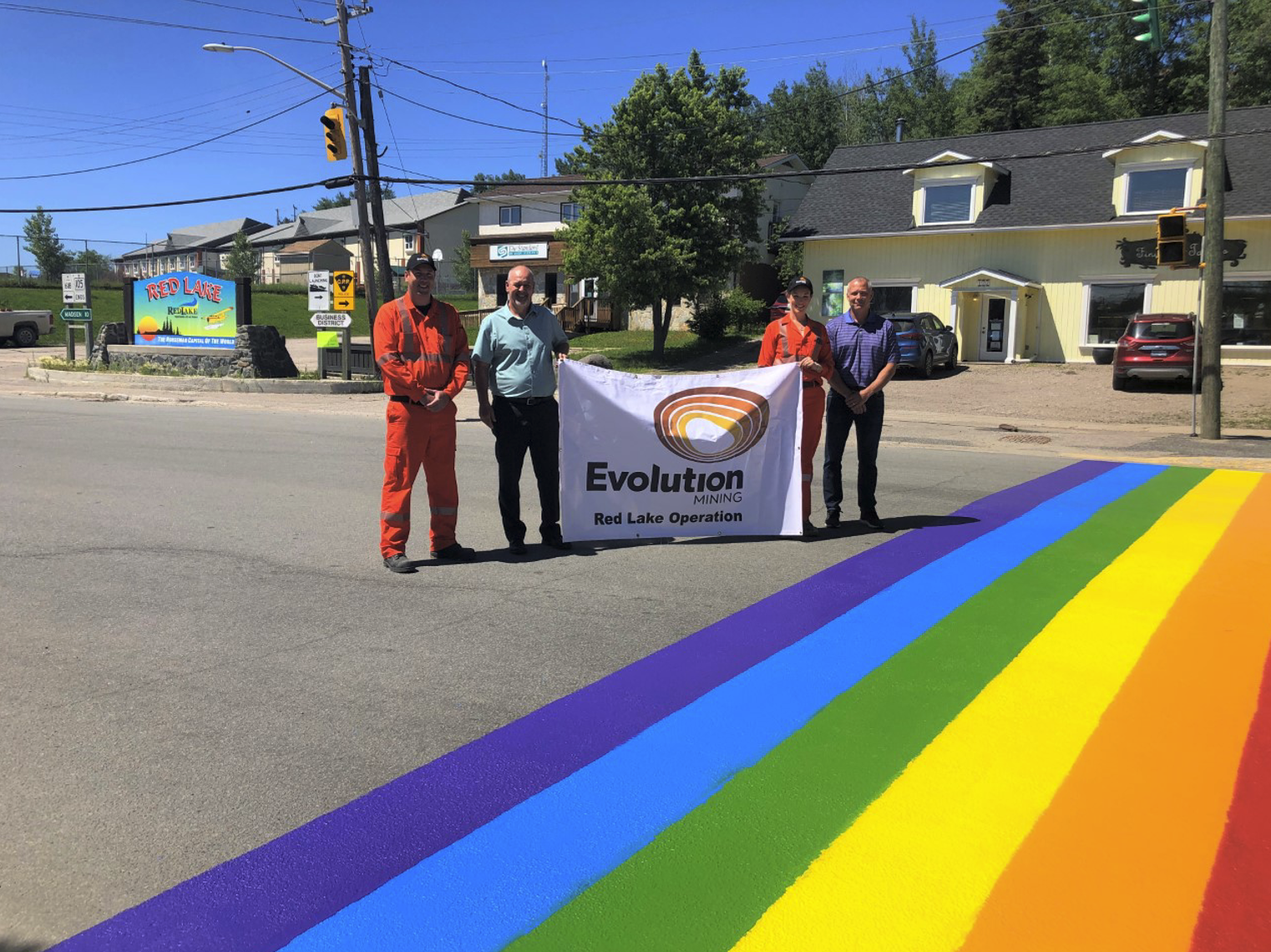 Gender Equality

Evolution Mining
---
We ensure women's full and effective participation and equal opportunities for leadership at all levels of decision making in political, economic and public life. This is provided through equal opportunity and reducing inequalities of outcome, including by eliminating discriminatory laws, policies and practices and promoting appropriate legislation, policies and action in this regard.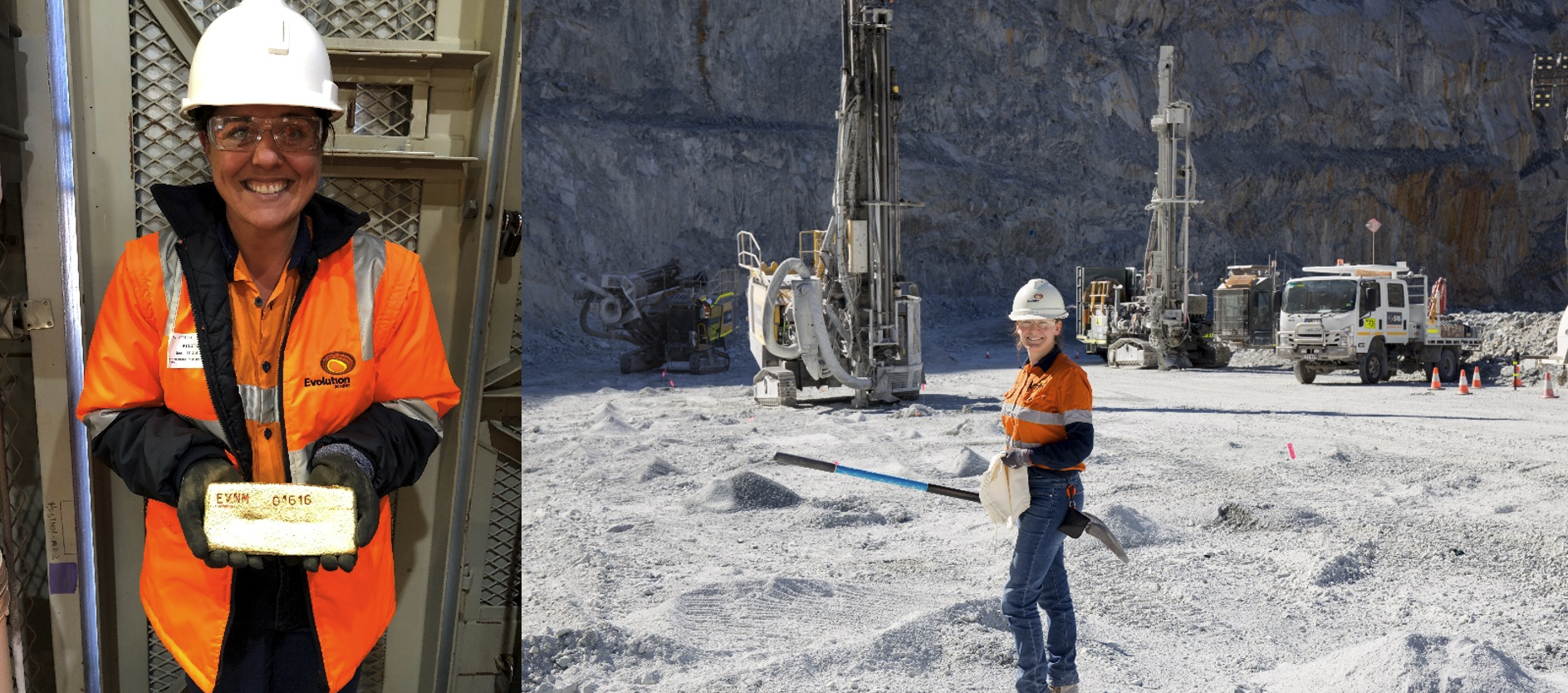 First Nations

Evolution Mining
---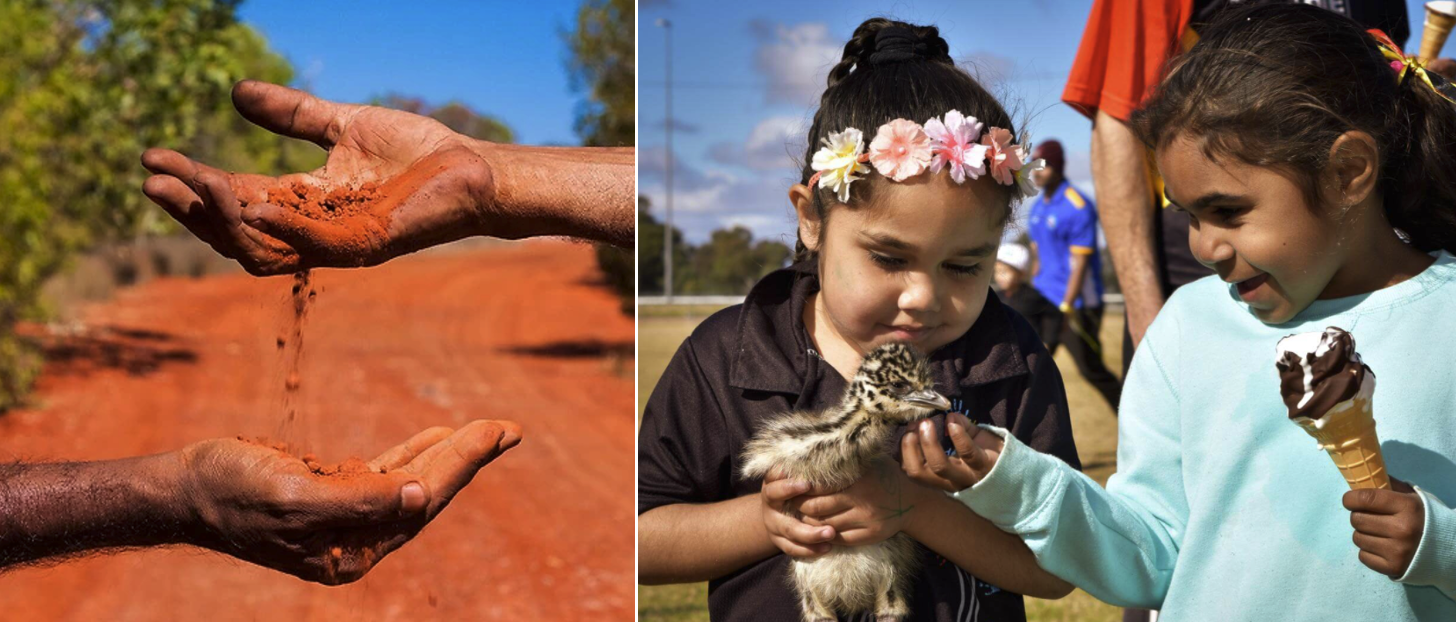 We respect the role of the traditional custodians of the land on which we operate, and value the partnerships we have built with them.
Securing the support of communities in which we operate is core to our operations and ongoing success as a business. It is important that we form trusting and mutually beneficial relationships with our Traditional Custodians and First Nation Groups, supporting their goals and protecting their cultural heritage.
How we engage with the Traditional Custodians and First Nation Groups is outlined in Evolution's Social Responsibility Performance Standards.
Each of our operations has a dedicated community team that liaises with our Traditional Custodians and First Nation Groups to oversee the relationship agreements we have in place and to ensure that we are focused on enhancing the outcomes for Indigenous people and protecting their cultural heritage. Significant industry-events which occurred in Australia in FY20 which adversely affected cultural heritage prompted us to:
Review all cultural heritage audit reports including Board oversight
Review our sites' areas of cultural sensitivity and revalidate the controls in place
Engage with communities to acknowledge the significant impact and to re-affirm our commitment to our ongoing relationships and continued protection of cultural heritage