EY NextGen Women Competition
Fast forward your career with EY NextGen Women – a global competition for women with the potential to have a fulfilling career in EY Strategy and Transactions.

Are you part of the next generation of women in Strategy and Transactions?
We want to be inspired by women like you – purpose-driven women who challenge conventional ways of thinking, dare to ask questions, seek better answers and work to build a better world.
The EY NextGen Women in Strategy and Transactions competition aims to inspire the next generation of exceptional female talent to pursue an exciting and fulfilling career in Strategy and Transactions.
EY Strategy and Transactions helps enable clients to navigate complexity by reimagining their ecosystems, reshaping their portfolios and reinventing themselves for a better future. Bringing together a global ecosystem of world-class thinkers, EY teams help design and deliver real-world strategies for EY clients.
We hope to foster a community where women from varying backgrounds can learn, be challenged and develop relationships and skills that will last a lifetime.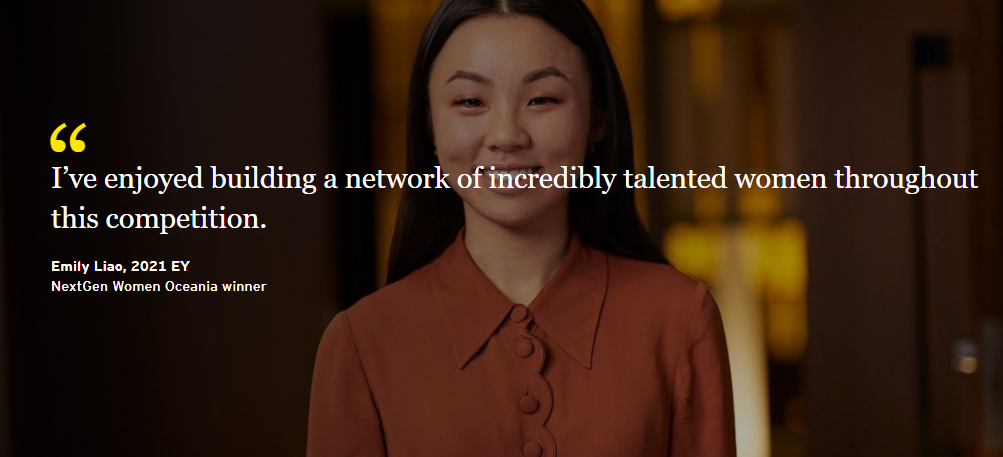 Competition stages
The competition is split into three stages. Throughout, we will be looking for evidence of purpose and analytical strength – as well as the practical skills that will distinguish you in the competition.
Stage 1 – Application and Regional Final
Firstly, we will challenge you to answer one short answer question on the broader business environment and one question about building a better working world through video.
If your application is successful, you will be invited to participate in the Regional Finals. You will work as part of a team to analyse and present on a transactions case study to our EY judges.
Do well in Stage 1 and you will become a regional winner, rewarded with a paid internship in Strategy and Transactions and a trip to Sydney to compete in the Oceania competition.
In the event that the Oceania Final is unable to proceed face-to-face the format of the competition may need to be adapted to be conducted in a virtual setting. Applicants will receive updated communication closer to the time.
Stage 2 – Oceania Final
In the second stage, you will participate in individual and group activities and continue your journey of learning more about Strategy and Transactions. The Oceania winner will represent EY Oceania at the Global competition.
Stage 3 – Global competition
Taking place in late 2022, the successful Oceania winner will work closely with other finalists from across the world. You will be challenged with individual and group activities in front of EY leaders, clients and academia. At the Global competition, finalists will attend an awards ceremony where the overall EY NextGen Women winner will be announced.*
*In the event that the Global Competition is unable to proceed face-to-face in Europe/ UK then the competition will be conducted in a virtual setting.
Eligibility
The EY NextGen Women competition is open to all female students residing in Australia or New Zealand who hold citizenship or permanent residency in the country they reside in. Entrants must be currently enrolled in an undergraduate degree at university and due to complete their studies between 2023 and 2025.
Terms and conditions for the NextGen competition can be found here.
Entries for the 2022 competition are now open.
How to enter
How it works
To enter the competition, you are required to complete the entry form and upload a current CV, most recent academic transcript and photo ID. Eligible students will then be sent an email containing a link to complete the competition questions via our entry platform, powered by HireVue. You will respond to one written question, not exceeding 250 words, and one via video application of a maximum of 90 seconds.
Entry questions
Written response
Please outline in 250 words or less why would like to participate in the EY NextGen Women competition.
Video response
The current investment landscape is increasingly placing greater value on environment, social and governance (ESG) considerations. Please comment on the impact ESG factors can have on long-term investment value and how these factors are driving investor decisions.
Top tips
Once you have completed the entry form, you will only be able to enter the HireVue platform once (don't worry, once you're in there, you will have multiple opportunities to record your video reponse for question 2). So we suggest you prepare you response to question one and your script for question two prior to accessing HireVue.
Find a quiet well lit space.
Ensure you have good internet connection before you get started.
You can access the competition portal via smartphone, PC or tablet, however ensure you have video and microphone enabled.
Don't forget, you'll be on video so ensure you are wearing business appropriate attire.
If you have any questions or need help, please email

[email protected]
What can I win?
Regional winners
Regional winners will receive a paid Strategy and Transactions internship in their local EY office and progress to the Oceania Final.
Oceania winners
The overall Oceania winner, in addition to their prize internship, will receive a mentoring session, a future graduate position in Strategy and Transactions and, will progress to the Global Competition taking place in Europe/ the UK in late 2022.
*In the event that the Global Competition is unable to proceed face-to-face in Europe/ the UK then the competition will be conducted in a virtual setting.
2nd and 3rd place winners, in addition to their prize internship, will receive a mentoring session with a senior member of the Strategy and Transactions team.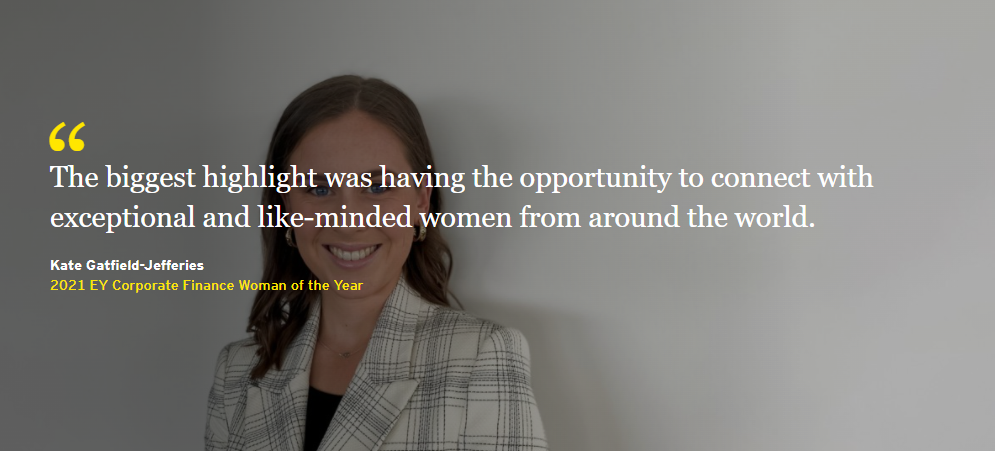 How is this program different to EY Corporate Finance Woman of the Year?
This competition has been refreshed to reflect the nature of EY services. A career in EY Strategy Transactions means helping clients' address their toughest challenges through highlight integrated, connected solutions. EY professionals guide clients to make better, more informed decisions as they buy, sell, separate, integrate, reshape, restructure or rethink their business strategy. The refreshed EY NextGen Women competition will give candidates in-depth experience into what makes a successful career in Strategy and Transactions.
16-03-2022
Job type:Internships
Disciplines:

Accounting, Administration, Banking and Finance, Business

...

Work rights:

Australian Permanent Resident, Australian Citizen

Work from home:

Hybrid remote

Hybrid remote

Employees are allowed to work remotely some of the time but most of the work is done at the company's physical office. Remote work is considered a perk or a privilege. For example, an employee may work from home for 1-2 days per week.

Locations:

Canberra, Sydney, Darwin,

...

Closing Date:20th Mar 2022, 12:59 pm
Search
Enter an employer or university you want to find in our search bar.