GSK Graduate Programs & Internships
GSK is a science-led global healthcare company with a special purpose: to help people do more, feel better, live longer. GSK have three global businesses that research, develop and manufacture innovative pharmaceutical medicines, vaccines and consumer healthcare products. GSK has no active opportunities at the moment.
See who's currently hiring with our Job Search!
Search for jobs
GSK is a science-led global healthcare company with a special purpose: to help people do more, feel better, live longer.
GSK have three global businesses that research, develop and manufacture innovative pharmaceutical medicines, vaccines and consumer healthcare products.
In 2018, GSK invested over $7 billion in research and development globally, focusing on science related to the immune system, human genetics and advanced technologies.
The Pharmaceuticals business has a broad portfolio of innovative and established brands with leadership positions in respiratory, HIV and an exciting and innovative pipeline in oncology and immunology.
GSK are the leading vaccines company in the world. Approximately 1 in 4 of the world's children receive at least one GSK vaccine. The Australian National Immunisation Program ensures that by the time an Australian child starts school, they will have benefited from 9 GSK vaccines, helping to prevent 12 serious infectious diseases including measles, mumps, rubella, hepatitis, rotavirus, gastroenteritis and diphtheria.
GSK are also the world's largest consumer healthcare company with a broad portfolio of products spanning across pain relief, specialist oral health, skin health, nutrition and digestion. Australians and New Zealanders probably know GSK best for trusted brands like Panadol, Voltaren, Sensodyne, Advil and Centrum which have become household names.
GSK's goal is to be one of the world's most innovative, best performing and trusted healthcare companies.
GSK's strategy is to bring differentiated, high-quality and needed healthcare products to as many people as possible, with their three global businesses, scientific and technical know-how and talented people.
Here in Australia, GSK employs around 1500 employees, with offices in Melbourne and Sydney, manufacturing sites in Victoria and New South Wales and sales and medical colleagues in all states and territories.
At GSK, creating an inclusive organisation that respects and promotes the diversity of their employees and the communities they serve is a key focus. The very essence of successful scientific innovation relies on diversity of people and thought.
The Culture
GSK's values and expectations are at the heart of everything they do and help define their culture – so that together they can deliver extraordinary things for their patients and consumers and make GSK a brilliant place to work. GSK's values are Patient Focus, Transparency, Respect, Integrity and its expectations are Courage, Accountability, Development, Teamwork.
In 2017, GSK appointed its first female CEO, Emma Walmsley, a mother of four children. Emma has created a culture that ensures GSK is a place where outstanding people do amazing things. As a science-led global healthcare company, GSK exist to help people do more, feel better, live longer. This special purpose – along with their goal of being one of the world's most innovative, best performing and trusted healthcare companies – helps them attract some of the best and brightest minds in the world.
"We want to represent the modern world that we live, work and compete in, so every single employee can feel supported when they come to work at GSK, and give the best of themselves every day." – Emma Walmsley, CEO
Social Contribution
GSK are a responsible company and commit to use their science and technology to address health needs, make their products affordable and available, and for their employees to be their best in and out of work.
Living GSK's mission starts from within. It is important that employees are proud of the work they do, the company they work for and the contributions they make.
GSK's focus on people is not just about their staff. GSK work closely with local and global communities to support people who need it most.
Globally GSK work with a number of organisations to provide humanitarian donations to those in need. GSK provided donations to more than 80 countries across the world.
A great example of how GSK live their values and expectations is their partnership with Save the Children. GSK have reached over 2.8 million children in 45 countries, and GSK employees have raised over £3.3m which is matched by GSK.
Since its launch in 2009, GSK's employee volunteering program, PULSE, has sent more than 705 employees from 63 countries to serve 120 non-profits around the world. It has also provided over $38 million worth of skilled services to their partners.
GSK's Australian and New Zealand staff volunteered more than 1,200 hours through their corporate volunteering program 'Orange Day', supporting community organisations like the Abbotsford Convent, Fareshare, OzHarvest and many others.
The Vibe of the Place
GSK are committed to creating a culture and flexible working environment where your work 'works' for you, allowing you to perform at you best. You can expect to find yourself in a respectful, professional, supportive and friendly environment. GSK have a flat structure with accessible leaders who are approachable, visible and accessible. It is not uncommon to see a senior leader playing table tennis with a member of the IBL team. For those interested in it, there are plenty of opportunities for after-hours socialising too. Put simply, GSK's culture is shaped to motivate you to do your best work, in a place where you can be you, feel good and keep growing.

George Ham
Established Brands Associate IBL
6.00 AM
I don't know why but even with a good night's sleep, there is always a temptation to go back to sleep.
6.30 AM
I make way to the gym. Time to wake up by engaging those muscles!
8.00 AM
I'm on my way to work from the gym. It's always busy around this time with commuters but I can be at peace with my earphones on.
8.30 AM
I grab a desk and get ready for the day by first connecting my laptop to the screen. We have free seating so I can literally sit anywhere but I like standing desks because I can alternate between sitting and standing.
8.45 AM
After checking my email and calendar, I write down my priorities for the day and make my way to the kitchen. I like the convenience of not having to carry my breakfast around and just keeping my necessities in the office kitchen. The menu is often vegemite (or marmite) on toast or fruit and yogurt salad.
9.15 AM
I've finished my breakfast (I'm a fast eater!) and start off work by breezing past any admin tasks or sending off replies to emails I received overnight. This gets me in the rhythm of working and there is no better feeling than to tick things off the priority list.
10.00 AM
If I do have a morning meeting, it's usually around 10.00 am. Today my manager is checking in to discuss the progress of my work and help me decide on a few sticky issues and prioritise. It's quite casual but at the same time, you develop a strong bond with your manager. GSK NZ is a very lean organisation where you get exposure to many things. Focusing on key initiatives is one of the biggest learning of my IBL journey so far.
11.00 AM
It's time for a cup of coffee. A bit later than others perhaps but Nespresso machine in the kitchen is always available and it makes pretty good coffee. So over a cup of coffee, I like to have a chat with whoever is around. Literally everyone is up for a chat and you always learn something new.
12.00 PM
I often have lunch in the office but today I'm heading out with a bunch of colleagues to try out a new place that has just opened. Being in the CBD, the option for food is endless. We also go for a walk along the waterfront after lunch to stretch our legs and enjoy the view.
1.00 PM
Coming back into the office, I go into a quiet room, designed for us to use when making phone calls and joining teleconferences. I'm on a phone call with an external stakeholder to discuss how I could take my project forward with them. Whether it be customers or agency, internal or external, building professional relationships is another key learning from my IBL journey so far.
2.00 PM
I've got time to myself on the desk to work on my project and put together everything I've gathered through discussions with different stakeholders. I find it important to leave some time for myself to digest and really think through what my work means to the recipient and how it should be best presented. Working in the pharmaceutical industry and therefore impacting patients' lives, I need to be extra vigilant. Having said that, being able to impact patients' lives, when you think about it, it's an awesome thing to get up in the morning for! (That's why I can wake up at 6.00 am, you see.)
3.00 PM
Working in a corporate, I have many more colleagues overseas. With New Zealand ahead of everyone in time zone, I often interact with my overseas colleagues around this time. Today's afternoon meeting is about supply update on key medicine GSK supplies. There is a culture of asking questions at GSK and although quite junior, my queries for the supply of certain medicine are taken note of and addressed. Working in market access, it is critical to make sure that medicines arrive on time because this can have a huge impact on patients' lives. Often the cross-functional team works to ensure a stable supply of medicine for NZ patients.
5.00 PM
After an eventful day, it's time to pack up. It's always nice to revisit the priority list I made in the morning and seeing them all ticked off. I make a list of things to do tomorrow and send a few last-minute emails before shutting down my laptop.
5.30 PM
I arrive at Victoria Park for a game of touch rugby. GSK participates in a corporate league and has games every Monday after work. It's a good opportunity to bond with colleagues even more.
7.00 PM
After a hot shower, I make myself dinner and take time to relax for a while. I find resting to be just as important as working and I do things like watching on Netflix, listening to music, reading a good book, or just browsing on the web.
9.30 PM
It's time to do a bit of studying. GSK has a huge emphasis on personal development and my manager especially has been supportive of my initiative to pursue a postgraduate degree. Come the end of the year, hopefully, I can tick off this development item too!
11.00 PM
I'm back on the haven of my bed. I message and chat with my friends, but I usually dose off quite quickly because… well, I've got another day of impacting patients' lives, haven't I?
---

Nick Woods
Marketing Associate FLP, Nucala
7.30 AM
I gingerly roll out of bed to the sound of my alarm and walk straight into the shower. My morning routine has been made far easier by preparing all my work items the night before, allowing me time to enjoy my Weet-Bix before driving to work.
8.15 AM
Once at work, I must decide where I want to sit for the day. At GSK, we practice a hotdesking system, meaning that people sit at different desks each day to improve collaboration between colleagues. Being one of the earlier people in the office, I'm usually able to find a seat near the window.
Once I find my desk, I grab my lunch and head to the kitchen to make a cup of coffee. In the kitchen, I bump into a fellow colleague where we discuss the overnight cricket scores and plans for the weekend.
8.30 AM
After being adequately caffeinated, I open my laptop to check the daily sales numbers and start going through my emails. If anything needs action, then I'll add it to my to-do-list (which was prepared last night) and then re-prioritise which items need to be addressed first based on their importance.
9.30 AM
I walk into a meeting room and plug my laptop into the projector to facilitate our Brand Team meeting. Operating under a Matrix Structure, GSK creates cross-functional teams for the completion of projects, meaning that stakeholders across various functions (such as finance, communications and medical) all play critical roles in the success of my brand. In these meetings, we discuss what we have been working on, the weeks wins, any risks that need to be flagged and align on where we should be focusing our efforts for the week.
10.30 AM
After our meeting, I grab a snack and have an opportunity to continue working on the key projects on my to-do-list. I walk over to a colleague to ask for their guidance on a particular issue and more often than not they are able to offer a solution to my problem.
12.00 PM
I go back to the kitchen, grab my lunch from the fridge and heat it up in one of the many available microwaves. One of the great things about GSK is the number of friendly staff available to sit and talk to at lunch. After having a nice chat, I then make eye contact with a friend across the room who is pointing at the table tennis table. After a hard fought 3 set match and a satisfying win, I then return to my desk feeling re-energised and ready to continue working.
1.30 PM
I grab my laptop and walk into a meeting room to look at my brand's current performance. This meeting is undertaken with the Finance team where we look at various metrics such as market share shift, sales, and market research. We also look at internal measures to ensure that the sales team is tracking well in the lead measures which should then result in positive sales performance. To close the meeting, we insert our commentary into a PowerPoint Presentation and send it to the Executive Team, to whom we will share our performance with them at a later date.
2.30 PM
After returning to my desk with another coffee, I receive a Skype message on my laptop from a colleague in India asking if I am available for a quick chat. I do a lot of work with our Indian team who help support us in various marketing channels. We discuss a job which I recently briefed them on. After the call, I feel confident that they are clear on what to deliver.
4.00 PM
Every week at 4:00, we have a WebEx meeting scheduled with our National Sales Team. The objective of these calls is to update the sales team on performance, any upcoming head office activities and for the sales team to share what's happening with their customers. This is a really great way to see what's working with our customers, what could be improved and to collect rich insights about current market conditions. I take the minutes of the meeting and circulate it with everyone via email once the meeting finishes.
5.15 PM
I quickly go back into the kitchen and eat some tuna and rice before going to cricket training. At GSK, there are changeroom and showering facilities. I get changed and jump back into the car to head to training.
8.00 PM
Once cricket training is finished, I get home and once again start thinking with my stomach. I have some leftovers from last night in the fridge, heat them up and eat dinner with my housemate.
8.30 PM
Before I go to sleep, I take my work notebook out of my bag and do a quick summary of the day. Was I able to complete all of the items on my to-do-list? How did I perform today? What could I improve? After this, I start writing my to-do-list for tomorrow to help my brain turn off from work.
9.00 PM
I start my personal laptop and look at what I could potentially watch on Netflix. By the time I make a choice on what I want to watch, it's nearly bedtime! I then turn my light off to get ready for sleep, being fully aware that I'll probably browse Facebook for the next hour.
---

Deviya Kuruparan
Communications and Change IBL
7.15 AM
I usually start my day around 7:15 am, where I like to take my time getting out of bed. This is because once I'm finally up, I'm moving around the house quickly as I set myself the challenge of getting out on the roads within 20 minutes, so that I can avoid any school traffic in my area.
8.30 AM
After securing the closest parking spot, I make my way into the office to get the day started. Luckily, everything is how I left it the day before so all I need to do is turn on my laptop and we are ready to go.
9.30 AM
My team, consisting of a cross-functional blend of HR, Learning & Development and Communications meets next to our tiered accountability board. This tracks our progress against key objectives and gives us visibility on what the team is working on and how we can work together to provide assistance.
12.30 PM
I usually have lunch around 12:30 pm although sometimes I get too hungry to wait! I take my lunch to the benches outside and have lunch with some of the IBL's. On Friday's we like to go offsite to one of the nearby cafes or take our lunch to the park.
2.30 PM
Today at 2:30 pm, we had a special afternoon tea celebrate International Women's Day where we got to hear from a guest speaker, as well as some inspirational Women at GSK! This is something that I had the pleasure of helping to coordinate so it was great to see it run so smoothly.
3.00 PM
My manager and I have a WIP (work in progress) meeting to make sure were across everything that needs to be achieved for the week, whether that's an office wide Town Hall, an engagement event or internal communication channels.
4.30 PM
I call it a day and being to pack up, hoping to beat some of the traffic.
5.30 PM
Once I arrive home, I give myself some down time before trying to motivate myself to go the gym. After that I'll have some dinner with my family and unwind.
9.00 PM
At this point, I'll most likely end up watching trashy reality TV or Netflix and falling asleep around 11pm, eagerly waiting for a new day.
---

Shreenil Amin
Consumer Commercial Future Leader
6.15 AM
I start my day with a swim in my apartment building, shower then iron my shirt and have a bowl of oats before heading to the coffee shop. I order my regular ¾ double shot cappuccino with skinny milk from my local café and start my drive to the Ermington site.
8.30 AM
I make my way into the office and find a good spot to set up my laptop for the day – we have a 'hot desk' set up so I rotate my desk location often. I open my emails and look for any urgent items that need to be actioned or any adjustments I'll need to make to the day's agenda or meetings.
9.00 AM
My line manager and I have a quick WIP meeting to ensure we are aligned on current projects. We assess the progress of our latest tasks and see if any resource management or delegation of tasks is needed within the team.
9.30 AM
I have my Customer eCommerce strategy meeting with our GM to share our growth ambitions, agreements and key actions needed to achieve executional excellence for the year.
11.00 AM
It's time for my next coffee, I use the in-house barista coffee machine that we have in the kitchen and chat to one of the respiratory portfolio Brand Managers to gain some marketing insights before my client meeting in the afternoon.
11.30 AM
I type up and circulate minutes and key messages from the earlier meeting to the wider eCommerce team to align them on the plan and actions moving forward.
12.00 PM
I drive down to the local shopping strip with the eCommerce team and one of last year's Future Leaders to have my favourite Vietnamese BBQ pork roll.
1.00 PM
Stop for a quick espresso, to ensure I bring my A game, on the way to a client meeting at their Bella Vista headquarters.
2.00 PM
We discuss our digital media plans for the retailer and negotiate on a media package that allowed targeted message delivery to our consumers. This ensures we build brand equity and then convert to increased volume sales in line with our growth target for the year.
3.00 PM
I drive back to the office and play some table tennis before getting back to the day's agenda. I find that I am more productive when I take a break every now and then during the day to do something fun and physical.
4.00 PM
Work on a ROI analysis on all the digital media mechanics to ascertain the most effective form to meet our KPI's to fuel category growth and share across our online retailers.
6.30 PM
I make my way to basketball training in Redfern and work on some "plays" that the team can use for our game next week.
8.30 PM
Dinner and beers with the basketball team after training where we have some downtime and much-needed banter.
10.00 PM
Finish off my day with some emails and lock in key stakeholder meetings to finalise the media plan over the coming weeks.
Lights out!
Gender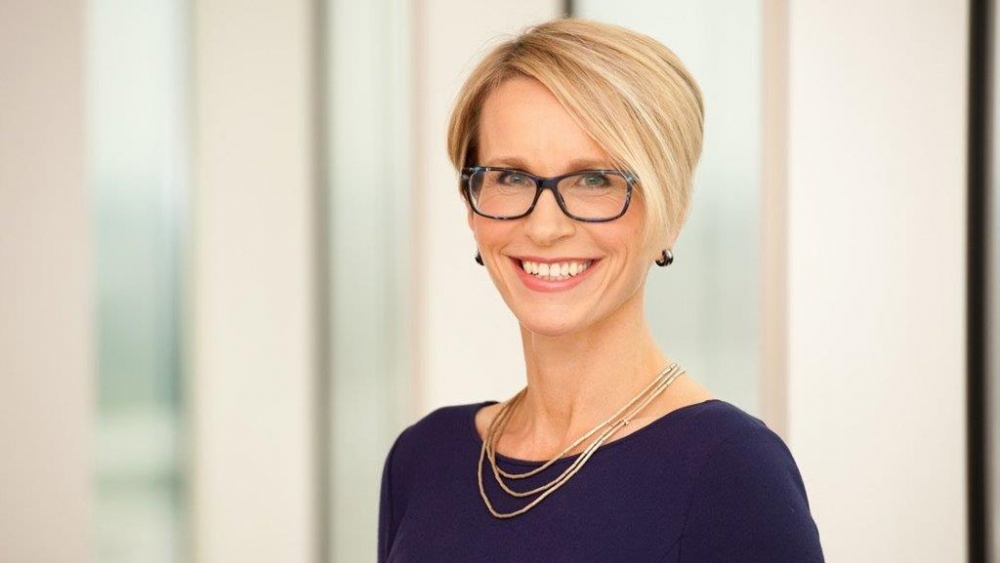 To accelerate GSK's progress on inclusion and diversity, globally they are focusing on increasing female representation in senior management throughout the organisation.
GSK is a member of the 30% Club gender campaign that aims to achieve 30% female representation in senior management within FTSE 100 companies by 2020.
GSK supports the development and career progression for high-performing female managers through their Accelerating Difference programme, which provides coaching and support. GSK also recruits and supports women early in their careers through the graduate and apprentice programmes.
GSK's CEO, Emma Walmsley, is the first (and only) woman to run a major pharmaceutical company.
Locally, Christi Kelsey and Lizzie Champion lead the pharmaceuticals and vaccines businesses in Australia and New Zealand respectively.
GSK proudly celebrates International Women's Day, a day where their employees collaborate with 'Dress for Success', to empower women to achieve economic independence by providing a network of support, professional attire and the development tools to help women thrive in work and in life.
GSK Australia's parental leave policy offers all parents paid primary and secondary caregiver leave, taking into consideration the many ways that someone can become a parent (biologically, adoptive, domestic LGBTQI+ partnership and surrogacy/gestational carrier).
Indigenous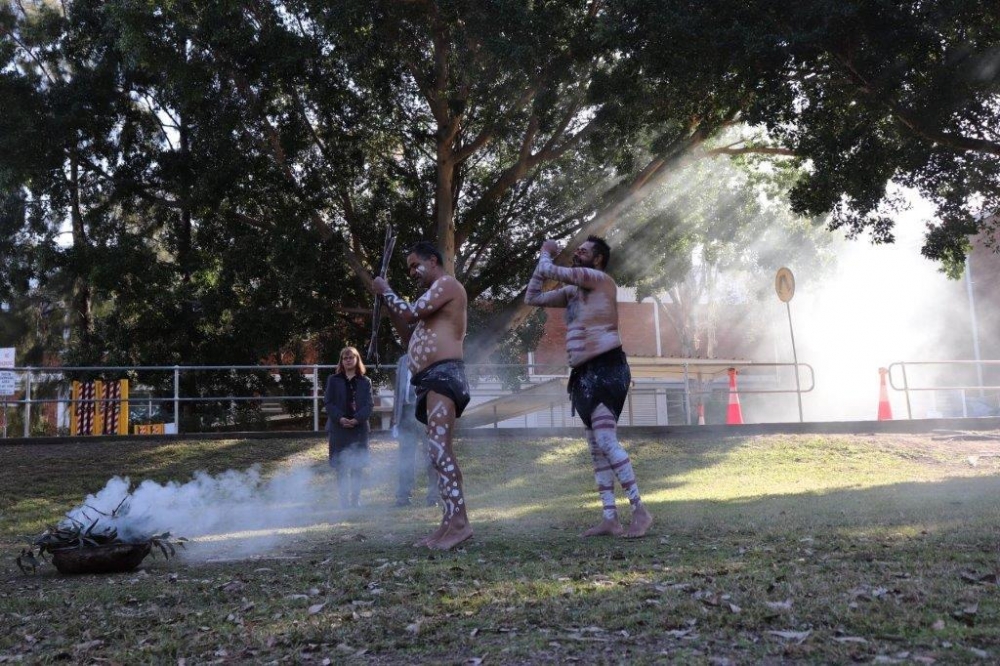 GSK's commitment to social responsibility, globally and in the Australian community, is embedded into the way they do business, and GSK are proud to have built their Reconciliation Action Plan (RAP) into their ways of working.
GSK's 2018–2020 Innovate RAP is their second RAP, and builds upon the success of their first RAP, which was put in place from 2012–2014.
To demonstrate that they're not just talking the talk but actually walking the walk, GSK have released a Progress Summary Report. This document provides details of the actions taken towards their Reconciliation Action Plan deliverables in the first half of 2019.
GSK celebrates and participates in National Reconciliation Week (NRW) by providing opportunities to build and maintain relationships between Aboriginal and Torres Strait Islander peoples and other Australians. In 2019, this involved a cultural awareness training workshop hosted by their corporate charity partner, Save the Children; a tour of a site of cultural significance for the local Aboriginal tribe (Dight's Falls) guided by a Wurundjeri Elder; site-wide Mirri Mirri team building and more.
GSK provides opportunities for Aboriginal and Torres Strait Islander staff to engage with cultures and communities by celebrating NAIDOC Week. In 2019, this involved: an exhibition and talk with prominent indigenous photographer and cultural advisor, Professor Wayne Quilliam; volunteering at a local NGO; picking and packing aid packages to be delivered to rural Indigenous communities and more.
GSK strives for Aboriginal and Torres Strait Islander supplier diversity within their organisation, having preferred Aboriginal and Torres Strait Islander businesses that can be engaged to procure goods and services including Pawa Catering, Nallawilli Office Wares, Outback Coffee, Dreamtime Creative, Tjindgarmi Office wares and Wurundjeri Tribe Council.
GSK's Consumer Healthcare business has developed a plan to help close the gap in oral health by providing product donations and volunteering time to execute oral health initiatives in NSW.
In 2019, over 50 GSK employees, along with their friends and family, participated in the 39th annual de Castella Run. This event supports fundraising for the Indigenous Marathon Foundation, a health promotion charity.
GSK engages its employees in understanding the significance of Aboriginal and Torres Strait Islander cultural protocols, such as Welcome to Country and Acknowledgement of Country, to ensure there is a shared meaning.
In collaboration with the Congress of Aboriginal and Torres Strait Islander Nurses and Midwives (CATSINaM) the ViiV team provided important HIV and sexual health education for nurses through the 'Fundamentals of HIV and Sexual Health for primary healthcare nurses' workshop.
Disability
GSK is a signatory to the Charter for Change at the 2018 UK Government Department for International Development Global Disability Summit, joining other organisations with a common aim to ensure rights, freedoms, dignity and inclusion for people with disabilities.
GSK's Disability Confidence Network (DCN) is a trusted employee resource group for disability inclusion across GSK. The DCN's partnership with the businesses is valued and strategic to GSK becoming a disability confident employer of choice. The DCN partners with the businesses to ensure all employees feel valued and are able to reach their potential through inclusion, awareness, education, access to workplace adaptations and advocacy.
The Global Disability Council was established in 2014 to support GSK's aim to become a disability confident employer and is fully supported by their Corporate Executive Team and is led by chair Nick Hirons who says, 'Inclusion for all is critical to our mission to be one of the world's most innovative, best performing and trusted healthcare companies. With approximately 15 per cent of the world's population having a disability – and over 70 per cent of those disabilities aren't visible – we have an immense opportunity to do more for our colleagues, patients and consumers in this space.'
GSK provides disability confidence training for managers and employees to become 'disability confident' and learn more about inclusive behaviours and language when working with people with disability.
At GSK, mental wellbeing is just as important as physical wellbeing. They offer access to counselling through GSK's 24-hour confidential Employee Assistance Programme (EAP), to support those employees dealing with personal or professional issues that are affecting their wellbeing.
GSK's modern dress codes embrace individual difference and trusts their employees to wear what they feel is appropriate and comfortable for the type of work they do in their day.
GSK looks to accommodate all disabilities by making reasonable adjustments where possible.
LGBTI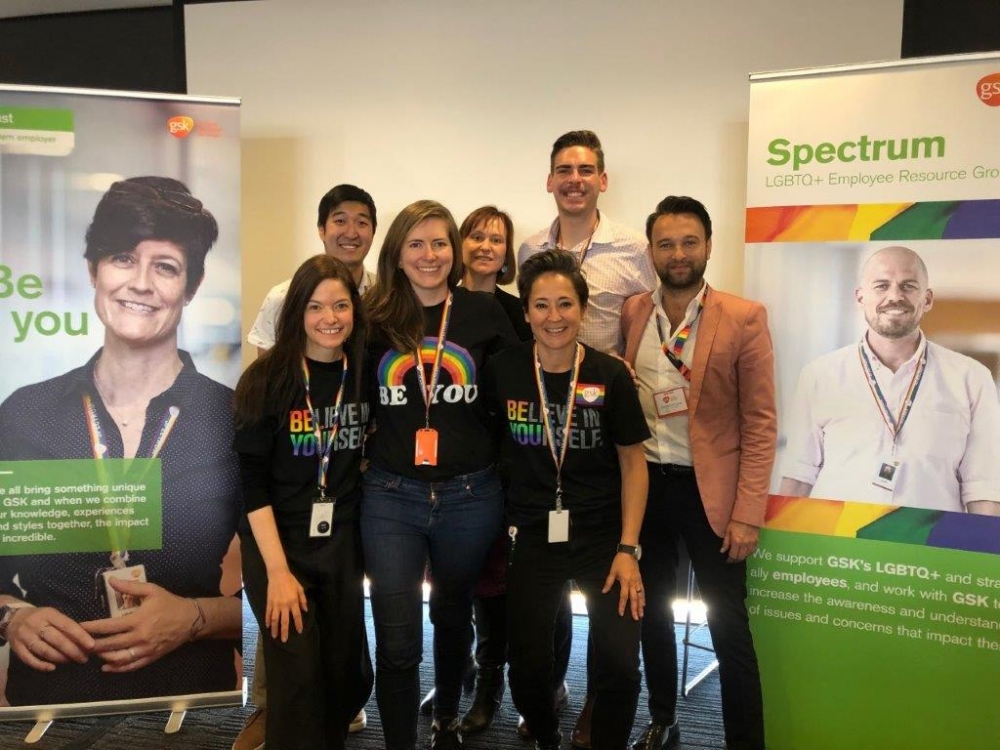 GSK's mission is to provide a supportive, nurturing forum for GSK's employees, across the spectrum of sexual orientation or gender identity. GSK fully supports their gay, lesbian, bisexual, transgender and straight ally employees, and works with LGBTQI+ employees to increase the awareness and understanding of issues and concerns that impact them.
GSK Australia is one of the 851 corporations that publicly supports marriage equality and demonstrated this throughout the 2017 Australian Marriage Law Postal Survey.
GSK has a global employee resource group for LGBTQI+ employees and their straight allies, known as Spectrum, which was launched in Australia and New Zealand in 2019.
In 2019, GSK's UK Spectrum group was named Stonewall's Employee Network Group of the Year.
GSK has been ranked in the top 5th percentile for corporate equality in the HRC corporate equality index annual rating for 12 consecutive years.
GSK New Zealand is the first pharmaceutical company in NZ to have achieved the Rainbow Tick.
GSK has been named as a 2019 Equality Champion by Open For Business LGBT for their strong commitment to advancing LGBT+ equality around the world.
Spectrum UK was praised in DIVA's Rainbow Honours LGBTQ Network Group category by DIVA, the world's leading media brand for LGBTQI women. This award is given to the corporate LGBTQ staff network which provides the greatest support to its members.
All of GSK's policies are LGBTI+ inclusive. For example, their parental leave policy is inclusive, considering the many ways that LGBTQI+ employees can become parents including adoptive surrogacy/gestational carrier and foster care.
Cultural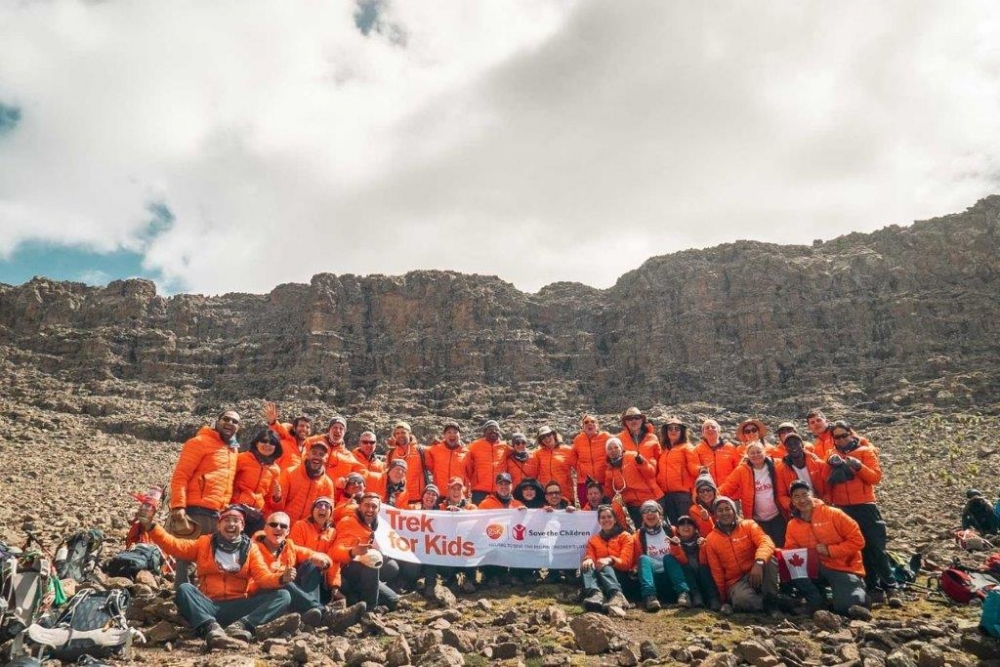 GSK's workforce consists of a diverse population of people with different backgrounds, races and religions. Harnessing these differences creates a productive environment in which everybody feels valued, talent can be fully utilised and organisational goals met.
GSK encourages their employees to embrace their culture under the #BeYou agenda. This has seen employees sharing their culture with others in the office through a range of events such as Diwali celebrations, Bollywood dancing, Easter around the world celebrations and more.
GSK offers global diversity training to all employees, helping them to understand the many cultures that help to shape our employees and customers.
GSK's early talent recruitment process uses a strengths-based recruitment method, helping to eliminate any bias and allowing a more diverse range of candidates to be considered for the program.
Since its launch in 2009, GSK's employee volunteering program, PULSE, has sent more than 705 employees from 63 countries to serve 120 non-profits around the world. By doing so, GSK's employees can immerse themselves in different cultures while having a social contribution.
Trek for Kids is an employee fundraising initiative from the GSK and Save the Children partnership. Open to GSK employees worldwide, in March 2019 the 40 selected GSK trekkers climbed the Simien Mountains in Ethiopia to raise money for Save the Children. As well as raising more than £270,000, the employees had the invaluable experience of understanding the culture of Ethiopia, and the culture of the other 39 employees on the trek.
Globally, GSK is a signatory to the Charter for Change at the 2018 UK Government Department for International Development Global Disability Summit, joining other organisations with a common aim to ensure rights, freedoms, dignity and inclusion for people with disabilities.
Awards, accreditations and membership

GSK believes that all employees bring something unique to GSK and when they combine their knowledge, experiences and styles together, the impact is incredible. Because of this belief, GSK has earned many awards, accreditations and memberships at both a global and local level.
GSK New Zealand is the first pharmaceutical company in NZ to have achieved the Rainbow Tick.
GSK was listed #6 on Stonewall Top Employer List for 2020.
In 2019, GSK's UK Spectrum group was named Stonewall Employee Network Group of the Year.
In 2019, GSK were named an Equality Champion by Open For Business for their strong commitment to advancing LGBTQI+ equality around the world.
Spectrum UK 'Commended' in DIVA's Rainbow Honours LGBTQ staff network which provides the greatest support to its members.
GSK has been ranked in the top 5th percentile for corporate equality in the HRC corporate equality index annual rating for 12 consecutive years.
GSK Office Tour at Johnston Street, Abbotsford Melbourne
Take a sneak peek inside GSK's head office at Johnston Street, Abbotsford Melbourne.
GSK is located just northeast of Melbourne's CBD, close to the Yarra river and Yarra Bent Park.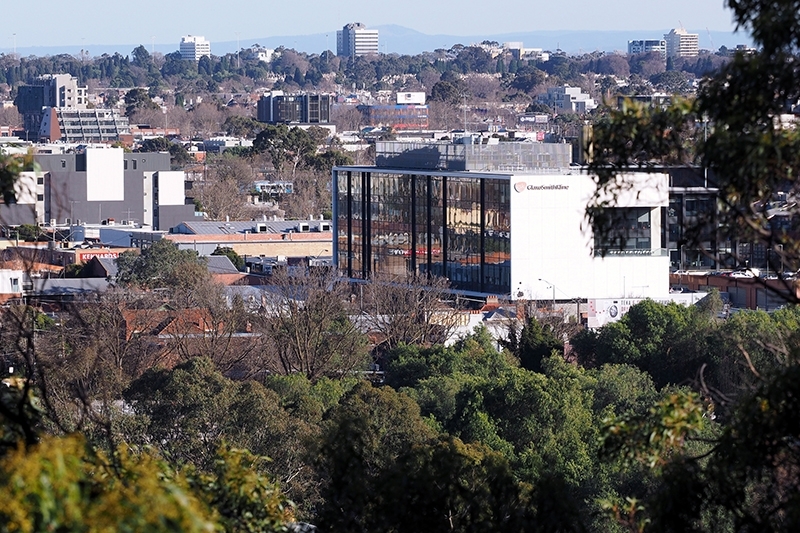 GSK uses an open office system with "hot desks". Employees group together as work requires and connect their laptops to the desk they want to use.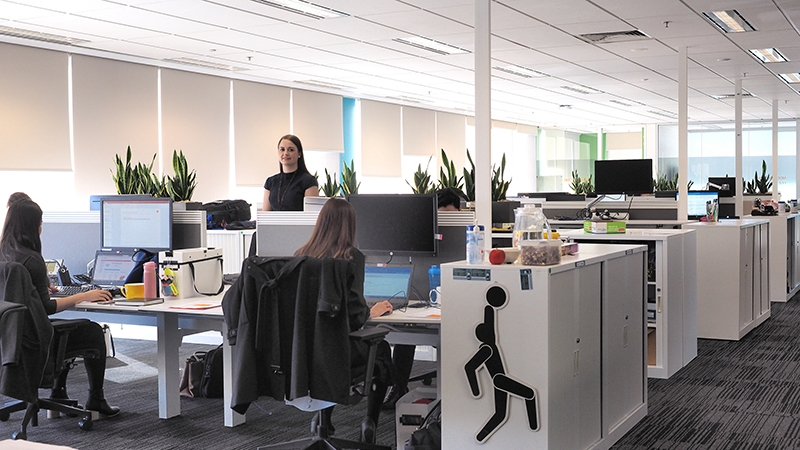 Each employee has a designated locker.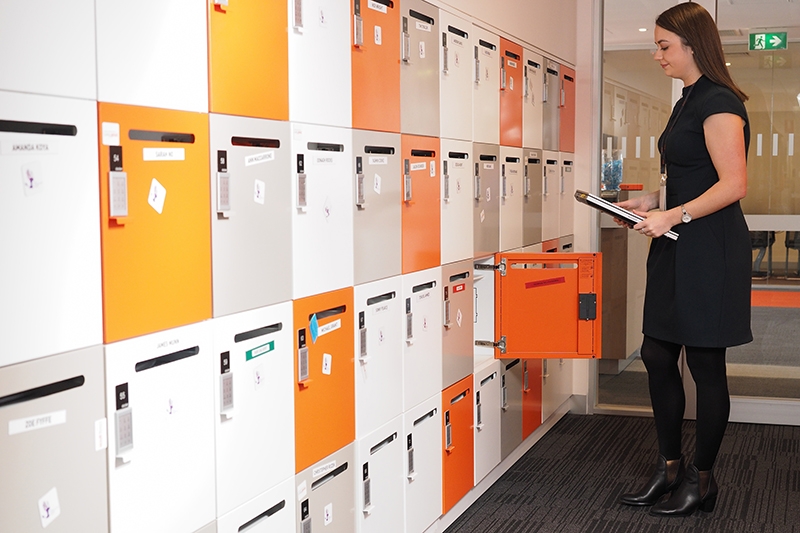 Another part of the GSK work environment is the daily supply of fresh fruit. GSK promotes a healthy lifestyle.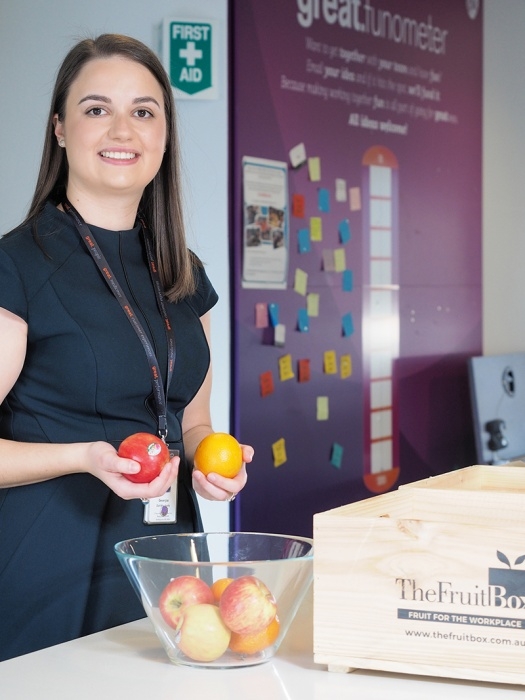 Every cafeteria has a proper coffee machine, it is part of the induction to learn from a colleague how to use it, and all employees are regulars.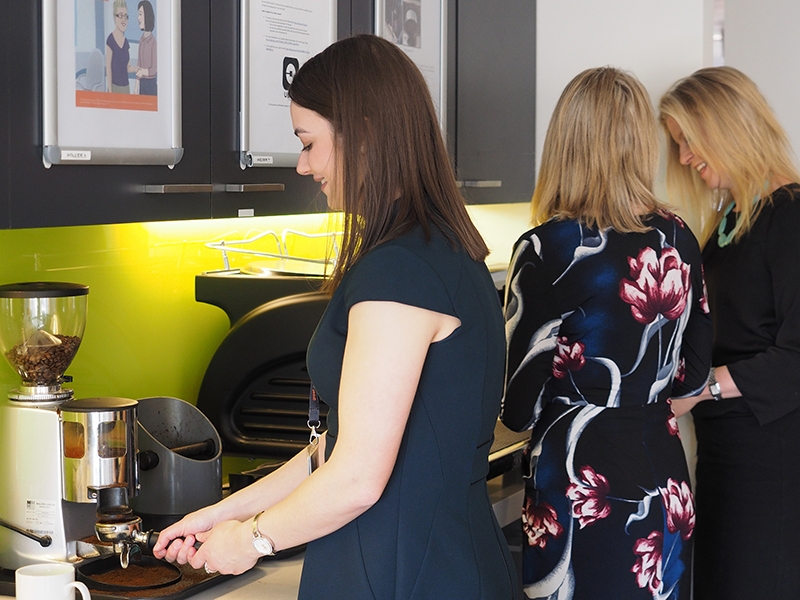 Parts of the work environment are large open areas with sofas and smaller desks, cafeterias on each floor and even a table tennis table.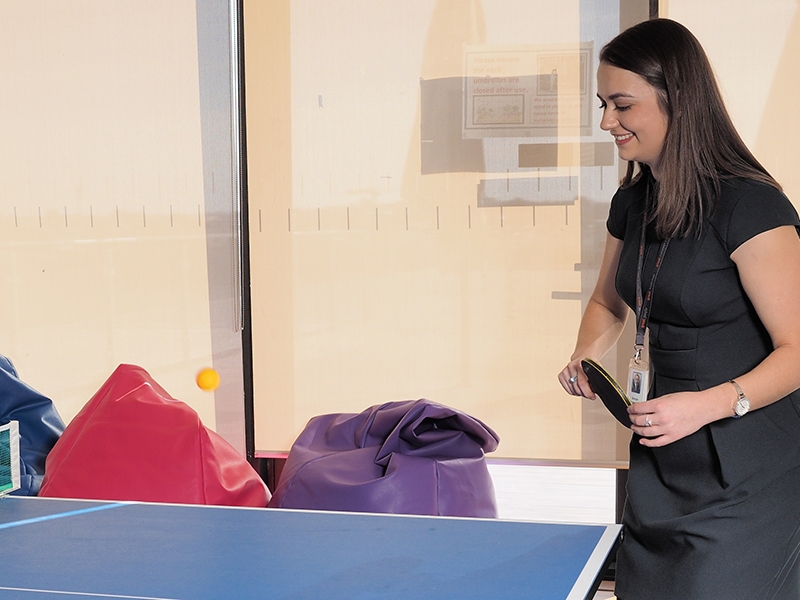 If you're a student interested in a career at GSK, the Industry Based Learning (IBL) program is a great place to start. GSK's IBL program is developed for undergraduate University students in their penultimate or final year of study upon commencement of the program.
The twelve-month, full time program is the perfect opportunity for students to launch their careers, offering invaluable hands-on work experience, building on their university learning and gaining a competitive advantage for all career paths. In 2019, GSK offered 52 places in the program across their three businesses in Australia and New Zealand.
The complete recruitment process takes around two months. It involves an online application, completing an online test, a video interview and attending an assessment centre. You'll maximise your chances of receiving an offer by demonstrating "ambition, commercial awareness and a self-motivated, proactive approach". Throughout the recruitment process, keep in mind that GSK is looking for "clear, effective communicators who can quickly build a rapport with a wide range of people" and "adapt to change and keep focused when the pressure is on". You'll need "the drive and confidence to trust your own judgment" while being "a real team player who actively collaborates with others". You'll also need "an analytical mind, a talent for multi-tasking and the ability to influence others".
The GSK Story
Spectrum
Spectrum is GSK's employee resource group for LGBTQI employees and their straight allies.
Trek for Kids
Trek for Kids was a partnership between GSK and Save the Children, where 40 employees in 25 countries raised over 270,000 pounds for Save the Children, which was matched dollar for dollar by GSK.
GSK's Industry Based Learning
For the following videos, please use the password GSK to download them from vimeo and embed the video files into the page.
GSK's Modern Employer Program
GSK's Industry Based Learning Program
GSK's Pulse Program
The REDI Grant Program:
Each year we seek PhD graduates and postdoc researchers to join the GSK/ViiV Healthcare REDI Grant Programme. We have exciting opportunities for 12-month, fixed-term contracts based in Abbotsford (VIC).
The MTP Connect REDI placement program is a government-funded, industry-hosted initiative developed to help bridge the gap between industry and research.
The 12-month work placement program is available to PhD graduates or postdoc researchers. The aim of the program is to provide interns with a diverse range of development opportunities, experiences and exposure with view to improving Australia's success in terms of translation and commercialisation of health and medical research; and expanding the capacity and capability.
At GSK, we're excited to embark on this program with the support of MTP Connect. We are driven by science, curiosity and a desire to transform the lives of our patients. The roles we have identified to form our REDI placement program will lead on important, substantive work. We anticipate that the PhDs who join our business will bring critical thinking and creativity into our business, while at the same time, we're committed to offering these individuals hands on insights and training in the corporate environment and the work we do to bring our scientific discoveries into patients' hands.
Eligibility criteria:
Must be a PhD graduate or postdoc researcher
Must be a citizen or permanent resident of Australia or New Zealand.
Must be available to work full-time for 12 months.
What roles are available?
Oncology Medical Affairs
ViiV Healthcare (HIV)
Regulatory Affairs
Vaccines (Meningococcal Disease)
Specialty Care
Vaccines Medical Education & Delivery Excellence
What is it like?
To see a full list of the REDI Grant Programme Project Descriptions, click here.
What does the application process involve?
Eligibility Questionnaire
World of GSK online assessment
Pre-Recorded Video Assessment
Final Interview (Virtual): Activity & Interview
Where can I apply?
Please apply via the GSK website here.
2021 applications will be open from Wednesday 18 November to Wednesday 2 December 11:59PM AEDT. Any applications or assessments will not be viewed beyond this point.