Herbert Smith Freehills Graduate Programs & Internships
With over 25 offices spanning Asia, Europe, Australasia, and the Middle east, we can show you exactly what a world class commercial law firm has to offer, giving you the chance to work as part of an international team, on high-profile matters, for some of the most significant organisations in the market.
Our focus is on the future: the future needs of existing and new clients, the future of the legal profession and investing in our future lawyers. That's why we aim to attract th…
View more
Adelaide
and 15 others
Available locations
Regional Northern Territory
Regional Western Australia
Start learning the skills you need to become the lawyer you want to be, now. Our exceptional virtual internships – in partnership with Forage – combine first-hand insight into life as a lawyer here with valuable work experience.
With over 25 offices spanning Asia, Europe, Australasia, and the Middle east, we can show you exactly what a world class commercial law firm has to offer, giving you the chance to work as part of an international team, on high-profile matters, for some of the most significant organisations in the market.
Our focus is on the future: the future needs of existing and new clients, the future of the legal profession and investing in our future lawyers. That's why we aim to attract the best talent from a broad range of backgrounds, ensuring we are optimising our position as a progressive, forward thinking professional services business. At Herbert Smith Freehills, you'll be given the opportunity to develop the skills you need to help solve our clients' most complex challenges in thoughtful and innovative ways.
We aim to instil a culture of engagement, ambition and high performance at Herbert Smith Freehills, by putting people and the client experience at the heart of our business. We want to attract and retain top talent from all backgrounds and enable them to perform to their full potential. That means fostering a diverse and inclusive workplace where difference is celebrated, development advanced and wellness prioritised. We believe it is also vital to provide regular opportunities for people to share their experiences, feedback and ideas.
" We are, uniquely in Australia, a truly global firm, where you can gain the best experience and build your skills. There's no better place to start your career – wherever it might take you."
ANDREW PIKE, EXECUTIVE PARTNER, EAST
Industry Leading Work & Clients
You'll be given the opportunity to develop the skills you need to help solve our industry leading clients' most complex challenges in thoughtful and innovative ways. You'll be able to work collaboratively with teams that combine our global sector expertise and local market understanding. You'll be guided by Our Client Charter to deliver a consistently excellent client experience.
Our Inclusive Culture
Our inclusive workplace is characterised by openness, respect, equality and non-discrimination. It's a key part of our firm's strategy and a major business focus at Herbert Smith Freehills. Through initiatives like our
10 Actions for Change on Ethnic Diversity or Agile 60 flexible working policy, our vision is to be the leading global law firm for diversity and inclusion.
Innovation
Our Digital Law Group provides legal, strategic and practical advice to our clients in relation to their biggest and most important digitalisation projects. Through our Legal Operations team, we use technology to empower our people and encourage a culture of challenging the status quo to find unique perspectives and new ways of doing things. As a graduate, you can rotate through either team.
Pro Bono
We believe that communities benefit through greater access to justice and opportunity. We're uniquely placed to respond to a range of needs that exist in the communities and regions that we serve. Just like our partners and lawyers, our graduates can participate in pro bono legal and community work.
Sustainability
As a leading global law firm, we are clear about our own responsibility to contribute to a sustainable future. We are conscious of our environmental impacts and strive to address them by developing sustainable business practices, based on a specific action plan, while continuing to grow in a complex environment. In 2020, we committed to net-zero emissions by 2030.
Our Graduate Program
Our Graduate Program is designed to develop the knowledge, skills and mindset required to succeed. Through three, six-month rotations in distinct practice areas, you will gain valuable insight into the breadth of experience needed to become a trusted business advisor. You will benefit from our structured ongoing training, career conversations, mentoring and extensive on-the-job support.
Pro Bono & Responsible Business
We believe that community's benefit through greater access to justice and opportunity. We're uniquely placed to respond to a range of needs that exist in the communities and regions that we serve. Just like our Partners and lawyers, many of our graduates participate in pro bono legal work and describe it as one of the highlights of their rotations. 
Nationally, we provide over 35,000 hours of pro bono legal work a year, an average of 46.4 hours per lawyer
All lawyers are encouraged to participate in the firm's pro bono practice. This might be internationally or closer to home, it really is up to you. We focus on five key areas: access to justice, international development, social impact investment, not-for-profit advisory work and human rights (particularly anti-trafficking and anti-slavery).
Globally we focus on five key areas: access to justice, international development, social impact investment, not-for-profit advisory work and human rights (particularly anti-trafficking and anti-slavery).
Our practice groups provide many of our long-standing clients with a range of advice including partnership agreements, structuring, property, employment issues and governance. These include: CanTeen, CareerTrackers Indigenous Internship Program, Cure Brain Cancer Foundation, Foodbank Victoria, McIntyre Centre, Médecins Sans Frontières, Mission Australia, National Breast Cancer Foundation, Ronald McDonald House, Save The Children Australia, Starlight Children's Foundation, St Vincent de Paul Queensland, The Big Issue, Yalari and Youngcare.
Click here for information on our Pro Bono and Responsible Business.
Since working together is a good way to get to know each other, we often fill graduate positions through our vacation clerkship program. We offer a range of summer and winter clerkships in each of our Australian offices.
We want to provide you with the skills and experiences to succeed in your career - wherever it may take you. Our Graduate Program is designed to develop the knowledge, skills and mind-sets required to succeed. By rotating through three distinct practice areas for six months each you will be given the breadth of experience you need to become a trusted business advisor.
You'll get the opportunity to submit practice area preferences before every rotation, including before your first rotation, enabling you to tailor your graduate program to your specific interests. You can also discuss your preferences with our dedicated Graduate Recruitment team. If you are interested in broadening your skills further, you can also apply to complete an international rotation or a rotation through our Digital Law Group or our Legal Operations team. 
We know that life in a commercial law firm can seem daunting, and we're here to provide you with all the support you need. Once you join, you'll benefit from a two-week induction, ongoing practice group training throughout each rotation, a solicitor assigned as your dedicated "buddy", regular feedback, plus extensive on-the-job support from solicitors, senior associates and partners.
We support graduates on their pathway to becoming solicitors by providing Practical Legal Training (PLT) and support through the admission process.
Once admitted, our Graduates will begin the second stage of their formal learning program – Advance. This program focused on the client, financial and people skills needed to take you to the next step of your career.
Our 2021 Melbourne graduates during their induction: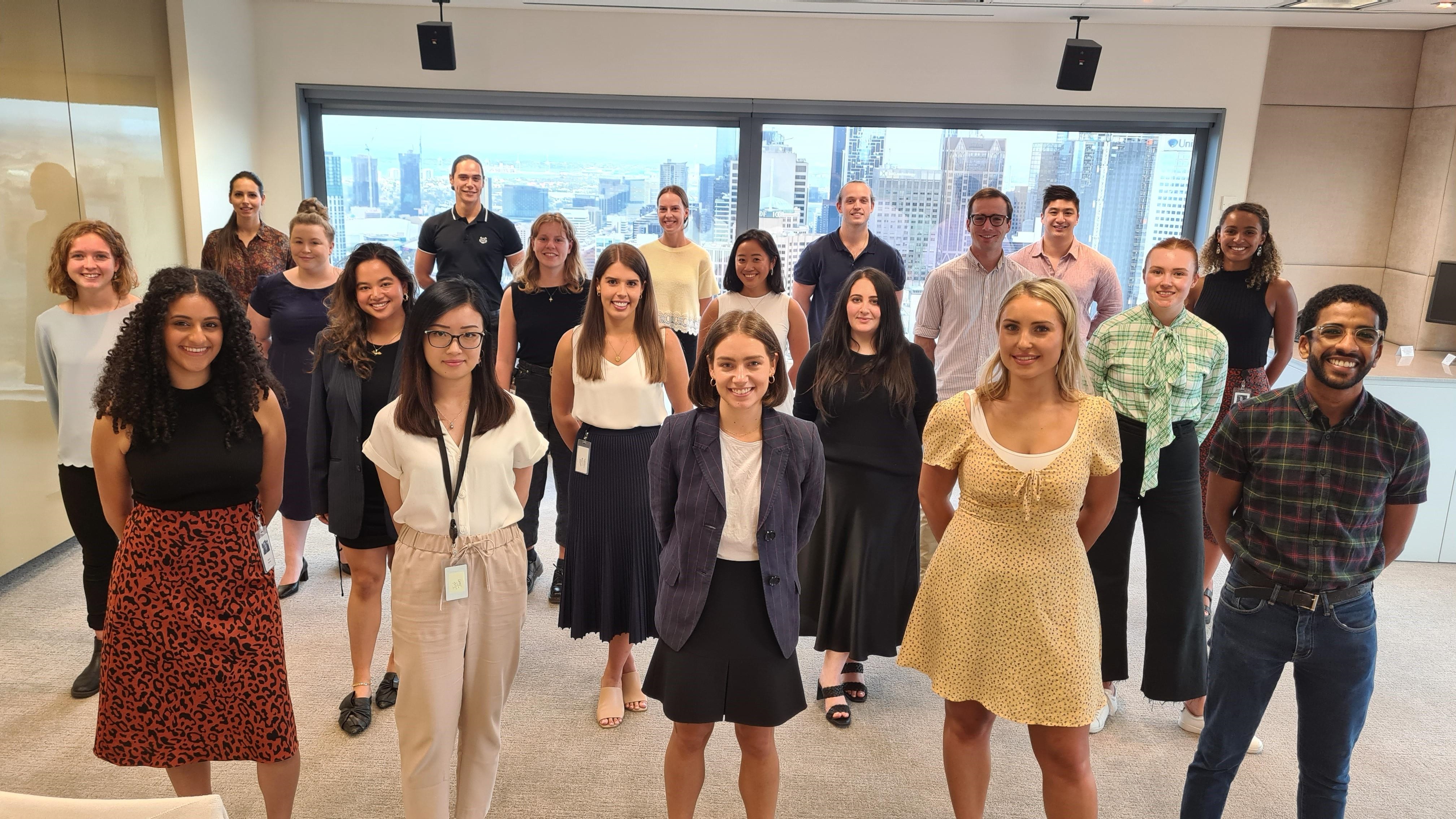 Here at Herbert Smith Freehills, we understand that there is no single pathway to becoming a commercial lawyer. We look beyond your academic record and your technical aptitude. 
 We're looking for those who display an eagerness to learn, a good attitude, are able to work collaboratively in teams and have a genuine interest in the law. We value that everyone brings themselves and their unique different perspectives, but we work together and with our clients to tackle really complex legal problems.
Whatever your background may be, if you're a law student with intellectual agility, personal impact, a relentless drive to do great work and a passion for commercial law, then we'd love to have you here at Herbert Smith Freehills.
Step one - ONLINE APPLICATION
You'll need to upload the following:
A brief cover letter outlining your interests and suitability for a position  at the firm
A current CV outlining work experience, extracurricular activities,  academic and non-academic achievements
A recent copy of your academic transcript.
As part of the online application, we'll also ask you to answer a few short questions about your interest in Herbert Smith Freehills and commercial law generally.
Herbert Smith Freehills is proud to use the Rare Contextual Recruitment System (CRS). The CRS allows us to understand each applicant's achievements in the context that they have been gained. We understand that not every candidate's achievements look the same on paper – and we want to recruit the best people, from every background.
Step two THE INTERVIEW PROCESS
If you are invited to a first round interview, we will also ask you to complete our online psychometric assessment beforehand.
There are no right or wrong answers to these questions; your responses simply provide insight into where your likely strengths lie. It's best to answer as quickly and honestly as you can.
It is important that you choose the answer which matches how you usually like to work.
Step three - ATTEND AN INTERVIEW
While we try to make the interview as relaxed as possible, it is a chance to show us your professional side, so pay attention to all those tips you've read about being punctual and presenting in a professional manner. Beyond that, be yourself and try to let us see you at your best.
The interview is intended to be a two-way process and provides an opportunity for you to see what it would be like to work with us, as well as for us to get to know you.
Remember, we want to give you a chance to tell us all about yourself and why you think Herbert Smith Freehills is the right place for you.
We select many of our graduates through our vacation clerkships. During this immersive experience, you'll receive hands-on practical experience, actively contributing, as you work on some of the diverse challenges facing the team you're collaborating with.
You'll gain a deeper understanding of life at the firm and what your future could look like if you join us. Some key features include the opportunity to:
Sit within a specific team, delivering real work for key clients
Before you join, submit a preference for a team to tailor your experience
Navigate the first step of your career with partner and graduate mentoring support
Attend workshops and presentations covering all our practice areas
Contribute to our pro bono practice
Work with cutting-edge technology through our innovation projects
Meet and network with people across the firm
By following us on Facebook, Instagram and LinkedIn, you'll be able see behind the scenes into what life at Herbert Smith Freehills is all about.
Ellen Frodsham, 2020 Clerk and 2021 Graduate, Perth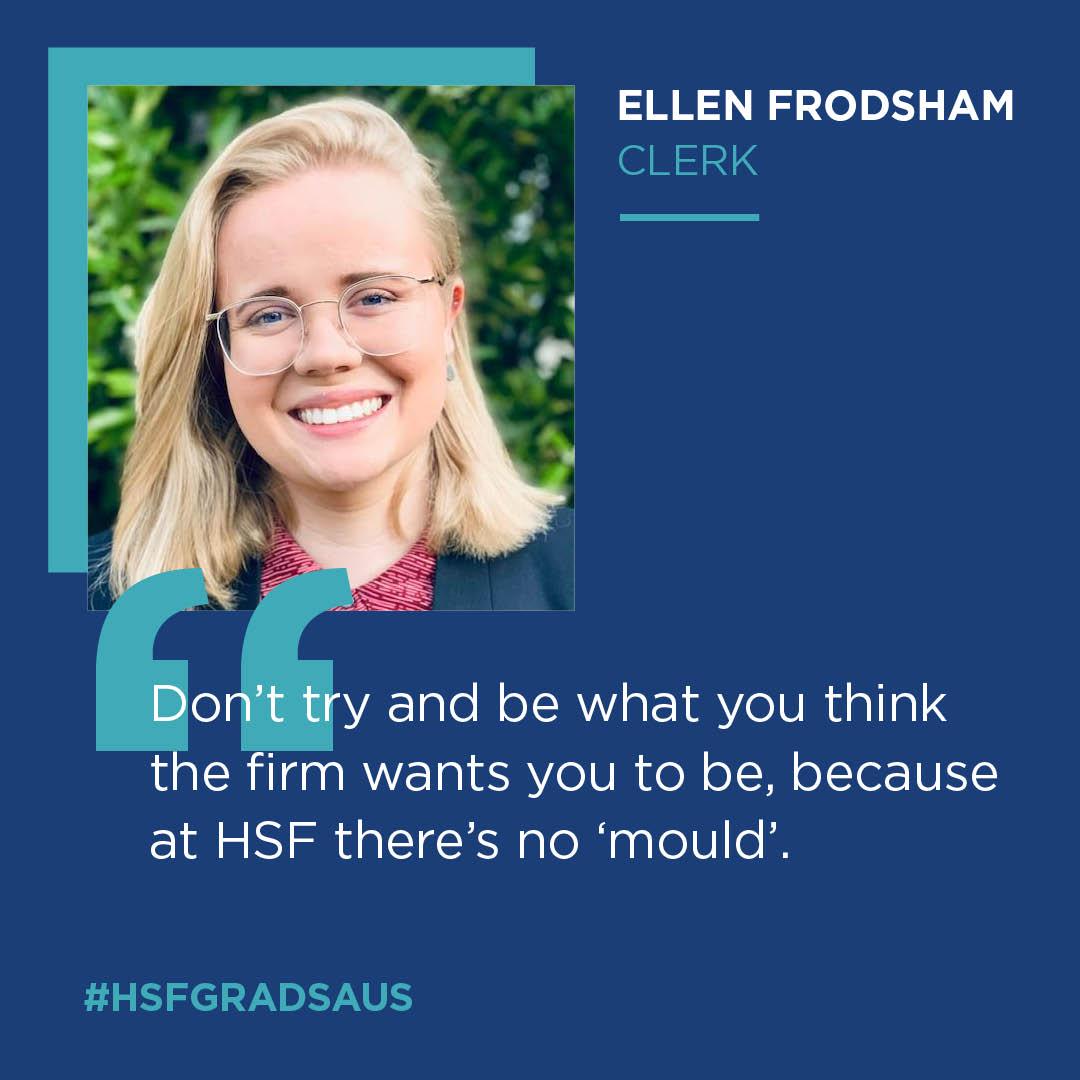 Tell us about yourself?
My name is Ellen and I'm a 2021 Graduate at Herbert Smith Freehills. I have a Bachelor of Arts majoring in Law and Society and English and Cultural Studies, and I'm just about to graduate from UWA with a Juris Doctor. I finished my Vacation Clerkship in February 2019 after rotating through the Employment, Industrial Relations and Safety team. After my Clerkship, I was given the opportunity to help out as a Paralegal.
Can you describe a typical day as a clerk at HSF?
My typical day as a clerk in the Employment team involved arriving at 8:15am clutching my Mary Street Bakery coffee. I'd walk around the office and have a chat before visiting my buddy to see how I could help out. My team kept me busy with all sorts of things, from tagging along to court, to drafting advice for real clients. Before I knew it, it was lunch time. We'd often have an interesting presentation at lunch time, which was great because the kitchen provided us with the yummiest food! I'd then do a couple more hours of work before grabbing the occasional coffee with a grad to ask for some of their words of wisdom. Come 5:30pm, it was time to head home and relax! 
What piece of advice would you give someone considering a role at HSF?
It's way overplayed, but it's overplayed because it's true — just relax and be yourself. Being yourself is the best possible way you can assess whether HSF is for you. Don't try and be what you think the firm wants you to be, because at HSF there's no 'mould'. The firm doesn't want you to be like everyone else, that just makes for a boring and inefficient workplace. I was really surprised how diverse everyone in my clerkship group was —extroverts and introverts, people from all different unis, people who had switched over from science degrees, and even one guy who was previously a musician! Really the only uniting quality between us is that we were all stoked to be there. In short, open up and let people see who you are — being genuine is one of the best qualities you can have.
How has your experience, background & skills outside of your legal skills, helped you contribute as a grad/clerk?
I spent a lot of time in retail while I was studying, and you wouldn't believe how well customer service skills translate into your clerkship. Those active listening skills you've honed from years of being bombarded with complex orders? They're great when you're taking instructions from your supervisor (hot tip: repeat your instructions back to your supervisor after you've received them, just like they do with your order at McDonalds). What about all those times a customer lost their receipt and you had to trawl through hundreds of invoices in the system to find it? That kind of attention to detail comes is essential when you're proof reading important submissions. Even those times you had to explain that someone's order would take 15 minutes to fulfill because you're busy — setting expectations and keeping your co-workers informed about your capacity is a crucial skill. Basically, you'd be surprised just how much skills you've learnt from your part time job help set you up for success on your clerkship!
Pre-penultimate Workshops
Herbert Smith Freehills is opening its doors and inviting pre-penultimate students in to learn about careers in commercial law.
In our one day workshops, you will learn about Herbert Smith Freehills, meet our lawyers and develop practical skills to help you in a career in commercial law.
If you're a pre-penultimate student who is eager to get exposure to the legal profession ahead of clerkships, apply for our Pre-Penultimate workshop today. Events are scheduled over May & June. Spaces are limited.
Applications are welcome from university students who are in their pre-penultimate years of their university law degree (eg First- to third-year undergraduate law students or first-year JD students.)
We asked our Sydney Vacation Clerks to record a day in the life video and this was the result…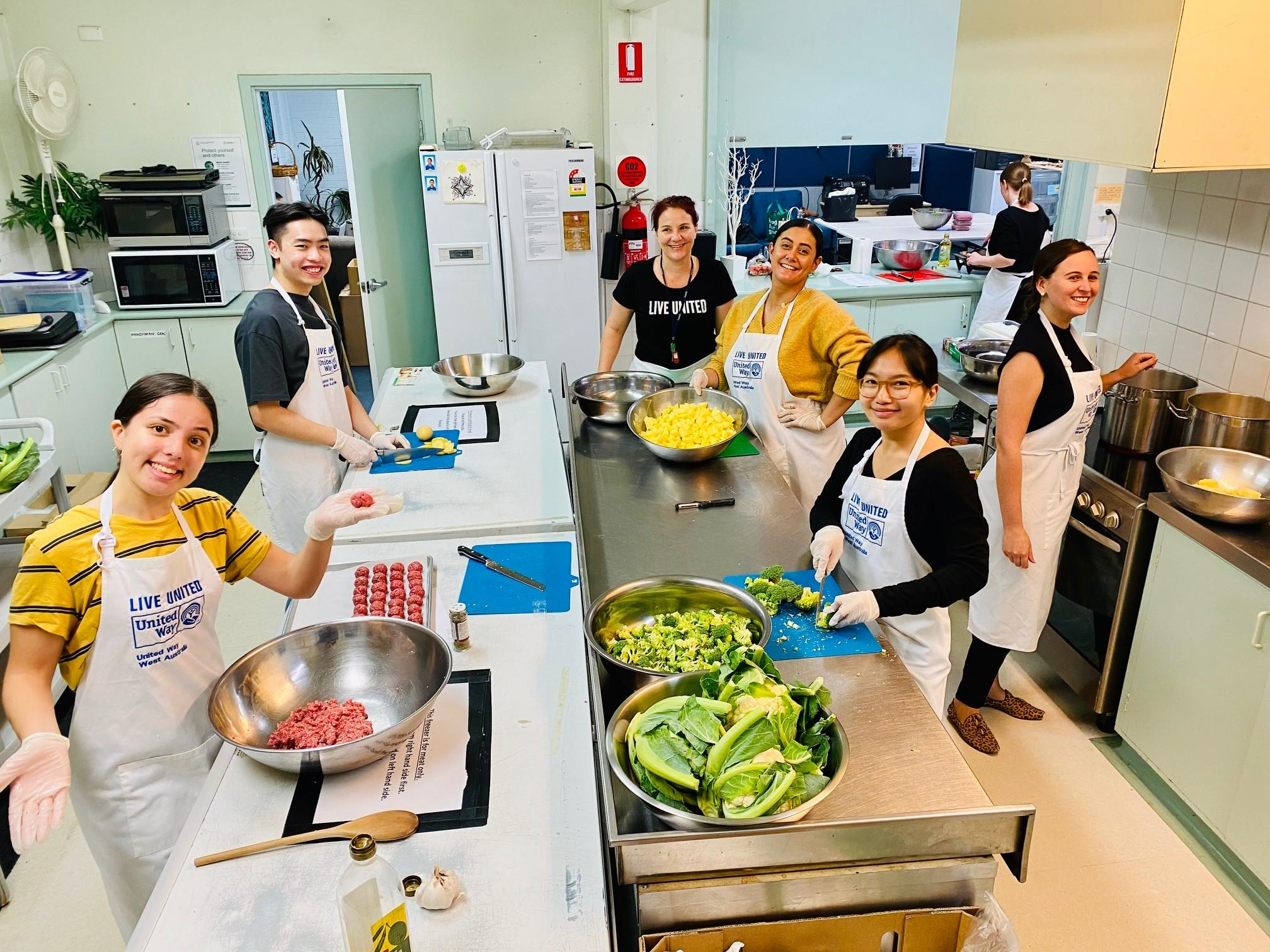 As part of United Way WA's Homeless Strategy, our Summer 1 clerks and members of our Perth office volunteered their time to prepare and cook a variety of meals. The meals were frozen and handed out as part of food hampers to those who are experiencing food insecurity. It was a great experience to make a valuable contribution to United Way, as well as to get to know our clerks a little better outside of the office.
More broadly, we released our fourth annual Responsible Business Report in 2020. Focusing on steps taken over the past 12 months, this communication on progress demonstrates the firm's commitment to the United Nation's Sustainable Development Goals and the UN Global Compact.
The latest report highlights how Herbert Smith Freehills has responded to the challenges facing organisations across the globe. Building on the firm's values, it outlines steps taken to engage with clients, colleagues and the communities in which we operate.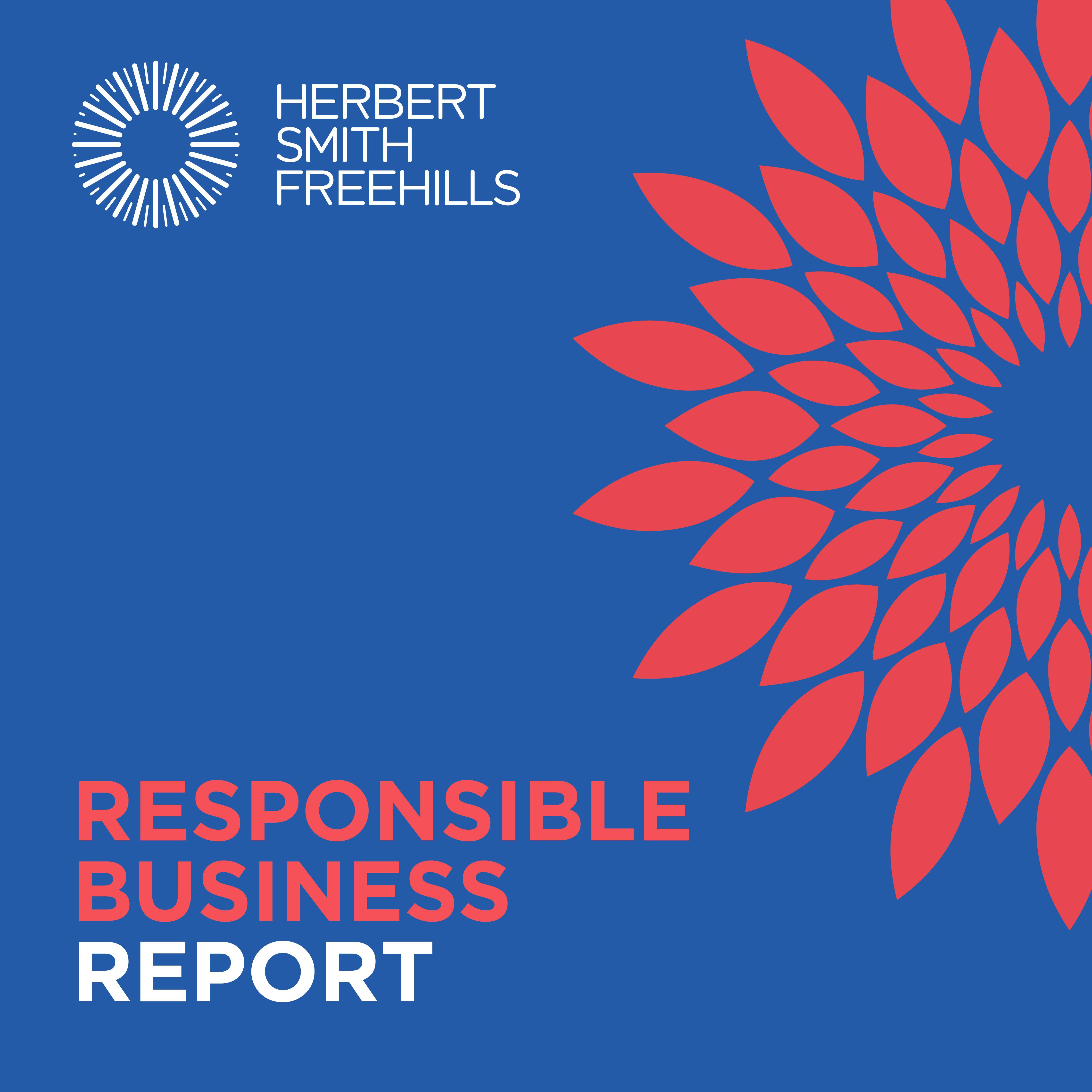 The communication on progress recognises the firm's responsibility to contribute to a sustainable future. It reports that, over the past 12 months, several steps have been taken to drive internal and external action on environmental, social and governance (ESG) issues.
Committing to net-zero emissions by 2030
We are committing to reducing our overall greenhouse gas (GHG) emissions and then balancing that lower figure with emissions removed from the earth's atmosphere to reach a net sum of zero. We are planning to do so in a number of ways, including: using clean energy; working with those suppliers who are also committed to reducing emissions; and supporting initiatives that remove any carbon dioxide that the firm produces from the atmosphere.
Diversity & Inclusion

"At Herbert Smith Freehills, we don't expect our people to be or think the same – indeed, diversity and inclusion drive our success and the innovative solutions we deliver with our clients. That's why fostering an inclusive culture where our people can be themselves, contribute their perspectives and perform roles which are meaningful and aligned to our shared values is a core business priority." JUSTIN D'AGOSTINO, CHIEF EXECUTIVE
Our vision is to be the leading global law firm for diversity and inclusion.
From bold and ambitious targets to drive gender diversity across our leadership and launching market-leading parental policies in Asia; to improving ethnic minority representation across our offices and developing a truly global approach to mental health and wellbeing and leadership on LGBT+ advocacy.
Our vision is ambitious and global. We recognise the power of diversity and inclusion to drive innovation, collaboration and business outcomes. By enabling our people to be their unique selves every day - we are Leading for Inclusion.
In the below video, May Tai, Managing Partner, Asia answers the question: "Where are you from?" – you can find the full series here.
Creating a sense of community and belonging is an important role for our diversity networks, which exist across the firm, including for gender, LGBT+, ethnicity and cultural diversity, family and carer responsibility, disability, mental health and veterans and armed forces & social mobility. Our networks offer mentoring and networking opportunities, advocate for changes in policy, collaborate with our clients and encourage allies to take a stand for others. They lie at the very heart of Leading for Inclusion.
Read more about our inclusivity.
LGBTIQ+

Our global IRIS (LGBT+ and Ally) Network aims to promote and advocate for LGBT+ diversity and inclusion with the firm, to enhance our culture and client relationships.
We do so through raising awareness, collaboration with other networks and our clients, promoting visible and diverse role models, contributing to thought leadership, advocacy and best practice, supporting the communities in which we operate and ensuring that, across the network, our people feel safe and supported.
Our network has supported:
Re-launching our Trans and Non-Binary Guidelines, with a focus on non-binary inclusion and enhancing the support available to individuals, including by offering 1:1 coaching;
The decriminalisation of homosexuality and LGBT+ rights across the world, through our pro bono work;
A global mobility project looking into the experiences of LGBT+ people who travel/relocate with business and the support needed;
Work to ensure that our medical providers are fully LGBT+ inclusive;
A legal battle to win the right to spousal visa for same-sex couples in Hong Kong; and
Open Doors in Australia to deliver services to LGBT+ young people with a range of needs including, homelessness, mental health, alcohol and drug counselling and suicide prevention.
Throughout Pride month 2020, we adopted a rainbow logo as a visible reflection of our advocacy in respect of LGBT+ inclusion and our long-standing commitment to our LGBT+ people, clients and communities.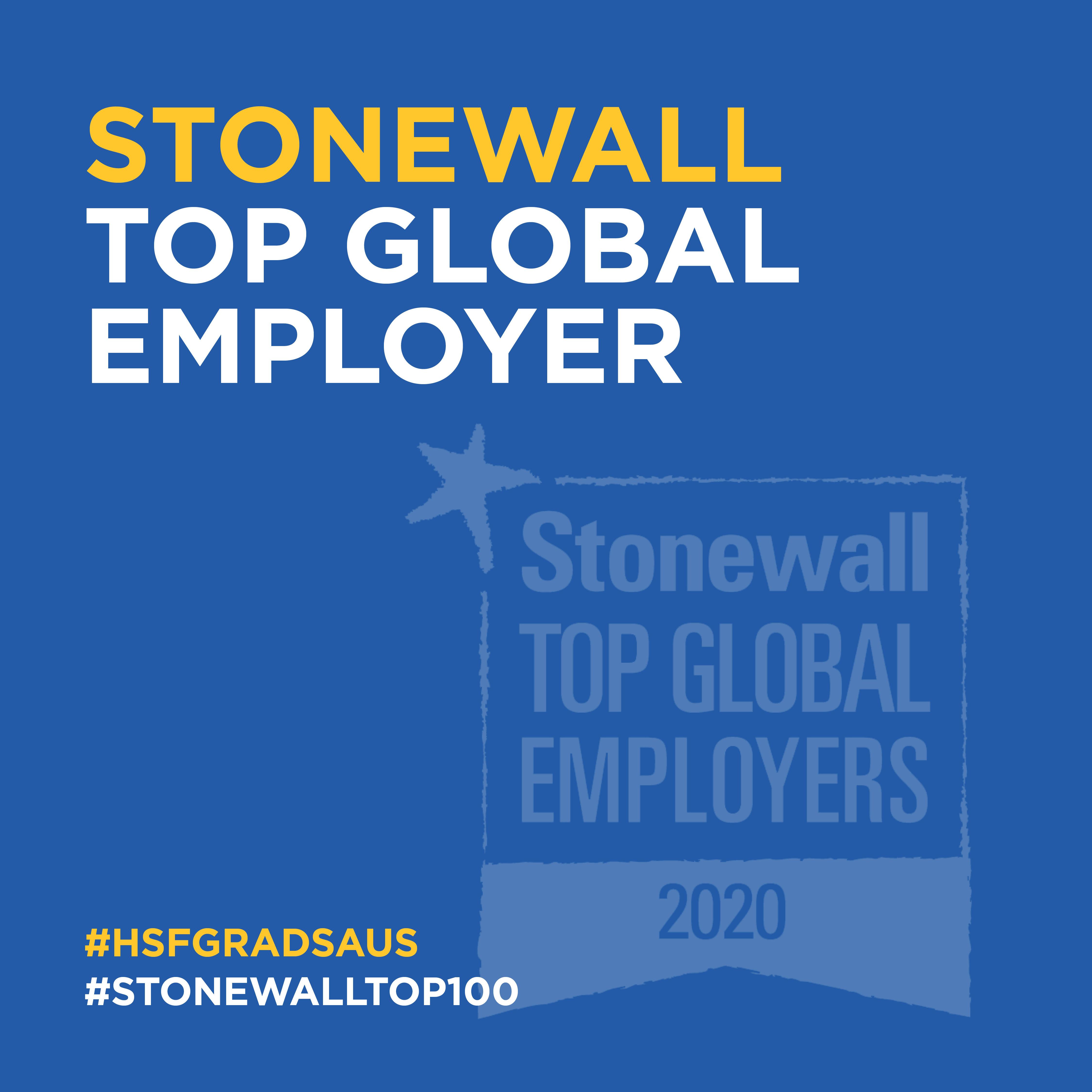 Gender Equality

Gender equality remains a priority and we continue to make positive progress. We first set gender targets in 2014 to increase the proportion and number of women in our partnership. These were accompanied by a comprehensive set of actions to drive greater gender equality, such as unconscious bias training, a focus on parental support, and better access to quality sponsorship. Since first setting targets in 2014, the number of women in the partnership has more than doubled, and representation increased from 18%-27% globally.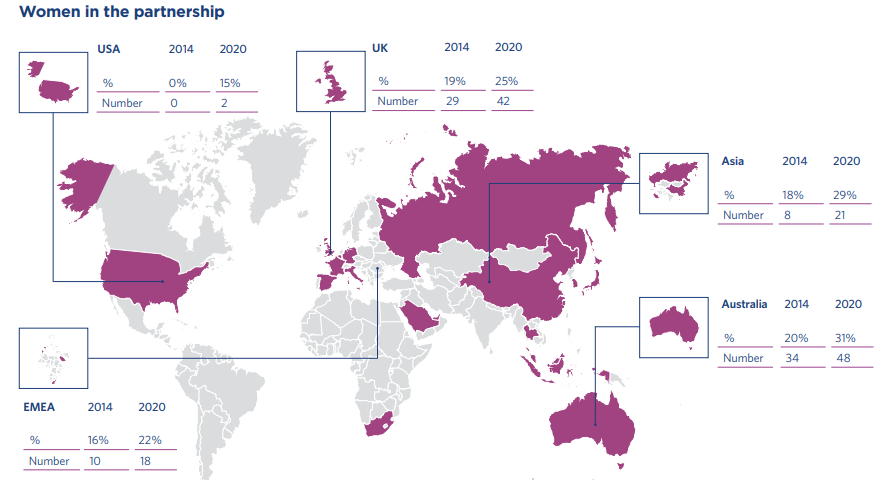 Find out more about our strategy and download our latest update on Gender Targets.
Aboriginal & Torres Straight Islanders

In September 2018 we launched our second 'Elevate' Reconciliation Action Plan (RAP) – becoming the only Law firm to receive the highest endorsement from Reconciliation Australia.
As a firm committed to reconciliation with First Nations people, we seek many avenues to strive towards justice and truth telling through community consultation, whilst ensuring that efforts are made for First Nations voices to be heard and empowered. Our initiatives include:
In 2011, we became the first law firm to partner with CareerTrackers Indigenous Internship program, which places Indigenous university students with corporate partner organisations for 12 weeks each year to help build skills and confidence for a career in the private sector. We have since hosted 49 interns across our offices nationally.
We are proud to highlight the First Nations Collective, an autonomous group established and endorsed by Indigenous staff members to unite, support and empower Indigenous voices at Herbert Smith Freehills.
Click here for more information about our Reconciliation Action Plan.
Despite many years of valuable work and progress, the tragic killing of George Floyd in May 2020 made us realise that we were not where we wanted to be as a firm, nor where we should be, in our ethnic representation or our progress in dismantling systemic racism.
After consulting across the firm, we established 10 action areas to improve representation, support and experience for its Black, First Nations, Asian and minority ethnic colleagues.
Our aim is to become an anti-racist organisation, and are committed to confronting the deep-seated inequities from which no society or business is exempt.
Herbert Smith Freehills' Regional Executives are responsible for ensuring these new commitments are acted upon across the firm's 27 offices. Each Action is backed by a plan and interpreted locally and regionally to reflect local challenges, cultures and legal nuances.