Hilti Graduate Programs & Internships
Welcome to Hilti. Our leading-edge tools, technologies, software and services power the global construction industry, including some of the world's most ambitious feats of engineering.
We have a unique working culture, made up of people from different backgrounds with a shared commitment to exceptional customer engagement. We employ around 29,000 people in more than 120 countries. Hilti has no active opportunities at the moment.
See who's currently hiring with our Job Search!
Search for jobs
"We passionately create enthusiastic customers and build a better future!"
Courage, integrity, commitment, and teamwork. These four values guide everything we do at Hilti. Our aim is to build a better future. By this we mean helping our customers to build faster, safer and be more daring, while all the time being mindful of the legacy we leave behind. We want to be proud of the mark we make on the world. Founded in 1941, we have a proud history built over 75 years and a worldwide reputation for pioneering products and first-rate service.
Everyday our technologies support awe-inspiring feats of engineering around the world – from the famous bullet train in Japan to metro tunnels deep under the largest cities on earth. We offer a 360 degrees service for construction – acting as a true partner for our customers.
At a glance
More than 29 000 employees worldwide
Based in over 120 countries around the work
400+ employees based in Australia
80% of all leadership/ managerially roles are filled internally
Globally each day, we have approximately 250,000 individual interactions with customers
Did you know?
In 2017 we ranked in the top 25 'World's Best Places to Work' and in the top 100 'Best Workplaces for Millennials'.
Our People & Culture
Our people are the foundations of Hilti and the driving force of our high performing yet caring culture.
We're passionate about the work we do and are committed in contributing to the success of a market leader; many of us have been with Hilti for 10, 15, 20 years! Our team live and breathe the Hilti core values everyday which is why the way we work and the decisions we make are mindful of the legacy we leave behind.
Direct Customer Model
We believe strongly in close and trusted relationships with our customers. We run a direct sales model, with around 15,000 of our Hilti team members working directly with our customers, worldwide.
We work closely with our customers online, on the phone and onsite. We also run our own string of Hilti Retail stores where the construction industry can buy Hilti products directly from our own stores. Our sales reps and field engineers go out onsite, helping to find solutions - whether it's choosing the right kind of nail or designing a rebar system for a major metro system. This all gets fed back to our design labs, so we know what's needed to create even better and more daring projects.
We Develop and Make our Own Products
At Hilti we know construction is full of challenges. So we're constantly working to find solutions to make working on site faster, easier and safer. We run our own research and design labs, with specialist scientists and engineers in-house. We also work with top technical universities worldwide to share research and push our boundaries even further.
We make our own Hilti products and run our own factories in Europe, Mexico, the USA, India and China. We also work with external specialist suppliers, making sure that everything we make conforms to the same very high-quality standards, both in-house and externally.
Grow@Hilti Graduate Program
Overview of Grow@Hilti Program
The Grow@Hilti Graduate Program is both structured and flexible - we offer an individualised development plan built into the program. Do you dream of one day managing a sales team? Or maybe you would like to progress into Engineering, Marketing or other functions. Either way the program is for you!
The program lasts for ~24 months, with the majority of your time spent working in the field as a Hilti Account Manager. You will undertake market leading training that will enable you to manage and expand a large portfolio of existing accounts whilst building relationships with core customers. To do this you will work closely with key decision makers to identify effective solutions for a wide variety of construction projects.
"As a Grow@Hilti Participant you will learn to sell, the Hilti way. You will enter an individualised program – aimed at equipping you with all the necessary skills and attributes to grow your career in Hilti."
At Hilti we pride ourselves on developing our people and as such, we will give you all the support you need to grow your career. You will have an individual development plan, career development and progression opportunities (not just in sales but in other business functions as well), and exposure to international projects through our Talent Advancement Program. Furthermore, we offer a flexible working culture and other great benefits including 5 weeks leave, a competitive commission structure, and a company vehicle.
What you need to know
Opportunities in Sydney, Melbourne, Perth and Brisbane
~24 month program working as a Hilti Account Manager 
Real responsibilities from day one - you will be empowered to drive growth and increase engagement
Mentoring from our senior leadership team
Individualised development plan with opportunities to progress locally, domestically or internationally in a range of functions.
Market leading training including 3 weeks of training at our regional head office in Singapore
Internal Development Centre ~12months into your Hilti journey to identify strengths to leverage and areas for improvement
Up to 5 weeks leave, annual salary, commission structure, company car, phone and laptop.
In most cases, the program will begin mid-January 2020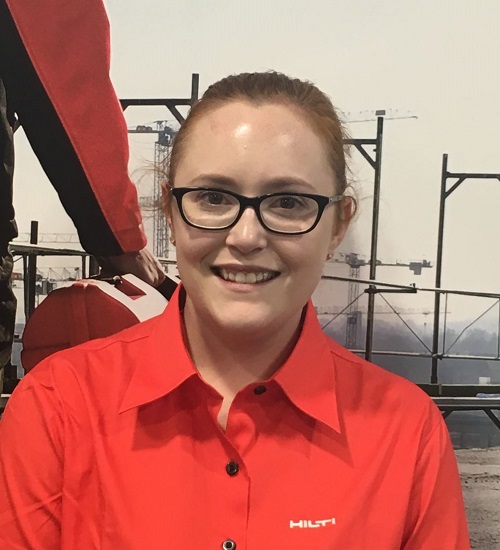 Jessica Dipalo
University of Wollongong
Double Degree in Commerce and Science
Why did you complete a double degree in Commerce & Science?
I completed a double degree. One was a Commerce Degree in which I majored in Human resource management and Marketing. I could not decide what major I was more passionate about so thought, why not do both! The second was a Science Degree majoring in Psychology. Psychology always fascinated me and was a perfect addition to my commerce degree.
Best Thing about working at Hilti?
Company culture, it is such a unique and positive company to work for. I had never come across such a culture until working for Hilti, and I can't think of any greater work environment to be a part of.
What attracted you to the Grow@Hilti Graduate Program?
Hilti's core values were aligned perfectly with my own personal core values. This tied with Hilti's positive stance on having a diverse workforce drew me to the company.
What advice do you have for graduates looking to join Hilti?
Be passionate and be yourself.
---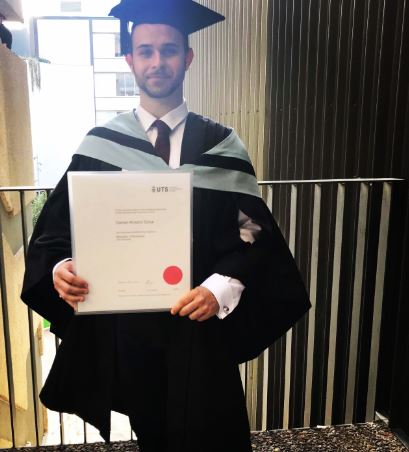 Darren Schai
UTS
Bachelor of Business Majoring in Management & Accounting
Why did you complete a Bachelor of Business?
Going into the degree I knew that the area of business is extremely broad, and the course catered for a whole range of components including finance, economics, management and accounting. In the first year I was able to experience a little bit of each subject and in subsequent years choose which areas to specialise in based on what I enjoyed and excelled at. It was this granted flexibility that initially sparked my interest as I knew I wasn't locking myself into one area of study from day one.
Best Thing about working at Hilti?
Without a doubt the focus on training and development. Spending the best part of the past six years in a learning environment it would be a shame for these types of challenges to suddenly stop. During my first six months at Hilti I have been pushed and tested in areas previously unknown to me, done so in an environment with a good balance of theoretical and practical learning.
What attracted you to the Grow@Hilti Graduate Program?
Initially I was drawn in by the reputation of Hilti as an employer within Australia. As I delved deeper, it became clear the opportunities for growth and career progression within the company are widespread.
What advice do you have for graduates looking to join Hilti?
Don't be hesitant because your first role within Hilti isn't closely aligned to your area of study. Be mindful that when working within a company that has a primary goal of selling products to the consumer, it is important to first understand both the product and consumer before any thought can be given to what comes next in your career. In doing so, your knowledge of the industry Hilti positions itself in will develop naturally and your abilities learned as a graduate shine for all to see.
---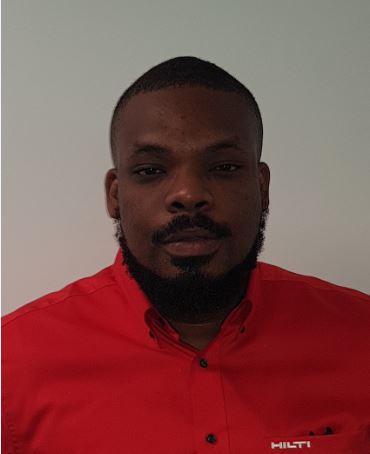 Ernest Udezi
University of NSW
Master of Engineering Science; Petroleum Engineering
Why did you study Engineering?
Growing up in a family of Engineers, I always wanted to be one too. I just wasn't sure what type I was going to be, so I looked up the one that paid the highest!
Best Thing about working at Hilti?
The people. There's a lot of support from everyone and you can feel like they really want you to succeed! The Red Cars are also pretty-cool!
What attracted you to the Grow@Hilti Graduate Program?
I was considering switching Industries and I wanted a new challenge in a company willing to give me opportunities to grow and build a long-term career. Also wanted a company who truly believed and acted their Core Values. 200 YouTube videos and Glassdoor reviews later, I found the company that ticked all my boxes - Hilti and applied for a role.
What advice do you have for graduates looking to join Hilti?
Great place to start your career if you want to be challenged and rewarded. Plus, everyone looks good in Red.
Ready to start your career with a global & innovative company?
1. Online Application
Look out for the current Grow@Hilti opportunities across Australia that matches your desired location.
Submit your online application including CV and cover letter
Answer the application questions, including confirming your working rights, your current notice period and other relevant information

Please note that only permanent residents and citizens will be considered for these roles
2. Video Interview
If your online application has been shortlisted, you will be invited to complete an online video interview via our video interview platform – Vieple. We will attach our Video Interview Guide to help you prepare and give you some quick tips. Essentially, this is a chance to get to know a little bit more about you, and our motivations for wanting to join us!
3. Online Testing
Hilti conducts online testing for all Grow@Hilti Graduate roles. If you are shortlisted from the video interview stage, you will then be invited to undertake online testing through our third-part provider, SHL. The testing tales roughly 1- 2hours and includes 3 different modules.
4. Assessment Centre
The next stage of the recruitment process will be a group assessment centre. If you are selected, you will be invited in for an assessment centre which will involve several group activities as well as the chance to have individual speed interviews with the hiring mangers.
5. Field Ride
If you are successfully shortlisted from the assessment centre you will be invited in for a half-day field ride. A field ride is a unique part of Hilti's recruitment process where you will spend a half-day with one of our senior Account Managers visiting customers and sites to experience what a "day in the life" would look like.
6. Face to Face Interview
Following on from your field ride, the final stage of the recruitment process will be a Face to Face interview with the hiring managers for the role you have applied for. The interview will be mainly behavioural-based interview questions, so come prepared to answer these questions, and bring some of your own to ask.
7. Offer
Once the recruitment process is complete, you will hear back from the team to update you on the outcome of your application.
Global Outperformer Program
Hilti Outperformer – Our Global Management Development Program
Hilti Outperformer is a two-year program. From the start, you'll be working with colleagues from around the world, gaining exposure to senior management as well as your own personal mentor. This means joining meetings with board members and attending global summits as part of a high-performing team. You'll be given a variety of roles, learn about meeting the needs of our demanding customers and get involved with some high-profile, business- critical assignments. You'll also do a program at IMD business school in Switzerland and take part in a life-changing social project.
During your program, we'll prepare you for a global leadership career through a variety of fascinating courses and events:
Leadership development program – a comprehensive learning journey with IMD business school in Lausanne, Switzerland, designed to expand your thinking about Hilti and your role as an emerging leader. Covering a wide range of modules, like Strategic Thinking, Finance, Execution and Global Leadership, it's a combination of online, classroom and outdoor training - some individual and some in teams - with a qualification from IMD.
Business management training – individual training at Hilti. A focus on behavioural profiles, personal strengths, leadership styles, communication skills and presentation tools.
Global summit – 4-5 days at our global headquarters in Liechtenstein. A look at the way global business units function, both independently and cooperatively, as well as soft skills like situational leadership, international teamwork, networking and culture.
Social project – 7-8 days 'building a better future'. A hands-on community project like our recent house building in Bosnia. Between laying bricks, you'll learn how catastrophes such as war, famine and natural disaster can affect people and business in a region.
Throughout your program, you'll discuss your next roles and locations with your mentor and regional program manager. This way, you'll get the best possible exposure and understanding of the business.
What you need is:
You've recently graduated, or you're preparing to graduate, with a Master's degree in: Economics, business administration, international management, engineering, marketing or finance for the Business Track Engineering (mechanical or electrical, civil or industrial, aeronautical or materials science) for the Technical Track Logistics or supply chain management for the Logistics Track
You're ambitious for a career in global senior management.
You are a multilingual talent, fluent in English and at least one other language.
You have gained international experience through your work or studies and have spent between 3 months and 2 years in a professional environment.
You're mature and assertive, curious and dedicated.
You're a flexible team player, with good communication and social skills, and you can inspire others.
You're a global thinker, keen for diverse cultural experiences and the opportunity to work abroad.
Overview of Benefits & Perks
Recognition
We believe strongly in recognising our employees for their efforts. Hilti has a number of benefits aimed at recognising employee for these amazing efforts such as Outperformer vouchers and a candidate referral bonus.
Work/Life Balance
Hilti understands that work/life balance plays a major role in a successful organisation. We offer a number of leave entitlements that go above the Fair Work requirements such as recreation leave, parental leave and compassionate leave. Hilti is one of the few companies that offers leave loading of 17.5% while you are on annual leave
We also offer our employees flexible work arrangements such as part-time, sabbatical and work from home.
Health & Wellbeing
The health and wellbeing of our employees is paramount. Hilti offers a number of Health & Wellbeing benefits to ensure that our employees are looked after. Some of these benefits include our Employee Assistance Program and salary continuance.
Staff Discounts
Hilti offers employees a number of discounts including Hilti product discounts and a range of other leading brands such as HP, Ford and NIB Insurance.