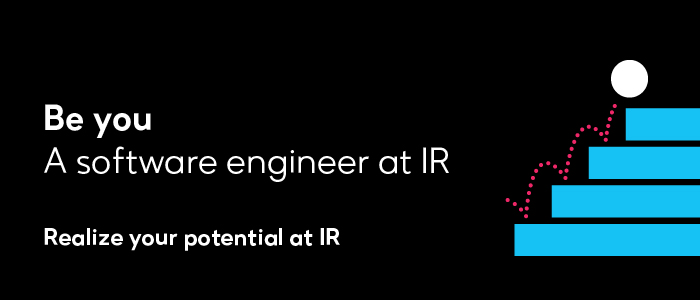 IR Graduate Programs and Jobs
 Are you ready to join a company where your thoughts; ideas and experiences are welcomed, valued and rewarded? Our business grows and evolves with the markets over time, we will take you on a journey where you will continuously be discovering new skills, expanding existing ones and contributing to new innovation.
IR currently has 0 opportunities.
Select the following options:
Be you realize your potential at IR
Are you ready to join a company where your thoughts; ideas and experiences are welcomed, valued and rewarded? Our business grows and evolves with the markets over time, we will take you on a journey where you will continuously be discovering new skills, expanding existing ones and contributing to new innovation.
Come as you are and work with us to unleash your potential to be a great software engineer. After all, isn't that what all those years of study and hard work were for? Don't miss out your chance to work for a company that is a recognized technology leader, a company where you can make your mark, right now.
We are a leading global provider of proactive performance management software for critical IT infrastructure, payments and communications ecosystems. Trusted by Fortune 500 companies to keep their businesses running, IR Prognosis software provide business-critical insights and ensure continuity-critical systems deliver high availability and performance for millions of their customers across the globe. Read more at www.ir.com/about-us
Be part of it, - How does it sound to be a part of team that enables the world's payment hubs to perform, banks to manage fraud and risk, or for a country's most critical services like utilities, hospitals and transport keep performing? 
Every second millions of critical systems and networks keep the world ticking. And every second, thousands of teams work tirelessly to maintain order but the threat of a problem is never far away. We make sure these systems run at their best and predict vulnerabilities before they arise. Here at IR, you will be a part of a team that will keep the world turning!
Be global - With more than 1000 customers in over 60 countries—including some of the world's largest banks, airlines and telecommunication companies you will have your chance to work with great organizations whether they're across the street or on the other side of the worldt. Also when the time is right, if you want to move globally, IR makes it possible with career paths available within Australia and our overseas offices in the US, Europe and Asia Pacific.
Be social, - At IR, we like to enjoy whatever we do and our culture shows it! Here, we have a very dynamic work place where you can work and have fun at the same time. Love sports? We have plenty of sport teams from soccer to cycling for you to join. We also have a very diverse community of people here and love to celebrate cultural events. Whatever your interest is, you will be a part of great culture and community here at IR.
At IR, we love hearing our employees' voices. They give you the best insight we can get about us and what we do. Let's hear what Thuan says about IR and his experience!
Tell us about yourself and how long you've been in your role
My name is Thuan and I am a graduate software engineer at IR. I've been in my current role since January 2014 but back in 2012/2013, I completed my university internship here at IR.
Why did you choose to join the IR Graduate Program and how did you secure a place?
 I had such a nice experience during my internship I decided to pursue a position at IR. I was lucky enough to be offered a place on the graduate program right after I gained my degree, as a result of my work during my undergraduate placement year.

Talk us through a 'day in the life' of Thuan Ngo.
I love the start of a day at IR; gathering with my team mates at our lounge area and having brekkie over a chat.  Then we get to business!  .On a day-to-day basis my role involves learning our product suite through team rotations and contributing fully to team commitments. First thing in the morning, I check the progress of my team project and then throughout the day I work closely with my team mates; have meetings and whiteboard updates as well as casual discussions about the projects. 
I am also volunteering on a top secret project at the IR Graduate Program Committee which is aiming to open up our doors to brand new interns and graduates.
What have been the favorite parts and the highlights of your job so far? 
What I enjoy most is the freedom and flexibility of my work. The agile environment at IR makes it really easy and convenient to collaborate, communicate and share knowledge! So every day I can learn a little more from the experience of others, as well as sharing my own ideas without the hassle of formality. I also love having the chance to work on innovative projects; they are definitely more challenging but the joy of achieving something difficult is priceless. 
The highlight of my career so far would probably be being part of the team that worked on an innovative project for Visual Studio 2013 last July. I was working on every aspect of this project from building the system to migrating data, as well as ensuring a seamless transition to the new system for the whole department. It was hard work, but I learned a lot and the results were great! Definitely worth it! I was even nominated and selected "Employee of the Month" in the month following.
What advice would you give someone looking to start their career in software engineering? 
Be passionate and love what you do. Technical skills are important but you can always learn and improve during your career. Go to career events and pay attention to the business. These events provide great opportunities to learn more about the companies. Your aim should not be finding a company to work for; it should be finding THE COMPANY that fits your skill set and values so you can feel the joy of working and learning. 
Are you the type of candidate we're looking for?
At IR we are looking for high-achieving graduates looking to start their career, as well as interns who are available to participate in a six or 12 month placement as part of their degree.
The suitable candidates will:
Be a citizen or permanent resident of Australia or New Zealand, or otherwise eligible to live and work in Australia.
graduating from, a Bachelor level degree or higher in Computer Science, Software Engineering, IT, or similar
Be without significant professional software engineering experience
Be an academic achiever with  excellent results and a sound understanding of computer science and programming theory
Be a high performance individual who works well in a team
We accept international students
IR accepts international student applications for our Graduate Program who have not yet obtained their Australian permanent residency.
To be eligible to apply, candidates will need to demonstrate their:
ability to obtain permanent residency under the Skilled Independent visa (subclass 189)
legal right to work in Australia up until such time that permanent residency is granted.
We will also accept applications for graduate employment if you currently hold the Skilled – Graduate (Temporary) visa (subclass 485), provided that you can score at least 60 points on the points test.
IR will not sponsor any students for the purposes of residency. Successful candidates who are not permanent residents when made an offer of employment will be required, as a condition of their prospective graduate employment, to independently apply for and obtain permanent residency.
Information obtained during the process of assessing your eligibility to apply for graduate employment with Integrated Research will not be used in any way other than determining your suitability to apply for and obtain permanent residency to work in Australia.
Only applications from international students that meet the above criteria, and therefore qualify for permanent residence after graduation, will be accepted. At IR we are a proud equal opportunity employer.
If you are interested and as excited as we are by this great opportunity, apply today at ir.com/careers.