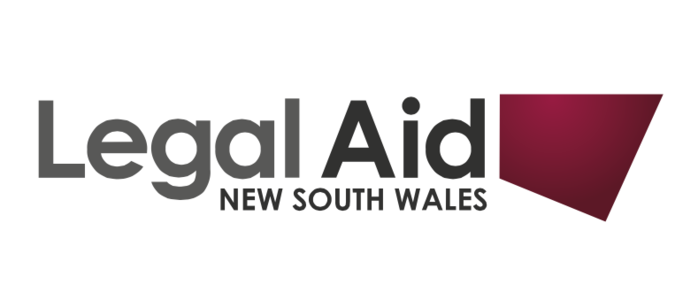 Legal Aid NSW Graduate Programs and Jobs
Legal Aid NSW is an independent statutory body, funded by state and federal governments, which provides legal services to disadvantaged clients across NSW in most areas of criminal, family and civil law, including free advice in about 250 locations.
Legal Aid NSW currently has 0 opportunities.
Select the following options:
Legal Aid NSW is a state-wide organisation providing legal services to socially and economically disadvantaged people across NSW. In less than 100 years, Legal Aid NSW has developed from a small charity to a leading provider of legal services to disadvantaged people. Many of our clients experience disadvantage due to language or literacy barriers, illness, disability or geographic isolation. A high number are on Commonwealth benefits.
The practice areas that Legal Aid specialises in are: housing law, consumer law, discrimination law, social security law, immigration law, mental health law, guardianship law, veterans' law, legal help for victims of natural disasters, criminal law, family law, children's law, law reform specialist services. Legal Aid has three divisions.
Our Criminal Law Division provides quality legal advice, representation and minor assistance in criminal courts and in each jurisdictional level across the state.  These services include specialist advice services provided by our Children's Legal Service, Prisoners Legal Service, Adult Drug Court of NSW and Commonwealth Crime Unit. We provide advice to people in custody, and representation to persons appearing charged with serious criminal matters in the Local, District, Supreme Courts, even the High Court of Australia.
Our Family Law Division provides legal advice, information, minor assistance, duty services, dispute resolution and case representation in family law matters, including child support and care and protection matters, at many locations throughout NSW. Our team has a strong presence in mediations, care and protection services and a strong focus on domestic violence throughout the organisation and through the specialist Domestic Violence Unit.
Our Civil Law Division helps people resolve legal problems related to housing, employment, debt and Centrelink problems, as well as tackling discrimination, consumer issues, fines, human rights and much more. We provide state-wide services helping clients with these issues, and have specialist teams dedicated to issues including Mental Health, Employment Law, Immigration and Veterans Affairs. 
Legal Aid NSW prides itself on its commitment to contributing to law reform, providing community legal education and to generally improving access to justice. We employ approximately 1000 staff, have about 250 outreach locations throughout NSW and have offices in 24 locations across the state including:
Bankstown, Blacktown, Burwood, Campbelltown, Central Sydney, Fairfield, Liverpool, Parramatta (Marsden Street), Parramatta (Phillip Street), Penrith, Sutherland, Coffs Harbour, Dubbo, Gosford, Lismore, Newcastle (Bolton Street), Newcastle (Hunter Street), Nowra, Orange, Port Macquarie, Riverina Murray (Albury), Riverina Murray (Wagga), Tamworth, Wollongong
Legal Aid NSW believes that people are at the heart of all our services. Some of the many ways that we do this are to offer attractive employment conditions, flexible working arrangements, a range of family friendly policies and opportunities for professional development. Legal Aid NSW is an equal opportunity employer. We value diversity in our workforce and in our workplace.
We have an ongoing professional development program for staff which is also available to our partners and we promote the health and safety of our staff.
Other Opportunities: The Judge Bob Bellear "Legal Pathways" Program
Legal Aid NSW
---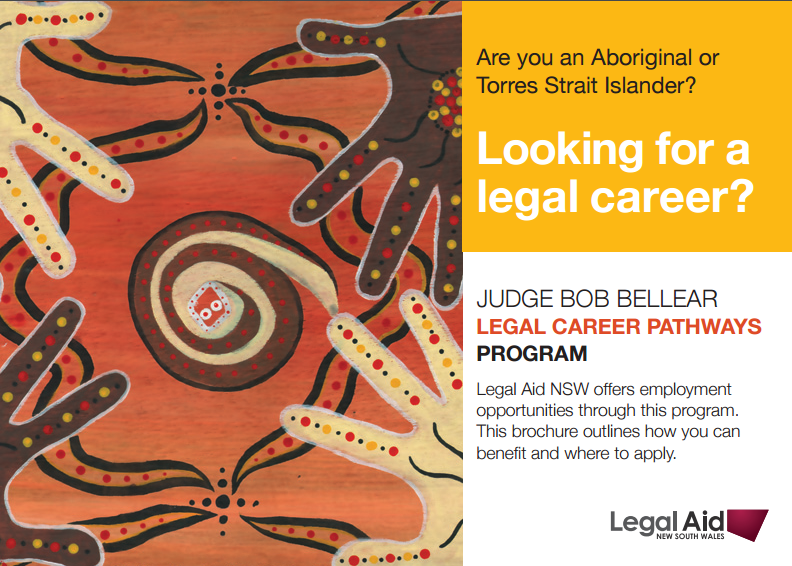 The Judge Bob Bellear 'Legal Career Pathways' Program was established in 2007 and is administered by the Aboriginal Services Unit within Legal Aid NSW. The program offers: 
Scholarships for Aboriginal secondary school students to help continue their studies beyond year 10 and complete the Higher School Certificate with a view to embarking on tertiary education.
Cadetships program for Aboriginal law students for full-time undergraduate law students to provide support in obtaining a law degree through financial assistance and a paid work placement of 12 weeks each year.
Professional Legal Placements program which enables law graduates to complete their practical legal training to gain admission into legal practice; and provides subsequent temporary employment to gain further work experience.
Career Development program for Aboriginal law graduates. This program involves a two year placement in two legal practice areas for law graduates who have completed Practical Legal Training and whom are eligible for admission into legal practice.
Identified positions for recruitment of an Aboriginal person or Torres Strait Islander, including Legal Officers, Legal Support Officers and other administrative positions.
Support for the program is provided by the Aboriginal Services Unit including:

An Aboriginal Staff Network
Aboriginal Cultural Awareness Training for all staff 
To learn more about this program please visit the Legal Aid website
Testimonials
Legal Aid NSW
---
Young graduate, Kirsten Cheetham says:
"I commenced my cadetship with Legal Aid in late 2008. It allowed me to focus more time on my studies and not worry about having to work two jobs or paying for bills and uni fees. I found that I had great support at Legal Aid NSW, and had the opportunity to get a taste for different areas of practice.
Without it, I probably wouldn't have become a lawyer until much later on in life, as most agencies that offer the cadetship program are usually in the areas of health and social policy. The Bob Bellear Program is a great legacy to a great man, and will lead to what I am sure will be a new generation of Aboriginal lawyers."
See more testimonials below:
Tania, a city lawyer enjoys diversity
"Working with Legal Aid is a continuing challenge. With each day comes a new client, a new matter, a change in legislation. It is this diversity that not only ensures our professional progression and inspires our devotion, but will also ensure Legal Aid – and those dedicated to represent it – will forever have a place in the criminal justice system."
It's about integrity, says Mark who works in a metropolitan office
 "I may not 'win' every day, but it's not about 'winning'. It's about my duty to my client, my duty to the court, being ethical and professional in my practice, and acting with integrity."
A regional office is an exciting workplace, says Robert
"Working in this profession and trying to make a difference makes me feel my job is worthwhile.  The very difficult cases are often shunned by the system and trying to deal appropriately with the most marginalised of persons is what creates the greatest challenge.
It is a really exciting workplace and I look forward to what has been so far and what no doubt will continue to be a remarkable and memorable experience."
Alex worked for Legal Aid NSW in an administrative role before becoming a lawyer
"I've always loved the social justice aspect and client contact that has been part of my job with Legal Aid.  My position at Blacktown allows me to assist clients in a more comprehensive way and it is very gratifying to feel that your job might make even a small difference in a person's life."
Melissa enjoys the challenge
"Exposure to the hardships of our clients provides us with a unique perspective into the lives of those less fortunate than ourselves. It is this perspective that fuels our passion and desire. It gives us the drive to continue to pursue such a challenging role."
Our senior managers share the passion of their staff
"Legal Aid NSW has the people it serves at the heart of everything it does." Director
Administrative staff provide essential support and share the sense of purpose
"We are so fortunate to work in a good team environment and to be dealing with helpful private sector staff and partner agencies. I wanted to enjoy my work and feel like it's important and to make some sort of a difference to people's lives. I consider myself lucky because I found exactly what I was looking for at Legal Aid and with each passing year, that sense of purpose has just got stronger and stronger."  Susan