McGrathNicol Graduate Programs & Internships
Past McGrathNicol Graduate Hiring Statistics
If you're interested in working at McGrathNicol, understanding when they have opened up applications for their graduate programs, graduate jobs and internships is helpful knowledge to have so you know when you might need to apply. Use the below information to see when McGrathNicol hires graduates, but more importantly what graduate degree's and other student attributes they target for their jobs.
---
Job types
Internships (71%),

Graduate Jobs (29%),
Disciplines
Accounting (68%),

Banking and Finance (6%),

Business and Commerce (68%),

Computer Science (32%),

Consulting (6%),
Work rights
Australian Citizen (100%),

Australian Permanent Resident (85%),

New Zealand Citizen (85%),
McGrathNicol is a specialist Advisory and Restructuring firm. Our experts work with corporates, banks, law firms, private companies and government across all industry sectors and business sizes to deliver valuable advice and high-quality outcomes. Our clients trust us with the most important aspects of their business.
Our Restructuring projects vary in nature and involve dealing with businesses in financial distress. We help restore stability and deliver value. Our Advisory team focus on helping non-distressed organisations improve performance by mitigating risk, managing change and achieving growth.
Graduates and Summer Vacationers at McGrathNicol have the opportunity to gain exposure to the variety of challenges faced by Boards, CEOs and senior management.
Our people are passionate, driven, inclusive and collaborative. Continuous development is engrained in our culture and we have robust development and reward frameworks in place to support progression and generously compensate our employees.
As a Vacationer or Graduate you will receive formal technical and soft skills training, as well as mentoring on the job. We offer a unique opportunity to work closely with senior staff and Partners, learning from some of the best in the industry. Our Graduates also receive full support to complete further industry related study, or post-graduate qualifications such as the Chartered Accountants Program.
At McGrathNicol your success is ours, and ours yours.
Summer Vacation Program
McGrathNicol
---
Our Summer Vacation Program is open to students in their penultimate year of study.  Running for four weeks and commencing in either November or January, the program will provide you with real commercial experience across a variety of different projects and industries.  During your time with us, we aim to give you as much exposure as possible to out service offerings.
You will be assigned a Buddy, Time Manager and Counselling Manager during your placement, responsible for providing you with a variety of interesting work, as well as general support and guidance.  We have a unique offering in that you will also have the opportunity to shadow Partners, participate in networking events with clients and attend social functions.
High performing Vacationers may be offered a full-time Graduate role.
Graduate Program
McGrathNicol
---
Applications to our Graduate Program are open to students in their final year, or those who have graduated within 18 months of the program start date.  Working alongside some of the industry's most respected leaders, you will gain real world commercial experience and be challenged to think laterally to implement pragmatic solutions on high profile engagements.
Our Graduate Development Program is expertly designed to provide you with the technical knowledge required, as well as improving essential soft skills such as personal productivity and professional interactions.
Graduates generally commence in February of each year, however midyear commencement dates and/or casual employment may also be available throughout your university semester.
Graduate Development and Progression
McGrathNicol
---
If you join us as a Graduate, you will complete our specialised Graduate Development Program (GDP).
The GDP begins in your first week with a local induction to orient you with the necessary information and key people to assist you as you settle in. In your second month, you will attend a national in-house training program, which covers both technical and soft skills content, as well as team building and social functions to network and build relationships with both McGrathNicol employees and Partners.
Your professional development continues as you complete regular additional technical and soft skills training, alongside completion of the Chartered Accountants Program or other qualifications, as appropriate. 
Chartered Accountants Program
Graduates in our Advisory and Restructuring program will be offered comprehensive support to complete the CA Program, including:
payment of all module fees and textbooks;
attendance at additional lectures and tutorials;
external exam assistance days; 
access to detailed study notes and guides;
paid study and exam leave; and
national study groups as you progress through the program alongside your peers.
Postgraduate study support
Your development remains a priority as you progress throughout your career.
We partner with a number of leading external providers and internal subject matter experts to ensure you continue to develop as a well-rounded professional and achieve your personal and professional goals. We offer financial and study support for postgraduate courses and continued development through leading professional bodies.
Applications to our Summer Vacation and Graduate Programs open on 22 February 2021. For more information, please visit our site.
Your Application
McGrathNicol
---
Which Program am I eligible to apply for?
To be eligible to apply for our Summer Vacation Program, you must be in your penultimate year of study.  Our Graduate Program is open to students in their final year, or those who have graduated within 18 months of the program start date.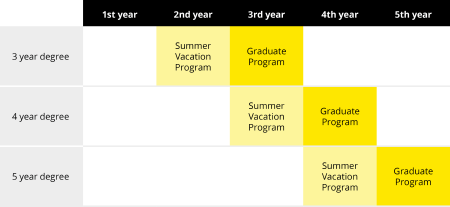 Our Advisory and Restructuring programs are open to business or commerce students majoring in accounting, economics or finance.  
Our Technology programs are open to students completing a STEM or IT related degree, with an interest in digital forensics, cyber security and data analytics.
For all programs, you must be an Australian or New Zealand Citizen, or Australian Permanent Resident at the time of submitting your application.  To be eligible to apply for a role in our Canberra office, you must be an Australian Citizen.
For a detailed insight into the typical tasks of our Graduates, we recommend you complete our Restructuring or Technology virtual experience via InsideSherpa.
When do applications open and how do I apply?
Applications for both our Graduate and Summer Vacation Programs open in February and close in March of each year.
As we predominantly recruit for our Graduate Program through the Summer Vacation Program, we encourage you to think about your career and aspirations early and apply to join us in your penultimate year of study.
To submit your application, visit mcgrathnicol.com/students.
Meet the Team
McGrathNicol
---