nbn Graduate Programs & Internships
nbn is the team behind the design, build and operation of the nbn™ broadband access network. Working for nbn, you'll be part of one of the largest technology infrastructure projects Australia has seen providing you with loads of opportunities, great flexibility, and a collaborative culture. Building the access network is just the beginning, we are looking for future leaders like you who will run the access network and help to deli…
View more nbn has no active opportunities at the moment.
See who's currently hiring with our Job Search!
Search for jobs
nbn is the team behind the design, build and operation of the nbn™ broadband access network. Working for nbn, you'll be part of one of the largest technology infrastructure projects Australia has seen providing you with loads of opportunities, great flexibility, and a collaborative culture. Building the access network is just the beginning, we are looking for future leaders like you who will run the access network and help to deliver a world class customer experience for our partners and end users. You'll work with inspirational leaders and innovators in their field, take on engaging and exciting work, and seek imaginative solutions to new questions every day.
We are dedicated to providing Australians with access to the benefits of fast broadband. But the nbn™ access network is so much more than access to fast internet. A state of the art communications access network can help to open up a world of possibilities in areas such as education, business, innovation, healthcare, flexibility, and entertainment. It will help ensure our digital future and is designed to give Australians the opportunity to be productive, creative, efficient and connected – benefits we can hope to enjoy for decades to come.
At nbn, we look to all our team members to display traits including integrity, inclusivity, collaboration, innovation and passion. Working for nbn, you'll be part of the team who are providing Australia with the infrastructure needs to help to compete in a fast paced global market place. Recognising that Australians are entitled to access to fast speed internet, you'll be helping to open up opportunities for our fellow regional Australians as we continue to help bridge the digital divide.
About Our Graduate Programs
Inspire your career with tailored rotations. Collaborate with championship teams. Connect Australia.
The nbn Graduate Programs are a tailored, rotation based program. Our aim is to inspire graduates with exposure to a range of stimulating and varied roles across a number of business areas within nbn.
Business

As a graduate in the eighteen month business program, you will have the opportunity to experience three different roles across the business, with a six month rotation in each business unit.

We endeavour to specifically match your roles to your area of study and career interests, providing exposure to various areas of the business and the opportunity to further your understanding of the organisation.

Technology

The eighteen month technology program provides you with the ability to hone your craft through three different six month rotations within the organisation.

Throughout these rotations, you'll gain valuable experience in different technologies allowing you to build your knowledge of the network and business.

Opportunity
As a graduate at nbn, you'll have the opportunity to work for a national company with highly regarded professionals, enabling you to develop a varied skillset in a dynamic environment. It's the perfect launching pad for our new generation of future leaders and innovators.
And most importantly you'll be playing a part in bringing one of Australia's largest infrastructure projects to life.
Graduate mentors and support 
We are one team, and passionate about supporting your success. Once you join our program, you will be paired with a Senior Business Leader who will support your ongoing development. This Senior Business Leader will not only mentor you throughout your program, but will act as an invaluable point of contact and knowledge.
They will also identify areas for professional growth, review your strengths and opportunity areas, assist you in broadening your network, and ultimately launch your career with nbn. We are a true believer of championship teams; therefore, your mentor will be from outside of the academic stream to assist with diversity of thought and experience.
You'll also have a champion to support you through the program. Your champion will be a supportive contact within your sponsoring function with a similar background to your career aspirations. A great point of contact for subject matter expertise and advice – they will help to tailor your rotations to the talent needs of nbn.
Our Graduate Team will also offer support, helping to guide you through every aspect of the Graduate Program.
Graduate learning and development
Spark your curiosity with a learning and development program – specifically designed to support your on-the-job learning and to help guide you on the path to becoming a future leader/innovator. Together with your mentor and rotation manager you'll have the opportunity to build a personal development plan that will help you improve your performance and effectiveness on the job. It will also help in preparing you for future career opportunities within nbn.
In addition, throughout the program you will take part in numerous purpose built graduate workshops, and participate in regular networking opportunities with your graduate cohort. Most importantly you will have the opportunity to practice the skills you've learnt on the job every day.
Your learning and development is very important to us. We will continue to support you after you have successfully completed the Graduate Program with a clear career plan as you rise through the ranks at nbn.
Interested?
Interested in contributing to Australia's future? We're looking for outstanding individuals who can grow into future innovative leaders. To be eligible for the nbn Graduate Program you:
Will have completed an undergraduate degree in the past two years or are due to complete your degree prior to commencement.
Must be an Australian or New Zealand citizen or Australian permanent resident when you apply.
In addition you will be able to demonstrate your ability to:
Collaborate
Communicate effectively
Deliver results
Manage ambiguity
Demonstrate self-awareness
Manage complexity
Plan & Align
Be a self-starter
Note: Each academic discipline has a unique page, the below quotes will vary pending the academic discipline and the program information above will remain consistent.
Accounting
"The nbn™ Graduate Program has provided me with the flexibility to discover and explore alternative career pathways, as well as the opportunity to learn from those who have accumulated decades of experience in their chosen field." Bei, 2015 Finance Graduate
Science (Information Technology)
"What hooked me on my first few days was the realisation that I would be part of one of the most ambitious infrastructure projects in Australia." Joshua, 2020 Science (Information Technology) Graduate
Sales and Marketing
"Starting my career as a graduate at nbn has been rewarding in more ways than one. The variety of roles that the program has provided us with has been phenomenal! We've been able to work on exciting projects that span across business functions, collaborate and liaise with customers and industry partners, accelerate and grow our careers through various learning and developing opportunities, and so much more." Michelle, 2017 Commerce & Marketing Graduate
Telecommunications
"The nbn graduate program provides a unique and specifically tailored development opportunity to strengthen areas of my interest and bring out the best in me as an individual."  Lachlan, 2017 Telecommunications Engineering with Science Graduate
Business and Commerce
"In my first week of the nbn™ Graduate Program, I was surprised to find that I would be given responsibilities straight away and that my work had contributing value. The tasks I do now enable my team to perform well whilst simultaneously act as building blocks in developing my skills and knowledge. I have also loved learning about the people I work with. I now realise that work is more than just work; it is a community of people from different backgrounds, cultures and skills working together to build a brighter future." Joshua, 2018 Commerce Graduate
Engineering
"Our orientation was really welcoming and it was great to hear about all the different business units at nbn, and to see how passionate everyone is about working here." Sarah, 2019 Engineering, Advanced Manufacturing & Mechatronic Graduate
Commerce
"During orientation I felt immediately connected to a meaningful purpose and to a group of people who genuinely supported me and my career." Lucy, 2019 Commerce Graduate
The nbn graduate recruitment journey is a step by step process to allow you to get to know our organisation and understand the Graduate Program in more depth. The process is also designed to ensure that we effectively identify, match and understand your knowledge, skills and capabilities.
You will be asked to partake in the activities detailed below as part of our selection process:
Apply Online
Applicants will need to apply online for the 2022 Graduate Program. Before you begin your application, ensure that you have your resume, and academic transcript ready. The application form asks you for several written responses, most importantly, why you would like to work for nbn. You will be asked to select the business unit you'd like to join relevant to your degree.


Online assessment
Successful applicants will be invited to complete an online assessment.
This can be completed at home or wherever you can log in online.


Digital Interview
If successful, you will be asked to complete a digital interview; this is your time to shine. Answer specific questions about your interest in joining nbn, your skills and experience


Attend an Assessment Centre
Applicants that reach this stage will be invited to attend an assessment centre. This is an opportunity to learn more about nbn, the Graduate Program and for you to demonstrate your skills. Be prepared to participate in presentations and group activities with other candidates and current graduates on the day.


Interview
As part of the assessment centre day, identified candidates will be invited to interview with business leaders to expand on their experience and demonstrate key skills and behaviours.


Background Checks
If successful following the interview, candidates will progress to background checks.


Offer
If you are successful through all steps of the selection process we will present you with an offer of employment. We will stay in contact with you from here and up until your start date.


Staying in touch throughout the process
We will stay in contact with you each relevant step along the way. Make sure you check your registered email address regularly and if you change your email address don't forget to update it on your online profile. If you are unsuccessful at any stage throughout the recruitment process, we will let you know.
Diversity & Inclusion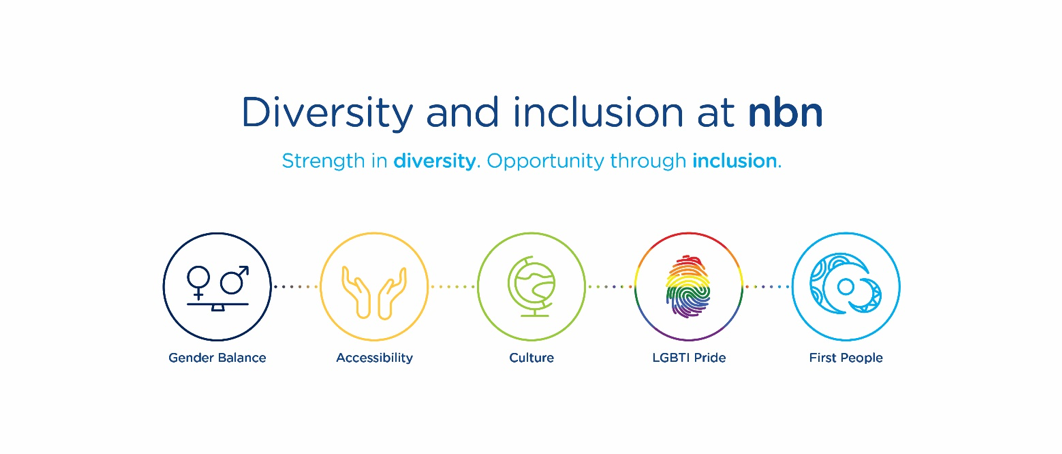 Ours is a continuously evolving culture that seeks and celebrates diversity. We understand the value of a truly inclusive workplace in which everyone can feel encouraged to contribute and reach their full potential. From customers to employees, we believe in supporting and inspiring each member of our nbn community.
Employee networks
We have visible and active employee networks to connect and support our staff across all areas of the organisation. Specific networks exist for Gender Equality, Cultural Diversity, LGBTI+ Pride, First Peoples and Accessibility. Our networks aim to inspire and engage our people and promote inclusion across nbn.
Gender Equality
Our goal is to ensure equality of opportunity for both women and men to flourish and succeed. By proactively breaking down barriers, challenging bias, and building a culture of inclusion we're constantly working to ensure all employees have equal opportunity to develop and succeed in their career at nbn. We are focused on increasing the representation of women across the business. This is supported by organisation-wide initiatives including:
Clear gender targets with ongoing performance of these targets published in our annual report
Identifying and developing emerging female leaders and high-potential talent across all business areas
Women's career development, mentoring and sponsorship programs
nbn™ Equals network for employees to connect, learn and share experiences
Strong focus on achieving and maintaining Gender Pay Equity
Opportunities for flexible working arrangements for all employees
Unconscious bias and inclusion training for all employees
External relationships and partnerships to build our female talent pipeline and support women into STEM careers


Cultural Diversity
We're creating a workplace in which all employees are given the opportunity to comfortably explore, express and celebrate their culture and identity, and that of their colleagues. We regularly come together to celebrate days of cultural significance including Harmony Day, Eid, Diwali and Chinese New Year and seek other opportunities to share and celebrate stories across nbn about the rich cultural diversity of our people. Respect for different cultures is a cornerstone of fostering our inclusive workplace.
LGBTI+ Pride
Ours is a workplace that strives to connect, support and celebrate awareness of Lesbian, Gay, Bisexual, Transgender, Intersex (LGBTI+) employees and their allies.
We are actively building a culture that ensures everyone feels safe and comfortable to be their true and authentic selves at work each day. We are doing this through LGBTI+ inclusive people policies, our LGBTI+ inclusion eLearning module and celebrating days of significance such as International Day Against Homophobia, Biphobia & Transphobia (IDAHOBIT).
We have an active and growing nbn™ Pride network to connect and support our staff. Our LGBTI+ inclusion efforts were recognised at the Australian Workplace Equality Index Awards 2020 where we received Bronze Employer Status.

First Peoples
Our vision for reconciliation is to connect communities across Australia, where Aboriginal and Torres Strait Islander people share equally in the benefits of the nbn™ broadband access network. We strive to develop cultural competence across the organisation with respect to our First Nation Peoples. 
At nbn we are proud to have created our third Reconciliation Action Plan (2018 – 2020)(RAP) with Reconciliation Australia. Introduced in October 2018, our third RAP has an increasing emphasis on community engagement, building and encouraging collaboration, increasing employment and procurement opportunities. This is a key element in our continued desire to incorporate the appropriate recognition and respect of Aboriginal and Torres Strait Islander Peoples and their cultures into the way we operate each day.
We have launched our Liakukana ("lee-ah-kooh-kâh-nah") community to bring together our First Peoples representatives and allies who are helping to deliver our RAP.
We are also supporting First Peoples staff and communities through our Liakukana Employee Connect series and Reconciliation Awareness eLearning modules. We are delivering Cyber Safety awareness to First Peoples schools and, through our Delivery Partners, are focused on hiring First Peoples staff and using indigenous suppliers.
Accessibility
At nbn, we are committed to creating an inclusive and accessible workplace, free from barriers where people with disability can feel safe, welcome and empowered.
nbn has launched its Accessibility and Inclusion Plan 2019-2021. This Plan is designed to ensure that people with disability feel valued, supported and included in our organisation.
A key part of our commitment is our partnership with the Australian Network on Disability. Through this partnership with expert advisors, and through listening to our employees we are continually striving to understand the needs of our people and to improve the accessibility of our workplace for all.
We care about making the nation a better place.
Beyond the roles we perform every day to help lift the digital capability of Australia, we all have skills, knowledge and experience to make a difference to those in need.
Whether it's mentoring disadvantaged high school students, improving someone's digital literacy or lending your professional capabilities and knowledge to community groups who need it most – there's a world of difference you can make.
nbn's Corporate Social Responsibility program works within the organisation to provide opportunities for our people to contribute to our purpose beyond their day to day work through;
Volunteer Leave: All eligible full-time and part-time nbn employees are entitled to one day per annum paid volunteering leave to participate in our partner programs or through opportunities available on our Volunteering platform.
Volunteering and Mentoring: Our partnerships provide programs for our people to participate as teams or individuals in a variety of volunteering and Mentoring activities
Payroll Giving: Our payroll giving platform allows you to help a charity of your choice with donations that are deducted pre-tax from your salary
Fundraising: In times of hardship we are there for Australian communities through targeted fundraising initiatives that complement our emergency response approach to provide critical connectivity to our access network.


Our Community Partners
nbn partners with a number of organisations to build digital capability and career skills in the community and within the youth segment. Our community partners include;
ABCN brings schools and business together to address educational disadvantage through structured workplace mentoring and business/school partnerships.
Landcare Australia is a national not for profit that supports thousands of Landcare groups, landholders, farmers and Traditional Land managers with funding opportunities for environmental conversation and sustainable land management projects in their community
WorkVentures – inspiring social inclusion through technology


Visit our website to learn more about our approach to Corporate Responsibility.