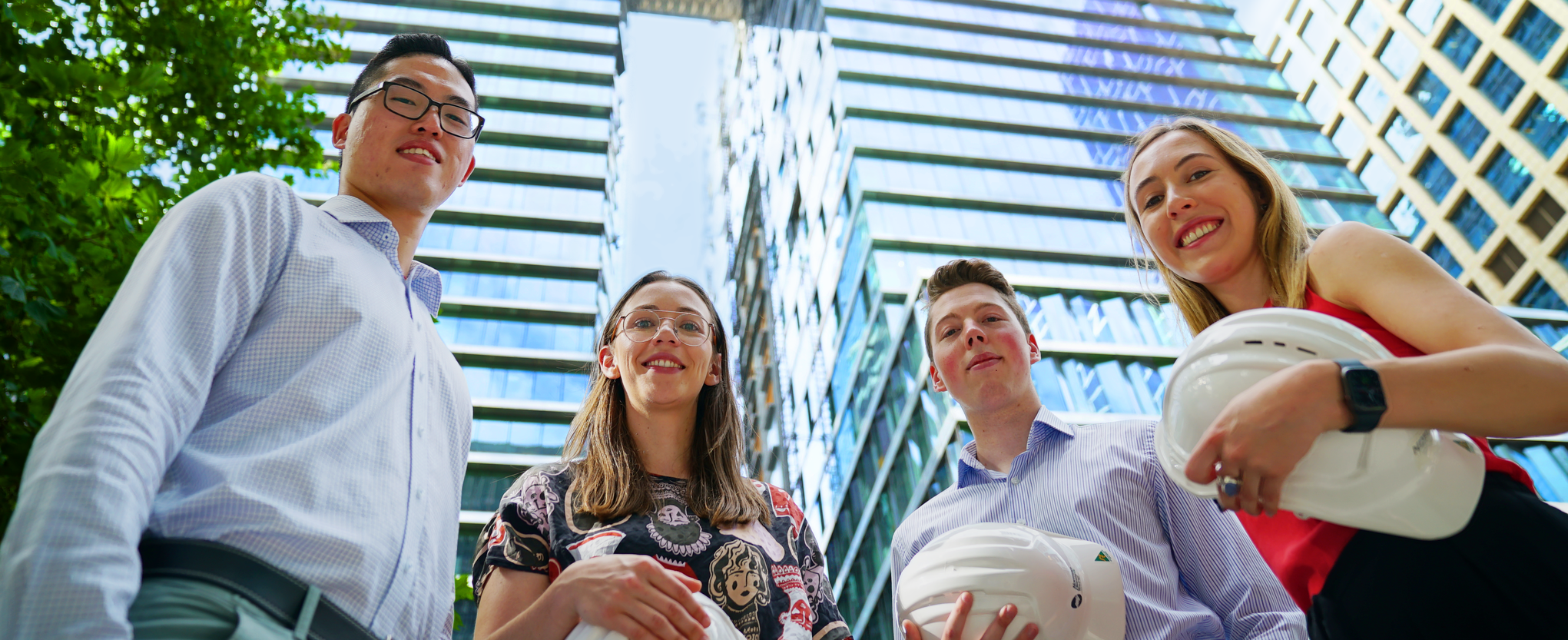 2023 Norman Disney & Young Graduate Program – Hydraulics
When you join Norman, Disney & Young, you become part of a unique, talented team of engineers, that strive to improve and make a significant impact to the societies we live in.
As a graduate you can work with a team that design landmark developments, propose to international panels of construction practitioners and work on-site with a team of engineers, contractors and tradespeople. 
At NDY we celebrate individuality and we want to fully equip you as a graduate engineer with the knowledge and skills to build your career by offering you a comprehensive two-year development program. 
You will experience a program that offers:
Structured development workshops
Rotations through various engineering disciplines
Potential international rotations
Support by an Online Learning Platform
The opportunity to lead community projects supporting various charities
The support of exceptional coaches, mentors and leaders.
In 2023, the Hydraulics stream has opportunities in Melbourne. 
You will have completed a degree or major in Mechanical Engineering or Masters in Fire Engineering. 
As a graduate in the Hydraulics stream, you will be involved in projects with other professionals such as Architects, Structural Engineers and Project Managers. You will get the chance to work on some of the most technically challenging and interesting projects in Australia, while liaising with Water Authorities and becoming aware with Australian Standards and Plumbing regulatory framework.
You will gain experience in various building sectors including: Super High rise, correctional, educational, commercial, Retail and defence. Another learning tool will be extensive on-site experience through ensuring the hydraulic contractor delivers the project as per documented and in-depth technical design knowledge of Sewer, Stormwater, Water, Gas, Trade Waste and specialities such as Purified Water Systems, Chemical treatment.
You will have the chance to contribute and become a valued member of a diverse team with an extensive depth of experience and have the option to enjoy a flexible work life balance (working from home). 
More importantly at NDY we ensure you will have a recognised development pathway and be encouraged to push outside of the comfort zone.
Applying for our Graduate Programs
Applications for our 2023 Graduate Program are now open. Before applying for the program, please ensure you meet our eligibility requirements. You must be:  
An Australian Citizen, Australian Permanent Resident, New Zealand Citizen or New Zealand Permanent Resident at the time of submitting this application
You must have completed your undergraduate or postgraduate degree within the last three years of the program start date (ie 2020, 2021, 2022 or January 2023)
You must be eligible to commence full time employment in February 2023
You must be willing to relocate to the role location you are applying to
Have a credit or above GPA
There are typically five stages to making an application:
Complete the application form. This includes academic achievement, personal information, career motivation, employment history, extenuating circumstances, language skills, extra-curricular activities and interests.
Cognitive ability assessments that are designed to test verbal, numerical and logical reasoning skills.
Behavioural assessments that help us to understand your work style preferences and areas for development.
Video Interview where you will have the opportunity to tell us a bit more about yourself.
Assessment Centre and Interviews: Graduates progressing to this stage will be invited to attend a virtual assessment centre. The virtual assessment centre will consist of a series of group activities and individual activities where members of the NDY team will assess performance.
Applications close 9.59AM (AEST) Monday 1st August 2022.  
For more information on NDY and the services we offer, head to https://ndy.com/services.
15-06-2022
Job type:Graduate Jobs
Disciplines:

Engineering, Engineering Mechanical

Work rights:

Australian Permanent Resident, New Zealand

...

Locations:

Program Duration

12 Months

Closing Date:12th Jul 2022, 12:13 am
Search
Enter an employer or university you want to find in our search bar.