QBE Australia Graduate Programs
QBE Insurance Group is one of the world's top 20 general insurance and reinsurance companies, employing more than 14,000 people in 36 countries. Headquartered in Sydney, we have offices across all states and territories.
QBE Australia currently has 0 opportunities.
Select the following options:
Past QBE Australia Graduate Hiring Statistics
If you're interested in working at QBE Australia, understanding when they have opened up applications for their graduate programs, graduate jobs and internships is helpful knowledge to have so you know when you might need to apply. Use the below information to see when QBE Australia hires graduates, but more importantly what graduate degree's and other student attributes they target for their jobs.
---
Disciplines
Accounting (50%),

Administration (50%),

Agriculture (50%),

Architecture (50%),

Actuary (50%),
Work rights
Australian Citizen (100%),

Australian Permanent Resident (100%),

New Zealand Citizen (100%),
Past QBE Australia Graduate Programs
Check out some of QBE Australia's past jobs they have posted on GradConnection over the last 12 months. Understanding the details about what a graduate employer is looking for well before applications have opened can sometimes be the edge you need to secure your first graduate program.
---
Kick-start your career as a QBE graduate. During your 18-month graduate program, you'll complete a number of rotations across the business, where you'll get the opportunity to work on exciting projects that are shaping the future of QBE and insurance.
Kick-start your career as a QBE graduate. During your 18-month graduate program, you'll complete a number of rotations across the business, where you'll get the opportunity to work on exciting projects that are shaping the future of QBE and insurance.
QBE Australia is part of the QBE Insurance Group, one of the world's top 20 general insurance and reinsurance companies. Headquartered in Sydney, we have offices across all states and territories.
We provide a broad range of insurance products to personal, business, corporate and institutional customers. From car, home and travel insurance, to tailored business packages and specialist cover for industries such as aviation and farming.
We're all about meeting our customers' needs. We do this by seeking to understand our customers and developing competitive, flexible insurance cover that works for them, and by continually striving to deliver the highest level of service, from quote to claim.
Our technical expertise provides confidence and certainty to our customers and partners. We're shaping our future, focusing on what really matters, building a stronger, simpler QBE with the courage to do things differently. We give people the confidence to achieve their ambitions.
Our Graduate Program
QBE Australia
---
At QBE, our core purpose is to give people the confidence to achieve their ambitions and our 18 month graduate program will do just that. Our program allows you to receive a highly tailored and supportive early career experience as you rotate across multiple divisions, giving you the opportunity to explore different projects, teams and ways of working. Our program enables you to reach your full potential and drive your own career, with our support each step of the way.
We are recruiting for our future not for today and that is why setting you up for success is our number one priority.
You could be the next:
Claims specialists who truly cares for our customers
Underwriter who uses cutting edge analytics to underwriter risk
Strategic thinker who can engineer automation and AI into our business
Technical specialist who can bring best in class pricing and modelling
D&A guru who can impact the way we do business
Customer centred relationship manager, supporting our mission to build the strongest partnerships in the market


During the program
As part of the graduate program, we'll provide:
Rotations and experiences in genuine roles, doing real and meaningful work that contributes to QBE's business priorities
Learning and development opportunities tailored to your needs
A committed team to support you as you go, with supportive managers for each rotation as well as your very own mentor assigned to you throughout your rotation
Exposure to senior leaders
Networking events to help you build connections
Opportunities to take ownership of or get involved in projects, initiatives, committees and community work


After the program
After the 18 months, if you successfully complete the graduate program, you'll be offered a permanent role with us.
We want everyone who joins us to enjoy the benefits of a rewarding and inspiring future within a culture that is inclusive, flexible and supportive.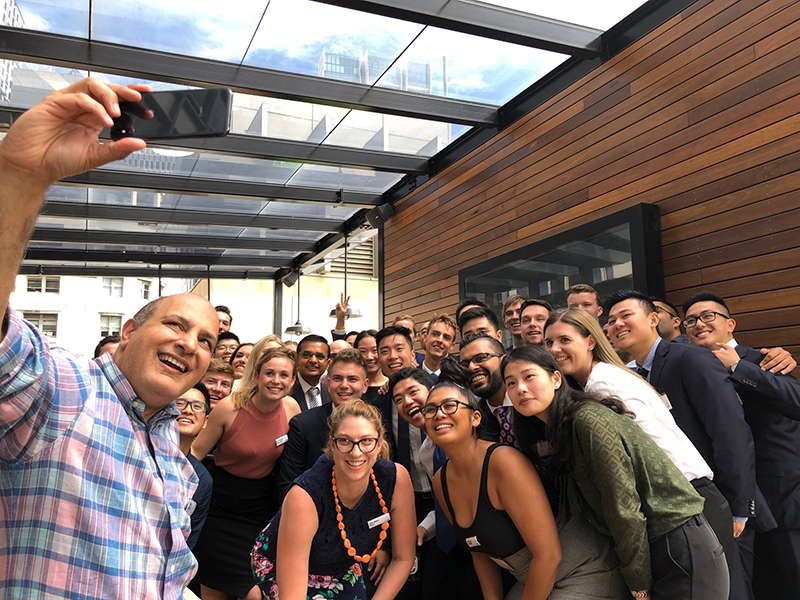 Our Graduates
QBE Australia
---
Here's what some of our graduates say about why they chose QBE…
"After attending assessment centres and countless interviews, QBE's energy about their values stood out against other companies. The QBE Foundation and their energetic approach to products they were developing made me excited to join this community." - Katharine, Graduate Underwriter
"My experience on the QBE graduate program has been amazing. Through my rotations, I've contributed to a range of innovative solutions and learnt from a variety of experts. It's been exciting to develop technical skills and domain knowledge from this. At the same time, I get to create meaningful impact to such a reputed global insurer and their customers. QBE has a very collaborative and supportive culture, and I'm grateful to have a cohort of graduate peers to bond with! I can say with confidence that I've come a long way since the start." - Michelle, Data & Analytics Graduate
"The QBE Graduate Program has exceeded all my expectations. I am privileged to come to work and be encouraged to continually learn and share my ideas on the projects I am assisting with. I have learnt so much already and feel that I have made my own impact at QBE. I can't wait for what my future at QBE holds!" - Jacqui, Generalist Graduate
"For a company as large as QBE, the feeling of community that is fostered is not like any other place I have worked. This is instilled through the culture of inclusion, where everyone can grow and develop their personal brand and technical skills through supportive managers, colleagues and learning opportunities" - Harry, Generalist Graduate
"The QBE graduate program helped me find what I wanted to get out of my career. I was extremely fortunate to be able to rotate through all different areas of the business which has allowed me to grow and learn both personally and professionally. I have now completed the program and have a permanent position with QBE as a Case Manager. I studied Communication with a Major in Public Relations at University so this is not something I anticipated to fall in to, but I am so glad that I have as I am now able to really help people bring their lives back together following an injury." - Mary, Generalist Graduate
Why Choose QBE
QBE Australia
---
We are inclusive and flexible
QBE Australia recognises the value of a diverse workforce; we believe diversity and inclusion is essential for a strong, successful company. We encourage a working environment that is welcoming, fair and inclusive for all. Our workplace flexibility arrangements allow our people to better balance work-life commitments.
We follow our DNA
Everything we do at QBE is underpinned by our DNA – because we know it's not just what we do that matters, it's how we do it that makes the difference. At QBE, when we show-up for our people, customers, communities or shareholders across the globe:
We are customer-centred
We are technical experts
We are diverse
We are fast-paced
We are courageous
We are accountable
We are a team


We help the community
QBE has always played an active role in the communities in which we operate. In 2011 we launched the QBE Foundation, our corporate responsibility initiative. Through the Foundation our employees can engage in a range of community activities, including applying for local grants to charities and causes they're involved with and passionate about, and grants which match their fundraising efforts. Each year our employees are also offered a day of volunteer leave to lend a helping hand to support those in need.
We are innovative
Improvement keeps us competitive and constantly moving so we are focused on measuring customer experiences and carefully evaluate what we do. Many learnings and ideas are also shared through QBE's Innovation Forum, which looks at new ways to improve how we work. Through the Forum we share thinking and recognise and reward those who create innovative, practical ideas across the network.
Diversity

QBE Australia
---
QBE Insurance Group has a core purpose to give people the confidence to achieve their ambitions. Being diverse and inclusive helps us to do this across the markets in which we operate. We can be more innovative and customer-centred when we have an inclusive workplace culture.
We're all different
At QBE, we're all different. These differences make us strong. Different perspectives, backgrounds and ways of working contribute to our ability to innovate, challenge and support each other, and serve diverse customers. They are part of our QBE DNA, and they mean we can be customer-centred, technical experts, fast-paced, courageous, accountable and team oriented too.
Difference is one thing, but unless we have inclusion, the diverse mix doesn't work.
To #mixitup, we need to be inclusive – creating a sense of belonging, valuing uniqueness and enable every person to contribute. We want to ensure everyone can do their best work and feel supported working in a flexible and modern environment.
LGBTI Inclusion

QBE Australia
---
QBE Pride
QBE Pride is an employee led network open to all employees and exists to create an open and inclusive workplace culture where individual diversity is acknowledged, respected and celebrated. QBE Pride aims to draw on the unique backgrounds, experiences and networks of LGBTI employees to increase brand awareness, loyalty and reputation.
QBE Pride is committed to:
Promoting an open, safe and inclusive culture where individuals are respected and valued for who they are & comfortable bringing their 'whole self' to work
Raising awareness and educating leaders and employees the importance of LGBTI+ inclusion
Enhancing QBE's reputation as a diverse and inclusive employer.
Indigenous Programs

QBE Australia
---
QBE Australia acknowledges and pays its respects to Aboriginal and Torres Strait Islander peoples as the First Peoples of Australia, whose ancestral lands and waters we work and live on throughout Australia.
QBE aims to establish a diverse and inclusive workforce that reflects the diversity of our customers and the communities we work within. We are committed to building significant and long-standing partnerships with Aboriginal and Torres Strait Islander communities and organisations. QBE is proud to have forged strong relationships with several Aboriginal and Torres Strait Islander organisations, including:
Swans sponsorship
GO Foundation
CareerTrackers
Our RAP provides the opportunity and vehicle to strengthen the reach and impact of each of these partnerships by ensuring our commitments are aligned to empowering Aboriginal and Torres Strait Islander communities and peoples and by creating long-lasting change.
The QBE Foundation
Through our major corporate responsibility initiative, the QBE Foundation makes it possible for the communities in which we operate to develop, grow and progress. QBE's corporate responsibility mirrors our insurance role in the community where we are uniquely placed to assist people when they find themselves in need through accident or misadventure.
The Foundation has a simple vision; to help people overcome disadvantage, strengthen their abilities and live more independently, successfully and productively. The Foundation strives to support women and men, both the young and old, to overcome disadvantage and expand on their abilities.
The Foundation commits to supporting Aboriginal and Torres Strait Islander communities via partnerships with charity organisations that provide a large array of tailored support depending upon community needs.
Disability

QBE Australia
---
QBE has been a member of the Australian Network on Disability since 2013 and in 2015 stepped up our commitment through our participation in their mentoring program – Positive Action towards Career Engagement (PACE).
For mentees, PACE offers students with disability the opportunity to develop their skills and confidence in a workplace setting, assisting them in their career planning, as well as aiding their personal and professional development.