Mechanical Engineering Graduate Program 2022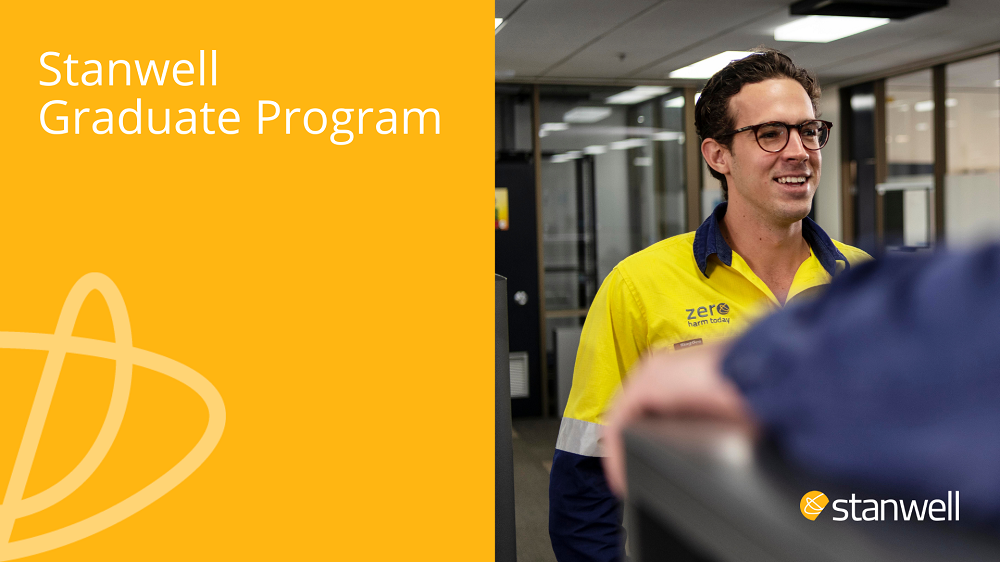 About Us
We are a major provider of electricity to Queensland, the National Electricity Market and large energy users, our customers, throughout Australia. As a company that operates coal-fired power stations, it is Stanwell's job right now to keep providing reliable electricity at prices that are affordable as the industry transitions to a lower carbon future. 
While providing reliable and affordable energy for today, we are also exploring new generation and storage technologies that will help reduce emissions for tomorrow.
We recognise that a diverse, inclusive and safe business is essential to our culture and how we operate. We employ close to 700 employees and aim to create a workplace where everyone is included, treated fairly, respected, and given the opportunity to be the best that they can be.
Our values – We care, We adapt and We deliver – are integral to Stanwell's culture. They drive the expected behaviours of our people and influence how we engage with our customers, suppliers, partners, and the local communities in which we operate.
About the position 
Some of the highlights of this program include: 
Helping to keep the lights on for Queensland for today, while exploring future energy solutions for tomorrow. This is an opportunity to be part of Queensland's energy transition; 
Rotating across our sites (Stanwell Power Station, Tarong Power Station and Meandu Mine) and learning the ins and outs of our critical infrastructure;  
Participating in structured learning opportunities that support your progression towards professional registration; 
Building your professional skills and engineering project knowledge through regular mentoring catch ups; 
Working across a variety of exciting projects, such as: pressure part remnant life assessments, outage work planning and participation and new system/plant installation or plant modifications; 
Being actively involved in the strategic planning of the Power Station and helping to balance improvement and maintenance costs with operational requirements; 
Investigating and making recommendations to correct and/or prevent plant failures and promote long term plant health; and 
Utilising a variety of techniques to obtain and analyse plant health and performance data. 
Is this position for you? 
To make a meaningful contribution to our team, you will need: 
A willingness to rotate to our operational sites throughout the program (Kingaroy and Rockhampton). This is not a Brisbane based role; 
Mechanical Engineering qualifications acceptable for Graduate Membership of the Institute of Engineers Australia.
A personable attitude with a desire to build relationships across our diverse workforce. 
Well developed analytical, research and problem solving skills.
Strong written and verbal communication skills. 
A passion for ongoing learning and development.  
Solid digital literacy skills, including the ability to adapt to new systems. 
What is in it for you? 
Be rewarded with above Award salary rates, supplemented by a generous incentive scheme. 
Have access to professional memberships as well as an online learning management system to continually support your development.  
Take advantage of our discounted gym memberships and health insurance, voluntary health check reimbursements, confidential EAP service access and various other exciting health and wellbeing initiatives.  
Be supported throughout your program by our mentors, subject matter experts and graduate program coordinator. 
19-07-2021
Job type:Graduate Jobs
Disciplines:

Engineering, Engineering Mechanical, Engineering Mechatronics, Utilities

Work rights:

Australian Permanent Resident, New Zealand

...

Locations:

Salary

Competitive salary + incentives

VACANCIES

1

Position start Date

January 31, 2022

Program Duration

3 Years

Closing Date:8th Aug 2021, 1:55 pm
Search
Enter an employer or university you want to find in our search bar.