VMware helps customers digitally transform their businesses. We help customers move to the cloud and we work with the world's most advanced technologies. We're committed to using tech for good and making a positive global impact.
VMware currently has 0 opportunities.
Select the following options:
Past VMware Graduate Hiring Statistics
If you're interested in working at VMware, understanding when they have opened up applications for their graduate programs, graduate jobs and internships is helpful knowledge to have so you know when you might need to apply. Use the below information to see when VMware hires graduates, but more importantly what graduate degree's and other student attributes they target for their jobs.
---
Disciplines
Accounting (88%),

Actuary (88%),

Administration (88%),

Agriculture (88%),

Architecture (88%),
Locations
Sydney (100%),

Melbourne (50%),

Canberra (25%),

Darwin (13%),

Hobart (13%),
Work rights
Australian Citizen (100%),

Australian Permanent Resident (100%),

New Zealand Citizen (100%),
Past VMware Graduate Programs
Check out some of VMware's past jobs they have posted on GradConnection over the last 12 months. Understanding the details about what a graduate employer is looking for well before applications have opened can sometimes be the edge you need to secure your first graduate program.
---
The role supports the implementation of high touch field marketing programs designed to create relevant two-way interactions with local buyers, inform and influence their buying decisions and build broader relationships with the organization.
The Professional Services Organisation influences the success of each VMware implementation. We ensure that VMware customers are successfully implementing their business plans from adoption all the way to a fully functioning solution.
As an Inside Sales Rep (ISR), you will be responsible for developing pipeline and closing business in conjunction with an assigned Field Facing Rep within a large portfolio of commercial customers.
The Project Coordinator role is junior level project specialist, leading project activity, communicating, planning and providing scheduling and time tracking for projects in partnership with our Enterprise customers.
The Professional Services Organisation influences the success of each VMware implementation. We ensure that VMware customers are successfully implementing their business plans from adoption all the way to a fully functioning solution.
As a Technical Account Manager (TAM), you will build and maintain a relationship with VMware's customers that have real passion for technology and the opportunities that it can bring to our life.
As an Inside Sales Rep (ISR), you will be responsible for developing pipeline and closing business in conjunction with an assigned Field Facing Rep within a large portfolio of commercial customers.
Having a mentor, especially at the beginning of your career, is critical to your career development. Tune in to this session presented by VMware's own graduates on finding your workplace penguin!
VMware provides the essential software foundation for customers' digital transformations. We help customers move to the cloud – and back if they want to. We are at the forefront of the industry with breakthrough innovations in IoT, machine learning, blockchain, 5G and other emerging technologies which will take us through the next century. We are committed to solving our customers toughest challenges whilst making a positive global impact and using tech for good to benefit our people and our planet.
Founded in 1998, VMware is based in Silicon Valley and is a subsidiary of Dell Technologies. VMware We help streamline the journey for organisations to become digital businesses, so they can deliver better experiences to their customers and empower employees to do their best work. VMware's software has been behind technology innovations which have transformed entire industries, including banking, healthcare, government, retail, telecommunications, manufacturing, and transportation.
People are at the core of what we do, and VMware's employees live by the company's EPIC values.
See how VMware's technology has transformed the digital learning experience for the students of the University of Technology Sydney: http://www-review.vmware.com/possible/au/home.html
See how VMware has helped Brisbane Catholic Education bring new teaching and learning methods to schools in Queensland: https://www.vmware.com/company/customers.html#customer=/content/web-apps/customers/B/Brisbane_Catholic_Education
The culture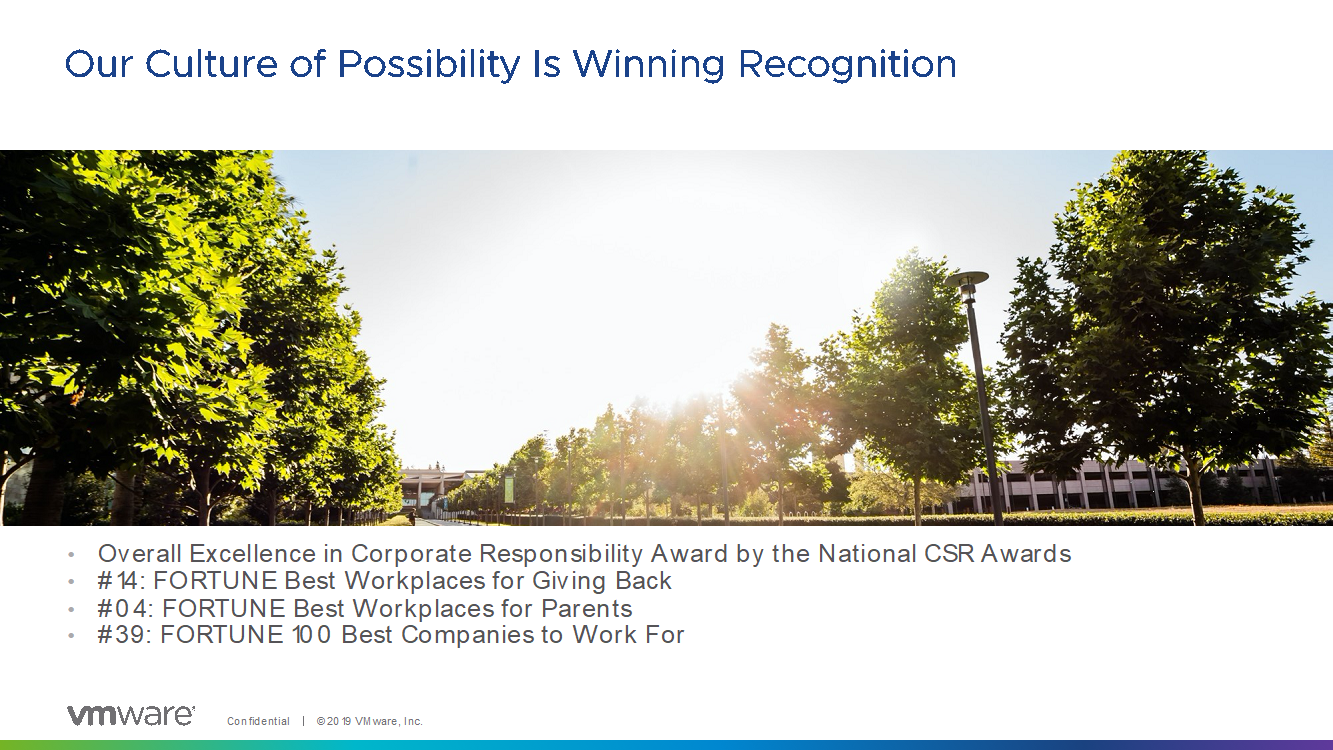 A diverse, inclusive and supportive culture is at the core of who we are. We celebrate our people from a wide variety of dynamic backgrounds, experiences and perspectives. VMinclusion is the business's global diversity and inclusion initiative. Within VMinclusion there are many 'Power of Difference communities' (PODs) for staff based on gender, religion, particular ethnic backgrounds, sexual preference and many more. We prioritise our people to enhance VMware's inclusive culture and harness the power of human difference.
VMware educates it people about the perils of unconscious bias and uses peer mentoring circles to encourage female staff to gdevelop their perceptions of themselves as leaders and develop stronger networks for career advancement.
The company is committed to equal pay for equal work. Regular analysis of its compensation arrangements shows neither women nor ethnic minorities earn less than their white male counterparts. In Australia, VMware received the Workplace Gender Equality Agency's "Workplace of Choice" citation five years running.
Career prospects
VMware employees are encouraged to engage in continuous learning and make use of internal programs which allow staff to do course work, training and attend conferences, work with different teams for skill growth and complete multi-month assignments to help identify their career journey at VMware.
People who display leadership potential are encouraged to undertake the Manager Development Program. This is geared toward helping managers explore the potential in themselves and others and developing a global manager base to support the company in our next phase of growth.
VMware's Graduate Program
VMware
---
VMware Sales Academy (VSA) Program
VMware invests for the future in VMware's Sales Organisation through the Sales Academy. The VSA Program is an extensive graduate training program with two tracks: Inside Sales and Technical Services. The academy involves sales, technical and product training for all participants.
The VSA will to offer you:
Mentoring, coaching and sponsorship for career development.
Effective communications training to ensure good customer interactions.
Customer and partner facing activities and tasks, providing real-world experience.
Commercial and technical presentation training.
Hands-on training in leading edge VMware technology.
We're looking for people who love to win, have strong business ethics and great communication skills.
Watch and listen to stories from our recent VMware graduates
We are currently looking for passionate graduate associates for the following roles in our business: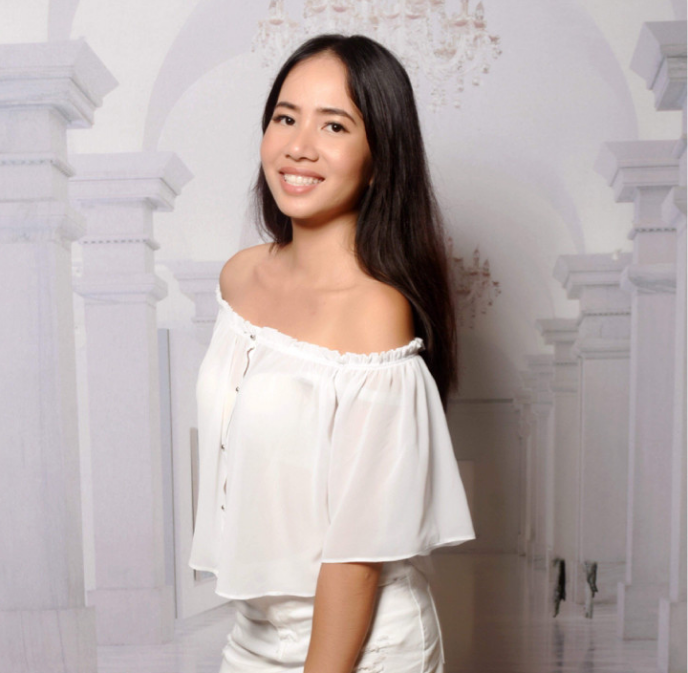 Your Name: Yen Vu
Your Job Title: Associate Solution Engineer
University Attended: University of New South Wales
Degree Qualification: Bachelor of Commerce/Science
Year of Graduation: 2018
What's your job about?
As a Solution Engineer I provide technical validation to account managers and various stakeholders to help facilitate closing a deal. A day of work at VMware is dynamic and ever changing. I typically reach the office just a little before 9am. After catching up with account managers, I start going through my checklist and see if there are unfinished tasks the day before. Then I prioritise and answer my emails. My main role is to support closing a deal, either in conjunction with the VMware account manager or with a partner organisation. In order to do this, I must make sure my knowledge of VMware products, acquisitions and industry trends is always up to date because customers see me as their VMware trusted advisor.
Before wrapping up the day, I check in again with my account managers or partners, then check what needs done the next day. Depending on the workload, there will be days where I will stay back a little later, but a typical day ends around 5pm.
What's your background?
In 2010, when I was 16 years old, my parents sent me to Australia to study abroad. For the past 10 years, I have strongly focused on my education as well as personal and professional development. After finishing a double bachelors degree in Commerce and Science, I started working at VMware on 18th March 2019. Ever since that day, it has been an incredible journey where I have learnt and grown, all while being challenged and continuously supported by the VMware community. What surprises me the most is that even though I started my career at VMware as a graduate, the opportunities that were given were far more rewarding and fulfilling than I could have ever imagined.
I've learnt about VMware as a sales organisation, how a solution engineer (SE) supports various stakeholders including account managers, specialist SEs and channels/partners and distributors. As such I've learnt the critical nature of my role and enjoy my current job even more than I did when I started.
Could someone with a different background do your job?
I believe success is based on intelligence, experience, talent, education but most important of all, perseverance is what separates success from failure. I also feel that regardless of where you are from, hard work and strong will enable you to conquer the most difficult tasks. I don't believe I am different than the combination above, these are the characteristics that enable anyone to do the job that I am currently doing.
What's the coolest thing about your job?
The coolest thing about my job is that I get to go out and see customers. I really enjoy talking to people and finding out how our technologies can help them achieve their business goals. I also find that because of the unique skillset required to be a Solution Engineer, I get to be both business oriented and technically adept. VMware also supports their employees in giving back to the community. Recently I was with my colleagues in Cambodia building a bike shed for Community School Prey Thom, an opportunity that I am very grateful for.
What are the limitations of your job?
Even though I love my job, it is very demanding in a way that you must continuously learn and update your industry knowledge to keep up with new acquisitions happening within the company and also in the market. This requires you to be a fast and passionate learner. You must enjoy learning new things and adapt quickly to new situations, and cannot take no for an answer. As such this may require you to spend time outside of work studying new technology. If you are looking for a routine 9-5 job, this is not for you.
3 pieces of advice for yourself when you were a student...
If I could go back in time and meet myself at university, I would tell myself three things:
Keep being open minded and treat the world around you as an oyster, where everything is possible and could happen.
Don't stress too much about the future and be authentic, always believe in yourself that you will make it regardless of what uncertainties and concerns you may have at the time.
Always be learning and never stand still, because never has education been so important and do not let anyone tell you otherwise.
Taking Our Social Responsibility Seriously
VMware
---
Social contribution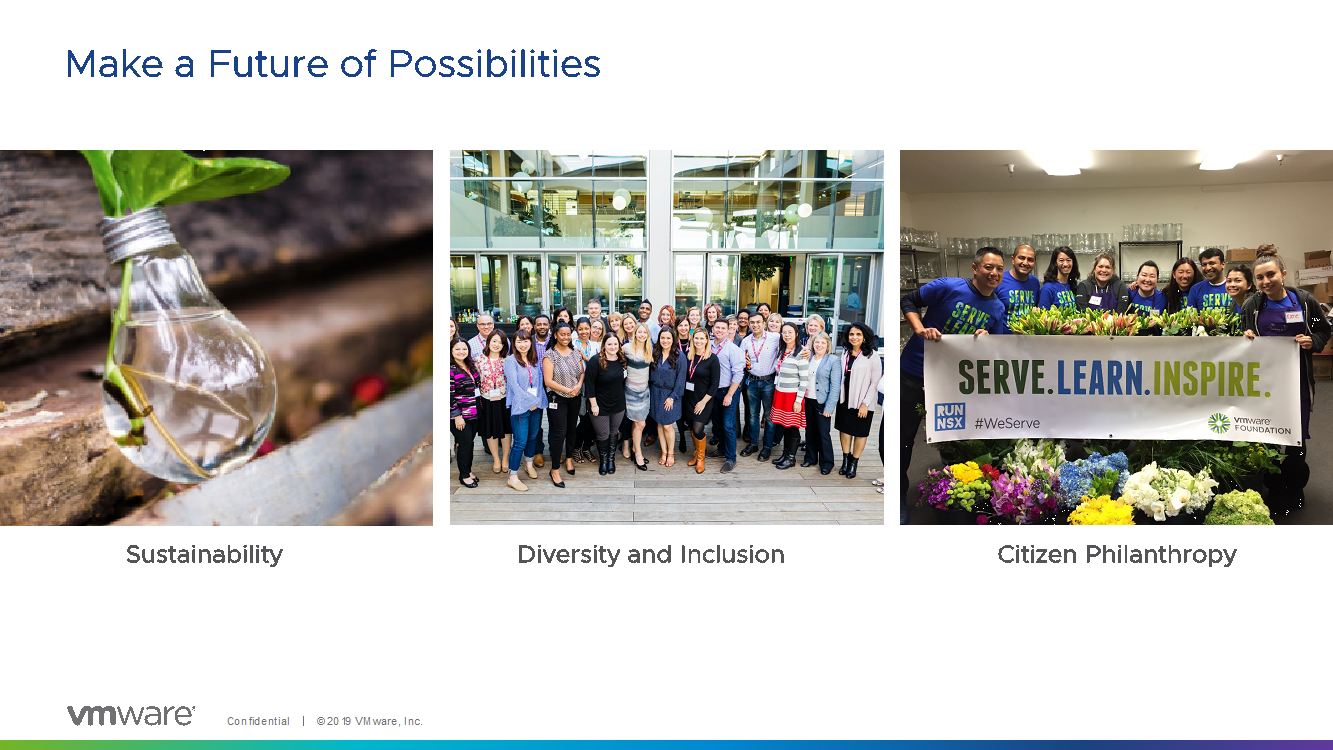 VMware is committed to investing in programs to expand the community of female and diverse talent in technology.
Among other things, this means it has signed the Tech Inclusion Pledge, joined the Employers for Pay Equity Consortium and taken part in the Corporate Equality Index (which rates workplace on LGBTQI equality).
There is also a VMware Foundation. Its mission is to amplify the contributions of VMware people to their causes of choice and inspire the Citizen Philanthropist in every team member.
It's ingrained in our business from our global CEO down because people matter. Locally in Australia, we demonstrate this in a range of ways. For example, we've partnered with the Black Dog Institute to run a hackathon to raise awareness for mental health; we've raised money for a range of causes close to our employees' hearts; we've invited groups of refugees into our office and helped with their resumes and LinkedIn profiles to aid them in their job seeking efforts.
As a company, we celebrate significant dates on the calendar like International Women's Day, Harmony Day and PRIDE month.
We also make sure we give back to the community we live in. We do this through our service learning program, which is based on volunteering. Our teams have helped with OzHarvest, wildlife parks, initiatives to help the homeless, and building schools for kids in disadvantaged communities, to name a few. We get 40 hours of work time every year to do this – and if we reach our 40 hours, the company will grant us a cash donation to give to our charity of choice.
While we're talking about charity donations, anything we personally donate to charity, VMware will match. Last year, more than 20,000 VMware people supported 8,484 nonprofits in 96 countries.
Start your career with VMware and get ready to push the boundaries. You'll join one of the many dynamic teams in our business creating innovative solutions, solving complex problems and transforming technology as we know it.
We offer a variety of programs that will help you expand your network, gain invaluable insights, and discover your strengths and passions. Wherever your talents lay, you'll take ownership of meaningful, big-picture projects that will become a springboard for an impactful career. We're excited to see what you can do and will give you the chance to showcase your accomplishments with the VMware community – including some of the most influential and inspiring people in the industry.
Our innovation, the ongoing learning opportunities and the visibility we give our employees are just a few reasons why VMware is one of Fortune's 100 Best Companies to Work For.
So, what are you waiting for?
Start your journey today: careers.vmware.com
Own Your Path to the Future
VMware Academy is a global development program for top university graduates who aspire to become the next generation of technology leaders. The program's innovative and immersive training approach is proven to provide the skills, knowledge and mentorship needed for a successful career.
Professional Opportunities
Sales

Drive new business and client relationships while managing accounts with VMware Field Sales Executives and other customer-facing teams

Operations

Support customers in business critical operations, process creation and management to enable the VMware Sales functions to be efficient and agile

Solutions Engineer

Using technology as a backdrop, you will help sales teams design VMware software solutions to address customer business challenges

Customer Success

Build and maintain relationships with VMware customers where you will be a major focal point for different internal teams 

Professional Services

Deliver creative solutions to customers and successfully implement VMware software products and services to drive business performance

Global Services

Provide support to customers and partners to ensure they receive exceptional business value from VMware solutions
Innovation Starts Here
Innovate with a diverse group of new graduate hires that will expand your mind, enhance your creativity and drive more significant business results while jumpstarting your career in technology
Grow your professional network and gain valued exposure to dynamic leaders
Continued learning and development, including the VMware Education Reimbursement Program, to expand your knowledge and build your career
Start your journey to become the next generation of talent and leaders at VMware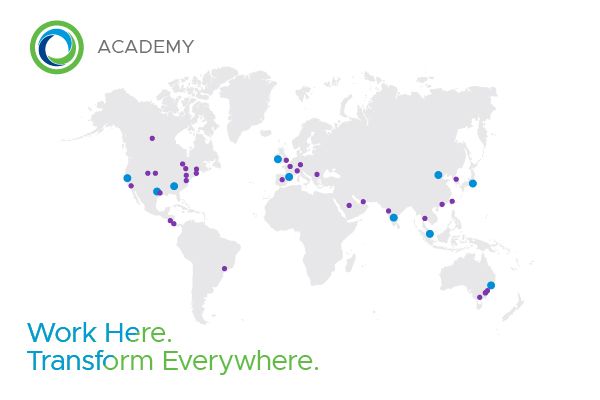 Global Connections
Discover opportunities across the globe with a collaborative network of professional peers driving customer success in the world of technology.