2024 Melbourne News Internship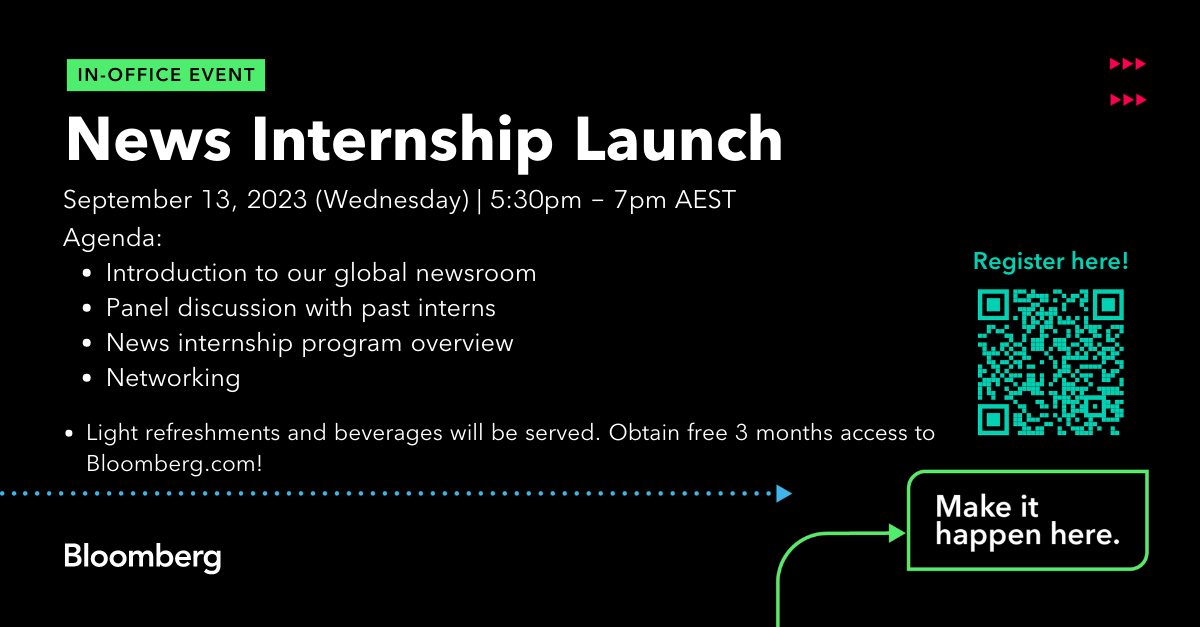 Bloomberg News is one of the world's leading financial news organizations, delivering fast and accurate information on multiple platforms to the people with the most at stake.
If it impacts markets, we'll be there -- breaking news on companies, economies, commodities and government policy to help our ever-expanding audience stay ahead. We need a constant flow of ideas, energy and innovation -- which is where you come in.
We're looking for interns who are passionate about telling stories and will seize the opportunity to learn from our award-winning journalists during the 10-week paid internship in Melbourne. You'll gain hands on reporting experience, conduct exclusive interviews, dig into data and collaborate with colleagues in our bureaus across the world.
Following the internship, you may be offered a full-time role with Bloomberg News. This career-defining opportunity would start with a year-long program in our Sydney office, during which you'd rotate through four core coverage areas to build out your knowledge and skillsets. We operate as one newsroom – a collaborative and diverse environment where print, digital and broadcast come together to produce the most accurate content for our readers.
To learn more about this exciting opportunity, do also join our in-office event on September 13 in Sydney. You'll get a studio tour and overview of one of the world's biggest media organizations with 2,700 journalists and analysts across 120 countries. We'll share insights about the internship program with tips to help you succeed and let you pick the brains of former interns now working for us.
Refreshments will be served and obtain 3 months free access to Bloomberg.com!
Register through the link below by September 4, 2023 if you are interested in attending!
https://tinyurl.com/22cjtxdf
We're looking for:
Final year students (undergraduate or post-graduate) who are Australian citizens or permanent residents
A passion for journalism demonstrated through work experience or extracurricular activities
A desire to join the dots on the world's biggest stories across economics, markets, business, finance, technology and government
Ability to work collaboratively in a team environment
What you'll need to apply:
Resume/CV
Cover Letter
Preferably three samples of journalistic work on any platform
Deadline to Apply:
Please submit your application by Friday, 29th September 2023
If this sounds like you:
Apply! If we think you're a good match we'll get in touch to let you know the next steps.
Bloomberg is an equal opportunity employer and we value diversity at our company. We do not discriminate on the basis of age, ancestry, color, gender identity or expression, genetic predisposition or carrier status, marital status, national or ethnic origin, race, religion or belief, sex, sexual orientation, sexual and other reproductive health decisions, parental or caring status, physical or mental disability, pregnancy or maternity/parental leave, protected veteran status, status as a victim of domestic violence, or any other classification protected by applicable law. 
Bloomberg provides reasonable adjustment/accommodation to qualified individuals with disabilities. Please tell us if you require a reasonable adjustment/accommodation to apply for a job or to perform your job. Examples of reasonable adjustment/accommodation include but are not limited to making a change to the application process or work procedures, providing documents in an alternate format, using a sign language interpreter, or using specialized equipment. If you would prefer to discuss this confidentially, please email [email protected] (Americas), [email protected] (Europe, the Middle East and Africa), or [email protected] (Asia-Pacific), based on the region you are submitting an application for.
14-09-2023
Job type:Internships
Disciplines:

Accounting, Actuarial Studies, Administration, Arts and

...

Work rights:

Australian Citizen, Australian Permanent Resident

Locations:
Closing Date:13th Oct 2023, 12:59 pm
Search
Enter an employer or university you want to find in our search bar.