Grow with us
We love nothing more than watching our employees grow.
Did you know that a lot of our most successful Managers started their careers as Crew Members? You can do it too, and the best part is you get to earn while you learn! If you've got the appetite to succeed, we have the opportunity. At Macca's, we believe in nurturing growth and development at all levels. We offer comprehensive training and development programs that make it easy to be successful.
As a Registered Training Organisation (RTO), McDonald's is able to issue nationally recognised qualifications at different stages throughout your career. Furthermore, employers Australia-wide respect the value of a McDonald's role on a resume and the skills and values an individual will have developed whilst working for us.
Macca's offers Retail Traineeships at a Certificate II and III level, in which employees may have the option of participating in throughout their development. Qualifications offered in the Traineeship program are; SIR30216- Certificate III in Retail and SIR20216 - Certificate II in Retail Services.
Even if your eye is on a different dream or career, people with experience at Macca's on their resume really stand out and with the experience you gain there is always the option for future opportunities within McDonalds.
Crew Roles
We're constantly striving to serve up a great variety of menu options, and with the introduction of some exciting new features at Macca's, we're also serving up a great variety of crew roles.
We understand that everyone should be able to work with their strengths, and at Macca's, we like to provide you with the opportunity to earn your money the way you want! So whether you like putting a smile on people's dial, building custom-made burgers, or making a mean macchiato, we have a role that will work for you!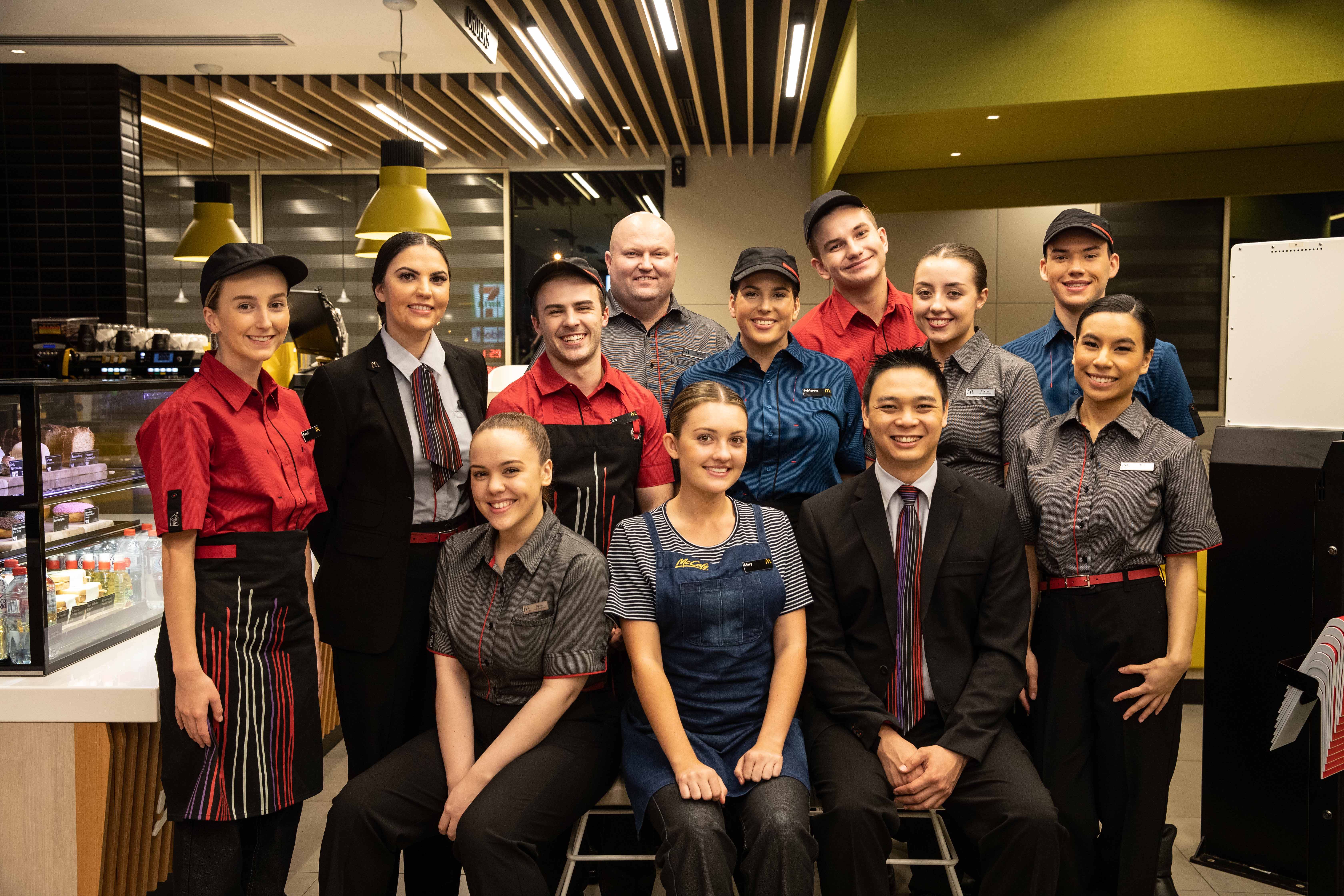 Crew member
Front counter
First impressions last forever, and at our front counter, you'll meet and interact with hundreds of people every day. As the face of McDonald's, you'll get to serve each of our customers with "good food, fast", and make sure that they always walk away satisfied, with a smile on their face!
Host
Our Host's job is to provide personalised, supreme service to all our customers. You'll be constantly on the move delivering meals. helping at the kiosk and providing excellent table service. Here's your chance to prove you're our host with the most!
The Kitchen
The kitchen is where all the action happens. This is where you'll collaborate closely with other crew, preparing our full menu of products, making sure that every item meets our high quality standards. You'll also need to be organised and great at multi-tasking, so bring your talents to the table!
McCafé
If you're a barista or even a budding barista, and enjoy crafting the perfect coffee, our McCafé is the place for you. Here, you'll have a chance to get to know your regular customers, and you'll be preparing and serving our full range of hot and cold drinks, our assortment of sweet and savoury snacks, and our delicious breakfast and lunch ranges.
Party Host
We love to see kids celebrate their birthdays at Macca's, and in this super fun role, you'll get to be the colourful ringmaster by providing games, entertainment and meals. This is your chance to help create magic memories, so bring your laughter, bring your imagination and bring out the big kid in you!
Drive-Thru
Working on Drive-Thru is a lot like front counter (but with a cool head set), plus you'll get to keep people on the go moving. You'll be in charge of keeping our Drive-Thru a well-oiled machine; it's a fast-paced job that requires someone with a high level of energy, an infectious attitude and fantastic people skills.
Delivery Driver
With your own set of wheels, a great sense of direction and a safe attitude, you've got the opportunity to be one of our valued Drivers. In this role, you'll have the exciting job of personally delivering meals to our customers in your neighbourhood. Obviously, you need to have your Green P's, your own registered car and have a great driving record.
Maintenance Person
If you like working with your hands and looking after all the internal and external areas of the restaurant, this is the role for you. You need to be really organised, have a keen eye for cleanliness and just be able to get things done.
Crew Trainer
If you've got the drive and enthusiasm to step up to the plate, you can advance your career with Macca's by becoming a Crew Trainer. In this role, you'll be responsible for training new Crew and checking that all procedures and standards are followed. Crew Trainers consistently demonstrate a commitment to McDonald's and a natural ability to coach others. For details on how you can develop with Macca's, click on the 'Grown with us' page.
Who we are looking for
At Macca's, we love to have fun, but we're not afraid of working hard at the same time. We make it our priority to cultivate new skills in each of our members, but here's what we want you to bring to the table.
Have a great attitude – Smile, bring your awesome personality, and project a 'can do' attitude to every task you're assigned. Trust us, it's infectious.
Provide the best service –Were looking for people who create real feel good moments for our customers. We work at the customers pace and find ways to say 'yes' to requests. We welcome every customer with a genuine connection and smile every time.
Be organised –Turn up on time to your shift, manage your tasks and work with your team mates to make the restaurant hum.
Be a team player – Everyone knows there's no "i" in "team", so we want you to be able to communicate and collaborate closely with your crew, and each shift will be smooth-sailing.
Act responsibly – The minute you step inside Macca's, we expect you to be professional, reliable and responsible.
Be safe – Safety is everyone's responsibility. Look out for yourself and your teammates.
Look the part – We love you to take pride in your appearance. So do our customers! Turn up with a neat, clean and wrinkle-free uniform, and pay close attention to your personal grooming.
Be clean – At Macca's, we love a clean, fresh working environment. We're committed to our Clean As You Go Policy and we proudly uphold strict hygiene standards.
Be ready to work – We want you to bring your "A Game" to work and not be afraid of the unique challenges that each shift presents.
Make fantastic food – With the freshest ingredients and always-expanding menu, we are actively looking for employees who are genuinely enthusiastic about preparing, creating and serving outstanding food!
Fast Pace –Being on your feet, serving with speed, adapting to change and looking for ways to make Macca's a better place to work. It's all part of the job. Have you got what it takes?
08-11-2023
Job type:Part Time Student Jobs
Disciplines:

Arts and Humanities, Business and Commerce,

...

Work rights:

Australian Citizen, Australian Student Visa,

...

Locations:

Canberra, Sydney, Darwin,

...

Closing Date:7th Dec 2023, 12:59 pm
Search
Enter an employer or university you want to find in our search bar.