Grad Programs
With multiple vacancies
940
Last 12 months
Job Growth
Increase/decrease of jobs
23.4%
Last 12 months to the year before
Average Salary
For IT graduates
60 - 65K
What's it like to be a Graduate in IT?
IT has to be the most diverse job area that we have on GradConnection and has a huge amount of career paths for you to go down from getting your hands dirty on the development path through to deciphering and translating. With one of the largest growth rates for job opportunities across GradConnection - you can be sure you are going to be in a faced paced environment that is helping shape the way companies operate. A generalist IT graduate program will give you the opportunity to find out where your strengths lie and what kind of IT position you'd like to chase.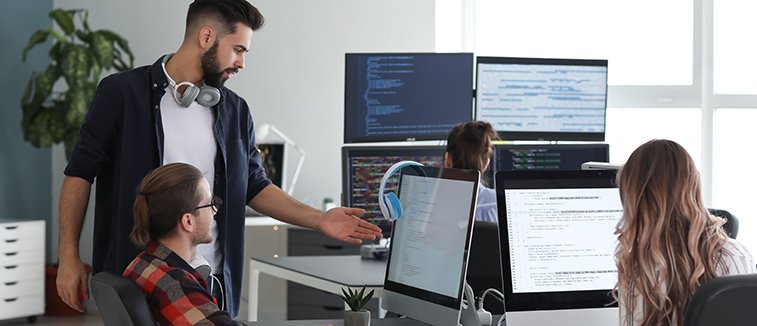 Tasks and duties you could be doing as an IT graduate:
Coding and technical changes within software platforms
Data Analysis of SQL databases and other data sources to provide business and issue insight
Issue tracking within product management tools like Jira or github issues
Business analysis of system requirements with company stakeholders
Requirements writing to bride business requests and requirements with technical capability
Design of front end and system components
Testing yours and others code changes as part of the System Development Life Cycle (SDLC)
Maintenance of code repositories and system configuration
Support of users, either dealing with them directly or helping support team triage underlying technical issues
How much do IT graduates earn?
IT graduates on average start around $60,000 per year. The location that you end up working can also have an impact which you can see below:
Most common salary for Information Technology is in
Do I need to do an IT internship?
There is a large shortage of IT graduates coming out of Australian universities so things like IT internships, whilst preferred by large employers aren't as important as other industries. Being able to demonstrate technical proficiency, interest in the technology space aligned with knowledge about their business can be a great start. Whilst there is a shortage, employers hiring requirements are strict so an internship is the perfect things to demonstrate everything just mentioned.
How to become a graduate IT professional?
Beyond searching all the information technology graduate jobs on GradConnection there are a number of things that can factor in to being successful:

Bachelor Degree
For graduate information technology roles this is a strong pre-requisite

Work experience
This will help you get pick up some desirable skills to set you ahead of other applicants

Project work
Working on side projects, contributing to open source software is a great way to pick up skills and look appealing to any kind of IT employer

Join an industry body
Join an Industry body like Australian Computing Society. This will help you stay up to date on changes, undertake certified industry training and grow your professional network.
Information Technology Industry Bodies
The ACS
The ACS Foundation is a non-profit organisation which organises relevant industry placements through Internships for students who have a passion and interest for technology and would like to get valuable experience before they graduate. A key aspect of this is our partnership with over 200 Australian companies nationally. Through this partnerships we offer internships and placements to undergraduate and graduate students in ICT related degrees. Internships are a 3 way partnership between ACS Foundation, students and a host company as a way of building their future.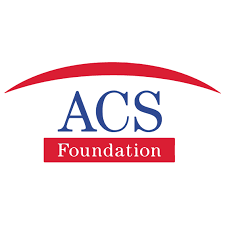 What kind of IT jobs are there?
Our friends at SEEK have analysed the most popular job's and their details such as salary, location etc and compiled the most popular IT jobs. Whilst you are still trying to secure your first IT role, understanding where you want your to career to go can also help as a talking point in your interview.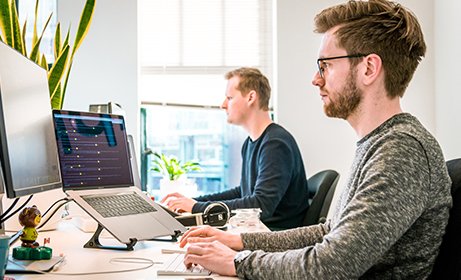 Developer
Programming and technical changes for a company and product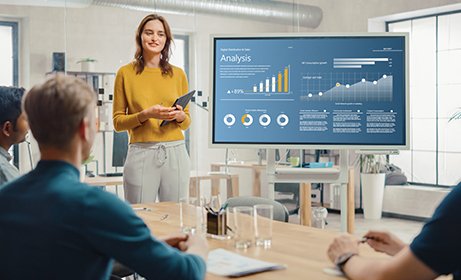 Business Analyst
Bridging the gap between business and IT Solutions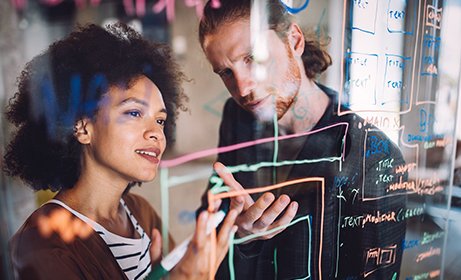 Project Manager
Responsible for IT project outcomes and delivery
What skills are IT employers looking for?
As an IT graduate, there are a large amount of roles on offer but there are some underlying key skills that IT employers are on the constant look out for from potential grads:
Programming Proficiency
Whilst companies use specific programming languages, as a graduate you need to be able to demonstrate you understand the concepts. Having a popular language like python, SQL or front end skills like CSS etc can go a long way to proving to an employer you belong in IT.
Interpersonal Skills
Often overlooked in the tech space, IT teams can sometimes form the largest headcount within an organization so interpersonal skills make up a large component around the hire / don't hire decision.
SQL and Database Skills
It doesn't matter what tech stack is used, if you are a developer, an analyst or even in support. Being able to query and understand data is a huge plus in absolutely any IT focussed role.
Self Learning
As IT is a rapidly changing space demonstrating that you can learn and stay up to date is a must. Being across the latest news in your sector can be great for interviews as well as having theoretical and in-depth knowledge of new technology
Employers sometimes search for very specific skills so make sure you update your profile to ensure that they can always find you:
What are the best IT companies?
Each year, we crunch the numbers on who the most desirable graduate IT employers are with our Top100 Competition, made up by hundreds of thousands of votes from students on where they are applying to work.
When do employers hire IT graduates?
Take a look below to see when employers are busiest hiring IT graduates and when you need to be ready to apply:
Insights from IT graduates

Jack H

ANZ – Could Engineer
What do you think made you stand out against other candidates in the recruitment process?
For context, I already had a job offer prior to attending the assessment centre. At the time, I was going to accept that job offer and simply try out the remaining assessment centres I had left for additional practice. However, I obviously did some preparation for the assessment centres so as to not look like I was unprepared.. I believe what made me stand out was presenting myself in a more casual/conversational manner when getting interviewed (normally would not show naturally - especially for a job interview given I'm an introvert). Having a safety net with a job offer made me feel much more relaxed during subsequent interviews.
What do you think was the hardest part of your job hunt?
Getting started with the job hunt, especially early on during a time when I was still studying. Recruitment for graduate programs normally start during a student's final year. As a result, I needed to tackle job hunting, full-time study, my internship and my other part-time job at the same time. Creating that first proper resume and that first cover letter took the equivalent of an entire day! Once I started handing out resumes however; going through the recruitment process became routine.

Ashley R

Technology One - Software Developer
What do you think made you stand out against other candidates in the recruitment process?
I was introduced to the Graduate recruiter for Technology One by one of the judges in the Top 100 Future Leaders competitions. From the competition I had some understanding of what to expect from the recruitment process and managed to get through to the final round of interviews. Unfortunately, I was told that although I was a good candidate, there were not enough positions to offer me one. I think what really made me stand out was that I asked them to consider me for any future positions and to give me a call if circumstances change... and they did.
What do you think was the hardest part of your job hunt?
The hardest part is the dealing with the emotions involved. When you research a company and look at applying, you generally have a keen interest in working there which makes it difficult to deal with let downs. However, given the finite number of positions, keeping an open mind and a positive attitude can really help you cope and eventually land a position.
What IT graduate jobs are there?
We have many employers signed up to GradConenction who hire information technology graduates. Check out a few below to get you started